One of these Slow Cooker or Instant Pot Chicken Burritos Recipes would be an easy meal for a busy family when everyone is on the go! And don't you think these chicken burritos and burrito bowls look delicious?
PIN Slow Cooker or Instant Pot Chicken Burritos Recipes!
These Slow Cooker or Instant Pot Chicken Burritos Recipes can give you a tasty idea for dinner. Burritos are a favorite for many people, and there are ten recipes here for chicken burritos, with options for the Instant Pot and slow cooker so you can choose the method of cooking that you prefer.
And if you want to have a low-carb meal, some of the chicken burritos can be made with low-carb tortillas or cauliflower rice for a dinner that's lower in carbs! Chicken burritos FTW! Would this dinner idea be a hit at your house?
What kind of Chicken Burrito Recipes will you find here?
Each of these tasty chicken burrito recipes starts with chicken of course. There are burritos with pinto beans and enchilada sauce, some smothered with cheese sauce, one has a bit of a Thai flair, and even a few burrito bowls with rice that you could wrap up in a tortilla if you prefer.
How do you get the complete recipe?
Just click any recipe title to see the full recipe on the original blog. All photos are copyrighted to the blog that posted the recipe.
Slow Cooker Chicken and Pinto Bean Burritos  from Bev Cooks are a great way to use all those tortillas hiding in the back of your fridge. This also uses ingredients you probably already have in your pantry and I bet everyone in the family will love chicken and pinto bean burritos for dinner.
Instant Pot Weeknight Chicken and Rice Burrito Bowls from The Kitchn were inspired by a slow cooker burrito bowl that's been popular on that site so you can choose the cooking method you prefer for this tasty dinner.
Slow Cooker Smothered Chicken Burritos from Slow Cooker Gourmet start out in the slow cooker by combining boneless, skinless chicken breast with a few simple ingredients including fire roasted tomatoes and chopped green chiles. After it cooks all day you simply shred the chicken and it's ready to go.
I think these Instant Pot Healthy Chicken Burrito Bowls from Six Sisters' Stuff look delicious and sister Camille says they are "amazing."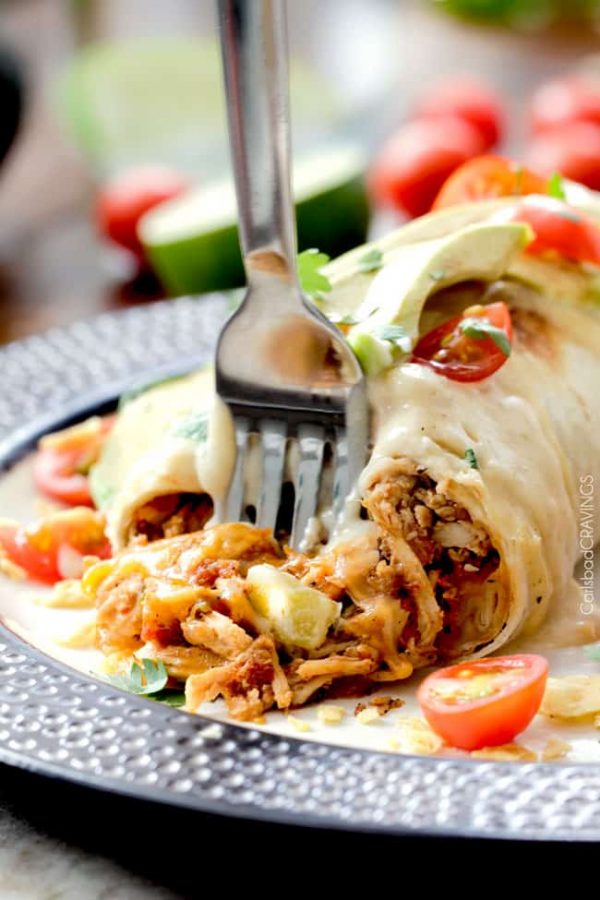 Smothered Baked Chicken Burritos from Carlsbad Cravings start with Mexican Chicken made in the slow cooker, and this looks like a delicious idea!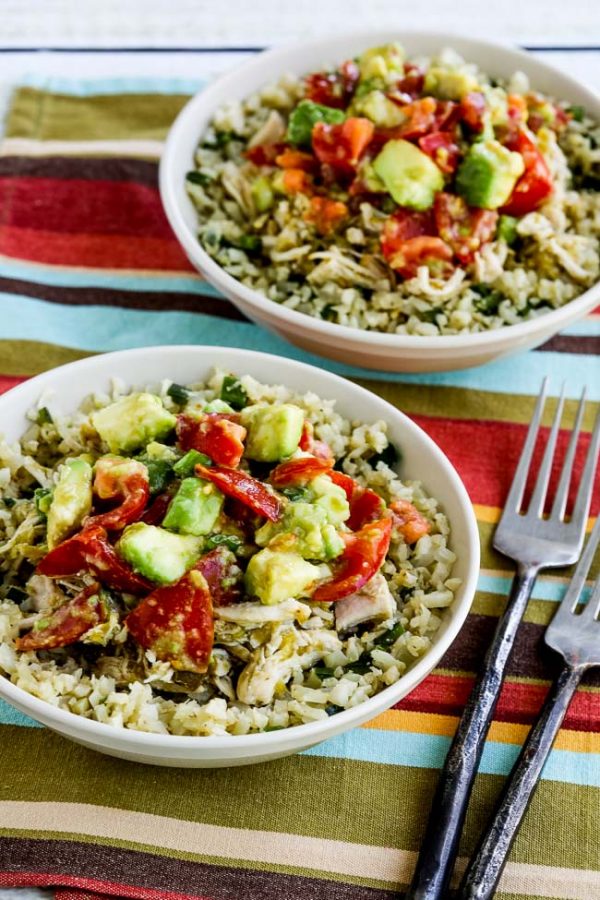 And finally, this Green Chile Chicken Burrito Bowl from Kalyn's Kitchen uses cauliflower rice to keep it low in carbs, and this has that green chile flavor so many people crave!
More Chicken Burritos or Burrito Bowls:
(Visited 1,985 times, 1 visits today)