Sloppy Joes are a traditional meal for families, and here are Slow Cooker Sloppy Joes of every variety when you need an extra-easy meal!
PIN Slow Cooker Sloppy Joes to try some later!
Sandwich meals are easy and tasty, and they're always perfect for a family-friendly meal! And when it's just too hot to cook (or you don't want much fuss) there are lots of fun ideas in this collection of Slow Cooker Sloppy Joes.
Of course Sloppy Joes are traditional for kid-friendly food. But when I started looking around I discovered there are some pretty adult versions out there as well. And although you might think of them as being a summer food, I bet they're cooked equally as often for school night dinners. There are interesting Sloppy Joes variations here for everyone, even vegetarian ones made with lentils!
This collection has 20 different recipes, enough to get you through plenty of suppers! All photos are copyrighted to the blog that posted the recipe. Just click the recipe title under any photo to see that recipe on the original blog. And if you prefer using the Instant Pot, check out The BEST Instant Pot Sloppy Joes for some tasty ideas.
Slow Cooker Pulled Pork Sloppy Joes from Carlsbad Cravings are freezer friendly, and Jen says these have the perfect sauce!
Slow Cooker Tuscan Turkey Sloppy Joes from Slender Kitchen have peppers, onions, and mushrooms and lots of Italian spices for a kicked-up Sloppy Joe recipe that adults will love!
Kelly from Mountain Mama Cooks says these Slow Cooker Sloppy Joes with barbecue sauce and cheese are a favorite with her kids!
These Slow Cooker Turkey Sloppy Joes also sound good from The Kitchn.
I love the sound of these Crock Pot Italian Sloppy Joes from Skinnytaste, made with turkey Italian Sausage.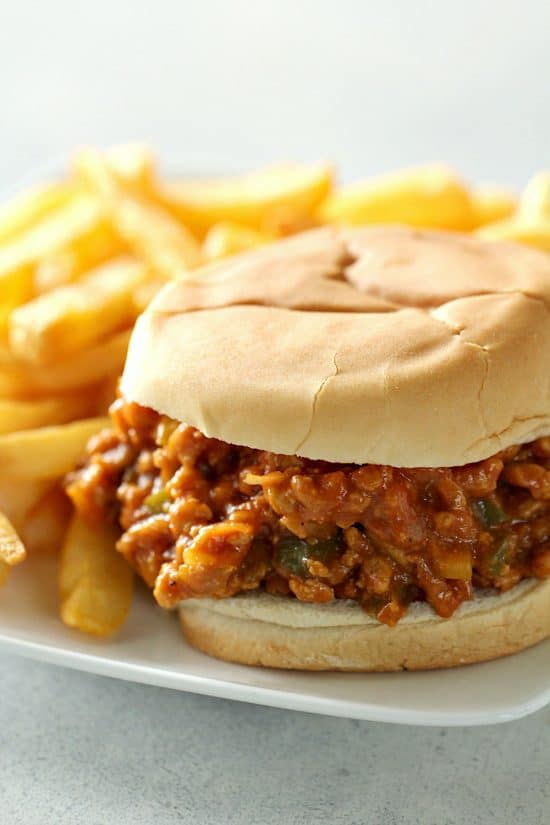 Six Sisters' Stuff says these Slow Cooker Ground Turkey Sloppy Joes are perfect for parties or family gatherings.

Slow Cooker Sloppy Joes from Your Homebased Mom sound like they have a lot of good flavors!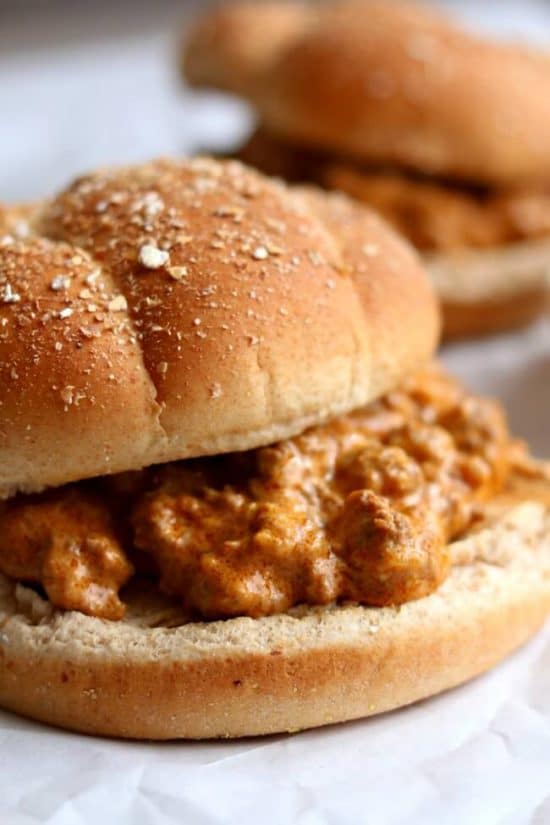 Slow Cooker Creamy Sloppy Joes are the recipe that made Karen from 365 Days of Slow + Pressure Cooking really start to like Sloppy Joes!
A think-outside-the-box Sloppy Joes idea that I love is these Slow Cooker Sloppy Joe Beef Quesadillas from The Perfect Pantry.
And one more unusual Sloppy Joes idea is these Slow Cooker Sloppy Joe Beef Quesadillas with Cream Cheese from 365 Days of Slow + Pressure Cooking!
More Slow Cooker Sloppy Joes:
Crock Pot Sloppy Joes from Food in the Kitchen
Slow Cooker Vegetarian Lentil Sloppy Joes from A Veggie Venture
Smoky Spicy Sloppy Joes for Grownups from Coconut and Lime
Homemade Sloppy Joes from Simply Sugar and Gluten Free
Slow Cooker Sloppy Joes from Lynn's Kitchen Adventures
Crockpot Chicken Sloppy Joes from Color Me Pink
Slow Cooker Turkey Sloppy Joes from Skinny Ms.
Slow Cooker Sloppy Joes from Foodie with Family
Crock Pot Sloppy Joes from Recipes that Crock
Minnesota Sloppy Joes from Kitchen Parade
(Visited 2,879 times, 1 visits today)