Here are Instant Pot Chile Verde Recipes your family will love; give one a try for a family-friendly dinner! 
PIN Instant Pot Chile Verde Recipes to try some later!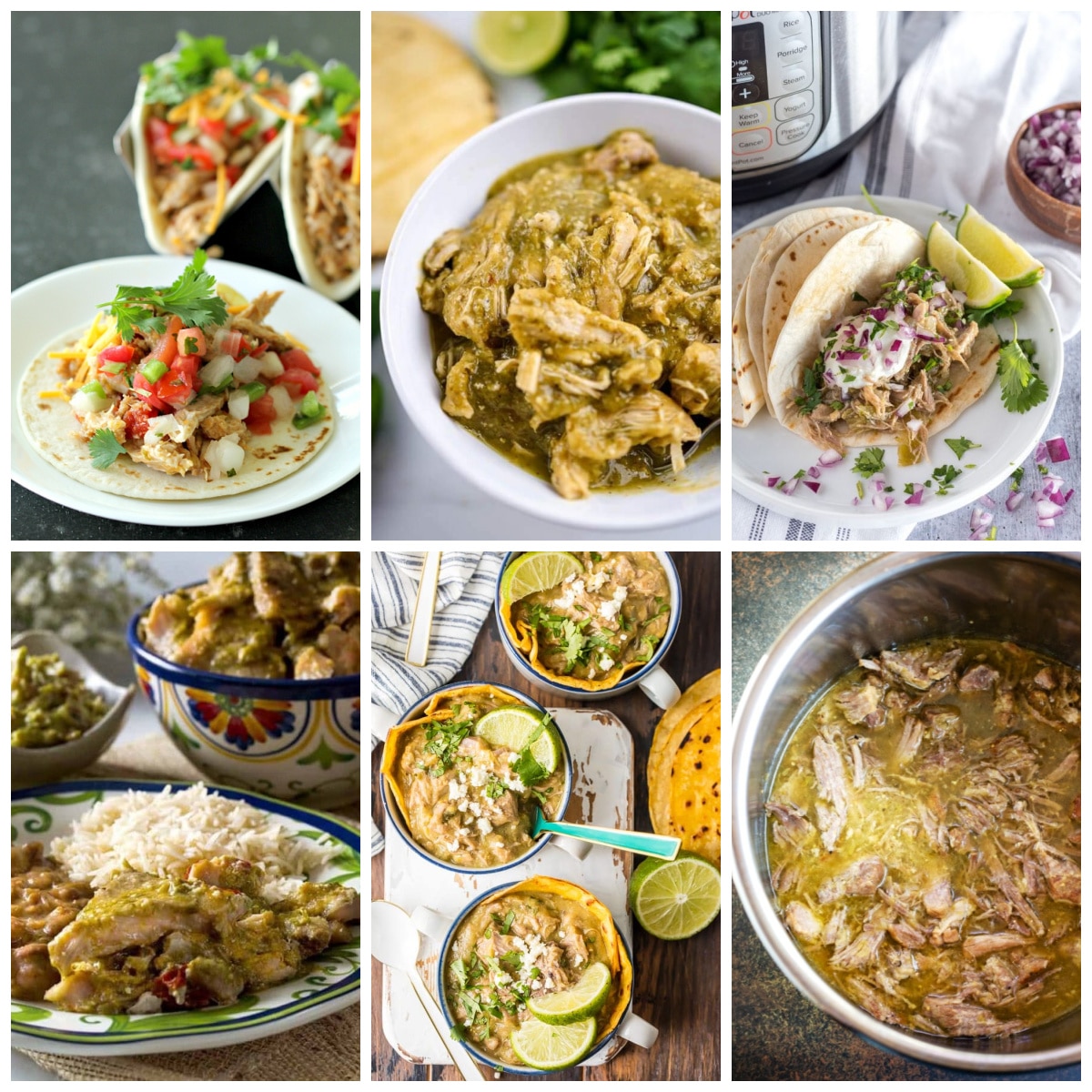 I love Mexican food and it always always makes me think of Chile Verde, which is hands-down my favorite Mexican dish! There's something about the deep, rich  flavor of Chile Verde that makes it always one of my top choices at any Mexican Restaurant.
And this post has so many tasty ideas for Instant Pot Chile Verde Recipes so you can try making this Mexican food favorite at home! And in all these recipes pork, green chiles, onion, tomatillos, garlic, and a few Mexican spices all fuse together in a rich, delectable sauce.
There are ten different chile verde recipes here to choose from, and a few of these Instant Pot recipes also have a slow cooker option.
What is Chile Verde?
Chile Verde is a much-loved Mexican dish that includes tender pieces of pork simmered in a sauce with tomatillos, Jalapenos, or other green chile peppers, and garlic.
Can Chile Verde be a low-carb meal?
If you skip the tortillas or serve with Mission Carb Balance Low-Carb Tortillas (affiliate link) or your favorite low-carb tortillas, most of these recipes are fairly low in carbs or can easily be made low-carb with minor changes.
How do you get the complete recipe?
Just click any recipe title to see that recipe on the original blog. All photos are copyrighted to the blog that originally posted the recipe.
Want Slow Cooker Chili Verde Recipes?
If you prefer using the slow cooker, check out the round-up of Slow Cooker Chile Verde Recipes!
Want more Mexican Food Recipes?
Check out 50 Instant Pot Mexican Recipes for more Mexican food to make at home in the Instant Pot!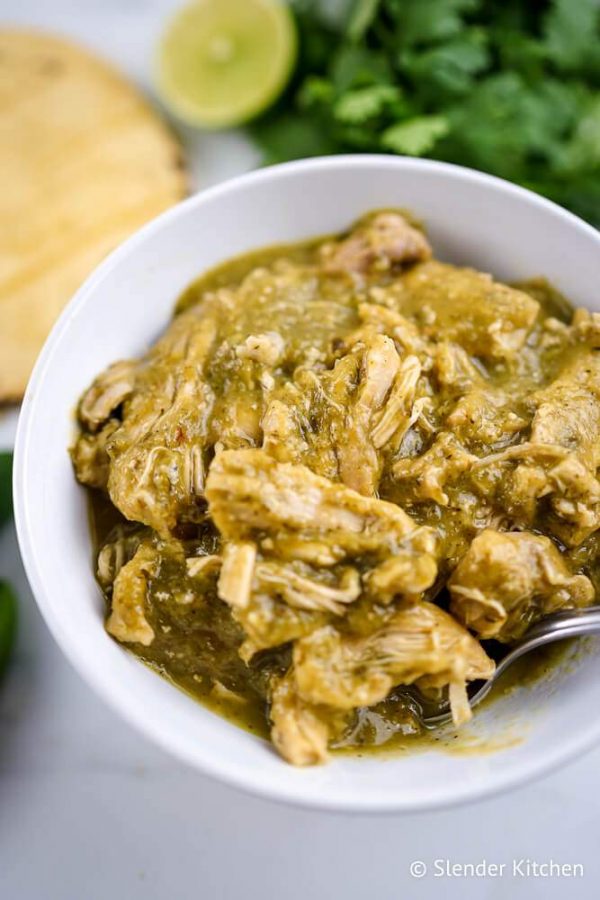 Authentic Chile Verde from Slender Kitchen has  fresh tomatillos, poblano peppers, jalapenos, onion, garlic, and cilantro to add plenty of flavor, and this can be made in the slow cooker, in the Instant Pot, or on the stove.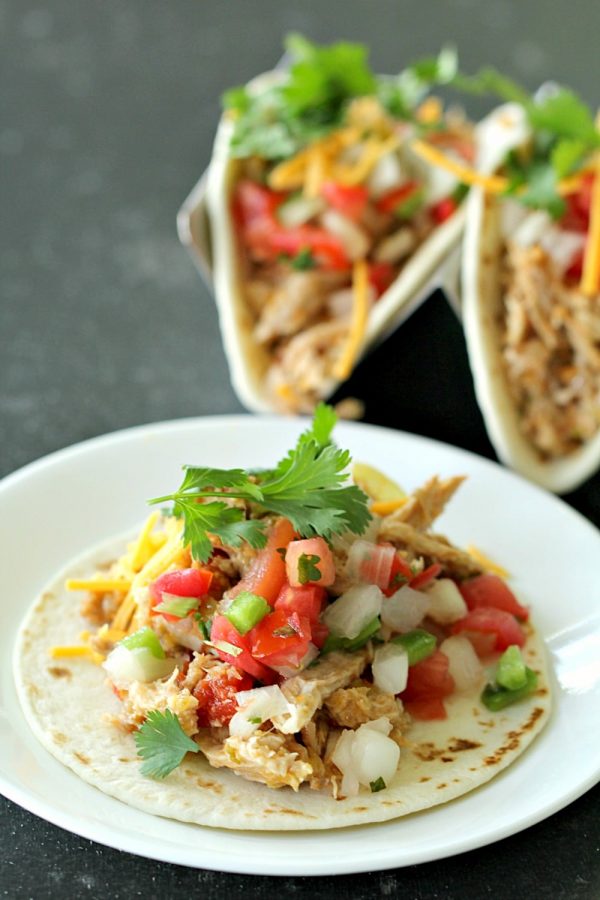 Instant Pot Pork Chile Verde from Six Sisters' Stuff has onions, garlic, tomatillos, jalapeno, green pepper, green salsa, green chiles, and seasonings, and it can be served in a variety of ways! And there is a link for a slow cooker version of this recipe if that's what you prefer.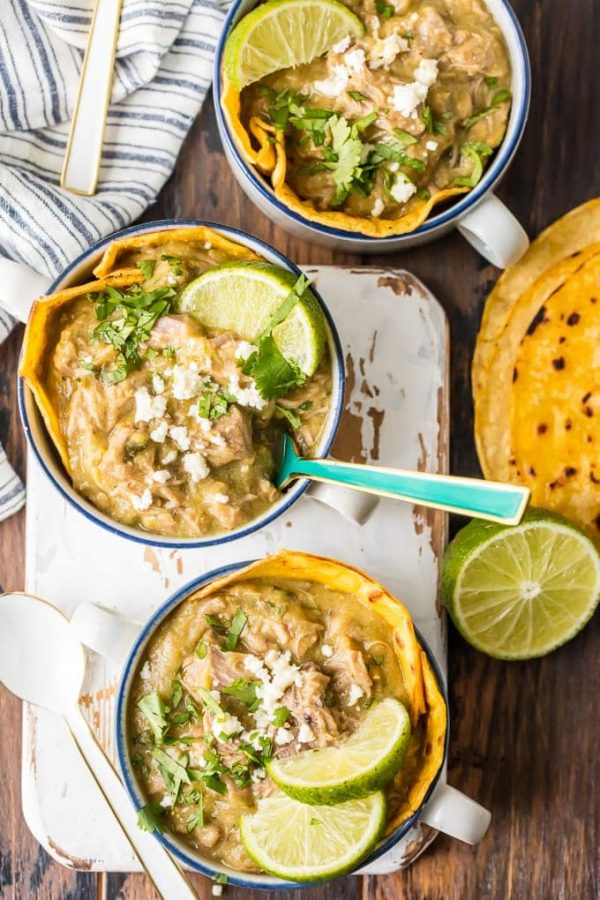 Instant Pot Chile Verde from The Cookie Rookie has tomatillos, three kinds of chiles, and all the Mexican spices you would expect to see in a recipe like this. And Becky says it's "spicy enough but won't melt your mouth off" which sounds good to me!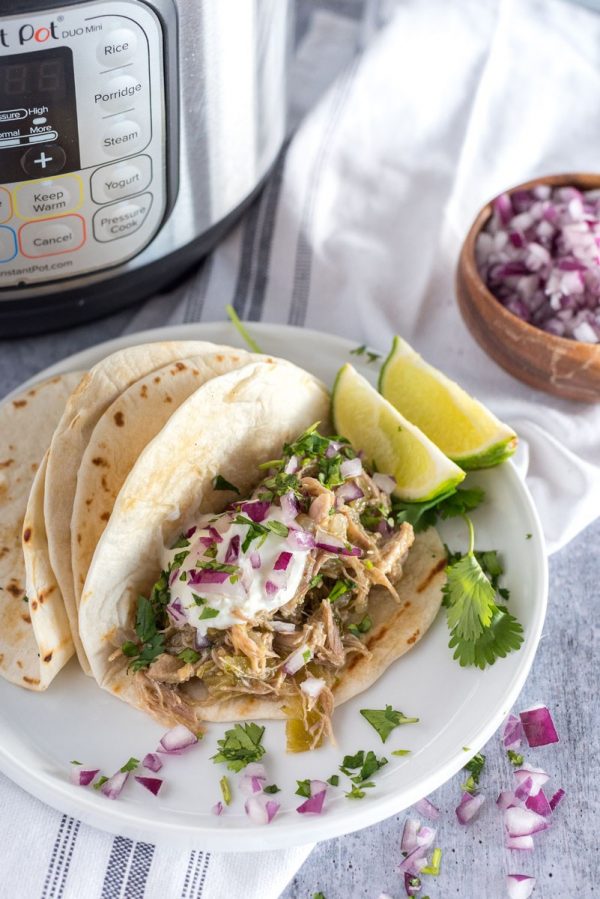 Instant Pot Chili Verde from Pressure Cooking Today uses canned tomatillos and salsa verde, with an Ahaheim pepper for spice, and this makes delicious tacos as you can see from the photo!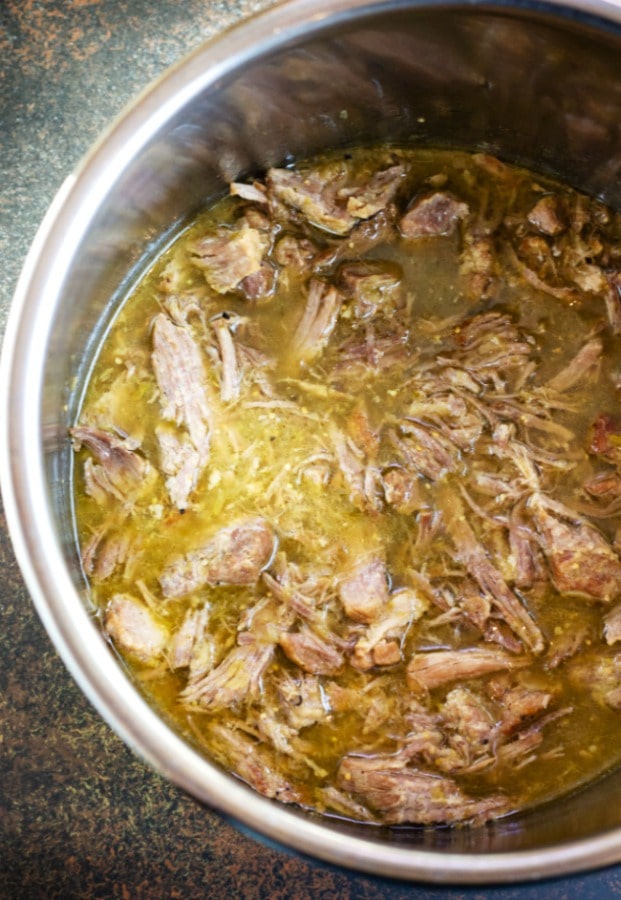 Easy Keto Instant Pot Chile Verde from Beauty and the Foodie has just six ingredients and a wonderful slow-cooked flavor but cooks in less than an hour in the Instant Pot. This Chile Verde recipe is also low-carb, Keto, Paleo, and Whole 30.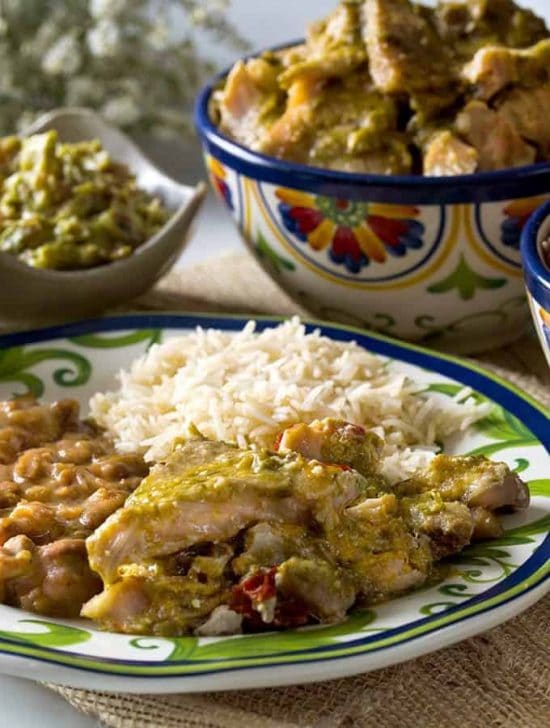 Instant Pot Pork Chile Verde from Two Sleevers is ready to serve in less than an hour for an easy, delicious, and savory meal.
More Ideas with Chile Verde Flavors:
Want More Tasty Pork in the Instant Pot?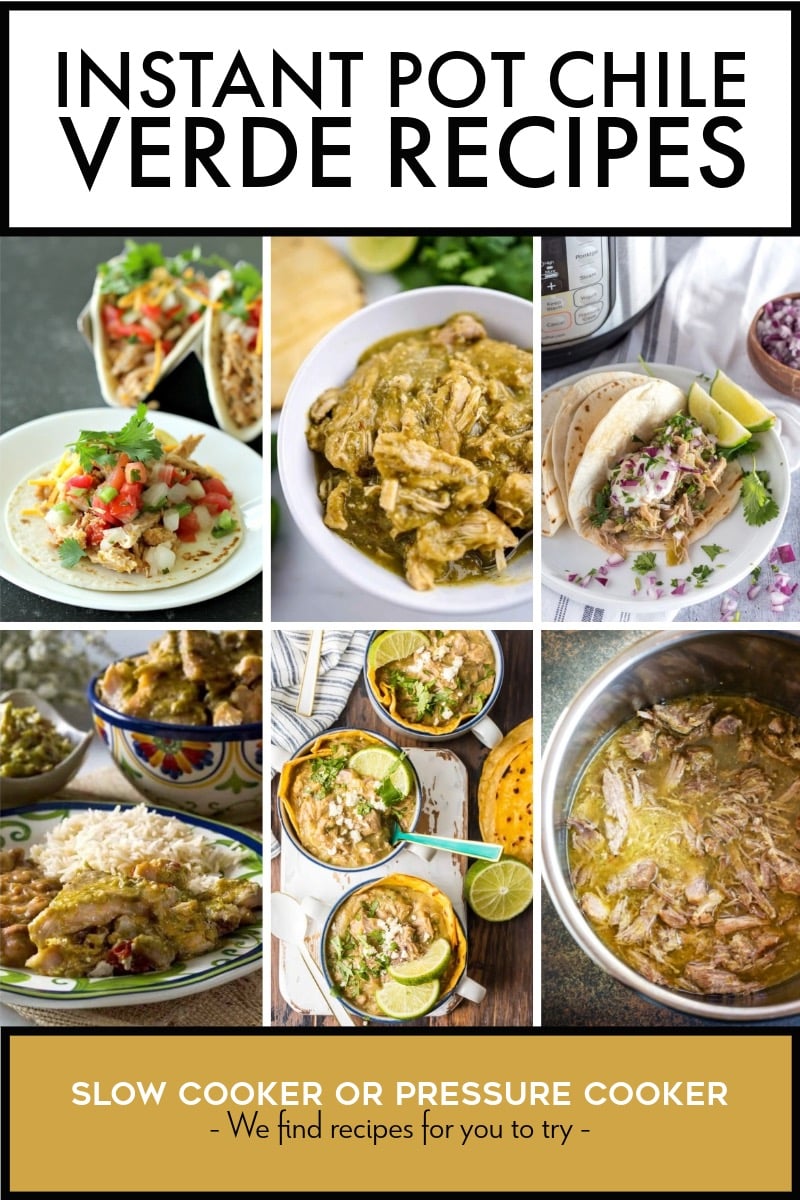 (Visited 3,231 times, 1 visits today)