If you love Chile Verde in a Mexican restaurant, here are Slow Cooker or Instant Pot Chile Verde Recipes for you to try at home. And many of these tasty recipes are low in carbs; enjoy!
PIN Slow Cooker or Instant Pot Chile Verde Recipes to try some later!
If you live in the western U.S. you know about the delicious Mexican dish called Chile Verde. It's traditionally made using green chiles and pork, and everyone who loves that dish will enjoy this collection of Slow Cooker or Instant Pot Chile Verde Recipes. It's time to make Chile Verde at home!
And although some people use chicken with green chiles to make a dish that's similar to this, I think Pork Chile Verde is where it's really happening. In Utah the Chile Verde from The Red Iguana is the one that makes me swoon, but I think these slow cooker or Instant Pot Chile Verde recipes from food bloggers all look pretty spectacular! We looked all over the web and picked Slow Cooker or Instant Pot Chile Verde Recipes that we thought looked amazing, hope you enjoy!
What is Chile Verde?
Chile Verde is a well-known Mexican dish that includes tender pieces of pork simmered in a sauce that includes tomatillos, Jalapenos, or other green chile peppers, and garlic.
How do you get the complete recipe?
Just click any recipe title to see that recipe on the original blog. All photos are copyrighted to the blog that originally posted the recipe.
Want more Mexican Food Recipes?
Check out The BEST Instant Pot Mexican Food Recipes and The BEST Slow Cooker Mexican Food Recipes for more Mexican food to make at home!
Instant Pot Chile Verde from A Bountiful Kitchen is a not-too-spicy version of this favorite south of the border dish.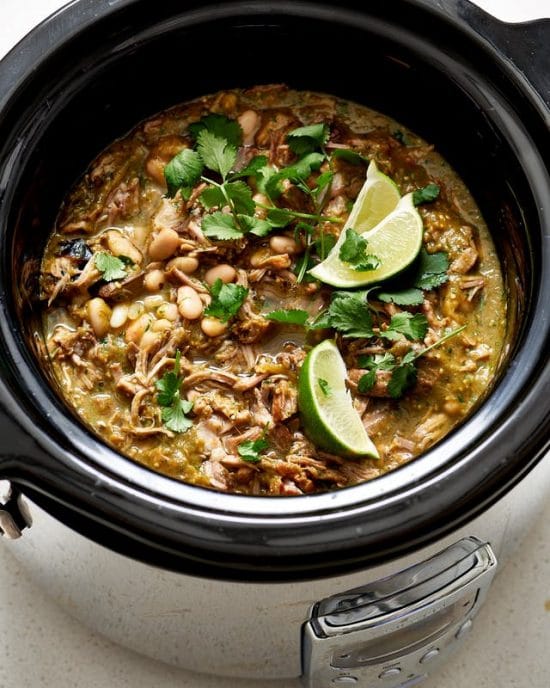 Slow Cooker Chili Verde from The Kitchn is a pork-based stew simmered with poblano peppers, jalapenos, tomatillos, spices, and great northern beans. Served in a bowl as a chili-stew that is eaten with a spoon and topped with cilantro and a wedge of lime.
This Easiest Chile Verde (Instant Pot) from Good Dinner Mom combines onions, tomatillos, Anaheim and Poblano peppers as the base and a couple chopped jalapeños to add some depth. Sally says "All the flavors that usually take hours to come together are perfection in less than an hour." (This has only 7 carbs per serving.)
Becky says this Instant Pot Chile Verde from The Cookie Rookie "contains a flavorful mix of chilis, jalapenos, and Poblano peppers and is just spicy enough without being too hot."
For this Slow Cooker Pork Chile Verde from Your Homebased Mom you brown the pork first and then put it and everything else in the slow cooker and let it cook. This Pork Chile Verde would be great served on it's own or wrapped in a tortilla and smothered with cheese.
Slow Cooker Hatch Green Chile Verde from Foodiecrush uses roasted Hatch green chiles, tomatillos, onion, garlic, and a few seasonings with a pork sirloin roast to create this delicious looking green chile verde. Heidi says if you don't have fresh Hatch chiles you can roast a couple of jalepenos with the tomatillos in place of the chiles, and if you want more heat, just add more chiles. (This one has only 8 carbs per serving.)
Slow Cooker Chile Verde from The Magical Slow Cooker starts by roasting peppers, garlic, tomatillos, and onions; then blended together and simmered with pork, a few spices, and a little broth. After several hours in the slow cooker this Chile Verde is cooked to perfection and ready to serve.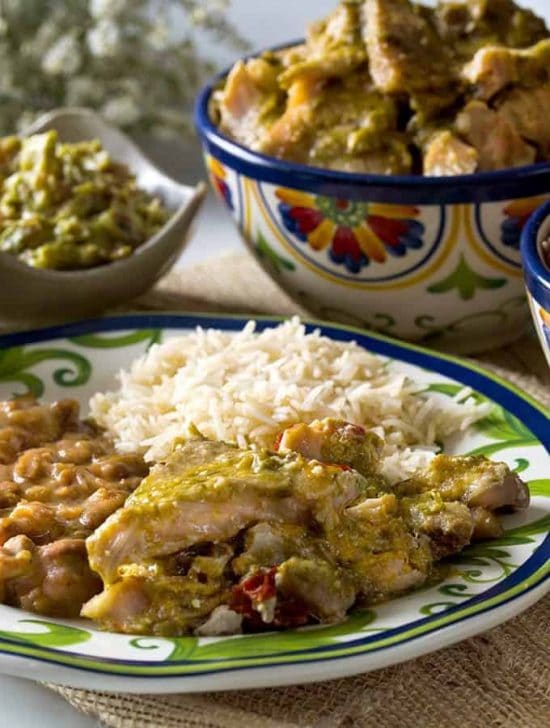 Instant Pot Pork Chile Verde from Two Sleevers is ready to serve in less than an hour for an easy, delicious, and savory meal. (Without side dishes, this has only 4 carbs per serving.)
Authentic Chile Verde from Slender Kitchen looks delicious and this can be made in the Instant Pot, in the slow cooker, or on the stove! (This has only 9 carbs per serving.)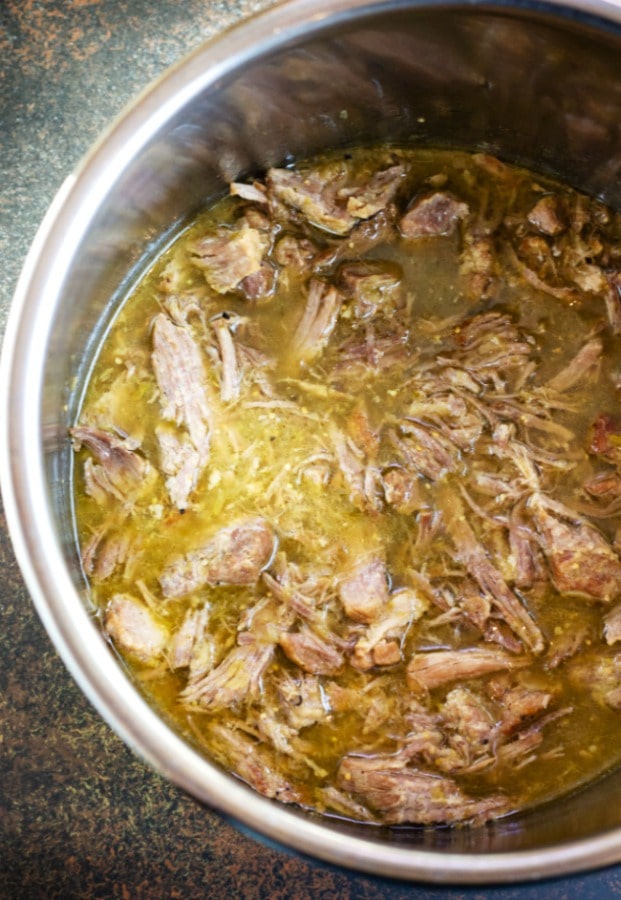 Easy Keto Instant Pot Chile Verde from Beauty and the Foodie has just six ingredients and a wonderful slow-cooked flavor but cooks in less than an hour in the Instant Pot. This Chile Verde recipe is also low-carb, Keto, Paleo, and Whole 30. (This has only 6 carbs per serving.)
Have you  made Chile Verde in the slow cooker or pressure cooker? Let us know in the comments!
(Visited 2,243 times, 2 visits today)