You'll love these Instant Pot Chicken and Rice Recipes, and there are even a few ideas here with cauliflower rice! And there are chicken and rice dinners here for any time of year!
PIN Instant Pot Chicken and Rice Recipes to try some later!
Making family dinners every night can be challenging and quick and easy dinners are the reason so many people love their Instant Pots! And chicken and rice is a classic idea for an easy dinner, so we looked around the web to find Instant Pot Chicken and Rice Recipes for an easy family dinner! There are 20 different chicken and rice dinners featured here, so we hope you'll find some you want to try!
We found Instant Pot Chicken dinners with a variety of flavors  including Orange Chicken, Greek Chicken, Salsa Verde Chicken, Chicken Adobo, Cajun Chicken, Buffalo Chicken, and Green Chile Chicken. And there are also all kinds of rice, including cheesy rice with broccoli, brown rice, yellow rice, Cajun rice, rice made into pilaf or paella, wild rice, and even chicken dinners with cauliflower rice for those who are watching their carbs!
How do you get the complete recipe?
Just click any recipe name to find the complete recipe on the original site. All photos are copyrighted to the blog that posted the recipe.
Want more Instant Pot recipes for Chicken?
Use Chicken Recipes to see all the chicken recipes on this site.
Slow Cooker and Instant Pot Butter Chicken Recipes
Slow Cooker or Instant Pot Tandoori Chicken Recipes
Slow Cooker or Instant Pot Sriracha Chicken
Slow Cooker and Instant Pot Middle Eastern Chicken
Instant Pot Orange Chicken and Rice from I Wash You Dry is tender chicken pieces in a fragrant sweet orange sauce. The best part is that the rice cooks at the same time as the chicken in the Instant Pot. The whole meal is ready in less than 30 minutes!
Instant Pot Low-Carb Cauliflower Rice Greek Chicken Bowls from Kalyn's Kitchen have all the flavor of Greek chicken and Greek salad in a fun bowl meal. And it's a low-carb meal because the "rice" used is cauliflower rice! Kalyn has also included a slow cooker version if you prefer that method of cooking.
Pressure Cooker Salsa Verde Chicken and Rice from The Creative Bite is quick, easy, and sounds delicious! And doesn't everyone love these flavors?
Pressure Cooker Creamy Chicken and Broccoli over Rice from Pressure Cooking Today offers the option of cooking the rice separately or in the Instant Pot!
Instant Pot Low-Carb Green Chicken Chile Burrito Bowl from Kalyn's Kitchen is great for a family dinner because everyone can personalize their bowl with the ingredients they'd like!
Instant Pot Chicken Breasts and Rice from Creme de la Crumb sound easy and look delicious!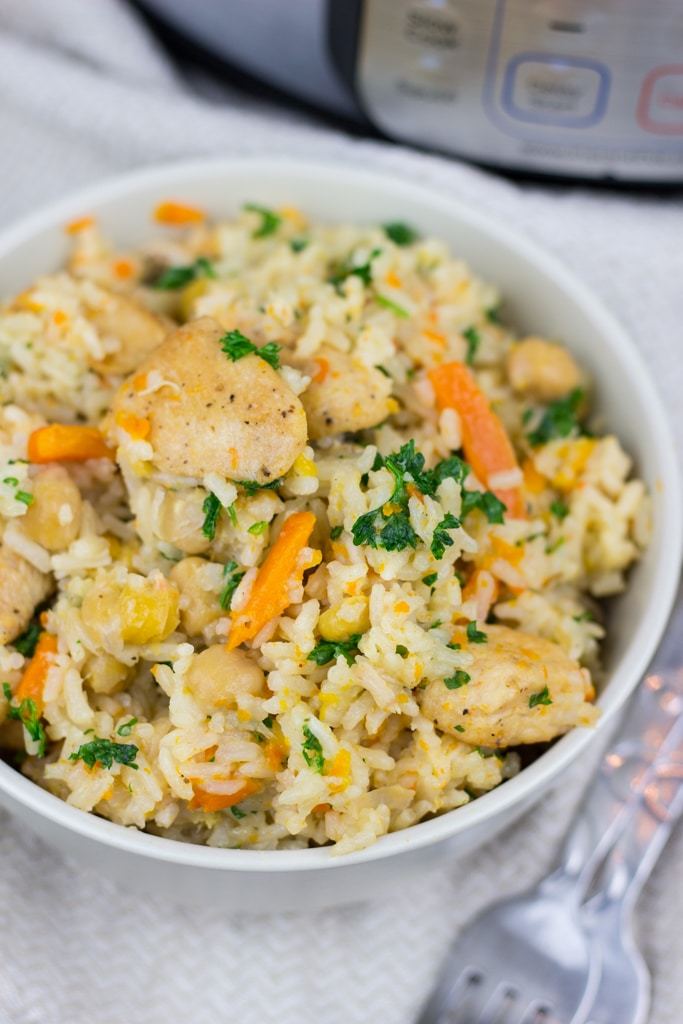 This Instant Pot Chicken and Rice Pilaf from Veronika's Kitchen sounds like it would be loaded with flavor! And dishes like this where the chicken and rice are combined reheat beautifully for leftovers!
This Slow Cooker or Pressure Cooker Buffalo Chicken Cauliflower Rice Bowl from Kalyn's Kitchen is another option for the low-carb eaters! Choose the slow cooker or the pressure cook to make this tasty dish. And don't forget the crumbled blue cheese!
Karen says this Instant Pot Chicken and Wild Rice Casserole from 365 Days of Slow + Pressure Cooking is like the chicken and rice soup everyone loves, only in casserole form!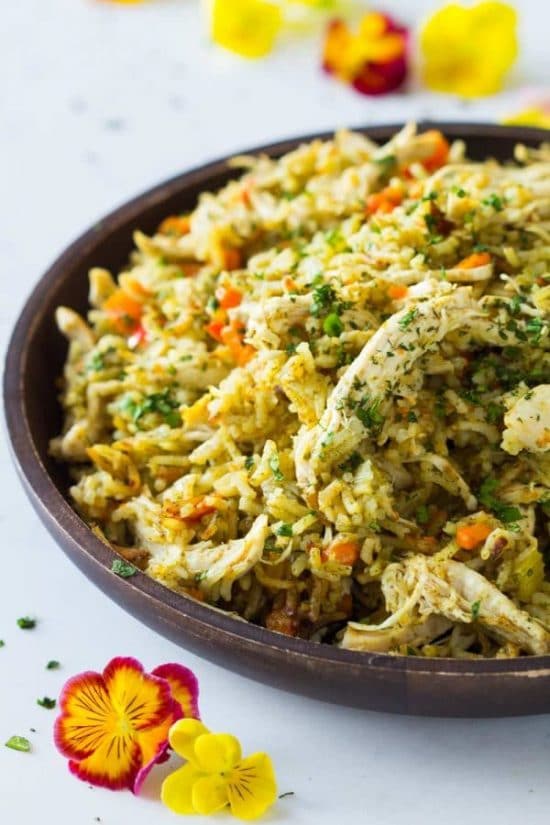 In this Quick and Easy Instant Pot Chicken and Rice from Green Healthy Cooking Lorena includes instructions for using either chicken breasts or chicken thighs in her chicken and rice recipe. She uses white rice when making it with chicken breast; basmati brown rice when using bone in chicken thighs. Don't you agree that both options sound amazing?
More Instant Pot Dinners with Chicken and Rice:
Weeknight Paella with Chicken and Sausage from Simply Recipes
Instant Pot Chicken and Rice from A Pinch of Healthy
Instant Pot Chicken and Yellow Rice from Love and Zest
Pressure Cooker Adobo and Rice from Simply Recipes
Instant Pot Cajun Chicken and Rice from What's in the Pan?
Chicken and Brown Rice from 365 Days of Slow + Pressure Cooking
Green Chile Chicken and Rice from Pressure Cooking Today
Instant Pot Mexican Chicken Rice from I Wash You Dry
Instant Pot Chicken and Rice from Simply Recipes
Chicken Broccoli Rice Casserole from 365 Days of Slow + Pressure Cooking
(Visited 3,755 times, 1 visits today)