You'll love these these Slow Cooker and Instant Pot Pasta Sauce Recipes, and homemade pasta sauce tastes better, is less expensive, and it's easy to make!
PIN Slow Cooker and Instant Pot Pasta Sauce Recipes to try some later!
I love making homemade pasta sauce, and using the slow cooker or the Instant Pot for pasta sauce turns it into something that doesn't need to be watched. And there are so many delicious-sounding ideas in this collection of Slow Cooker and Instant Pot Pasta Sauce Recipes! Whether you use garden tomatoes or tomatoes from a can, making pasta sauce from scratch will make your house smell amazing!
This post has so many amazing pasta sauce recipes, including vegetarian, sausage, ground beef, and ground turkey sauces and some sauces with fun ingredients like fennel, capers, sun-dried tomatoes, peppers, mushrooms, and eggplant. Wouldn't you love to have pasta sauce in the freezer on a night when you need a quick dinner?
All Photos are copyrighted to the original blog that posted the recipe. Just click the recipe title link in the description under each photo to get that recipe from the original blog.
Instant Pot Pasta Sauce with Sausage, Tomatoes, and Herbs from Kalyn's Kitchen is so delicious! Serve over your favorite pasta, or use zucchini noodles for a low-carb option!
Crockpot Turkey Bolognese Pasta Sauce from Jeanette's Healthy Living can be made with fresh tomatoes or canned tomatoes, and this one has some finely chopped carrot and celery as well as a little red wine to flavor the sauce.
This Easy Homemade Instant Pot Spaghetti with Meat Sauce from Paint the Kitchen Red has a homemade sauce made from ground beef, beef broth, crushed tomatoes, tomato paste and plenty of dried herbs.
Healthy Slow Cooker Spaghetti Meat Sauce from The Food Charlatan has veggies hidden in the sauce!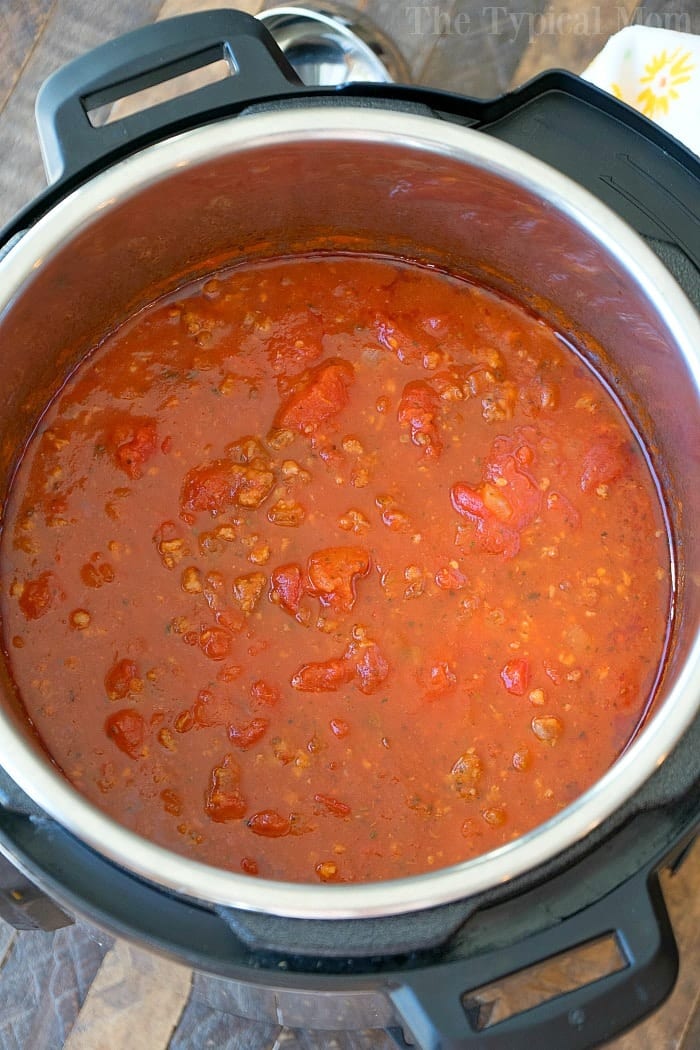 Homemade Instant Pot Spaghetti Sauce from The Typical Mom is quick and easy to make and this uses whole and diced canned tomatoes, tomato sauce, and tomato paste for plenty of tomato flavor!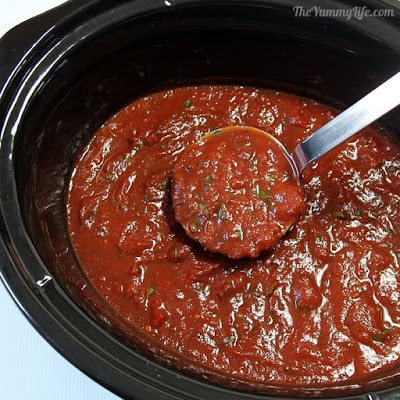 Slow Cooker Rustic Italian Marinara Sauce from The Yummy Life is a post that's loaded with information and this sauce has garlic and a touch of red wine!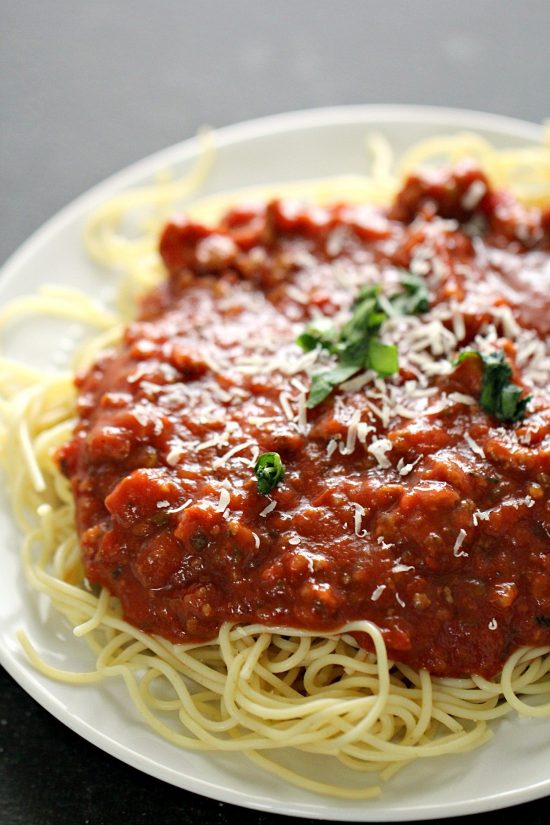 Instant Pot Bolognese Sauce from Six Sisters' Stuff caught my eye because it uses my favorite turkey Italian Sausage, and this sauce sounds delicious!
Slow Cooker Meatballs and Marinara from Emily Bites includes a sauce that uses crushed tomatoes, tomato sauce, and tomato paste.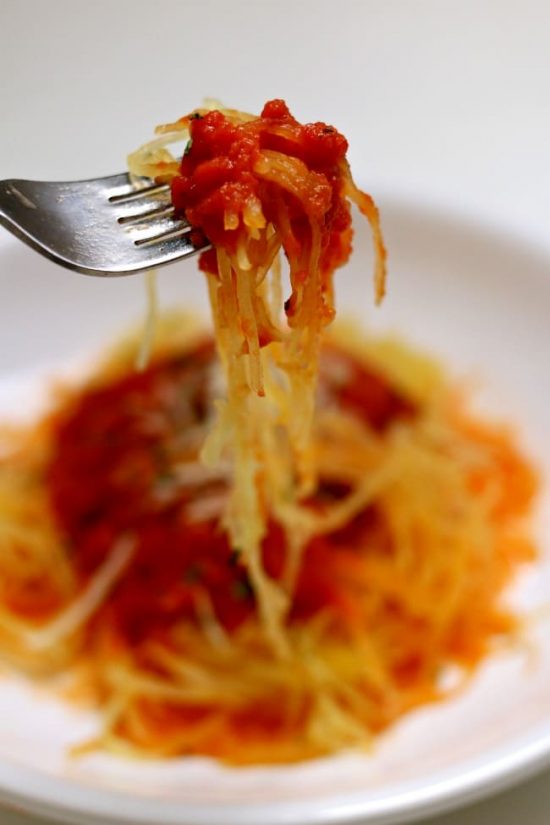 Easy Instant Pot Spaghetti Sauce from 365 Days of Slow + Pressure Cooking uses crushed tomatoes and other ingredients you probably have on hand and you can eat this over pasta, or use spaghetti squash like Karen Did!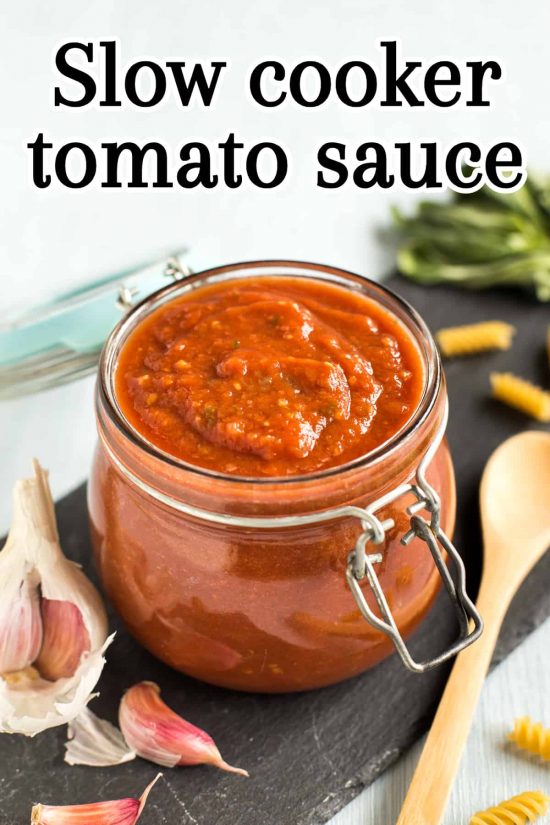 And finally, Becca says this Vegetarian Slow Cooker Tomato Sauce from Easy Cheesy Vegetarian can be used with a variety of different recipes.
Even More Slow Cooker Pasta Sauce:
Slow Cooker Bolognese from The Kitchn
Slow Cooker Pasta Sauce with Ground Turkey from The Yummy Life
Slow Cooker Bolognese Sauce from On Top of Spaghetti
Slow Cooker Homemade Spaghetti Meat Sauce from Kitchen Parade
Slow Cooker Marinara Sauce from Budget Bytes
More Ideas for Pasta:
The BEST Instant Pot Pasta Recipes
The BEST Slow Cooker Recipes with Pasta
Slow Cooker Lasagna Recipes
The BEST Slow Cooker Mac and Cheese Recipes
(Visited 16,844 times, 2 visits today)