Food bloggers can show you How to Make CrockPot or Instant Pot Spaghetti Squash, and it's so versatile for a low-carb vegetable! And see ideas in this post for serving spaghetti squash in interesting ways.
PIN this post to cook spaghetti squash later!
In this post on we're spotlighting two bloggers who've mastered how to cook Spaghetti Squash in the CrockPot or the Instant Pot! And spaghetti squash is such a versatile vegetable! Check out the methods below for cooking spaghetti squash or recipe ideas for dishes using spaghetti squash and take your pick! And enjoy the spaghetti squash everyone!
What is Spaghetti Squash?
Spaghetti Squash is an interesting type of winter squash that strings apart into strands resembling spaghetti once it's cooked! It's a favorite with vegetable gardeners, and if you're growing your own spaghetti squash you can even cook unripe spaghetti squash like a summer squash! But for most people it's a winter squash variety and it's a favorite low-carb vegetable for many people.
How can Spaghetti Squash be used in recipes?
Please don't think of spaghetti squash as just being a substitute for pasta! At Kalyn's Kitchen I love to use it in favorite low-carb dishes like Greek Salad Spaghetti Squash Bowl, Mock Lasagna Spaghetti Squash Casserole, Spaghetti Squash and Chard Gratin, and Spaghetti Squash Taco Bowls, and using one of these methods to cook the spaghetti squash would make my favorite spaghetti squash recipes that much easier.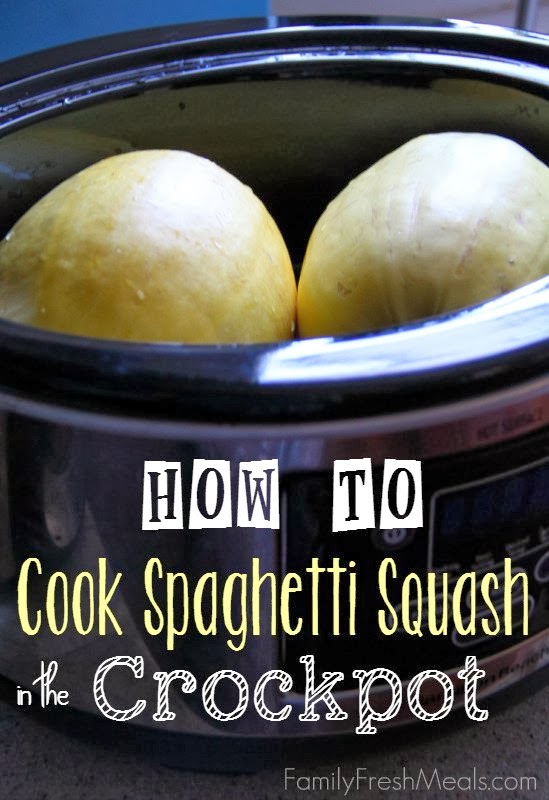 I bookmarked the post on How to Cook Spaghetti Squash in the CrockPot from Family Fresh Meals the minute I saw it a few years ago. And then I started wondering why I had never thought of doing this?  Not that spaghetti squash is difficult to cook, but cutting it is kind of a pain, and cooking it in the slow cooker means one less thing to have to watch while it's cooking. Two thumbs up to Corey for this great idea for CrockPot Spaghetti Squash; I'm definitely trying it! See all about how to  make CrockPot Spaghetti Squash from Family Fresh Meals.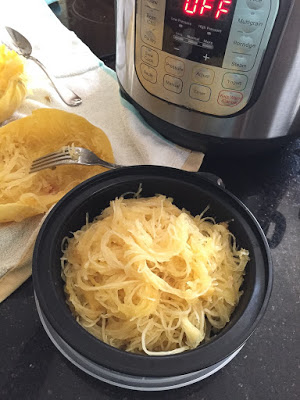 Then I spotted a great post from Aggie's Kitchen on How to Make Instant Pot Spaghetti Squash, and once again I slapped my forehead at what a great idea this was! Now when you don't have time for the slow cooker method you can cook spaghetti squash in practically no time in the Instant Pot. Check out How to Cook Spaghetti Squash in an Instant Pot from Aggie's Kitchen.
More Spaghetti Squash in the Slow Cooker or the Instant Pot:
Spaghetti Squash with Meatballs ~ I Wash You Dry
Spaghetti Squash and Meat Sauce ~ Skinnytaste
Spaghetti Squash, Meat, and Tomatoes ~ Fit Slow Cooker Queen
Bacon Parmesan Spaghetti Squash ~ 365 Days of Slow + Pressure Cooking
More Slow Cooker or Instant Pot Vegetables:
Use Vegetable Recipes to see all the Slow Cooker or Instant Pot Vegetables.
Check out Slow Cooker Butternut Squash Recipes.
Try some Instant Pot Sweet Potato Recipes!
Check out Slow Cooker and Instant Pot Zucchini Recipes.
(Visited 11,018 times, 3 visits today)