Cabbage is such a versatile low-carb vegetable, and this post has Instant Pot Keto Cabbage Soup, and some have options for the slow cooker!
PIN Instant Pot Keto Cabbage Soups to try one later!
How do you feel about soup weather? I love warmer weather but I also love to make soup, so this time of year brings mixed feelings for me. But even if you're not thrilled about the cold weather, maybe these tasty ideas for Instant Pot Keto Cabbage Soup can help!
There are tasty cabbage soups here made in the Instant Pot, but some of them also have a slow cooker option if anyone prefers that method. And all these soups will be great for people who are watching carbs at this time of year!
What kind of Instant Pot Cabbage Soups will you find here?
There are soups with sausage, ham, ground beef, beef, chicken, or ground turkey, so take your choice on that. You might want to omit carrots or reduce the amount of carrots and/or tomatoes for some of these soups if you want a soup that's even lower in carbs, but they all sound delicious for a low-carb dinner idea.
How do you get the complete recipe:
Just click any recipe name to see the complete recipe on the original site. All photos are copyrighted to the blog that posted the recipe.
Instant Pot Turkey Rice Soup with Cabbage is a tasty soup made with ground turkey, and it uses cauliflower rice for the low-carb version. (If you don't care so much about carbs, there are a couple of other options in the recipe.)
Chunky Beef, Cabbage and Tomato Soup from Skinnytaste can be made in the Instant Pot or on the stovetop, and this sounds delicious! For strict Keto I would omit the carrots and maybe use a small can of tomatoes for this recipe.
Instant Pot Old Fashioned Cabbage Soup from The Typical Mom has cabbage, meatballs, chicken, chicken broth, and the perfect spices!
I love this Instant Pot Ham and Cabbage Soup from Kalyn's Kitchen, or if you prefer to use the slow cooker you can make Slow Slow Cooker Ham and Cabbage Soup instead!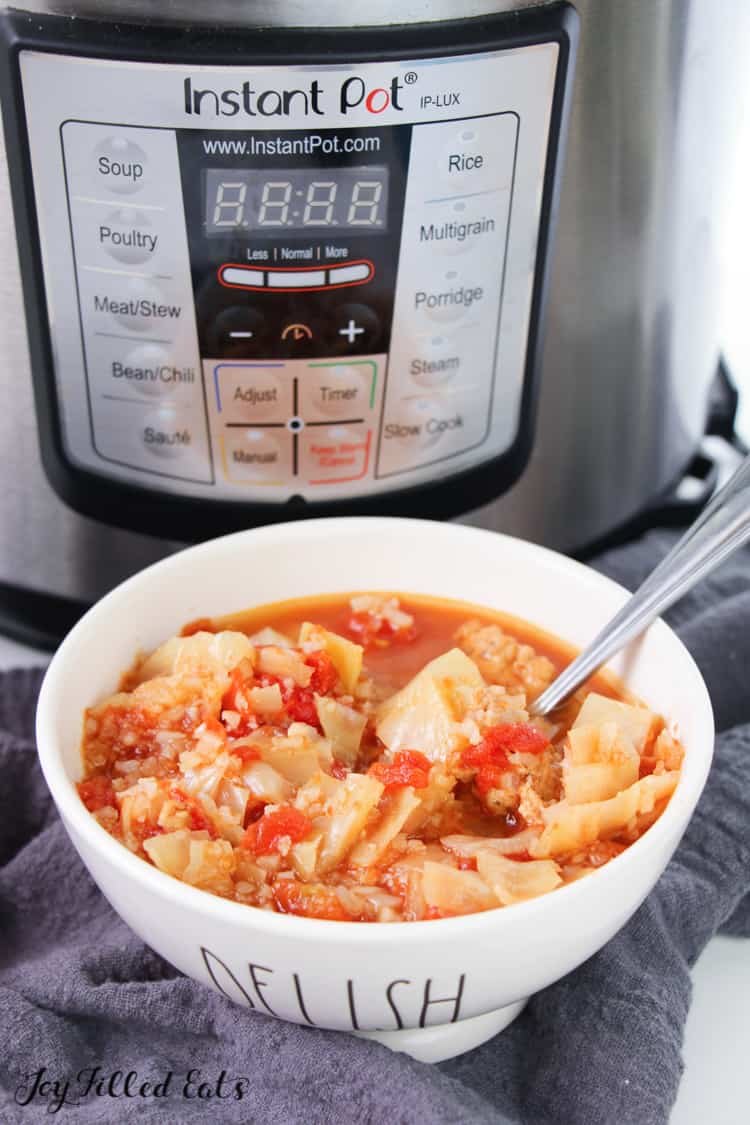 This traditional Keto Cabbage Soup from Joy Filled Eats uses cauliflower rice instead of rice, and this makes ten servings and is super low in carbs!
I guess this Keto Instant Pot Cabbage Beef Stew from Beauty and the Foodie is a stew rather than a soup, but don't let that stop you from making it!
More ideas for Low-Carb and Keto Cabbage Soup made in the Instant Pot:
Unstuffed Keto Cabbage Soup from Kasey Trenum
Keto Cabbage Soup Recipe from Cooking LSL
Instant Pot Cabbage Soup with Beef from Savory Tooth
Instant Pot Turkey Cabbage Soup from The Herbeevore
Instant Pot Cabbage Sausage Soup from Keto Diet Blog
Instant Pot Cabbage Roll Soup from Homemade Interest
Want more low-carb soups for the Instant Pot?
Click here to see 50 AMAZING Low-Carb Instant Pot Soup Recipes!
(Visited 3,045 times, 1 visits today)