Here are 50 Low-Carb and Keto Slow Cooker Dinners for everyone who loves a tasty low-carb dinner made in the slow cooker! 
PIN 50 Low-Carb and Keto Slow Cooker Dinners!
So many people have a renewed interest in low-carb eating when the new year starts. And even if you're someone who now favors the Instant Pot, using the slow cooker to make food on the weekend and then eating it during the week is one of the best tricks I know for sticking to a lower-carb diet!
So today I'm updating this collection of 50 Low-Carb and Keto Slow Cooker Dinners! There are lots of great week-night dinners here, as well as amazing food prep dinners to make on the weekend and eat during the week! And there are actually even more than 50 amazing recipes here!
I love using the slow cooker and being able to smell dinner cooking all day, so you'll find quite a few recipes here from Kalyn's Kitchen. But there are also great-sounding low-carb dinners from blogs around the web, and I think all these low-carb slow cooker dinners sound delicious!
What kinds of low-carb slow cooker dinners will you find here?
This recipe collection has a wide variety of slow cooker dinners that are low in carbs or Ket, including pot roast, soups, stews, lettuce wraps, bowl meals, chicken dishes, tacos, breakfast casseroles, pizza, turkey breast, corned beef, and many more!
How do you get the complete recipe?
Just click any recipe title to see that recipe on the original blog. All photos are copyrighted to the blog that originally posted the recipe.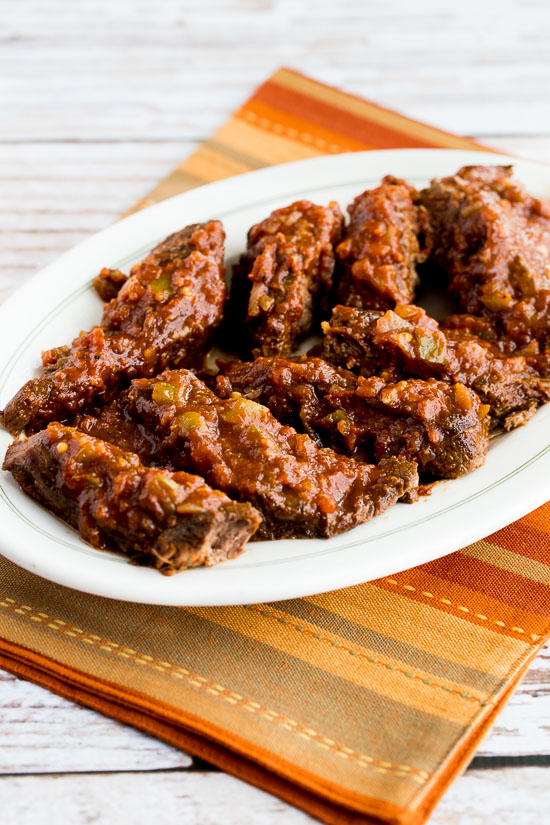 Slow Cooker Southwestern Pot Roast
from Kalyn's Kitchen
Crock Pot Low Carb Un-Stuffed Cabbage Roll Soup
from Sugar-Free Mom
Zucchini Lasagna Roll-Ups
from 365 Days of Slow Cooking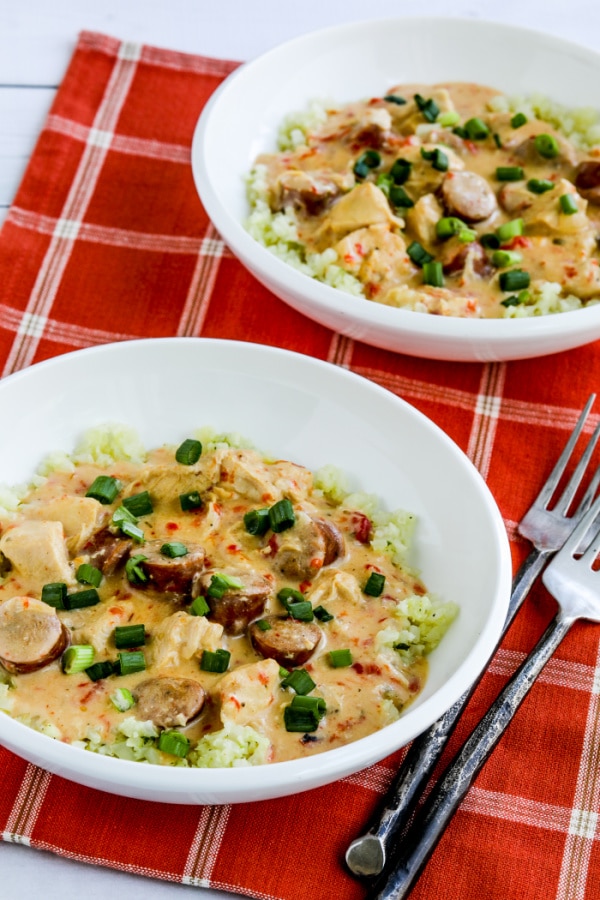 Chicken and Sausage Stew from Kalyn's Kitchen
Traditional Tejano Carne Guisada (Braised Beef for Tacos)
from The Food Charlatan
Low-Carb Slow Cooker Pulled Pork from Kalyn's Kitchen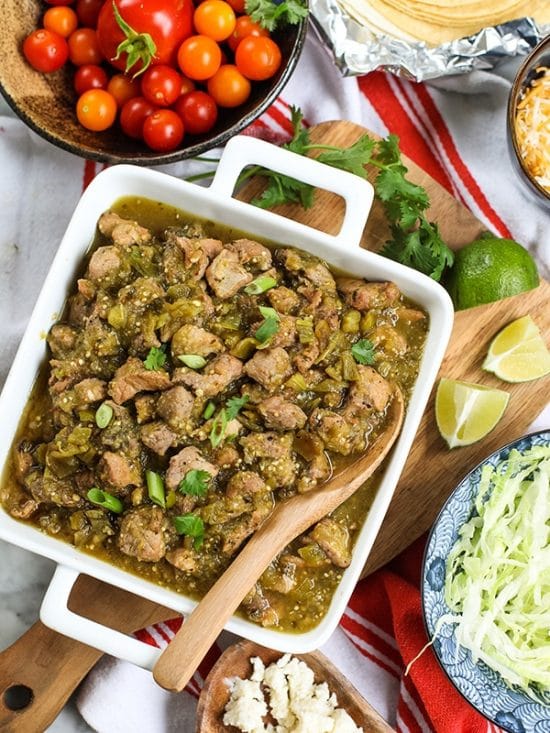 Slow Cooker Hatch Green Chile Verde
from Foodie Crush
Slow Cooker Salsa Chicken from Kalyn's Kitchen
Slow Cooker Tuscan Chicken 
from Creme de la Crumb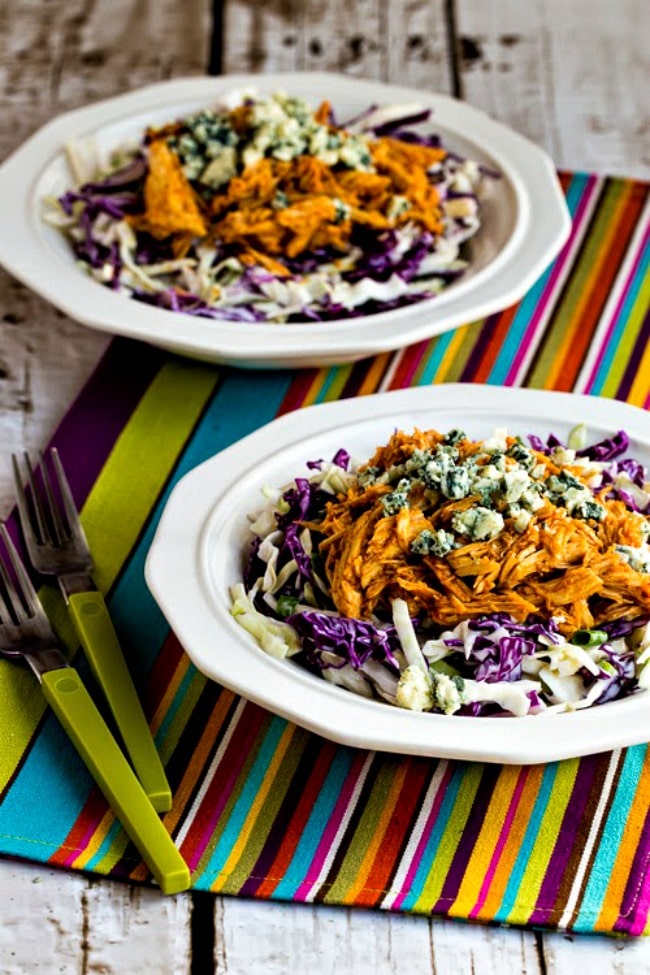 Buffalo Chicken and Blue Cheese Cabbage Bowls
from Kalyn's Kitchen
Tender Slow Cooker Roast Chicken
from Oh Sweet Basil
Perfectly Simple and Sliceable Crockpot Roast Beef
from Barefeet in the Kitchen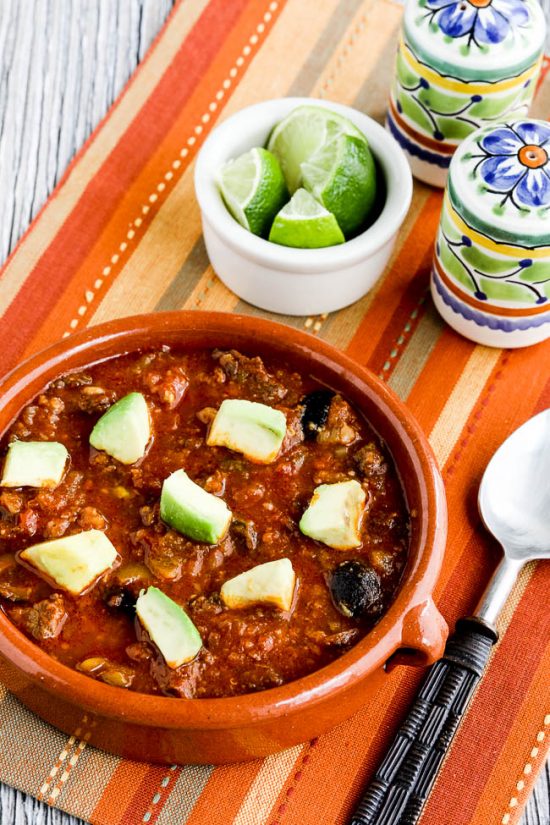 Instant Pot or Slow Cooker Southwestern Beef Stew
from Kalyn's Kitchen
Slow Cooker Sindhi Beef Curry (with cauliflower rice)
from The Perfect Pantry
LowCarb Beef Stroganoff in the Slow Cooker
from Ditch the Carbs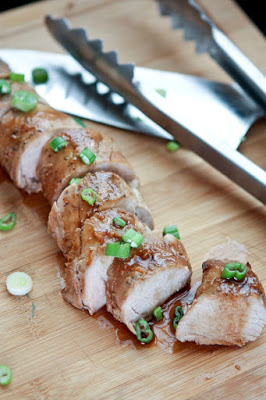 Slow Cooker Asian Citrus Pork Tenderloin
from Aggie's Kitchen
Italian Sausage Stew from Kalyn's Kitchen
Slow Cooked Lebanese Green Beans and Beef
from The Lemon Bowl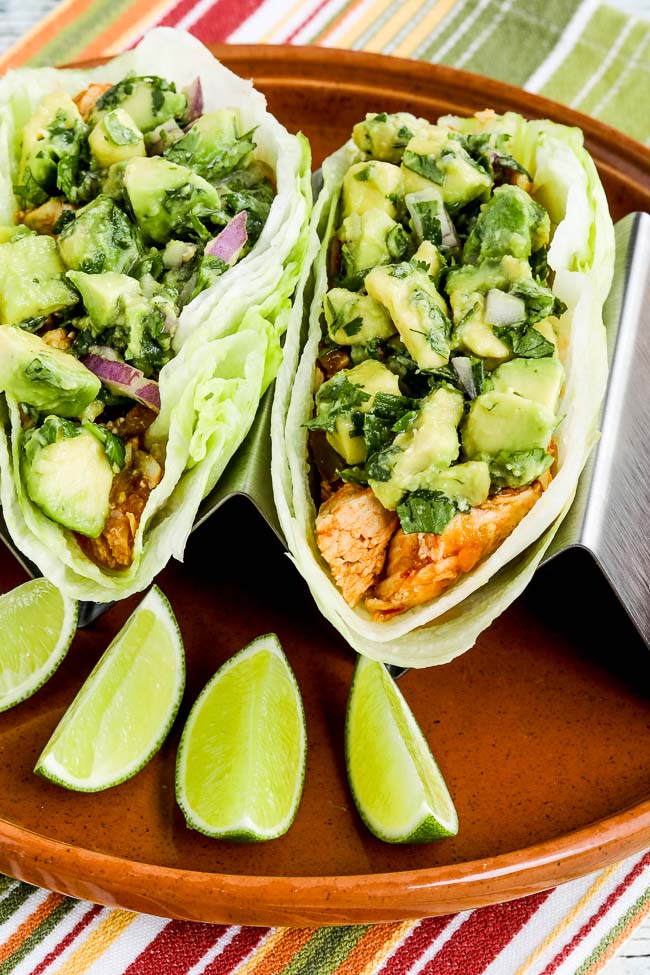 Spicy Shredded Chicken Lettuce Wrap Tacos
from Kalyn's Kitchen
Slow Cooker Carnitas Shredded Pork 
from The Yummy Life
Slow Cooker Kickin' Keto Chili
from Peace Love and Low Carb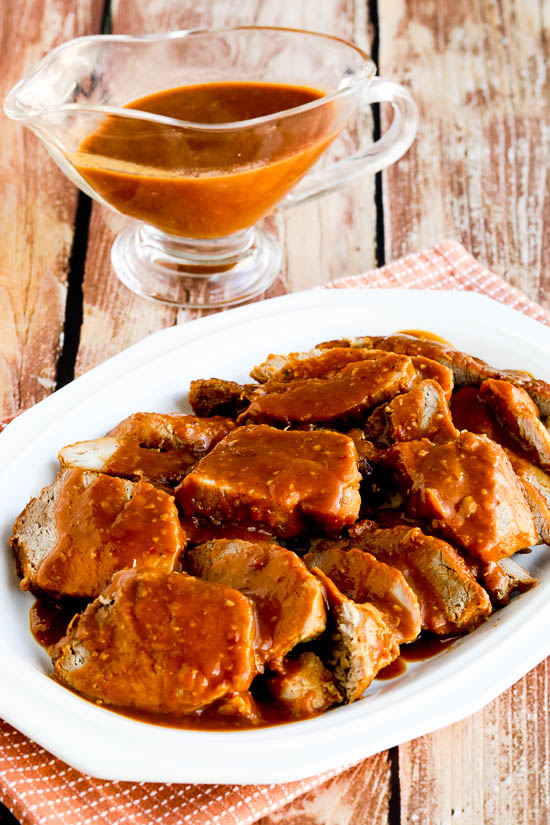 Pork with Peanut Sauce from Kalyn's Kitchen
Slow Cooker Lemon and Dill Salmon(with cauliflower rice)
from 5 Dollar Dinners
Garlic Lover's CrockPot Beef Stew from Kalyn's Kitchen
Low-Carb CrockPot Crustless Pizza
from Recipes that Crock
Crock  Pot Mexican Chicken Soup
from Low Carb Yum
Low-Carb Chicken Coconut Curry with Cauliflower Rice
from Ditch the Carbs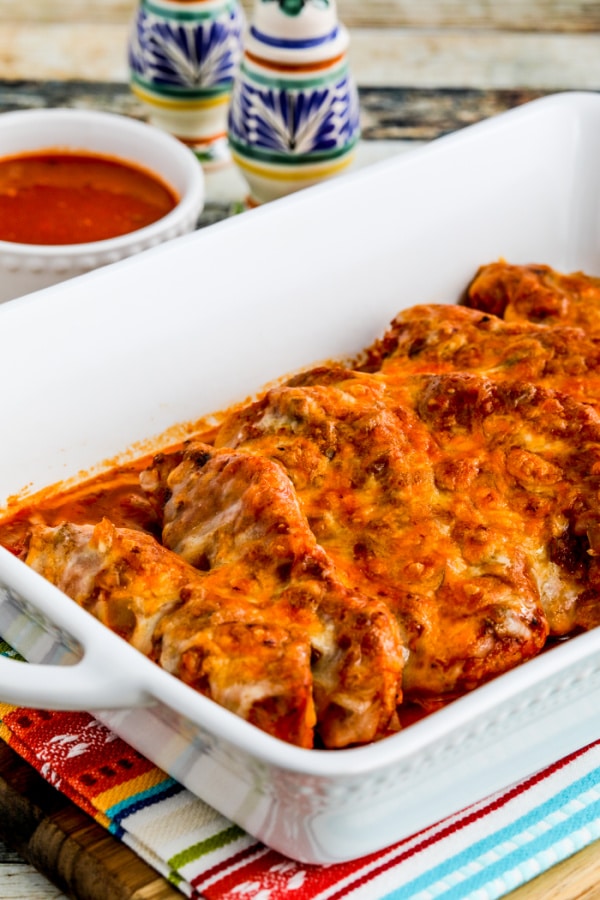 Slow Cooker Salsa Pork Chops from Kalyn's Kitchen
Slow Cooker Madras Beef Curry
from I Breathe I'm Hungry
Slow Cooker Mexican Lasagna Casserole
from Kalyn's Kitchen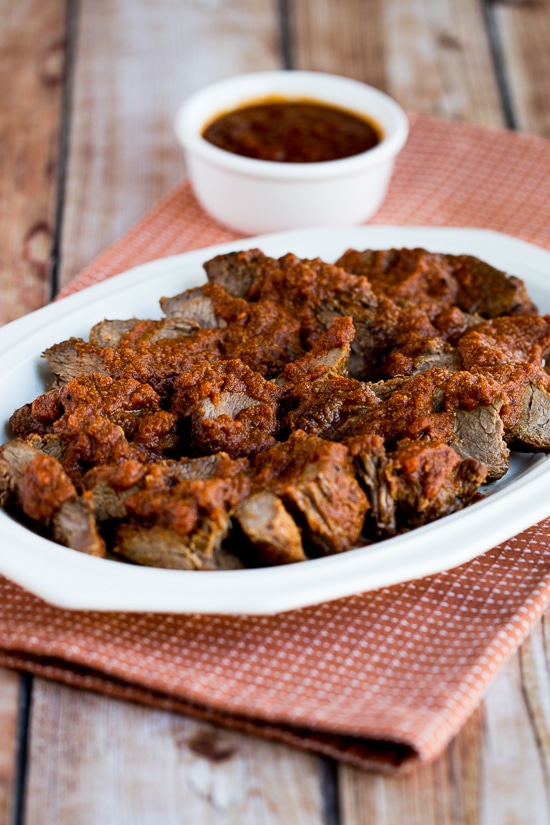 Slow Cooker Sweet and Sour Pot Roast
from Kalyn's Kitchen
Slow Cooker Chipotle Shredded Pork
from 365 Days of Slow Cooking
Slow-Cooked Brisket and Onions 
from The Kitchn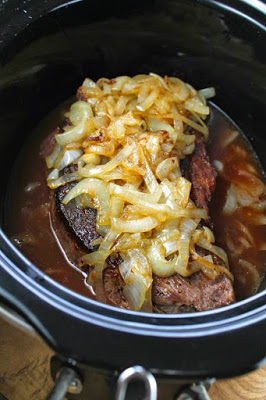 CrockPot Beef Roast with Caramelized Onions 
from Miss in the Kitchen
Slow Cooker Bavarian Pot Roast from Kalyn's Kitchen
Slow Cooker Three Cheese Spaghetti Squash
from All Day I Dream About Food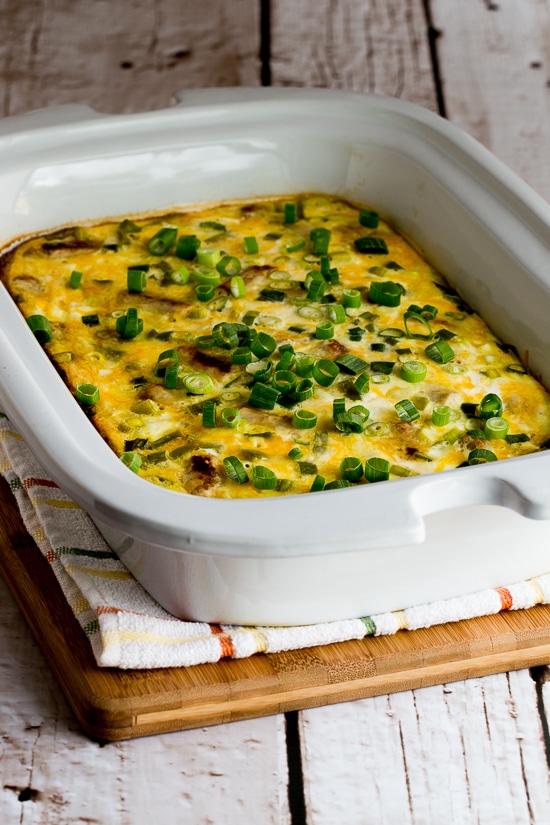 Slow Cooker Sausage and Egg Casserole
from Kalyn's Kitchen
Slow Cooker Green Chile Chicken
from The Perfect Pantry
Slow Cooker Roasted Lemon Almond Cornish Hens 
from Taste and Tell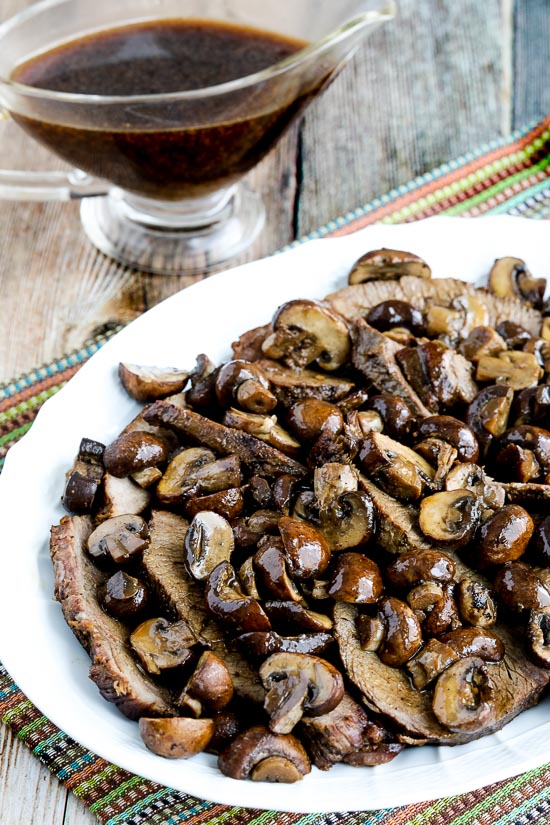 Slow Cooker Mushroom Lover's Pot Roast
from Kalyn's Kitchen
CrockPot Green Chile Pulled Pork
from Barefeet in the Kitchen
Slow Cooker Hungarian Pot Roast from Kalyn's Kitchen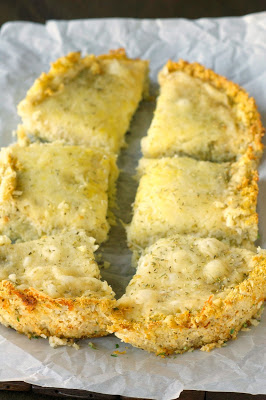 Slow Cooker Deep Dish Cheese Pizza with Cauliflower Crust
from Slow Cooker Gourmet
Slow Cooker Sour Cream Chicken Enchiladas
from Kalyn's Kitchen
Slow Cooker Chicken Bacon Chowder
from Peace Love and Low Carb
Slow Cooker Taco Meat from Kalyn's Kitchen
CrockPot Ground Beef Eggplant Casserole 
from Low Carb Yum
Slow Cooker Corned Beef from Kalyn's Kitchen
Slow Cooker (or Instant Pot) Buffalo Chicken Cauliflower Rice Bowl
from Kalyn's Kitchen
Self Saucing Slow Cooker Meatballs with Zoodles
from Ditch the Carbs
Slow Cooker Ham and Cabbage Soup from Kalyn's Kitchen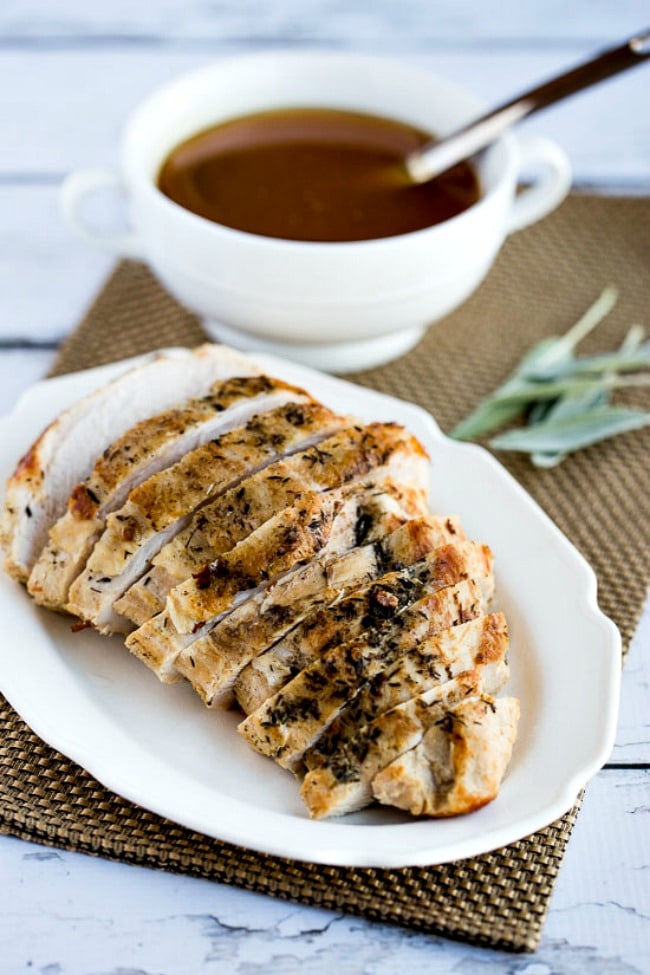 CrockPot (or Instant Pot) Turkey Breast
from Kalyn's Kitchen
Slow Cooker Chipotle Chicken Zucchini "Fideo" Soup
from Skinnytaste
Chipotle Barbacoa Copycat Recipe in a Slow Cooker 
from Wholesome Yum
More Low-Carb and Keto Dinners in the Slow Cooker from Around the Web:
27 Delicious Low-Carb Dinners to Make in a Slow Cooker ~ Buzzfeed
Ten Low-Carb and Keto Slow Cooker Recipes with Beef ~ Kalyn's Kitchen
15 Time-Saving and Tasty Low-Carb Slow Cooker Recipes ~ Gluesticks and Gumdrops
(Visited 43,086 times, 1 visits today)