Remember these Low-Carb Instant Pot Dinners with Pork whenever you're watching your carbs. And Instant Pot dinners are always quick and easy.
PIN Low-Carb Instant Pot Dinners with Pork to try some later!
I know you're not thinking about things like Low-Carb Instant Pot Dinners with Pork just yet. For most people you'll be making holiday treats like Slow Cooker Fudge, Instant Pot Cheesecake, or Instant Pot Chocolate Desserts for the next few weeks. But when New Year's Day arrives, many of you will start thinking about losing a few pounds, and that's when you want to remember this round-up of delicious and easy low-carb dinners with pork made in the Instant Pot. Pin it now so you can find it when that new year diet urge hits!
We've collected fifteen amazing pork dinners from low-carb bloggers around the web, and I'm sure you can find a few ideas here that you'll want to add to your low-carb dinner rotation. And even if you choose to serve some of these with a carb-loaded side dish for other family members, I bet your family will enjoy them for a tasty dinner!
All photos are copyrighted to the site that posted the recipe. Just click the recipe name under any photo to see that recipe on the original site, and enjoy!
Instant Pot Low-Carb Green Chile Pork Taco Bowls from Kalyn's Kitchen are a tasty dinner with Mexican flavors. Everyone who enjoys green chile pork will like these tasty taco bowls!
Jamaican Jerk Pork Roast from I Breathe I'm Hungry can be made in the Instant Pot, slow cooker, or in a dutch oven, and Mellissa gives lots of suggestions for serving this spicy pork!
Instant Pot Boneless Pork Chops with Bacon and Gravy from Savory Tooth combines boneless, center-cut pork chops with a Dijon mustard gravy that's very low carb and keto friendly too with just 3g net carbs per serving. Serve with mashed cauliflower, steamed broccoli, asparagus, or a green salad.
Instant Pot Keto Smothered Pork Chops from Beauty and the Foodie feature a creamy mushroom gravy that sounds delicious!
Sweet Potatoes do add some carbs to this Instant Pot Southwestern Stew with Pork, Bacon, Peppers, and Sweet Potatoes, but if you prefer a lower-carb version just double the peppers and skip the sweet potatoes!
Pressure Cooker Keto B-Ssam Pork and Noodles from Two Sleevers is a delicious Korean dish that's simple to put together. Combine ground pork that you've browned in the Instant Pot, some Asian spices, and a bunch of Bok Choy. Cook for just 4 minutes at high pressure and dinner can be on the table in less than 30 minutes.
Instant Pot Low-Carb Greek Pork Tacos from Kalyn's Kitchen can also be made in the slow cooker if you prefer. Use low-carb tortillas for these tasty Greek Pork Tacos, or eat the meat inside lettuce wraps if you prefer.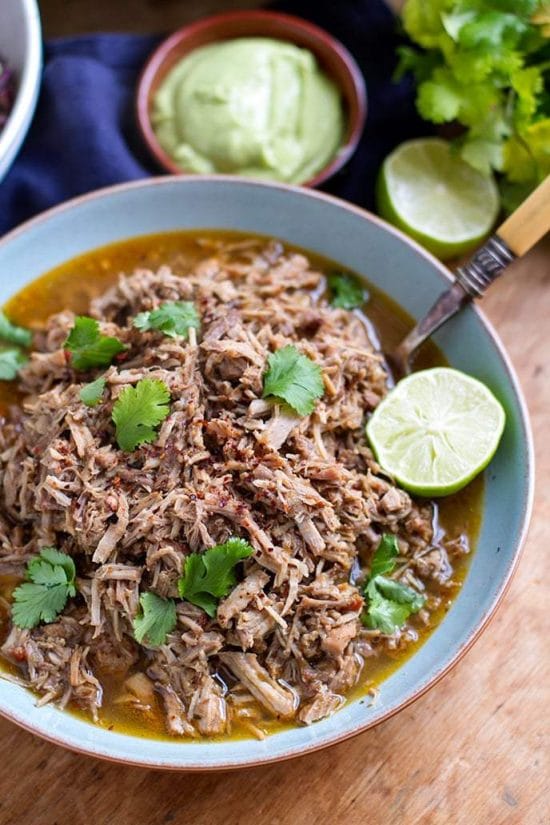 Instant Pot Pulled Pork from Instant Pot Eats has a tiny bit of honey in the cooking liquid; just replace that with an approved sweetener to make this a low-carb dish.
Low-Carb Pressure Cooker Pork Roast with Mushroom Gravy from Health Starts in the Kitchen is a delicious Pork Roast dinner that is low-carb and dairy free. Hayley says you can even start with a frozen roast and you'll still have dinner on the table in less than 2 hours.
Instant Pot Low-Carb Paprika Pork Chops from Kalyn's Kitchen are super quick and the sauce for this recipe has gotten rave reviews!

Low-Carb Instant Pot Pork Ribs from I Breathe I'm Hungry look terrific and take just 35 minutes to cook in the Instant Pot. Mellisa says, "I've never made ribs in less than an hour before – and these pork ribs cooked in the Instant Pot were just as good if not better than any I've made in the past on the grill, smoker, or in the oven."
Instant Pot Carnitas from Low-Carb with Jennifer get browned under the broiler after they come out of the Instant Pot. YUM!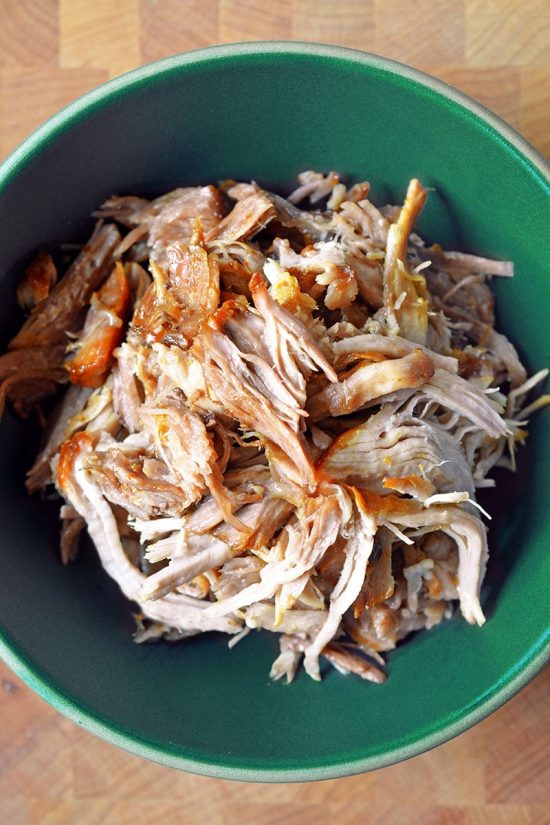 Instant Pot Kalua Pig from Nom Nom Paleo recreates a traditional Hawaiian dish in the Instant Pot, and this sounds delicious!
Instant Pot Italian Pulled Pork Ragu from Skinnytaste starts with a pork tenderloin, tomatoes, roasted peppers, and fresh herbs cooked to perfection in the Instant Pot. Gina has also included directions for the slow cooker or stovetop if you prefer one of those methods of cooking. Serve over spiralized zucchini noodles or spaghetti squash for a delicious low-carb meal.
I'm intrigued by this Low-Carb Instant Pot Pork Saag from Two Sleevers; this dish with pork and spinach is loaded with Indian flavors!
More Low-Carb Dinners from the Instant Pot
50 Amazing Low-Carb Instant Pot Dinner Recipes
50 Amazing Low-Carb Instant Pot Soup Recipes
The BEST Low-Carb Instant Pot Dinners with Ground Beef
The BEST Low-Carb Instant Pot Soup Recipes ~ Kalyn's Kitchen
(Visited 3,730 times, 1 visits today)