These Low-Carb and Keto Instant Pot Dinners with Ground Beef are good ideas for using the ground beef you have in the freezer. And using the Instant Pot is great for getting dinner on the table quickly!
PIN Low-Carb and Keto Dinners with Ground Beef to try some later!
Ground beef isn't as inexpensive now as it used to be years ago, but it's still something that most people keep in the freezer and pull out for a quick dinner. And these days lots of people are watching their carbs, right? So for anyone who wants low-carb ideas for the Instant Pot, this collection of  Low-Carb and Keto Instant Pot Dinners with Ground Beef has some ideas that I bet you'll like. Some of these low-carb ground beef dinners just might become regulars on your dinner rotation!
And there are tasty low-carb Instant Pot recipes here with lots of different interesting international flavors. All photos are copyrighted to the site that posted the recipe; just click the recipe name under any photo to see the complete recipe on the original site. And happy low-carb dinners everyone!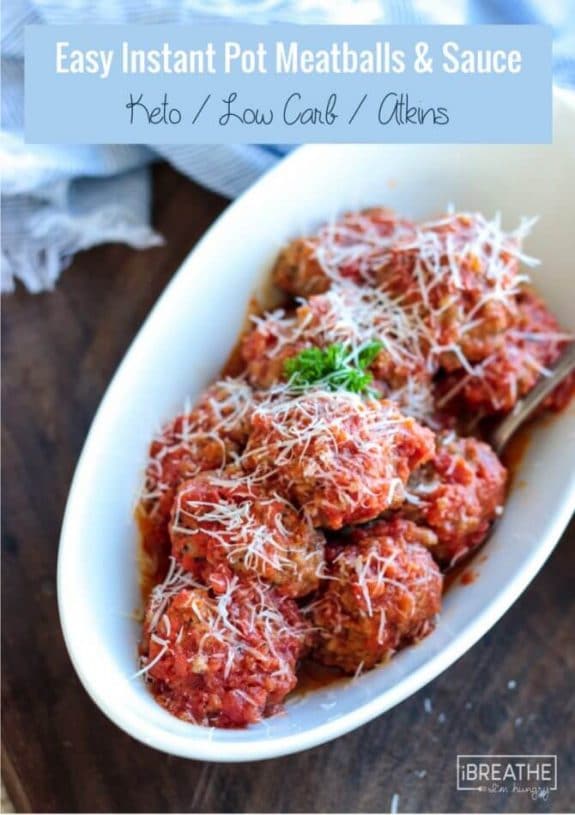 These Easy Instant Pot Meatballs and Sauce from I Breathe, I'm Hungry are so juicy, tender and easy to make. You'll love this recipe for making delicious Italian meatballs that are also low-carb!
This Instant Pot Low-Carb Goulash Soup with Ground Beef and Peppers from Kalyn's Kitchen is a delicious and quick dinner that's low-carb, Keto, low-glycemic, gluten-free and South Beach Diet friendly. You will love this tasty dish for dinner.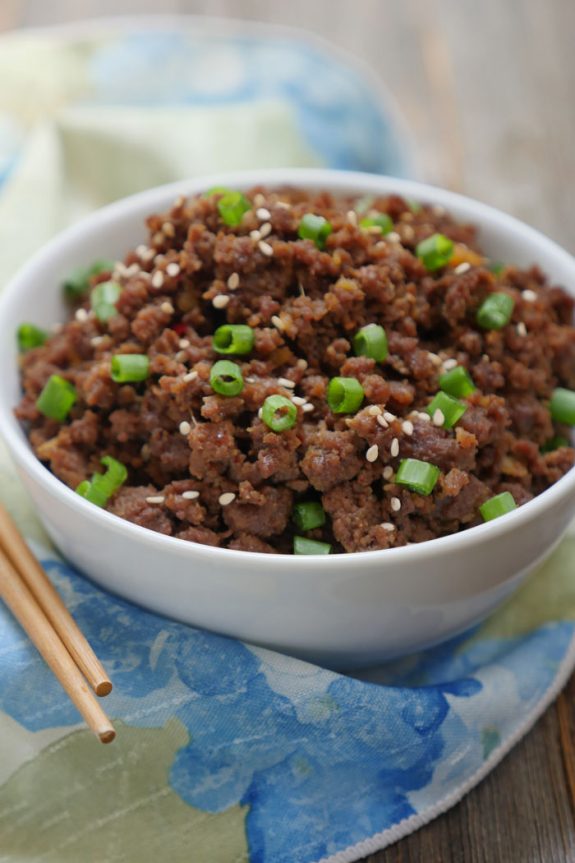 Just switch out the coconut sugar for your favorite sweetener and serve with Cauliflower Rice and this tasty Instant Pot Ground Beef Bulgogi from My Heart Beets can be a tasty low-carb dinner!
Try this Instant Pot Keto Indian Kheema from Two Sleevers for a rich, unique flavor blend ground beef dish. It cooks quickly and looks so delicious!
Instant Pot Low-Carb Ground Beef Olive Lovers's Chili from Kalyn's Kitchen is a perfect dish to serve on game day! This is easy to make and perfect for the olive lovers in your life. You can't go wrong with chili that's quick, easy and low-carb!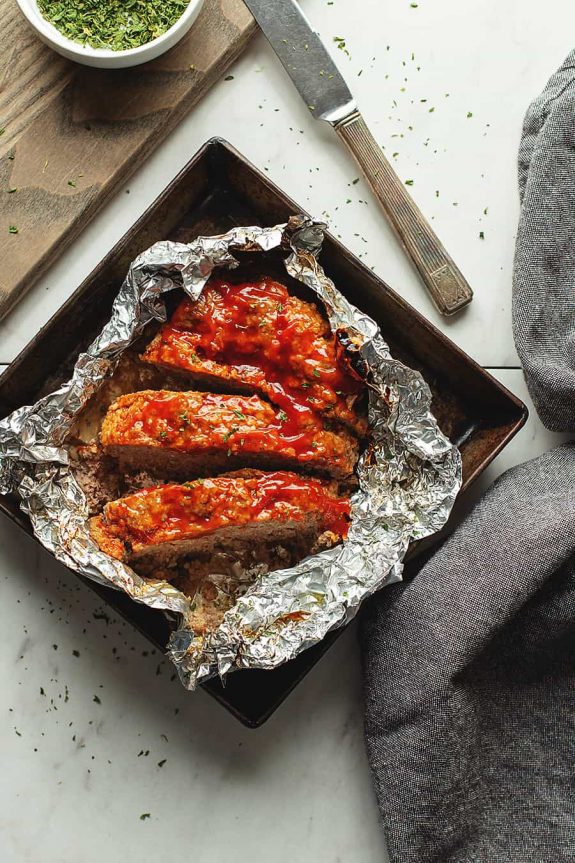 Use almond flour as a binder and sugar-free ketchup to make this Instant Pot Meatloaf from Low-Carb with Jennifer!
This Instant Pot Low-Carb Soup with Ground Beef, Green Beans, and Tomatoes from Kalyn's Kitchen is so delicious and healthy too! Kalyn just knows how to satisfy that craving for tasty soup without all the carbs.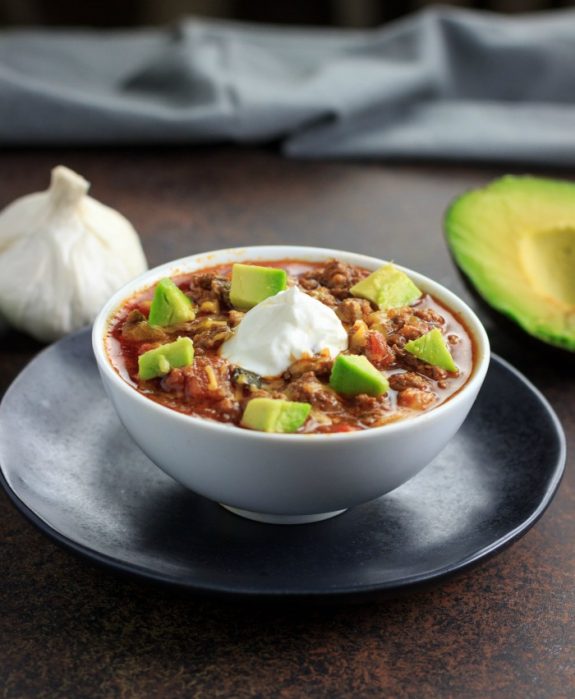 Keto Instant Pot Chunky Chili from Beauty and the Foodie looks like a winner for a low-carb Instant Pot dinner!
Instant Pot Cabbage Soup with Beef  from Savory Tooth combines the ground beef, tomatoes and cabbage to make the perfect unstuffed cabbage soup. This soup is so easy and delicious too!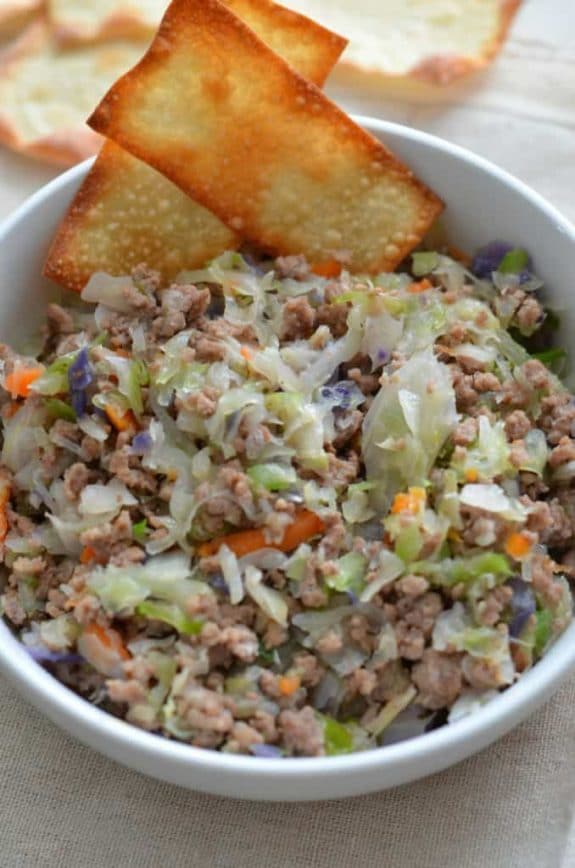 These Instant Pot Egg Roll Bowls from I Don't Have Time For That are perfect for that Chinese food craving, while keeping your low-carb diet in check! Made in the Instant pot for easy, quick meal.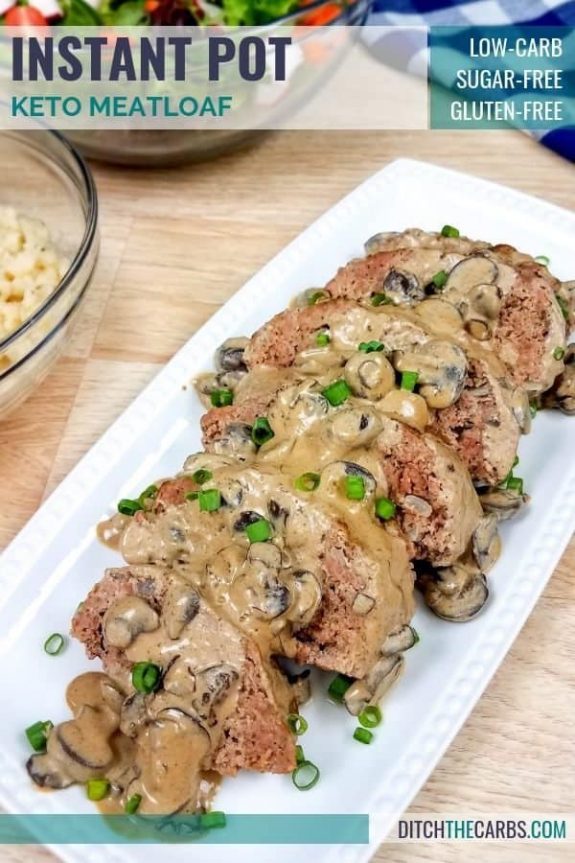 Keto Instant Pot Meatloaf from Ditch the Carbs has a tasty mushroom sauce that really sounds delicious!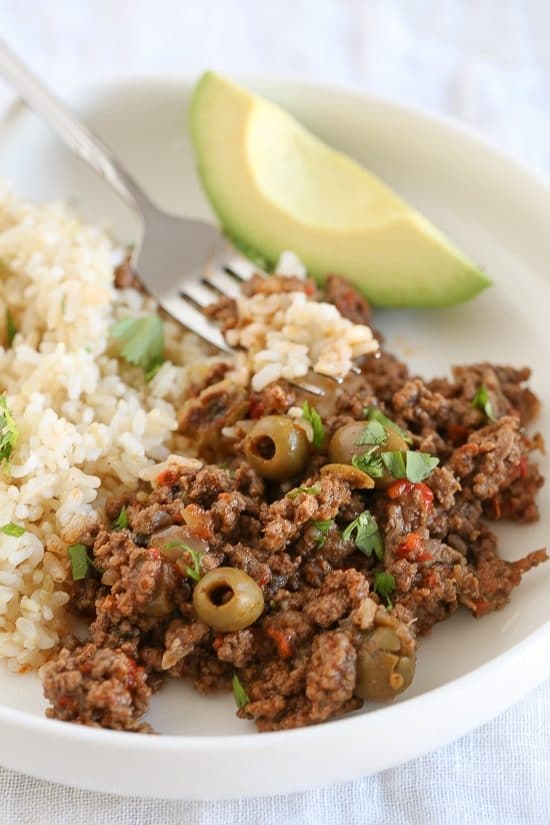 Instant Pot Picadillo from Skinnytaste is a Cuban recipe that Gina says is a favorite, and it just might become a favorite at your house too! It is quick and easy but serve with Cauliflower Rice to keep it low carb.
This Instant Pot Low-Carb Taco Soup from Kalyn's Kitchen is so tasty, quick, and great for a weekday meal! Grab that Instant Pot and make this delicious soup tonight!
This Instant Pot Sweet Potato Chili Recipe from Add A Pinch looks so delicious and a healthier way to enjoy chili! This is pretty low in carbs, but switch out the sweet potato for red peppers for a Keto version.
More Low-Carb Dinners in the Instant Pot:
Low-Carb Instant Pot Dinners with Pork
50 Amazing Low-Carb Instant Pot Dinner Recipes
50 amazing Low-Carb Instant Pot Soup Recipes
The BEST Low-Carb Instant Pot Soup Recipes ~ Kalyn's Kitchen
(Visited 34,073 times, 4 visits today)