Try one of these Four Fabulous Recipes for Kalua Pork for an easy summertime meal from the slow cooker or the pressure cooker! Kalua pork is a tasty choice for a delicious and easy dinner, and it can be used to make many different dishes that are perfect for warm-weather meals. 
Click here to PIN Four Fabulous Recipes for Kalua Pork!
Click here to see The BEST 5 Ingredients or Less Instant Pot Recipes!
For this week's Friday Favorites recommendation we're sharing Four Fabulous Recipes for Kalua Pork, and each recipe gives you a unique way to make this popular pork dish. Whether you go for the traditional Hawaiian Kalua Pork or a fusion flair, any of these recipes for Kalua Pork will be a hit!
And there are Kalua Pork recipes here to make in the Instant Pot or some that use the slow cooker; either choice for Kalua Pork will give you an easy to do and fabulously tasty dinner. Keep the kitchen cool and try one of these recipes for Kalua Pork for a Summer Dinner!
All photos are copyrighted to the site that posted the recipe. Just click the recipe name under any photo to see the complete recipe on that site.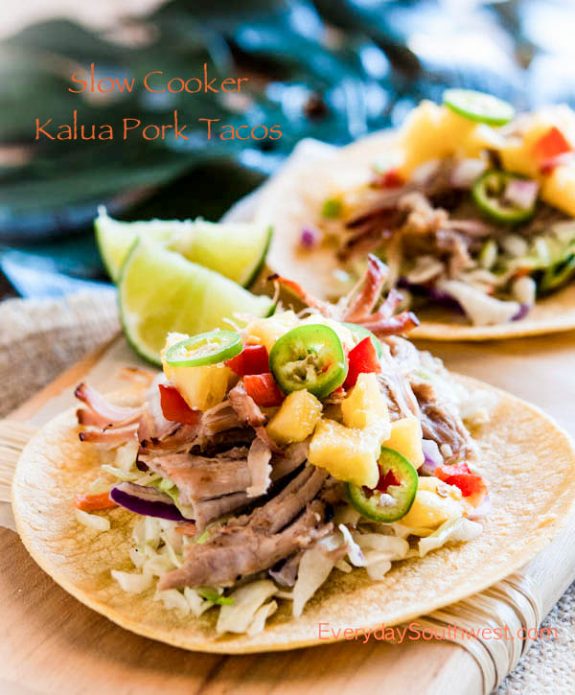 If you're looking for a delicious taste of the Islands, try Kalua Pork Tacos with Pineapple Salsa from Everyday Southwest! These are easy and  healthy and cooked in a slow cooker!
Pressure Cooking Today serves this Pressure Cooker Kalua Pork to the delight of family and guests! She uses pork shoulder, which is an inexpensive choice for this Kalua pork recipe.
This Instant Pot Kalua Pig from Nom Nom Paleo is accomplished by using her favorite cooking method, the Instant Pot (pressure cooker). Serving up a traditional Hawaiian meal includes adding cabbage to the pot, and the result is  juicy, tender pork served with a side of cabbage. So delicious!
Slow Cooker Kalua Pork Tacos from Bobbi's Kozy Kitchen are served with an Hawaiian inspired sauce in a corn tortilla. By taking two styles of food and combining the flavors into one fabulous dish, this recipe is fusion food at it's best!
More Tasty Pork in the Slow Cooker or Instant Pot:
Use the Recipe-by-Photo Index Page for Pork to see all the slow cooker or pressure cooker pork recipes that have been featured on this site.
(Visited 1,464 times, 1 visits today)