Think outside the box a bit for these Four Fun Recipes for Barbecued Chicken, each one of these is a tasty dinner the whole family will like!
PIN Four Fun Recipes for Barbecued Chicken to try one later!
When you hear Barbecued Chicken made with the slow cooker or Instant Pot, many people probably think of shredded barbecued chicken served on a bun. But these Four Fun Recipes for Barbecued Chicken can help you spice up your barbecued chicken options with some think-outside-the-box ideas! And these recipes have either a fully homemade barbecue sauce or a purchased sauce that's kicked-up in flavor with additions.
We're featuring recipes for Barbecued Chicken in lettuce cups, cooked Asian style, with chicken drumsticks, and stuffed into a sweet potato. And every recipe has a unique combination of flavors that are sure to make it a delightful dinner option; enjoy!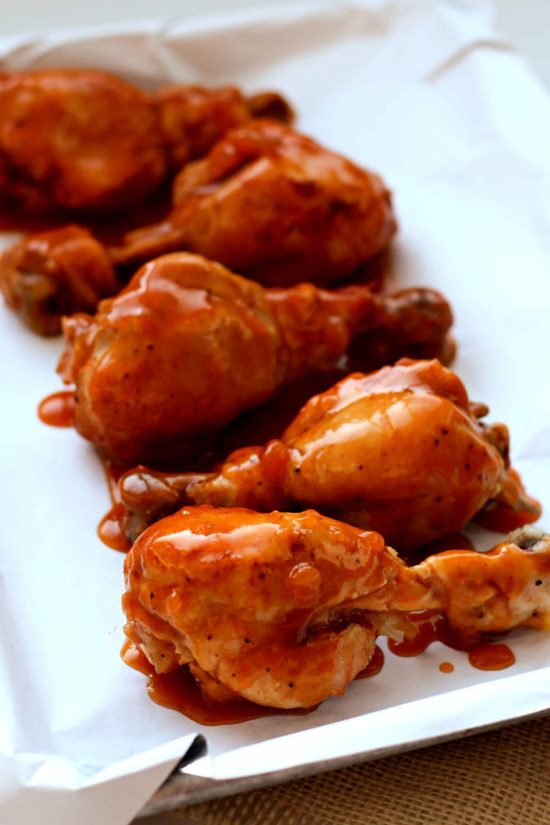 Instant Pot Honey Barbecue Chicken from 365 Days of Slow + Pressure Cooking produces these delicious-looking barbecued chicken drumsticks in 15 minutes! This recipe uses a purchased barbecue sauce that Karen kicks up with the addition of  honey, Dijon mustard, Worcestershire and Tabasco Sauce. There's also a link to a slow cooker version of this if you prefer that method.
Slow Cooker Low-Sugar Barbecued Chicken Lettuce Cups from Kalyn's Kitchen include a low-sugar homemade barbecue sauce to make these low-carb barbecued chicken lettuce wraps that are delicious and fun to eat!
For these Stuffed BBQ Chicken Sweet Potatoes from Mel's Kitchen Cafe you can cook both the barbecued chicken and the sweet potatoes in either the Instant Pot or the Slow Cooker, and there are so many good flavors going on here!
Slow Cooker Asian Chicken Barbecue from 365 Days of Slow + Pressure Cooking is an easy dish without too many ingredients, and this recipe creates Barbecued Chicken as it's made in Asian cuisine, with no tomato sauce in the tasty glaze. Karen says her family loved the dish and was just disappointed there wasn't more chicken left!
More Chicken in the Slow Cooker or Instant Pot:
Use the Index for Chicken Recipes to see all the slow cooker or Instant Pot recipes with chicken that have been featured on this site.
(Visited 546 times, 1 visits today)