Here are some great ideas for Slow Cooker BBQ Chicken and each one of these is a tasty dinner the whole family will like! This post has 14 different barbecued chicken recipes for you to try in your slow cooker!
PIN the Slow Cooker BBQ Chicken recipes to try some later!
When you hear about barbecued chicken made with the slow cooker, many people probably think of shredded chicken served on a bun. And of course that can be a delicious family-friendly dinner. But there are so many other tasty options in this collection of Slow Cooker BBQ Chicken to help you spice up your chicken dinner options with some think-outside-the-box ideas!
And these recipes have either a fully homemade barbecue sauce or a purchased sauce that's kicked-up in flavor with additions. And every recipe has a unique combination of flavors that are sure to make it a delightful dinner.
What kinds of Slow Cooker BBQ Recipes will you find here?
In this round-up we're featuring recipes for barbecued chicken in lettuce cups, stuffed into a sweet potato, made into tacos, and of course served on buns as a sandwich. You'll also find chicken drumsticks and sliced chicken breasts cooked with tasty barbecue sauce.
Want more slow cooker chicken recipes?
Check out Slow Cooker Chicken Tacos, Slow Cooker Chicken Curry, or Low-Carb Crock Pot Chicken Dinners for more tasty chicken dinners to make in the slow cooker!
How do you get the complete recipe?
Just click any recipe title to see the complete recipe on the original site. All photos are copyrighted to the site that posted the recipe.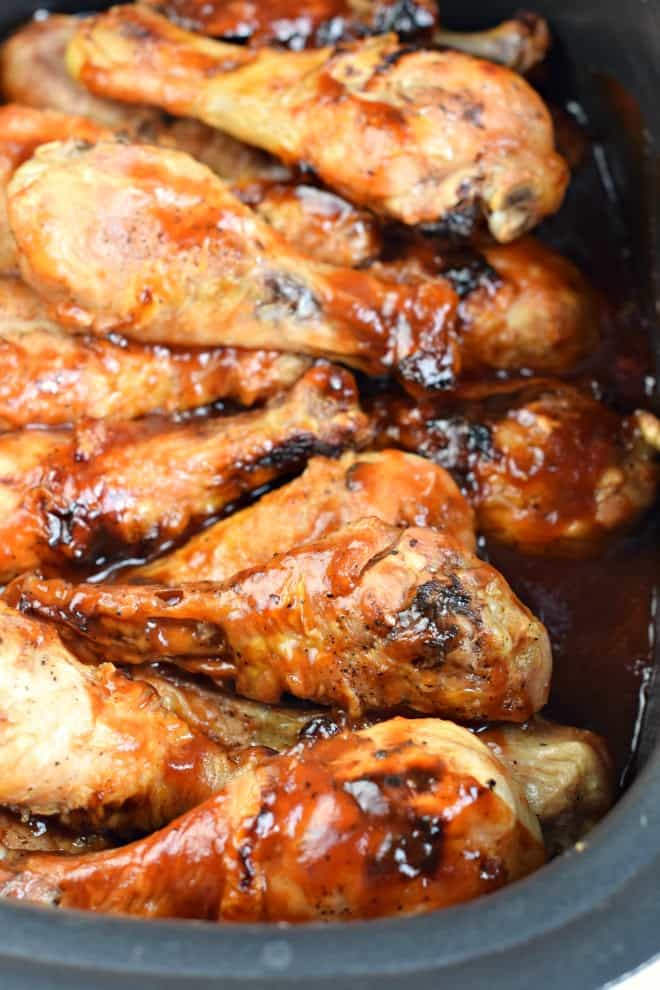 Amy from Shugary Sweets calls this recipe The Best Sweet and Tangy Slow Cooker BBQ Chicken, and she created this when she had the idea of using her favorite barbecue sauce for wings on chicken drumsticks! Doesn't that look good?
Slow Cooker Barbecued Chicken from Kalyn's Kitchen includes a sugar-free homemade barbecue sauce to make these low-carb barbecued chicken lettuce wraps that are delicious and fun to eat!
For these Stuffed BBQ Chicken Sweet Potatoes from Mel's Kitchen Cafe you can cook both the barbecued chicken and the sweet potatoes in either the Instant Pot or the Slow Cooker, and there are so many good flavors going on here!
Slow Cooker Pulled Chicken from Easy Seasonal Recipes is a recipe that sears the chicken and makes a delicious-sounding homemade barbecue sauce on the stove, and then combines them in the slow cooker to infuse the chicken with barbecue flavor!
Slow Cooker Shredded BBQ Chicken Tacos from Bev Cooks start out easy with chicken, onion, garlic, barbecue sauce, and cream cheese cooked in the slow cooker, and then they're kicked up a few notches with lime, Fritos, cilantro, and white cheddar served on the finished tacos!
Slow Cooker Sweet BBQ Chicken from Six Sisters' Stuff uses purchased barbecue sauce and a simple preparation method to produce a barbecued chicken that the whole family is going to love.
More  Barbecued Chicken in the Slow Cooker:
The Best Crockpot BBQ Chicken from Family Fresh Meals
Slow Cooker Pulled Barbecued Chicken Sandwiches from Recipe Girl
Zesty Slow Cooker Barbecue Chicken from Six Sisters' Stuff
Slow Cooker Barbecue Chicken Tacos from Foodie with Family
BBQ Pulled Chicken Sandwiches from Mel's Kitchen Cafe
Slow Cooker Shredded Barbecue Chicken from The Perfect Pantry
All Purpose Slow Cooker Shredded Barbecue Chicken from Aggies Kitchen
Slow Cooker Asian Chicken Barbecue from 365 Days of Slow + Pressure Cooking
(Visited 1,309 times, 2 visits today)