Here are Four Barbecue Chicken Recipes That Are Finger Licking Good! They're sweet, spicy, tangy, and tomato based, and whether you use the slow cooker or the Instant Pot, these Barbecue Chicken Recipes will be perfect for an easy summer dinner!
Click here to PIN Four Barbecue Chicken Recipes That Are Finger Licking Good!
Click for The BEST Slow Cooker and Instant Pot Chicken Drumsticks Recipes!
These Four Barbecue Chicken Recipes That are Finger-Linkin' Good look so tasty and we're featuring for Friday Favorites this week, because isn't barbecued chicken always a favorite for dinner? When I was reading through recipes to update this post, I found so many tasty-looking ideas for slow cooker and pressure cooker barbecue chicken it was hard to pick just four!
But I had to choose, so here are two yummy-looking versions for slow cooker barbecue chicken and two options for Instant Pot barbecue chicken. And either of these methods will keep your chicken cool, and all these recipes are easy to put together.  I'd say barbecue chicken needs to be on the menu soon!
All photos are copyrighted to the site that posted the recipe. Just click the recipe name under any photo to see the complete recipe on that site.
From Skinny Ms., check out this Slow Cooker Spicy Barbecued Chicken that has a hint of sweetness and a bit on the hot side. This recipe uses healthy ingredients to make a simple, tasty barbecue chicken that looks amazing!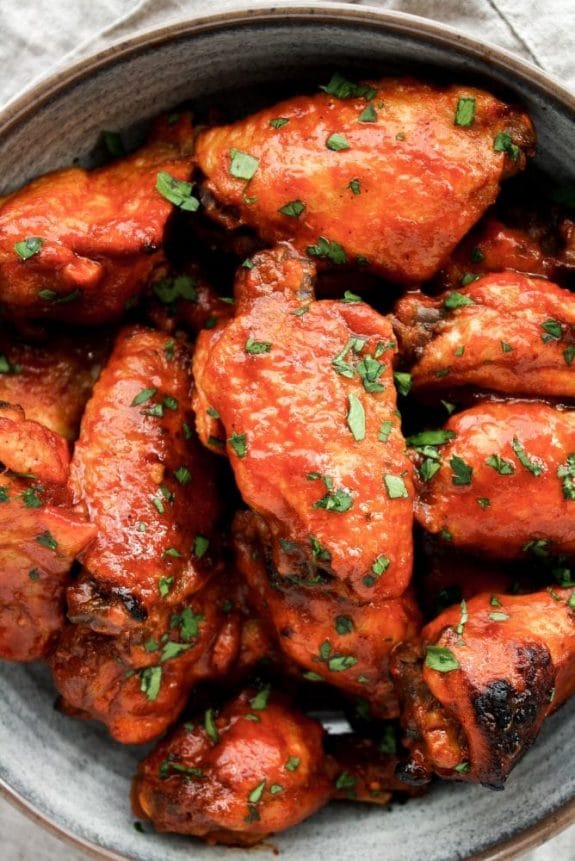 Instant Pot Low-Carb Sweet & Spicy Barbecue Chicken Wings from Real Balanced favors a sauce sweetened with cinnamon and a low-carb sweetener, along with cayenne, chipotle chili, crushed red pepper flakes, and hot sauce to add some heat. This looks mouth watering for sure and sounds easy to prepare!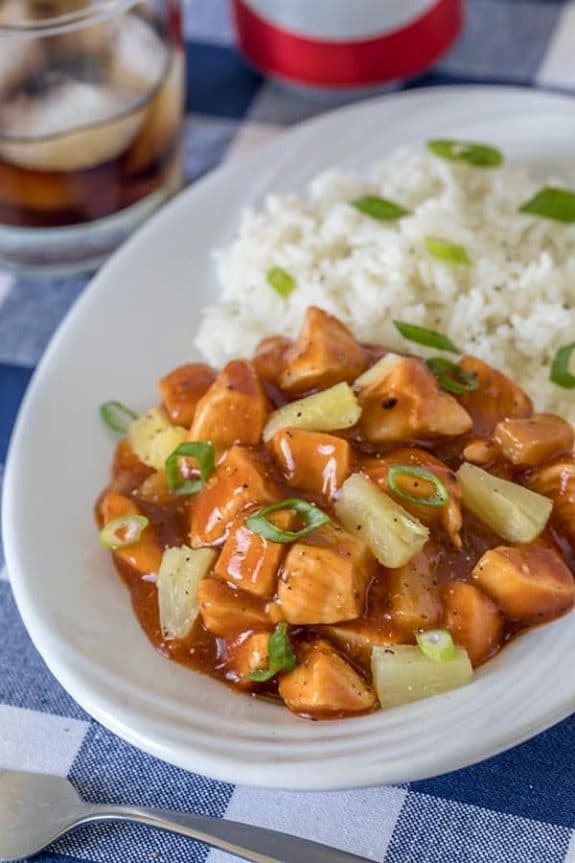 Pressure Cooker Hawaiian BBQ Chicken from Pressure Cooking Today is a marriage between BBQ chicken and Hawaiian chicken teriyaki. I love the idea of this mix of flavors and I'm guessing your family will love this dish for dinner!
Wine and Glue has a delicious Slow Cooker Honey BBQ Chicken Drumsticks recipe. It is easy, packed with flavor, and gives you a moist and tender chicken dish that I think you'll love!
More Tasty Chicken in the Slow Cooker or Instant Pot:
Use the  Index Page for Chicken  to see all the Slow Cooker or Pressure Cooker Chicken Recipes that have been featured on this site.
(Visited 1,020 times, 1 visits today)