Here are Orange Chicken Recipes to make in the Slow Cooker or the Instant Pot, and I bet your family will love orange chicken for dinner! 
PIN the Orange Chicken Recipes to try some later!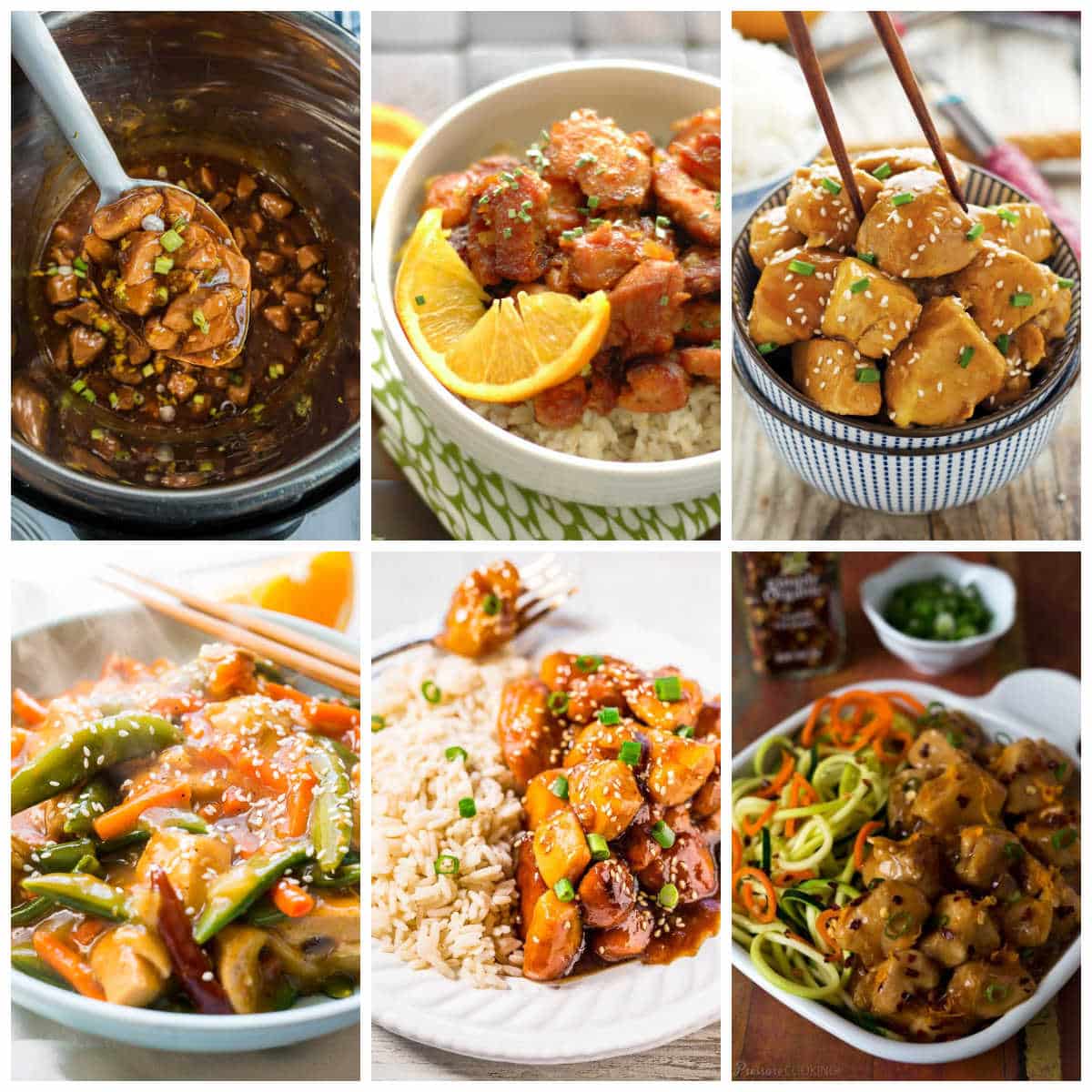 Orange Chicken is definitely a family-friendly dinner idea, and there are 14 different Orange Chicken Recipes here for you to try! Each blogger has a slightly different approach to this take-out favorite, so if your family loves Orange Chicken try a few of them and and see which one they like best!
And all of the recipes for Orange Chicken featured here are going to be much healthier than the take-out orange chicken you get from a Chinese restaurant. And making Orange Chicken at home is going to be a lot less expensive too.
How do you get the complete recipe?
Just click any recipe title to see the complete recipe on the original blog. Photos are copyrighted to the blog that posted the recipe.
Want more ideas for Asian Chicken?
Slow Cooker Orange Chicken Recipes:
Slow Cooker Crispy Orange Chicken from Slow Cooker Gourmet combines boneless chicken breast, orange marmalade, soy sauce, rice vinegar and a few spices to create a sweet and savory orange chicken. The orange marmalade has just the right sweetness and keeps the sauce from being too runny or thin.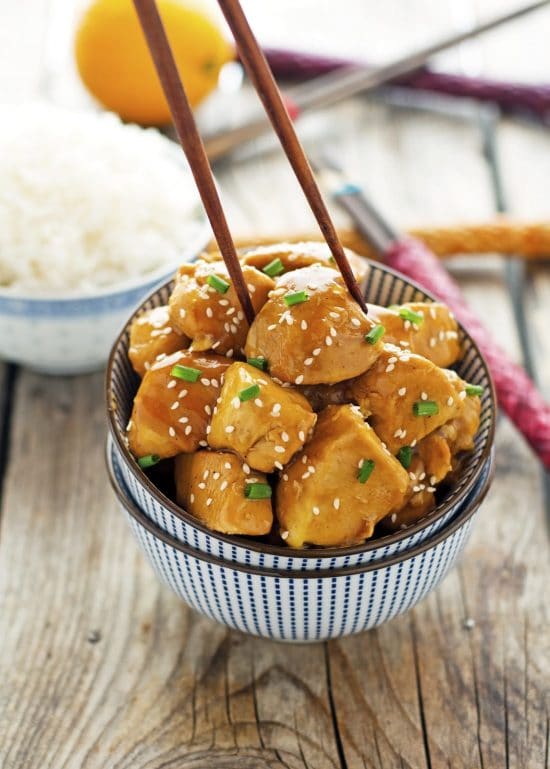 Mike from The Iron You says "if you're craving orange-y, savory, sweet and sour, spicy melt-in-your-mouth chicken" his Easy Crock Pot Orange Chicken is going to deliver amazing flavor, and this Paleo-approved recipe is a lot healthier than many Orange Chicken recipes you'll find.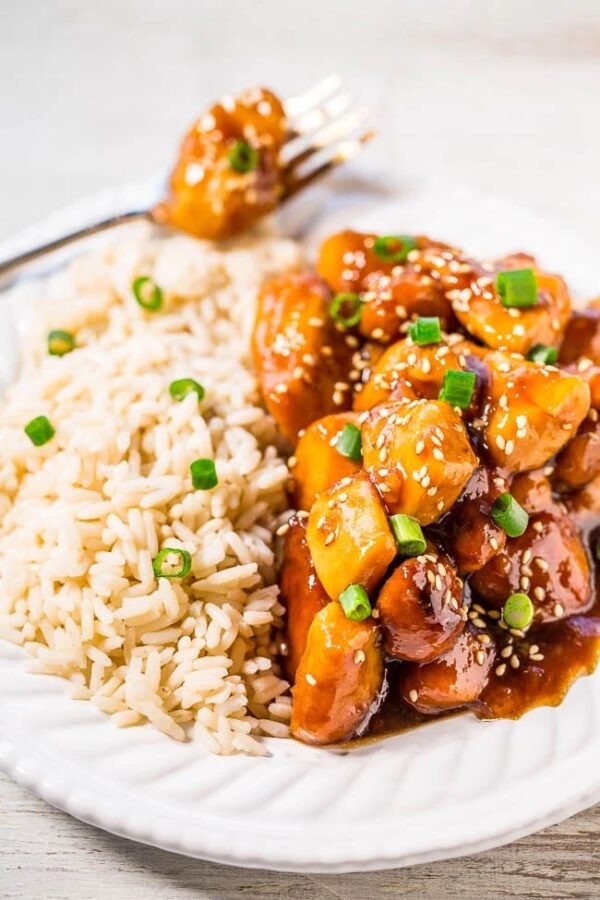 Easy Slow Cooker Orange Chicken from Averie Cooks has a sweet-but-tangy orange glaze that Averie says your family won't be able to resist!
More Orange Chicken in the Slow Cooker
Instant Pot Orange Chicken Recipes:
Aimee says this Instant Pot Orange Chicken from Shugary Sweets is a kid-friendly dinner that's easy to make for a week-night meal!
This Pressure Cooker Orange Chicken at Pressure Cooking Today will give you tender, bite-sized pieces of chicken in a sweet-spicy orange sauce, and this can be on the table in about 20 minutes!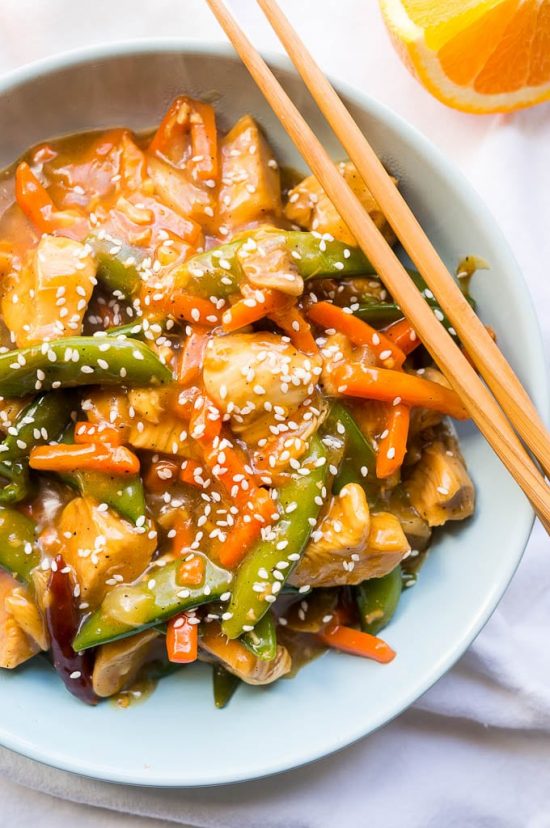 If you want lsome veggies with your Orange Chicken, I think this Pressure Cooker Orange Chicken Stir-Fry at Kitschen Cat looks and sounds amazing. Jessie says this recipe has no refined sugar and can be ready in 15 minutes!
More Orange Chicken in the Instant Pot:
(Visited 2,248 times, 1 visits today)