Beef stew is a classic slow cooker dish and here's a collection of  AMAZING Recipes for Slow Cooker Beef Stew! There are tasty ideas here from some of the best food bloggers on the web!
PIN AMAZING Slow Cooker Beef Stew Recipes to try some later!
Beef becomes fall-apart tender and stays juicy when it's cooked in the slow cooker with stock and vegetables, which must be one of the reasons why Slow Cooker Beef Stew is such a popular dish.  And more people are using their slow cookers these days, so we're updating this huge collection of Amazing Slow Cooker Beef Stew Recipes.
Be sure to look at the links after the photos to see all the beef stew recipes, some with ingredients you might not have thought of. There are beef stew options here for everyone's tastebuds, and now that beef is more expensive than it used to be, using it in stew makes it a bit more budget friendly! Hope you enjoy making some beef stew in the slow cooker!
All photos are copyrighted by the blog that originally posted the recipe. Click any recipe title to get that beef stew recipe from the original blog that posted it.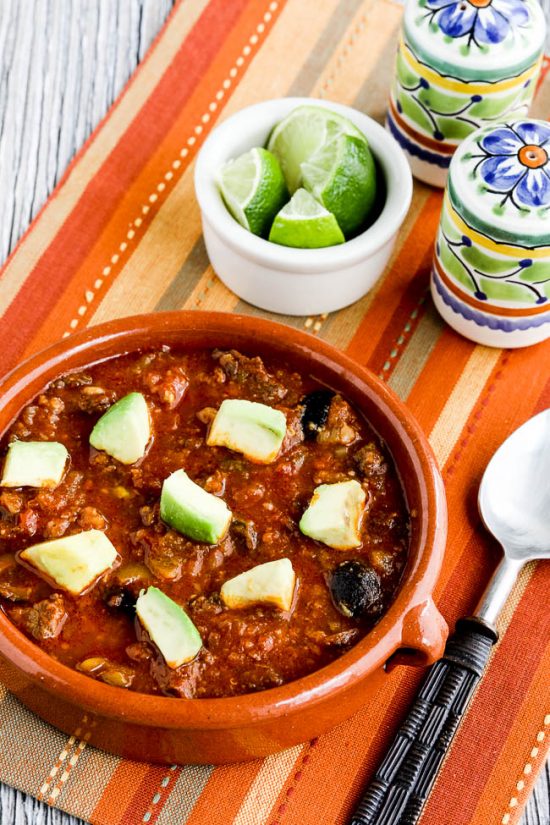 Slow Cooker (or Instant Pot) Low-Carb Southwestern Beef Stew from Kalyn's Kitchen is my current favorite beef stew recipe, and I love this with an extra squeeze of lime.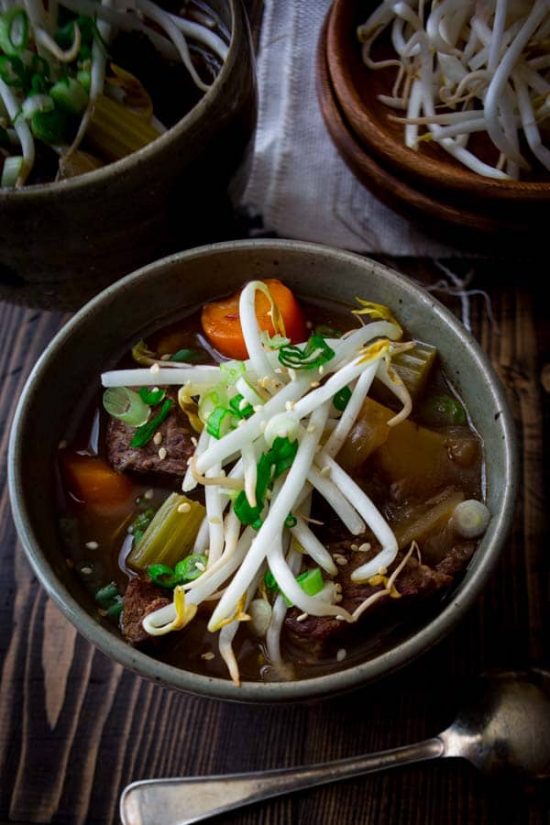 A unique beef stew that sounds amazing is the Slow Cooker Chinese 5-Spice Beef Stew from Healthy Seasonal Recipes.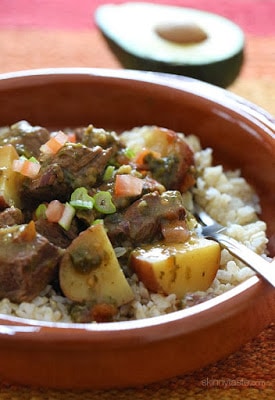 A stew with spicy Latin flavors is the Crock Pot Carne Guisado from Skinnytaste.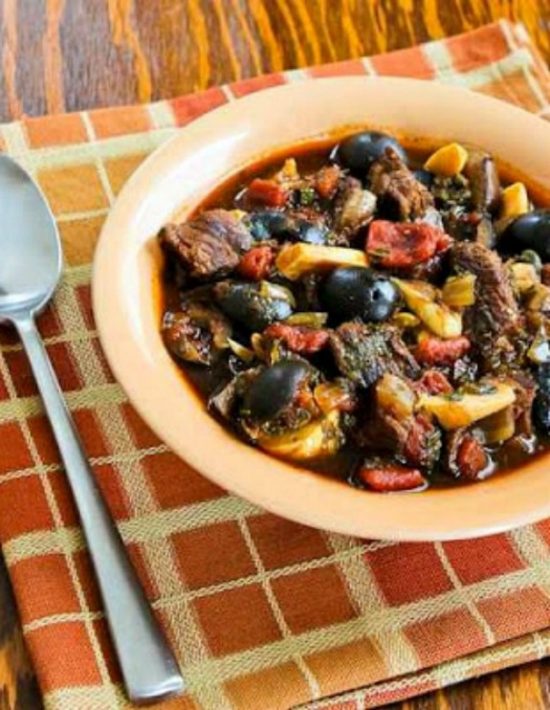 Slow Cooker Mediterranean Beef Stew from Kalyn's Kitchen is another one of my favorites, and this has olives, capers, rosemary, and balsamic vinegar.
Crock Pot Beef Stew from Iowa Girl Eats is a classic version of Beef Stew that looks and sounds delicious.
The Best Slow Cooker Beef Stew with Bacon from Foodie with Family is the best because of the bacon! Isn't that obvious?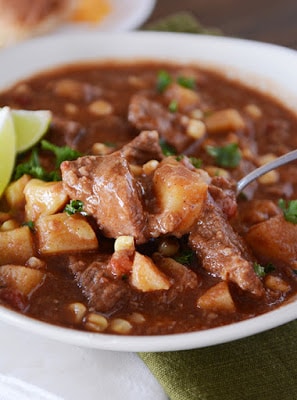 I love the sound of Beef and Sweet Potato Stew with Corn and Green Chiles from Mel's Kitchen Cafe.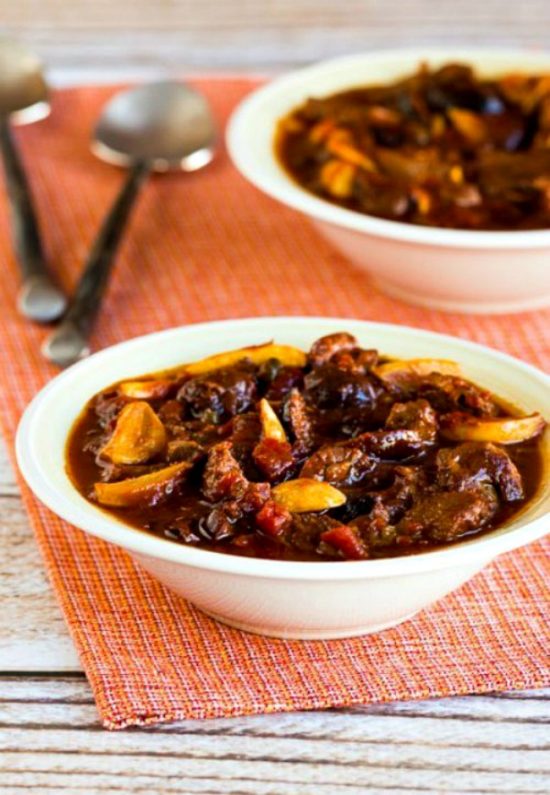 I'm a bug fan of garlic, so I love this Garlic Lover's Crockpot Beef Stew from Kalyn's Kitchen, and this has garlic, capers, olives, and tomatoes.
This Slow Cooker Beef Stew from Gluten-Free Goddess has herbs, red wine, and a bit of balsamic vinegar for extra flavor.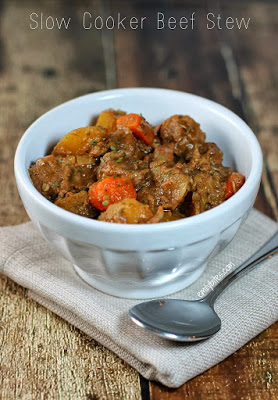 I like the touch of paprika in this Slow Cooker Beef Stew from Emily Bites.
Slow Cooker Beef and Veggie Stew from Sarah's Cucina Bella adds some sliced broccoli stems to add veggie flavor to the stew!
Slow Cooker Beef and Kabocha Squash Stew from Skinnytaste has a little dash of Marsala wine.
More Beef Stew Recipes to Try:
Java Beef Stew with Mushrooms and Baby Reds from Amanda's Cookin'
Slow Cooker Honey-Sriracha Beef Stew from The Perfect Pantry
Slow Cooker Root Beer Braised Beef Stew from Apron Strings
Slow Cooker Cuban Beef Stew from My Colombian Recipes
Beef Stew with Parsnips and Rutabaga from The Perfect Pantry
The Best Crockpot Beef Stew from Family Fresh Cooking
Slow Cooker Marsala Beef Stew from Rachel Cooks
Crockpot Thai Beef Stew from Against All Grain
Beef and Green Chile Stew from The Perfect Pantry
Slow Cooked Beef Stew from Whole Life Nutrition Kitchen
Slow Cooker Beef, Ale, and Onion Stew from The Perfect Pantry
Slow Cooker Guiness Beef Stew from The Parsley Thief
Still Want More Beef in the Slow Cooker?
Use the Index Page for Beef to see all the slow cooker recipes with beef that have been featured on this site.
(Visited 2,141 times, 1 visits today)