If you want a dinner with interesting flavors that's a bit out of the ordinary why not try one of these Instant Pot Korean Chicken Recipes? You can get the same amazing Korean flavors you've enjoyed in a restaurant or from a food truck.
PIN the Recipes for Korean Chicken to try one later!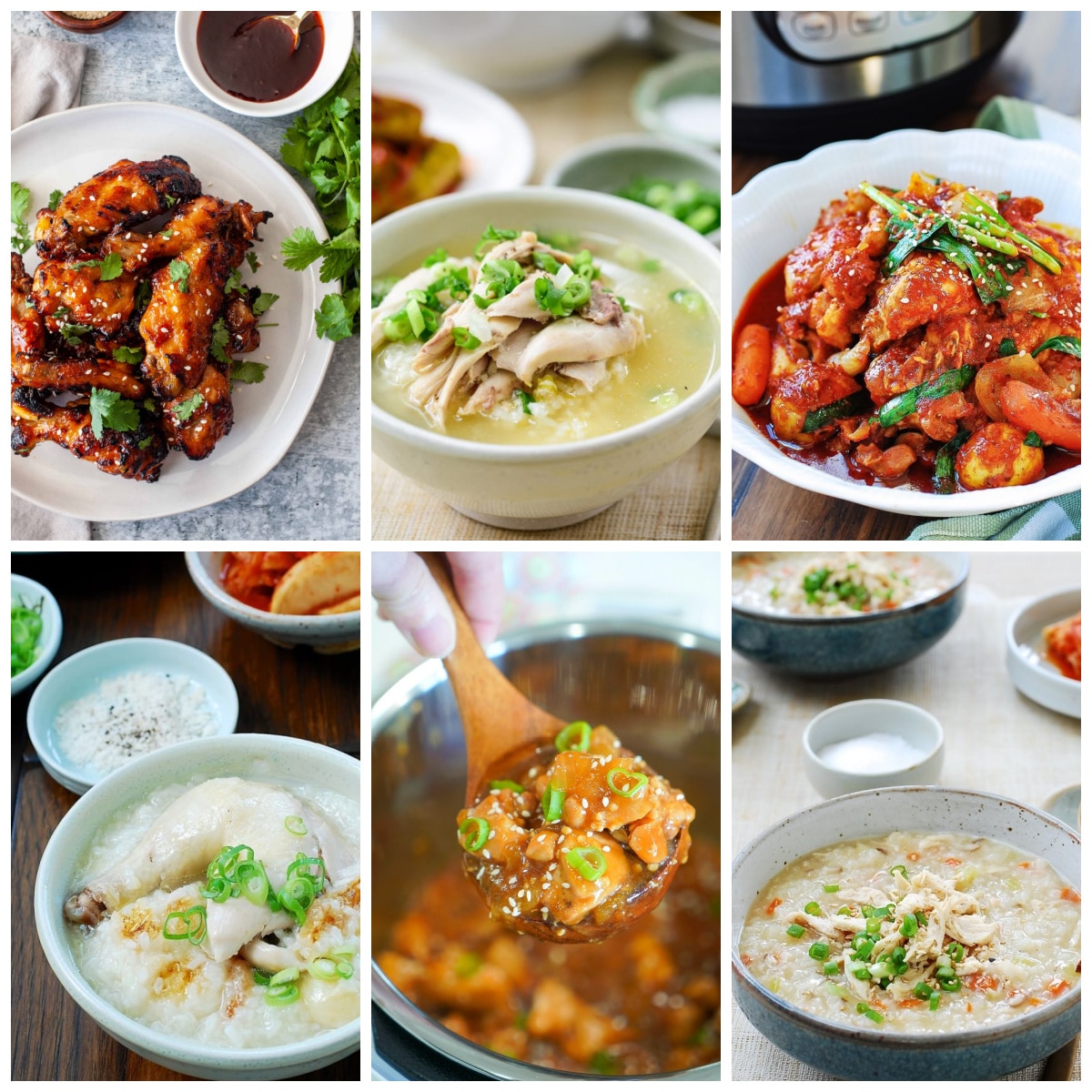 Even though Korean Food is becoming more common Korean cooking is a mystery to many people, even if they've cooked other types of Asian food. But it can be fun to expand your cooking horizons, and we've compiled this collection of Instant Pot Korean Chicken Recipes to tempt you to try making Korean food at home.
Korean chicken is a broad category with so many variations on how chicken is prepared in Korean Cuisine! This post has 14 different recipes for amazing Korean dishes for you to make at home! And even if every recipe here is not 100% authentically Korean, there are so many that look tasty.
Are these Instant Pot Korean Chicken Recipes authentically Korean?
There are definitely some recipes here that are simply Korean-inspired. But quite a few of the recipes featured here are from Korean Bapsang, a great blog from a Korean-American mom who makes the recipes she grew up eating, and often uses the Instant Pot or the slow cooker. If you're a Korean food fan and haven't discovered her site yet, check it out!
How do you get the complete recipe?
Just click any recipe name  to see the complete recipe on that site. All photos are copyrighted to the site that posted the recipe.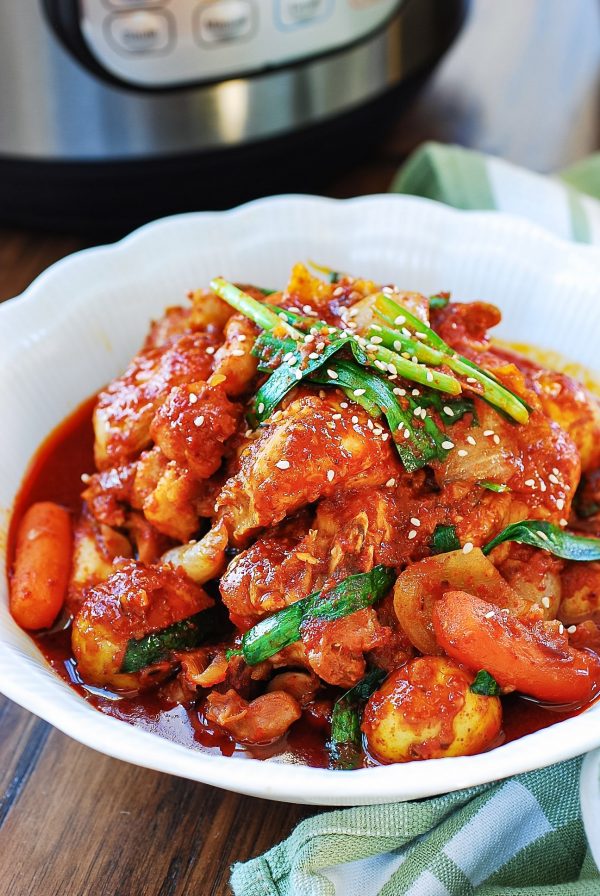 Let's start with an authentic chicken stew made in the Instant Pot; just check out this delicious-looking Pressure Cooker Dakbokkeumtang (Spicy Chicken Stew) from Korean Bapsang.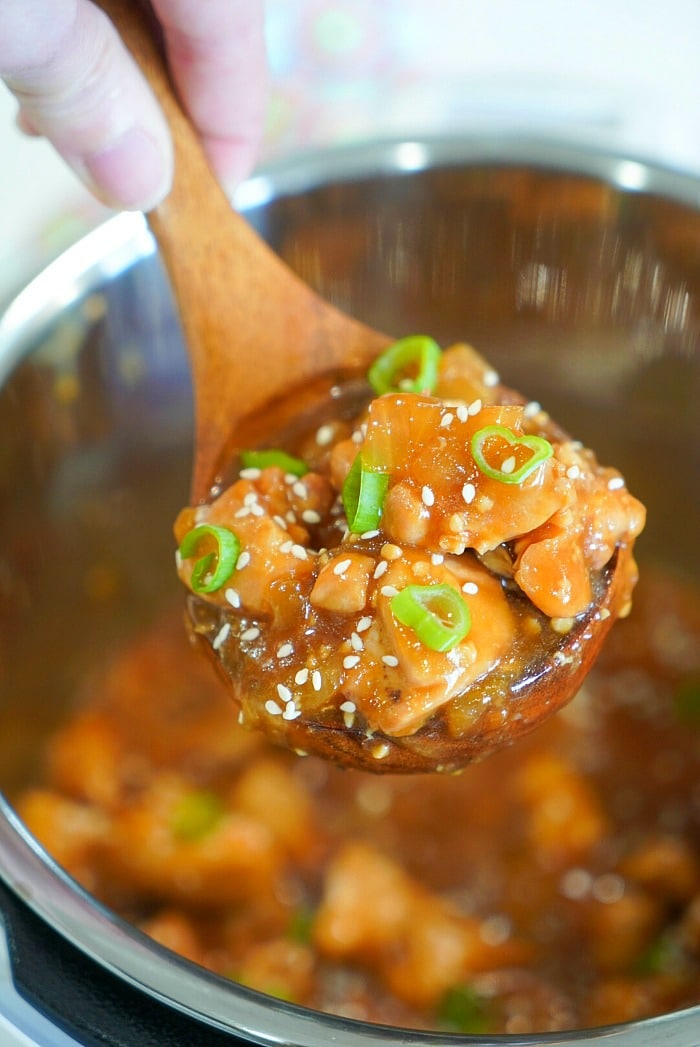 This recipe that Justine from The Typical Mom calls the best Korean Chicken, is not authentically Korean, but it does sound tasty and loaded with Asian flavors.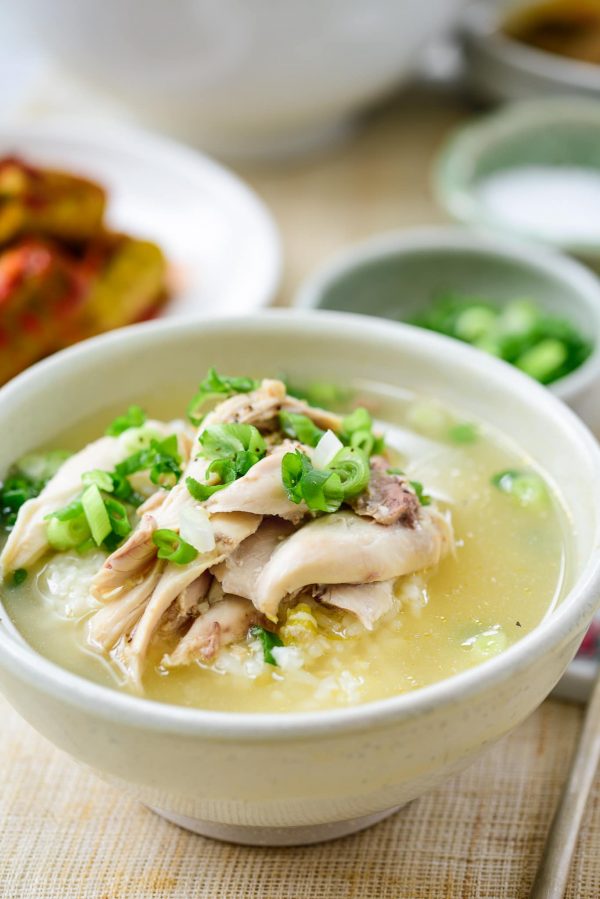 This Dak Gomtang (Korean Chicken Soup) from Korean Bapsang is another authentic Korean recipe that sounds so good! This is often made on the stove, but in this recipe there are tips for making it in the slow cooker or the Instant Pot.
Sticky Gochujang Chicken Wings from The Noshery can even be made with chicken wings that go into the Instant Pot while frozen, and these will be a crowd pleaser!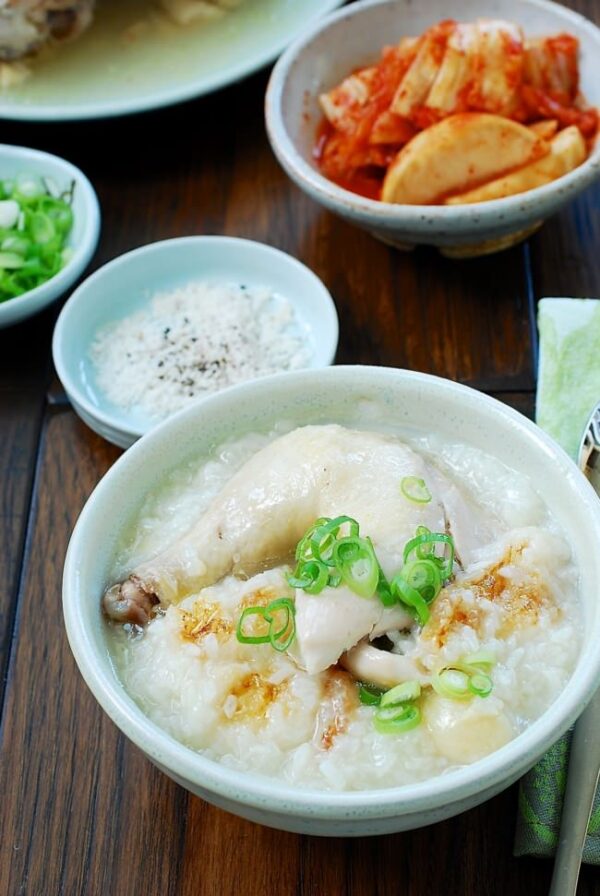 This Nurungji Baeksuk (or Boiled Chicken with Rice) from Korean Bapsang is a Korean dish that combines tender chicken with a type of Korean porridge called juk.
Or add the tender chicken directly to the porridge with this Dakjuk (Korean Chicken Porridge) that's also from Korean Bapsang!
More Ideas for Korean-Inspired Chicken in the Instant Pot:
Sticky Korean Chicken from Half Baked Harvest
Korean Chicken Thighs from Pressure Cooking Today
Korean Gochujang Sticky Chicken Breasts from The Kitchen Whisperer
Korean Chicken with Gochujang from Paint the Kitchen Red
Korean Chicken and Potatoes from MJ and Hungryman
Korean Spicy Chicken Bulgogi from Spice Cravings
Sticky Korean Chicken from Savor the Senses
Korean Chicken Thighs from Beyond Mere Sustenance
More Tasty Chicken to Try:
Amazing Instant Pot Chicken Dinners
Instant Pot Chicken and Rice Recipes
(Visited 3,655 times, 1 visits today)