Here are Four Fabulous Recipes for Greek Tacos you can make in the Instant Pot or slow cooker for a tasty taco dinner! Season your tacos with garlic, lemon, and spices to create the perfect Greek flavors we all love. 
Click here to PIN Four Fabulous Recipes for Greek Tacos!
Click for Slow Cooker and Instant Pot Pork Tacos!
Do you think Greek Tacos are an option for a Taco Tuesday meal? I hope so because today we're recommending you make one of these  Four Fabulous Recipes for Greek Tacos for an easy but impressive Instant Pot or Slow Cooker Taco Tuesday dinner!
In these tasty Greek Tacos, Lamb or pork cooks in the Instant Pot or slow cooker until it's fall-apart tender, and the tacos are served with ingredients like Greek yogurt, cucumbers, spinach, olives, and Feta cheese. Don't you think that sounds amazing for a tasty dinner idea? And if you serve them with low-carb tortillas or lettuce wraps, any of these delicious Greek Tacos can be a low-carb meal.
All photos are copyrighted to the site that posted the recipe. Just click the recipe name under any photo to see the complete recipe on that site.
Instant Pot (or Slow Cooker) Low-Carb Greek Pork Tacos from Kalyn's Kitchen are made with lemony Greek pork that is tender, shredded, and served in low-carb tortillas with Greek Salsa. Kalyn says this was an Instant Pot winner and will be a hit with anyone who likes Greek flavors!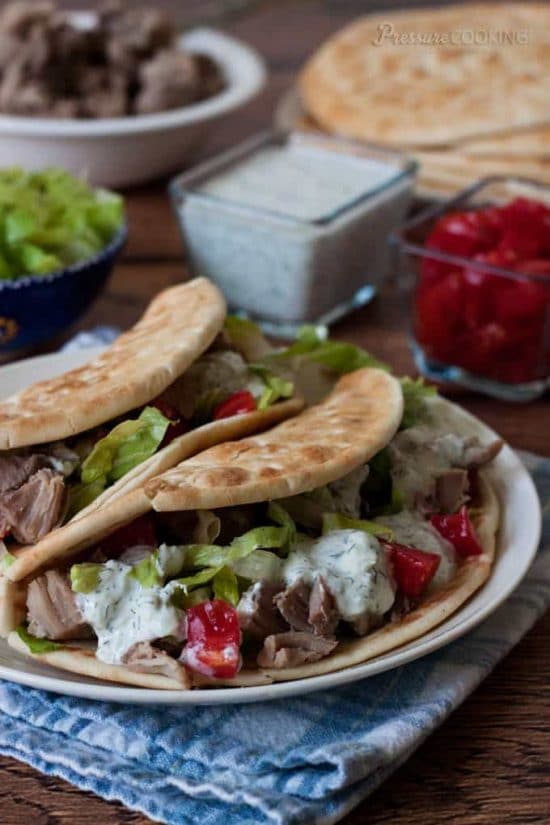 Pressure Cooker Greek Tacos from Pressure Cooking Today start with tender chunks of seasoned pork cooked with lemon juice and a few spices. The pork cooks for just 25 minutes in the pressure cooker and then is served on warm pita bread with lettuce, tomatoes, and Tzatziki sauce.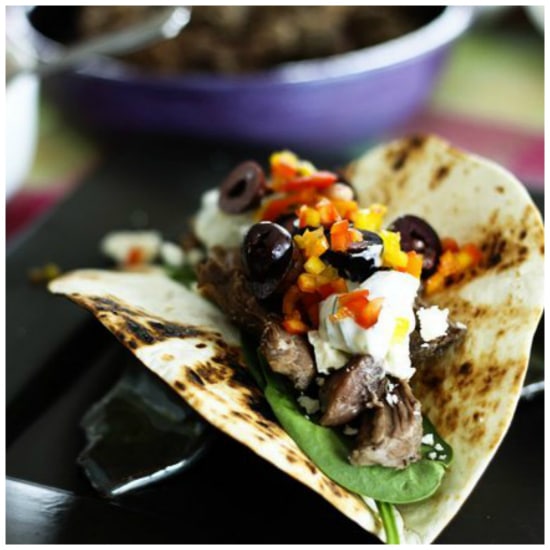 Slow Cooker Garlicky Lamb Greek Tacos from Foodie with Family are made using lamb that cooks until it is tender and easy to shred. Rebecca says "Don't be intimidated by lamb. This simple, garlicky, lemony, herbed, succulent lamb braises up beautifully in the slow-cooker."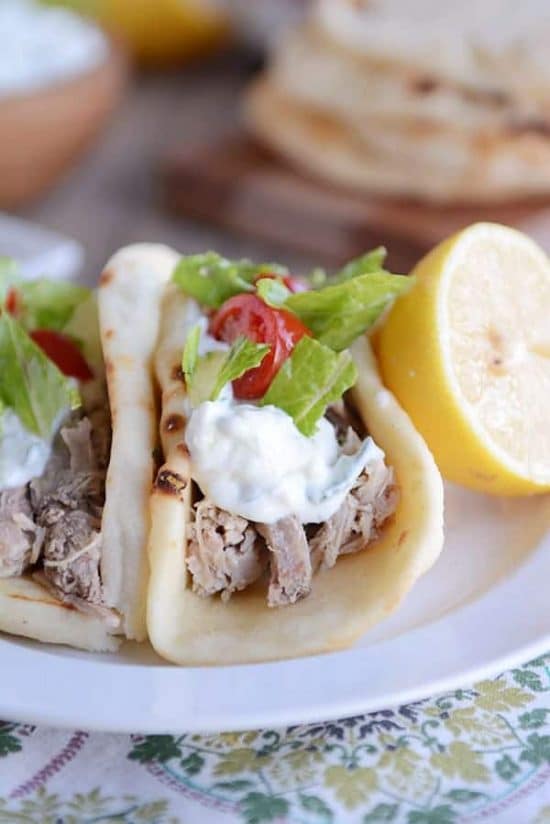 Tender Greek Pork (Instant Pot or Slow Cooker) from Mel's Kitchen Cafe is fall-apart tender in about an hour in the Instant Pot and Mel says "it's fantastic served in soft flatbread with tzatziki sauce (equally delicious over a salad or rice!)." Mel has also included the slow cooker version of Tender Greek Pork if you prefer that method of cooking.
More Tasty Pork in the Slow Cooker or Instant Pot:
Use the Index Page for Pork to see all the slow cooker or pressure cooker pork recipes that have been featured on this site.
(Visited 1,349 times, 1 visits today)