Slow Cooker Chicken Curry is a classic dish that's perfect any time of year, and there are so many regional variations for this. And it's worth pulling out the slow cooker for a dinner with these amazing flavors!
PIN the Chicken Curry Recipes to try some later!
Chicken Carry is a dish with endless variations, and curry means a blend of spices that can be different, depending on which country's variation you're talking about! That's why this collection of recipes for Slow Cooker Chicken Curry ended up with 14 different options for chicken curry!
And doesn't everyone enjoy at least some sort of spicy Indian, Thai, or Asian version of this classic chicken dish, whether you eat it over rice, over cauliflower rice, with vegetables as a stew, or tucked inside a tortilla or flatbread. There are ideas galore here for chicken curry fans; hope you enjoy trying some!
What Chicken Curry Recipes will you find here?
In this recipe collection you'll find recipes for coconut curry, butter chicken, yellow chicken, Thai Massaman curry, Chicken Tikka Masala, Thai green curry, chicken korma, and more! Be sure to scroll down to see all the different ideas featured here!
Want more ideas for Chicken in the Slow Cooker?
Check out Low-Carb Crock Pot Chicken Dinners, Instant Pot or Slow Cooker Teriyaki Chicken Recipes, or Slow Cooker or Instant Pot Filipino Adobo Chicken for more tasty and interesting recipes for chicken!
How do you get the complete recipe?
Just click any recipe title to see the complete recipe on the original blog. All photos are copyrighted to the original blog that posted the recipe.
Easy Creamy Crock-Pot Coconut Chicken Curry
from The Iron You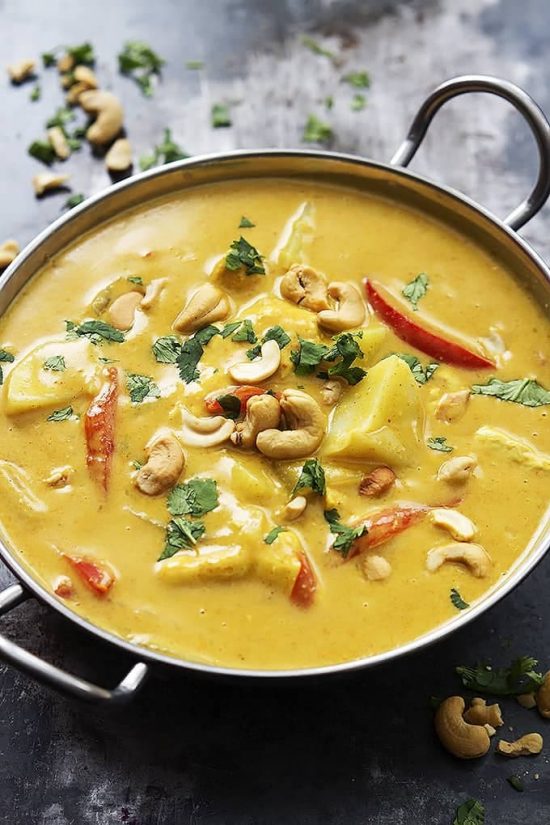 Slow Cooker Coconut Curry Cashew Chicken
from Creme de la Crumb
Slow Cooker Yellow Chicken Curry
from 365 Days of Slow + Pressure Cooking
Slow Cooker or Instant Pot Thai Green Curry Chicken from Two Sleevers
Slow Cooker Coconut Chicken Curry
from Mountain Mama Cooks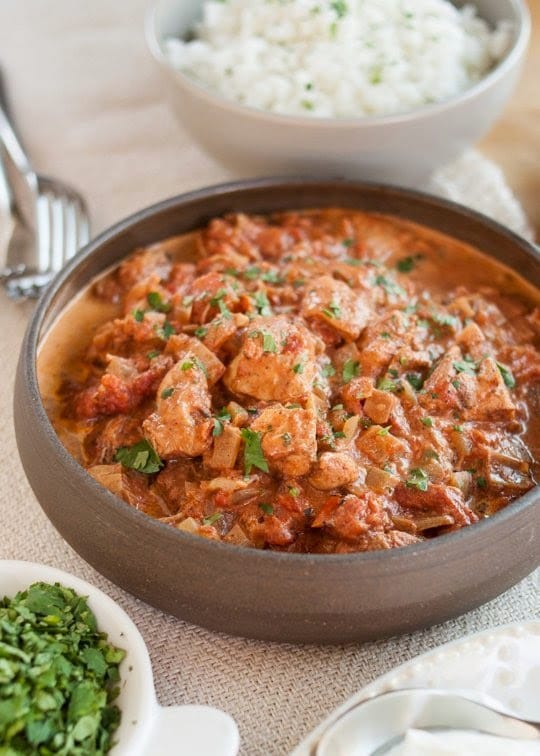 Slow Cooker Chicken Tikka Masala from The Kitchn
Red Curry Chicken from Sidewalk Shoes
Slow Cooker Chicken Korma
from Andrea Meyers
More Cooker Chicken Curry Recipes for the Slow Cooker:
Keto Chicken Curry with Pumpkin from Ditch the Carbs
Chicken Curry from The Lemon Bowl
Coconut Curry Chicken from Slender Kitchen
Chicken Tikka Masala from The Lemon Bowl
Chicken Curry with Sweet Potatoes from The Perfect Pantry
Slow Cooker Yellow Chicken Curry from Ambitious Kitchen
(Visited 3,035 times, 1 visits today)