Slow Cooker or Instant Pot Korean Beef Tacos are for everyone who's tried the spicy tacos from a food truck and wants to make them at home! There are ten different Korean taco recipes featured here, and each one is slightly different.
PIN the taco recipes to try some later!
Have you noticed how Korean food has become incredibly popular in the U.S., and Korean restaurants and food trucks are springing up everywhere! If you've enjoyed the complex spicy flavors of Korean food you might like to try making Korean Tacos at home.
And more and more bloggers are sharing Korean or Korean-inspired recipes, so we're updating this post with lots of options for Instant Pot or Slow Cooker Korean Beef Tacos. Check out the recipes and pick one you'd like to try at home soon, and enjoy!
Why do people like Korean Beef?
What makes Korean recipes so popular is the combination of spicy and sweet flavors and each of these recipes achieves that in a slightly different way. Some use authentically Korean ingredients, while others get that Korean food feeling with ingredients that might be more common in American kitchens.
How do you get the complete recipe?
Just click any recipe title to see the complete recipe on the original site. All photos are copyrighted to the blogger that posted the recipe.
Lindsay says these Instant Pot Korean Beef Tacos from Pinch of Yum are "food-truck fusion-style tacos, straight outta the Instant Pot!" Don't you think they look good?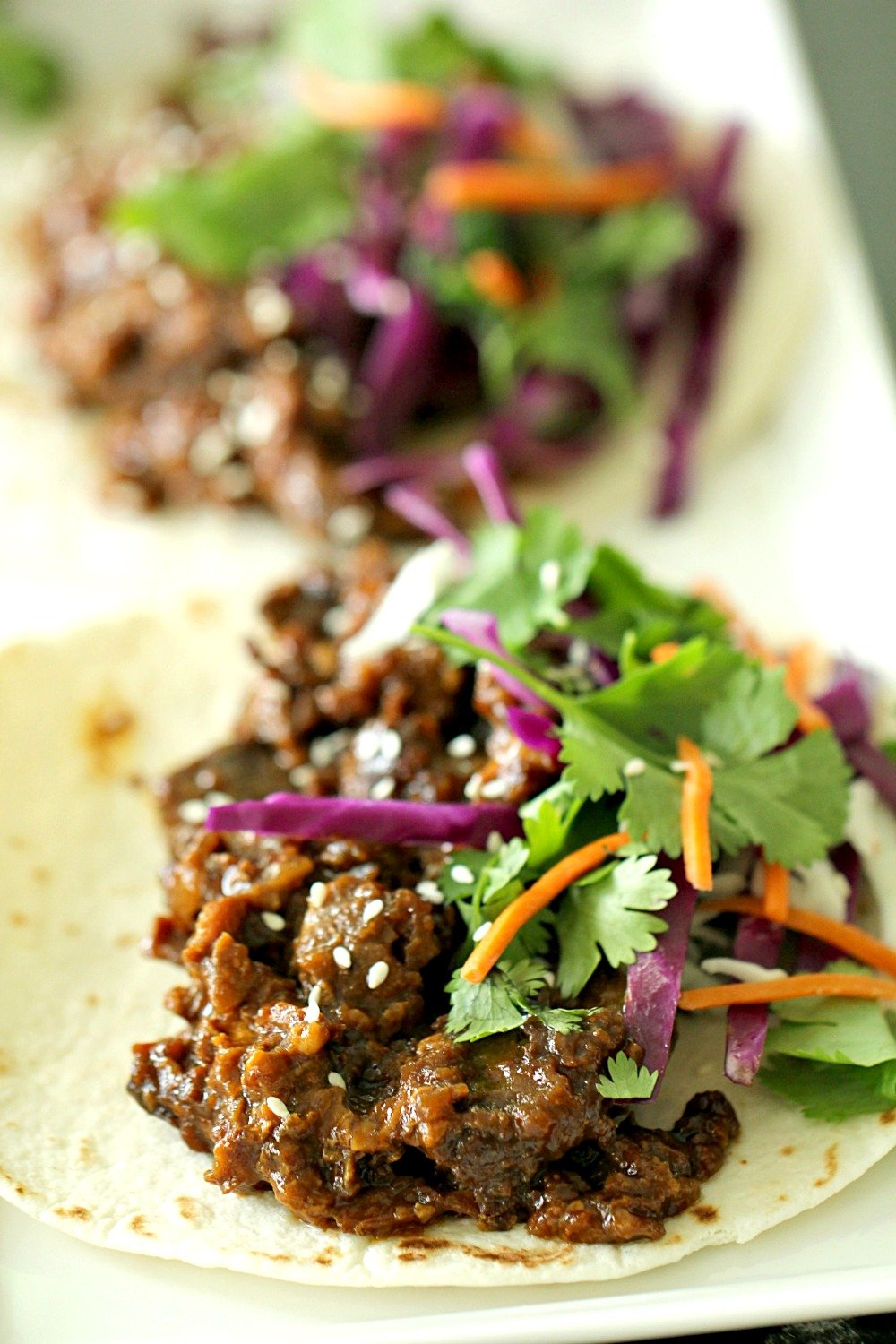 Slow Cooker Korean Beef Tacos from Six Sisters' Stuff have "garlic, ginger, and sesame flavors mixed perfectly with hints of the sweet brown sugar. Top with fresh cilantro and red cabbage for a delicious meal!"
Karen says these Instant Pot or Slow Cooker Korean Tacos from 365 Days of Slow Cooking are "like a party in your mouth. All the flavors and textures come together in a perfect union!"
Slow Cooker Korean-Style Beef Tacos from Emily Bites look so good and Emily says, "The beef is tender and flavorful from being marinated and slow cooked and it pairs perfectly with the bright, crisp cucumber slaw and the heat from the Gochujang sauce."
Instant Pot Korean BBQ Beef from Leigh Anne Wilkes is a versatile Korean beef recipe that's delicious in a rice bowl but Leigh Anne says this can also be served in tacos.
Slow Cooker Korean Tacos from Slow Cooker Gourmet look amazing and Jennifer says, "These Slow Cooker Korean Beef Tacos are surprisingly simple to make for something so delicious!"
More Korean Beef Tacos to Enjoy:
Instant Pot Korean BBQ Burrito from 365 Days of Slow + Pressure Cooking
Slow Cooker Korean Tacos from Slender Kitchen
Instant Pot Korean Tacos from The Frugal Hausfrau
Slow Cooker Korean Tacos from Baked BreeM.o<
Still Hungry for Beef Recipes?
For more recipes with beef, check out Instant Pot Dinners with Ground Beef or Instant Pot Beef Stroganoff Recipes.
(Visited 3,152 times, 1 visits today)