These fabulous recipes for Slow Cooker Cinnamon Rolls cook in a few hours and they'll taste great when you're craving cinnamon rolls! And think how good your house is going to smell.
PIN the recipes for Slow Cooker Cinnamon Rolls to try some later!
Whenever you have houseguests or during the holidays I'm guessing you might like to make cinnamon rolls without having to watch the oven. That's when these Recipes for Slow Cooker Cinnamon Rolls are going to come in especially handy! And think how great your house is going to smell while these cinnamon rolls are "baking" in the slow cooker!
What kind of slow cooker cinnamon roll recipes will you find here?
In this recipe collection there are from-scratch yeast bread cinnamon rolls or slow cooker cinnamon rolls made with those refrigerated cinnamon rolls or biscuits that come in a tube, so you can pick the ones you have time for.
More Slow Cooker and Instant Pot Breakfasts:
How do you get the complete recipe?
Just click any recipe title to see the complete recipe on the original site. All photos are copyrighted to the blog that posted the recipe.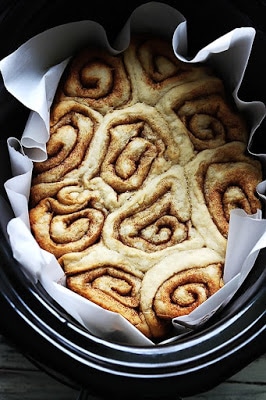 Tiffany says she created these Slow Cooker Cinnamon Rolls from Creme de la Crumb as an idea for Christmas morning, but I bet your family will think these are a perfect breakfast any time you need a treat! These are from-scratch yeast dough cinnamon rolls, with or without cream cheese frosting.
Slow Cooker Pull-Apart Cinnamon Rolls from the Kitchn start with jumbo refrigerated cinnamon rolls from the store; what could be easier! And these cook on high for about 1 1/2 hours and you've got moist warm cinnamon rolls to enjoy without heating up the house!
Slow Cooker Cinnamon Rolls from 365 Days of Slow + Pressure Cooking are made in the Crock-Pot Casserole Crock Slow Cooker (affiliate link) so these take nearly three hours to cook but this recipe makes a lot of delicious cinnamon rolls!
Crock Pot Cinnamon Rolls from Recipes that Crock start with refrigerator biscuits in a tube and finish with a delicious almond-flavored icing, and these are also done in about 2 hours.
More ideas for Slow Cooker Cinnamon Rolls:
(Visited 2,695 times, 1 visits today)