You'll love these Keto Crock Pot Recipes with Eggs that cook in a few hours while you're spending time doing something else! And this type of recipe is great any time of year!
PIN the Keto Crock Pot Recipes with Eggs to try some later!
Have you tried using the slow cooker to make breakfast dishes that let you to enjoy the fun and not spend too much time in the kitchen? This round-up of Keto Crock Pot Recipes with Eggs features recipes that will let you cook breakfast in the slow cooker while you spend time with the family or getting things done! And these tasty breakfast dishes are all low in carbs.
Most of the slow cooker breakfast ideas here are easy to put together and cook in a few hours without attention from the cook! And I bet no one in the family is going to think about these tasty breakfasts being a low-carb breakfast; what do you think?
What Crock Pot Recipes with Eggs are featured here?
This collection has 18 different low-carb breakfast dishes to make in the slow cooker, and there are breakfasts featured here with sausage, ham, bacon, cheese (including Feta cheese), peppers, avocado, mushrooms, cauliflower, artichokes, kale, and more!
What Slow Cookers can you use?
A few of these slow cooker breakfasts are made in the Crock-Pot Casserole Crock Slow Cooker (affiliate link), which really is ideal for this type of dish. But no worries if you don't have that, any large oval slow cooker will work for these recipes.
How do you get the complete recipe?
Just click any recipe title to see that recipe on the original blog. All photos are copyrighted to the blog that originally posted the recipe.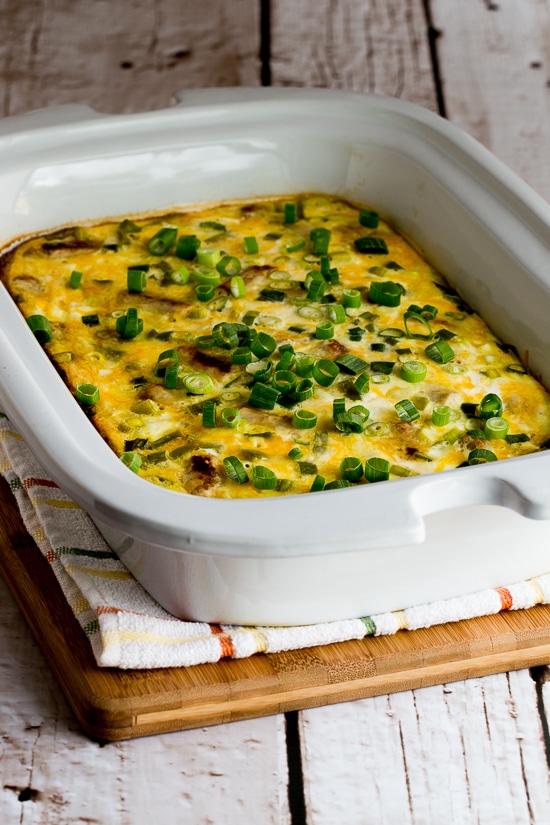 Slow Cooker Sausage and Egg Casserole from Kalyn's Kitchen uses turkey breakfast sausage links, green pepper, grated cheese, eggs, and just a little cottage cheese for extra creaminess.
Low-Carb Slow Cooker Breakfast Casserole with Eggs, Sausage, Cheese, Leeks, Mushrooms and Cauliflower from 365 Days of Slow + Pressure Cooking is loaded with tasty low-carb ingredients!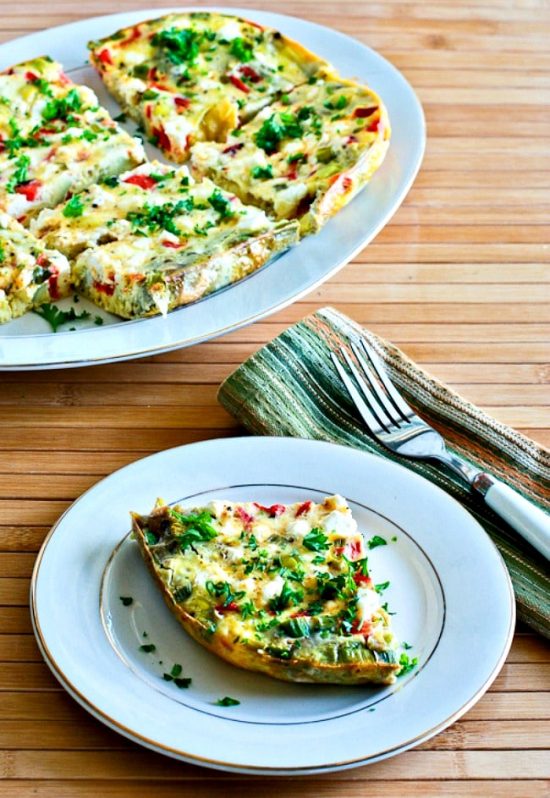 Slow Cooker Breakfast Casserole with Artichokes from Kalyn's Kitchen also has red pepper and Feta, and this is such a great combination of flavors!
Slow Cooker Bacon Cheeseburger Pie from All Day I Dream About Food sounds like a tasty breakfast any Keto diet fan will enjoy!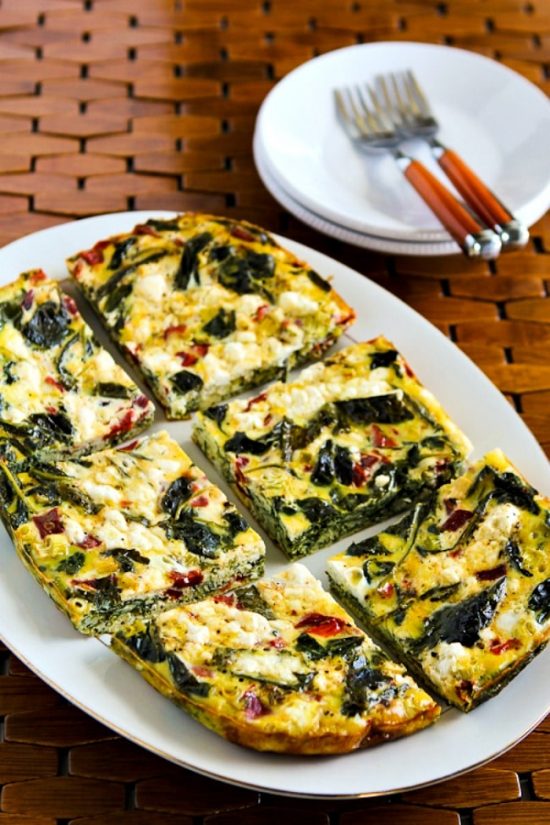 This tasty Slow Cooker Breakfast Casserole with Kale, Red Peppers, and Feta from Kalyn's Kitchen is perfect for a healthy breakfast with greens that cooks unattended for a few hours.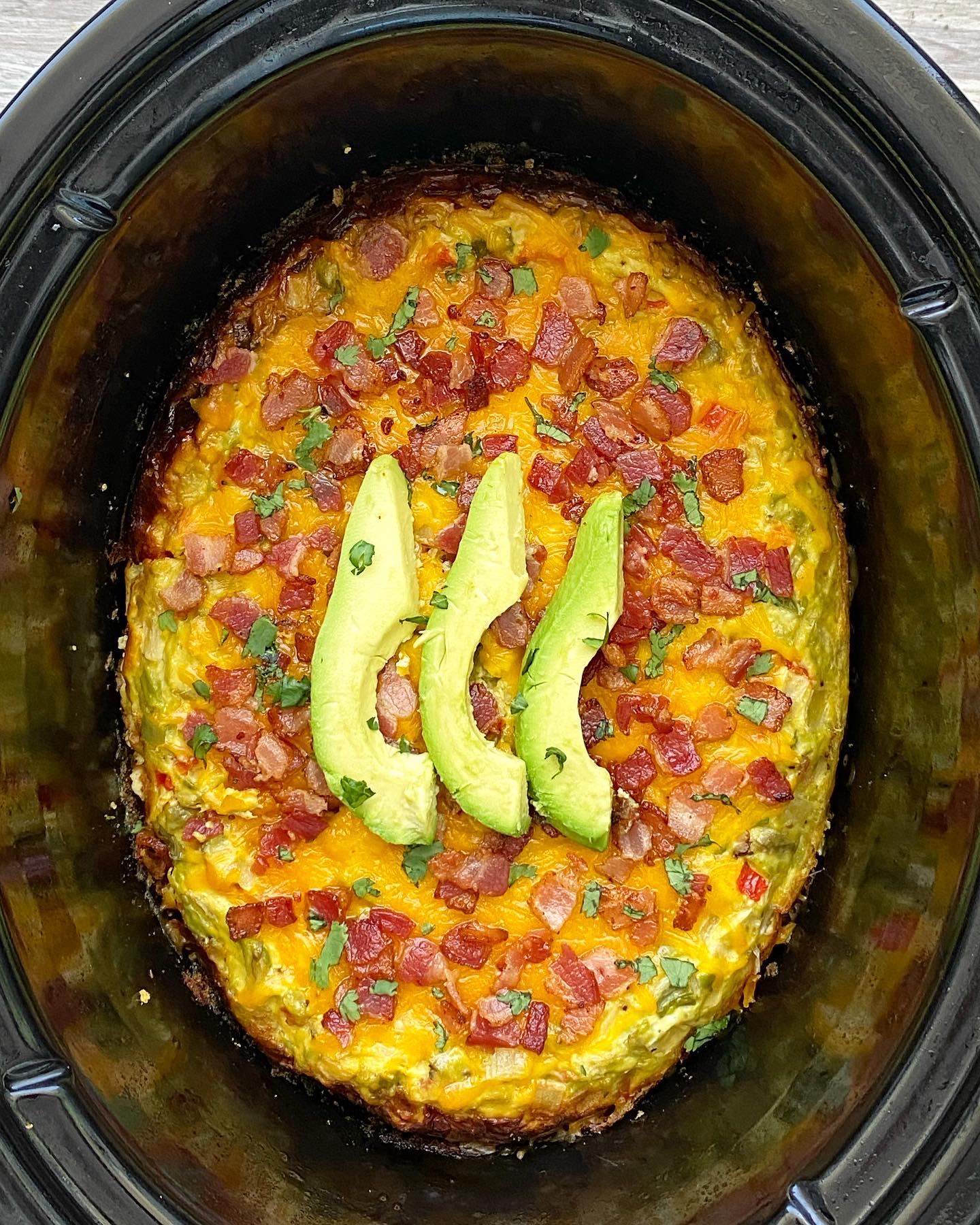 Bacon Avocado Breakfast Casserole from Fit Slow Cooker Queen has great instructions and also tips for cooking this in the oven if you prefer.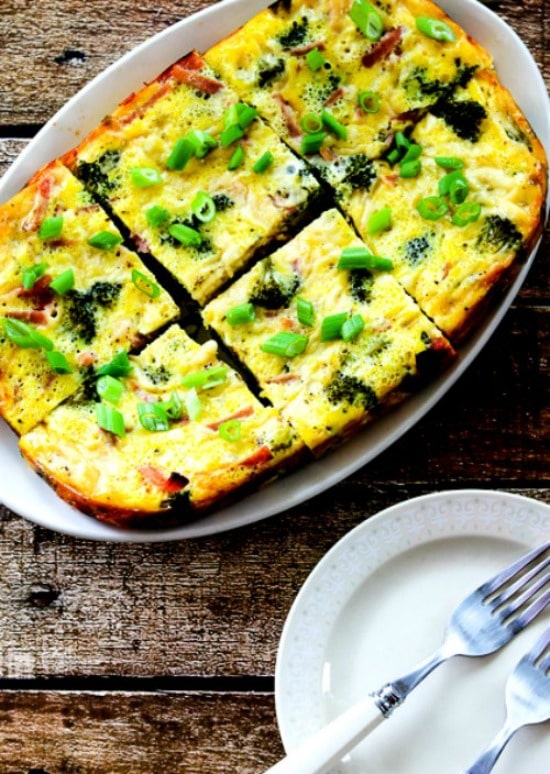 Slow Cooker Breakfast Casserole with Broccoli, Ham, and Swiss from Kalyn's Kitchen uses strips of ham and cheese that add so much flavor and interesting texture to the finished dish.
Slow Cooker Low-Carb Breakfast Casserole from The Novice Chef has bacon, broccoli, and cheese, and doesn't that look tasty with all the bacon!
Slow Cooker Broccoli Cheese Breakfast Casserole from Kalyn's Kitchen is a delicious breakfast idea with the popular combination of broccoli + cheese that so many people love!
Slow Cooker Keto Mexican Breakfast Casserole from Sugar Free Mom is perfect for brunch, but Brenda says she loves to make a casserole like this on Monday morning to start out the week.
More Keto Crock Pot Breakfasts:
Still Hungry for Breakfast Recipes?
If you still want more ideas or prefer the Instant Pot, you can use The BEST Instant Pot Breakfast Recipes to find lots more tasty breakfasts!
(Visited 14,898 times, 1 visits today)