Our picks for The Best Instant Pot or Slow Cooker Salisbury Steak Dinner Recipes fall in the comfort food category; each one is so tasty and definitely a crowd pleaser! And most families would love a good Salisbury Steak dinner, right?
PIN The BEST Instant Pot and Slow Cooker Salisbury Steak Dinner Recipes!
Click here to see The Best Instant Pot Stroganoff Recipes!
Salisbury Steak is a classic American comfort food dinner, and if your family enjoys beef, I bet they're going to love some of the ideas from this new collection of The BEST Instant Pot and Slow Cooker Salisbury Steak Dinners! No matter which cooking method you choose, there are so many tasty options here, even low-carb salisbury steak and a lighter version with ground turkey mixed with the beef.
And we're definitely in the time of year when a comfort-food dinner like this is going to hit the spot. If you use the slow cooker, your house will smell great when your Salisbury Steak dinner is done. Or if you prefer a dinner that's quick to get on the table, use one of the Instant Pot options.
All photos are copyrighted to the blog that posted the recipe. Just click the recipe title under any photo to see the complete recipe on the original site. And enjoy!
This tasty recipe for Salisbury Steak Meatballs (Instant Pot, Stovetop or Slow Cooker) from Skinnytaste are cooked in a mushroom gravy and made lighter by using ground turkey mixed with the ground beef.
This Instant Pot Salisbury Steak with Easy Mushroom Gravy from Live Simply has quickly become a favorite meal for Kristin's family.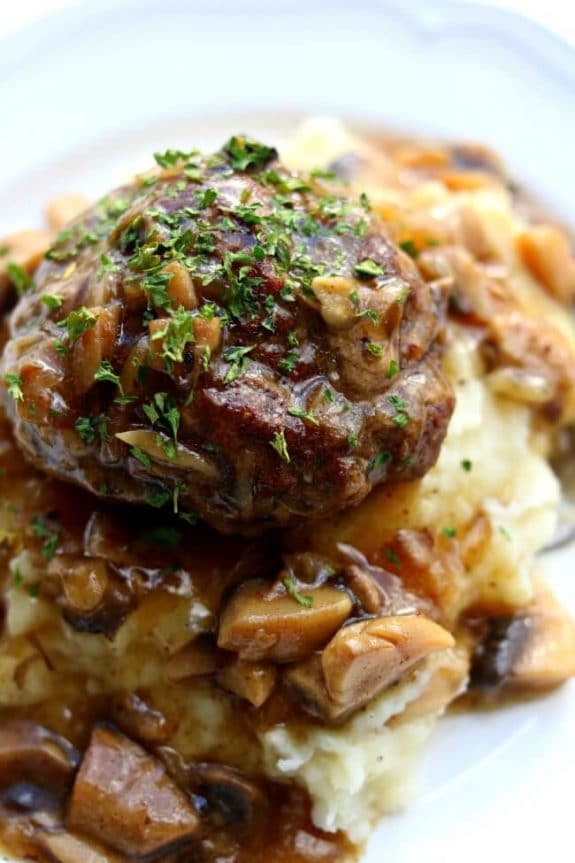 For a good old fashion meal try this Instant Pot Salisbury Steak, Gravy and Mashed Potatoes from 365 Days of Slow Cooking. Nothing better than a one pot meal that everyone will love!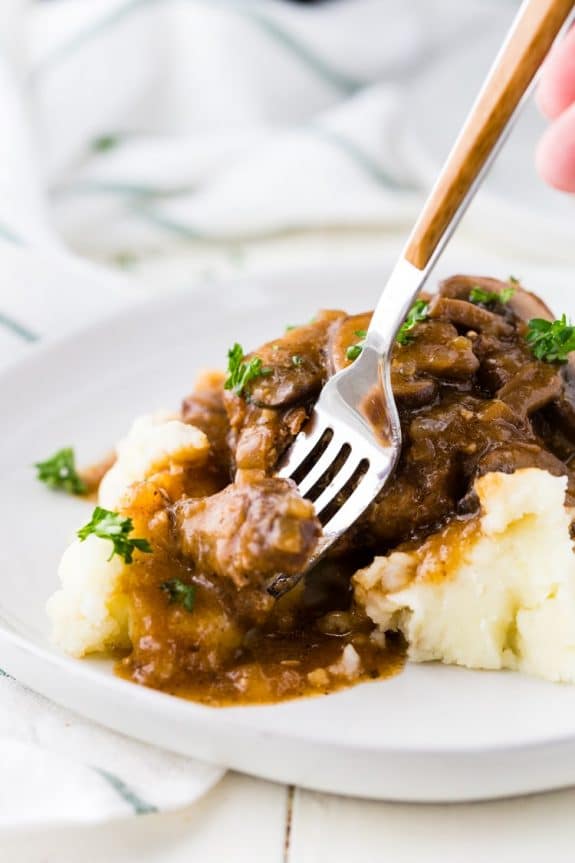 Looking for juicy beef drowning in a rich Salisbury steak  gravy with mushrooms, then this Instant Pot Salisbury Steaks with Mushroom Gravy from Eazy Peazy Mealz is the perfect choice!
Slow Cooker Salisbury Steak from Spend With Pennies offers tender beef patties simmered in rich brown gravy, with mushrooms and onions. Serve this over mashed potatoes, mashed cauliflower, or rice.
Instant Pot Salisbury Steak with Mushroom Gravy from What's Cookin' Chicago was a hit with no leftovers. Comfort food that is so delicious!
Slow Cooker Low Carb Gluten Free Salisbury Steak from Sugar Free Mom is served over creamy mashed cauliflower. Doesn't this look so yummy!
Slow Cooker Salisbury Steak from Family Fresh Meals is tender and flavorful. The best part is it's very simple to make!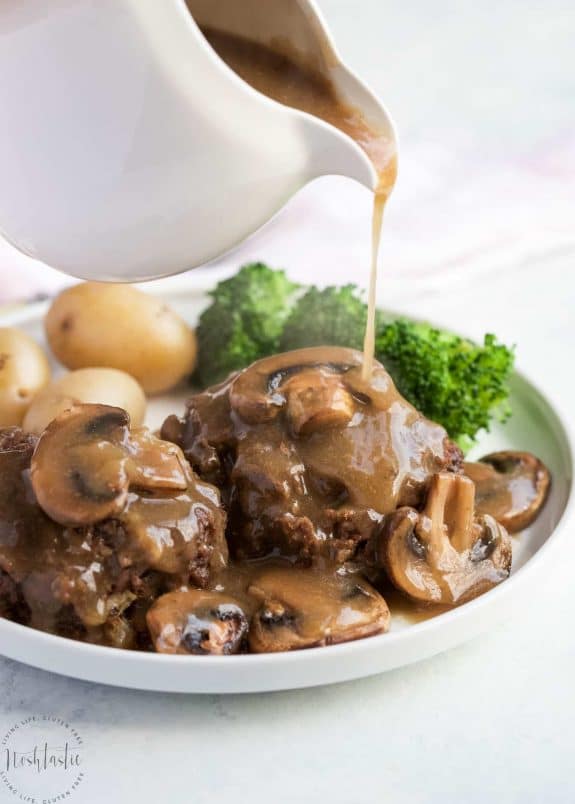 Instant Pot Salisbury Steak and Gravy from Noshtastic is so tasty and perfectly cooked! An American classic made quick and easy in your Instant Pot!
Instant Pot Salisbury Steak Meatballs with Gravy from My Thrifty House tastes so darn good! The Instant Pot makes this quick and easy for a delightful weeknight meal!
Still Hungry for Beef Recipes?
Use the Beef Recipes Index to see all the Slow Cooker or Pressure Cooker recipes for beef that have been featured on this site!
(Visited 618 times, 1 visits today)