Slow Cooker and Instant Pot Enchilada Soup Recipes have everything you love about enchiladas in a warm, inviting bowl of soup. Whether you use chicken, beef, or make a meatless soup these recipes will produce Enchilada Soup your family is going to love!
PIN the Enchilada Soup Recipes to try some later!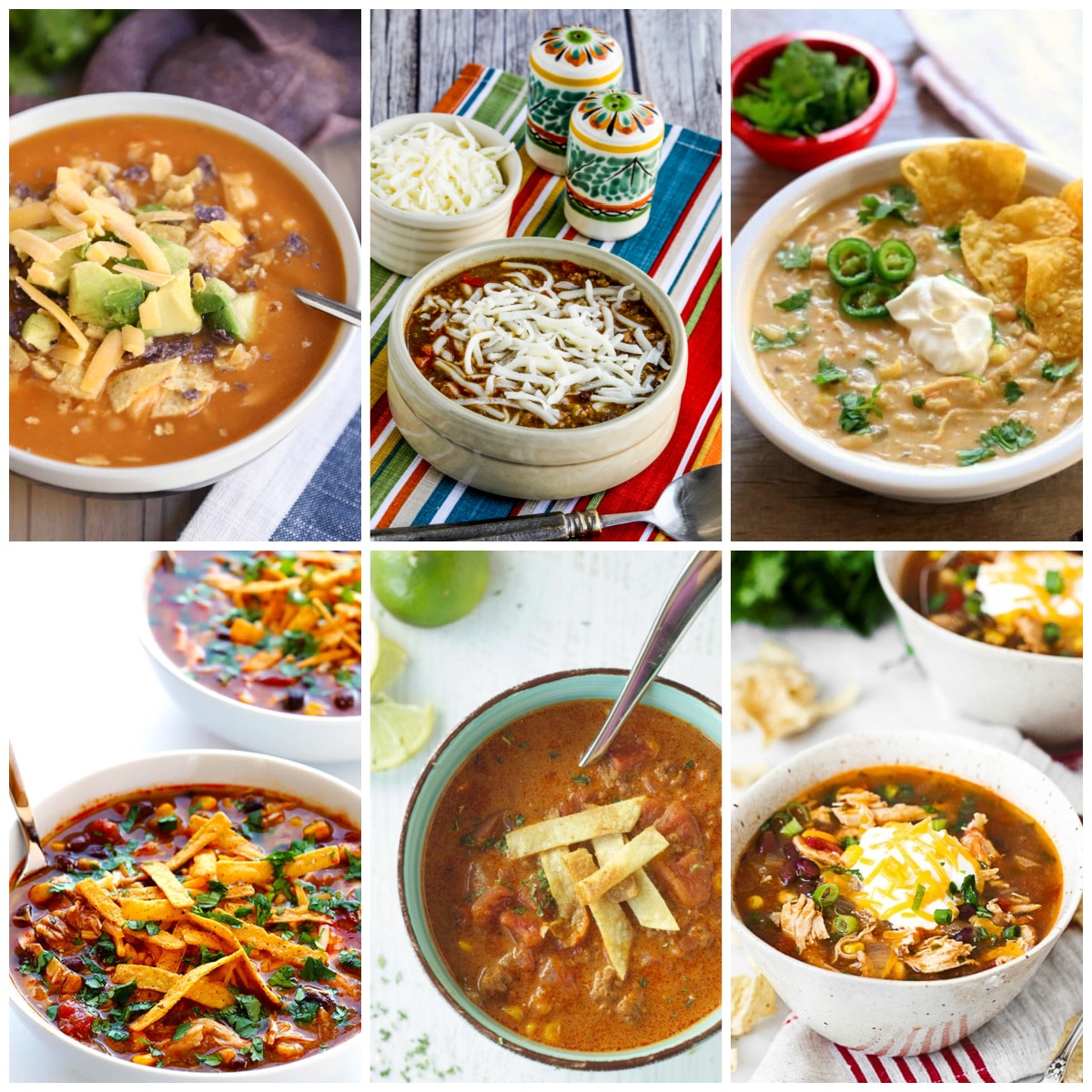 Here are 10 different Slow Cooker and Instant Pot Enchilada Soup Recipes because there's nothing  better on a cold night than a hot bowl of soup, and in many parts of the U.S. it's definitely still cold! And besides warming up your tummy, Enchilada Soup also has that comfort-food appeal that makes so many people like Mexican food! And soup like this is easy to make in the slow cooker or the Instant Pot! Choose the recipe that sounds best or fits your families eating preferences, grab your slow cooker or your Instant Pot, and make some delicious enchilada soup for dinner tonight!
What kind of Enchilada Soups are featured here?
Each of these Enchilada Soup recipes contain different ingredients with flavors that will remind you of the the enchiladas at your favorite Mexican restaurant. There are soups with chicken, turkey, or beef as well as vegetarian soups.
How do you get the complete recipe?
Just click any recipe name to see the complete recipe on that site. All photos are copyrighted to the site that posted the recipe.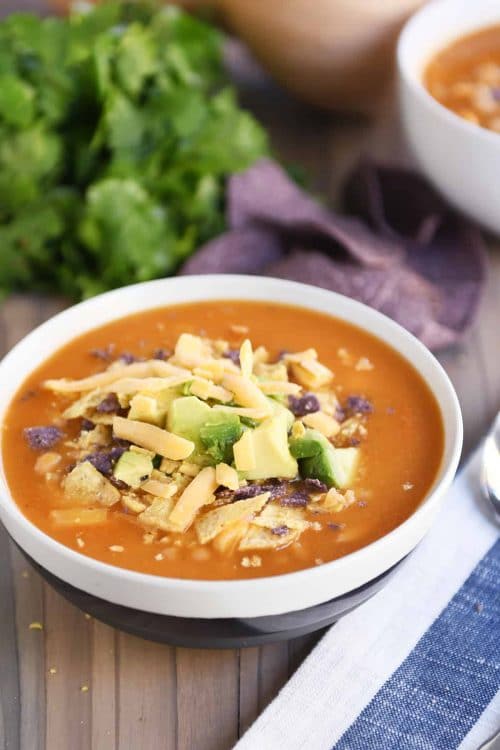 Chicken Enchilada Soup from Mel's Kitchen Cafe can be made in the slow cooker, Instant Pot, or on the stove! And this soup has lots of healthful vegetables!
Green Chile Turkey Enchilada Soup from Kalyn's Kitchen is an Instant Pot Soup that I adapted from one of my favorite slow cookers soups that uses enchilada sauce!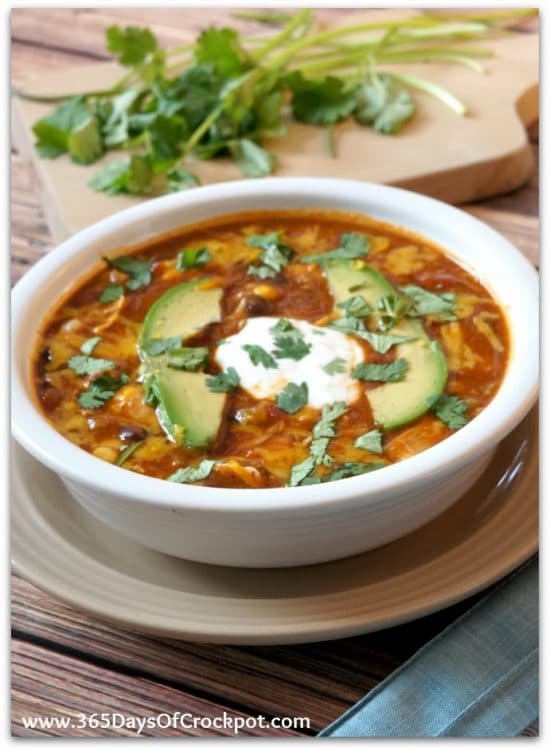 I love everything about this Instant Pot or Slow Cooker Enchilada Soup from 365 Days of Slow + Pressure Cooking, and this tasty soup is thickened with refried beans! My link will take you to the Instant Pot version, but there's a link for the slow cooker option in that post.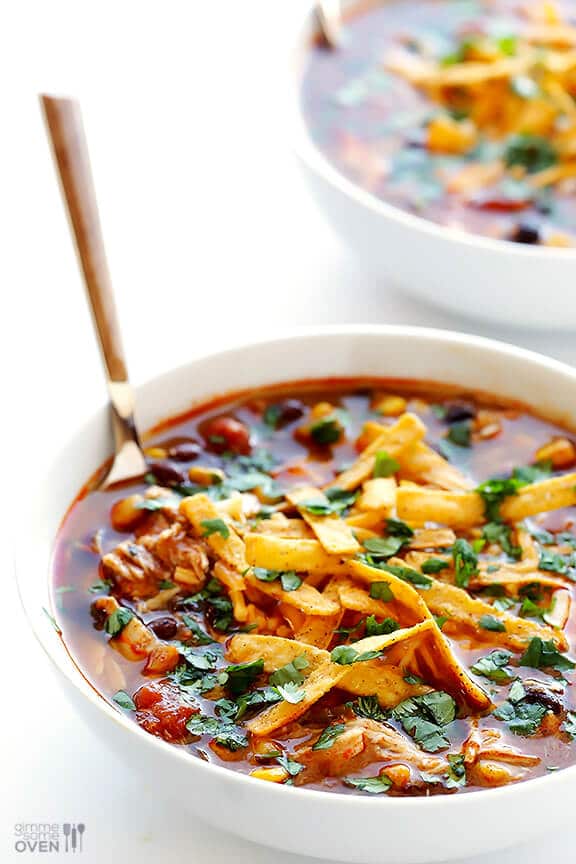 Slow Cooker Chicken Enchilada Soup from Gimme Some Oven sounds amazing, and there is a link for homemade enchilada sauce in this post!
Slow Cooker Vegetarian Enchilada Soup from Louanne's Kitchen has onions, chicken or veggie stock, tomatoes, green chile enchilada sauce, kidney beans, black beans, corn, and hominy, with just the right spices to add plenty of flavor. Add cheese, green onions, cheese, or even chips at the table for a perfect meal that cooks all day in the slow cooker while you're busy doing other things.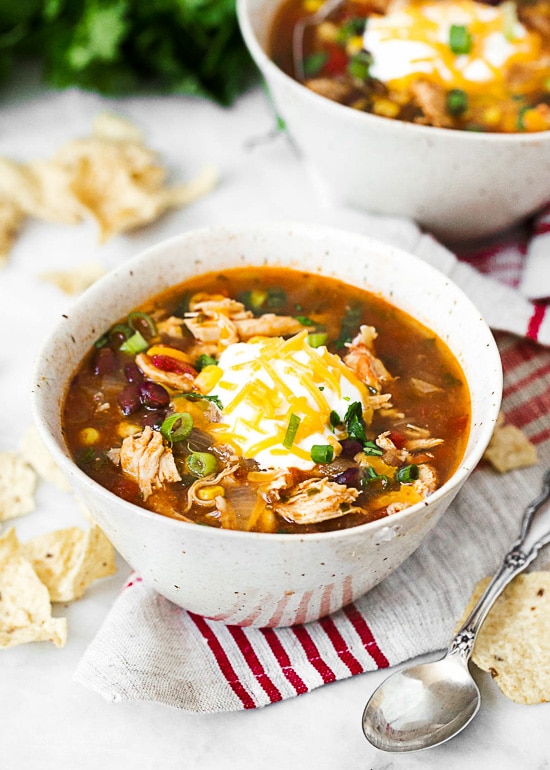 Gina says this Chicken Enchilada Soup (Slow Cooker and Instant Pot) from Skinnytaste is "an easy (maybe even lazy) way to make a dish that only dirties one pot!" With the combination of chicken, chipotle chili in adobo sauce, black beans, corn, and a few spices this sounds.
Instant Pot Green Chile Chicken Enchilada Soup from 365 Days of Slow + Pressure Cooking is thick and creamy with amazing flavors. Chicken cooks quickly in the Instant Pot, and Karen adds enchilada sauce, chunky salsa verde, green chiles, white beans, brown rice, and flavorful spices. Then cream cheese and sweet corn are stirred in for a delicious, hearty Enchilada Soup that will please your pickiest eaters.
Slow Cooker Beef Enchilada Soup from Slow Cooker Gourmet uses ground beef and has flavor-adding ingredients like enchilada sauce, cream cheese, corn, and of course cheese!
Instant Pot Creamy Enchilada Soup from Six Sisters' Stuff has corn, black beans, enchilada sauce, and of course chicken, and I love the addition for spicy Sriracha Sauce to this recipe!
And finally, Beef Enchilada Soup from Lynn's Kitchen Adventures can be made in the slow cooker or on the stove!
More Soups in the Slow Cooker or Instant Pot
Use Soup or Stew to see all the soup or stew recipes on this site.
Check out The BEST Instant Pot Soup Recipes or Cook-All-Day Slow Cooker Soups!
(Visited 3,420 times, 1 visits today)