These Easy Recipes for Salsa Pork Chops have options for the Instant Pot or slow cooker and they all would make a delicious weeknight dinner.
PIN the pork chop recipe ideas to try some later!
For these Easy Recipes for Salsa Pork Chops we're featuring four options for salsa pork chops with a variety of flavors that sound delicious. Pork chops can get deliciously tender in the slow cooker or the Instant Pot so either method of cooking works great, and I'm sure one of these recipes for salsa pork chops will please even your pickiest eater! And if you're starting to think about Cinco de Mayo, this might be a great idea for a main dish.
And all four of these are perfect for any easy dinner, and who doesn't like that! All photos are copyrighted to the site that posted the recipe. Just click the recipe name under any photo to see the complete recipe on that site.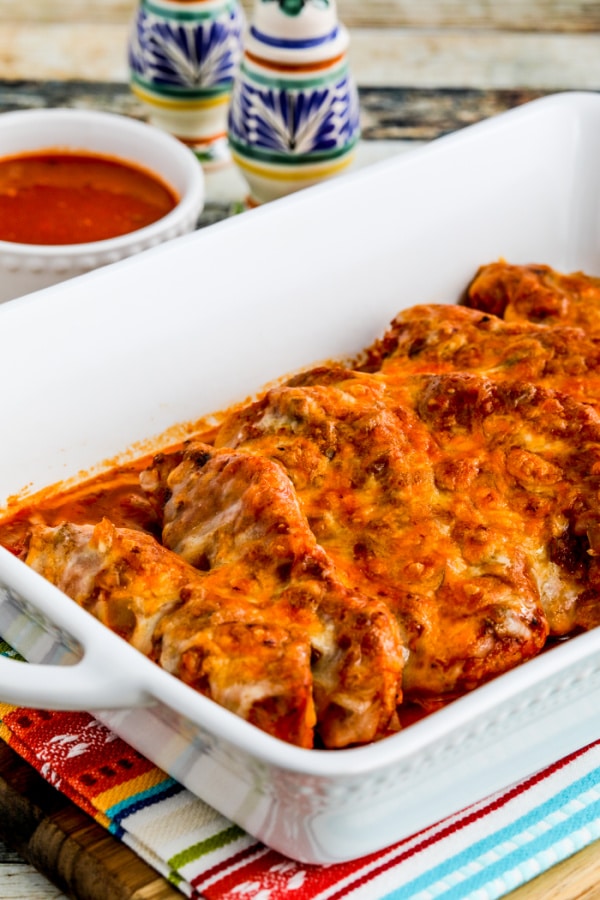 Slow Cooker Salsa Pork Chops or Instant Pot Salsa Pork Chops from Kalyn's Kitchen are delicious and if you use the right salsa, this recipe is low in carbs and gluten-free. Pork loin sirloin chops are rubbed with spices and browned and cooked in the slow cooker with a mixture of salsa and fresh lime juice. Then they're put in a serving dish, topped with cheese, and quickly broiled for a flavorful dish that's so good you won't believe how easy it was!
Two Ingredient Instant Pot Salsa Pork Chops from Jelly Toast are so quick and easy and require very little hands on time. With the Instant Pot you can have amazing salsa pork chops in less than 30 minutes, FTW.
Slow Cooker Pork Chops with Peach Salsa from Slow Cooker Gourmet starts with thick cut pork chops browned until golden brown and then slow-cooked until they are fall apart tender. Serve with this delightfully spicy fresh peach salsa for a meal you'll want to make again and again.
These Fiesta Slow Cooker Pork Chops from Recipes that Crock sound like they'd be loaded with flavor and this only takes five minutes to get it into the slow cooker!
More Pork in the Slow Cooker or Instant Pot:
Use the Pork Index  to see all the slow cooker or Instant Pot pork recipes.
The BEST Instant Pot Pork Chops.
Instant Pot Pork Carnitas Recipes
Four Fabulous Recipes for Kalua Pork
Slow Cooker or Instant Pot Cafe Rio Sweet Pork Recipes
(Visited 2,615 times, 1 visits today)