Here are Instant Pot Pork Carnitas Recipes to help you make delicious dinners, and I love the idea of Carnitas made in the Instant Pot, don't you? And for everyone who's watching their carbs, this tasty carnitas-style pork is easy to make into a low-carb meal!
PIN Instant Pot Carnitas Recipes to try some later.
Most people who eat pork love Carnitas, a favorite Mexican dish. The word Carnitas literally means "little meats" and this collection of Instant Pot Pork Carnitas Recipes has so many good ideas. The trick to making Instant Pot Carnitas or Slow Cooker Carnitas that will be like the Carnitas you get in a Mexican restaurant, is crisping the pork in the oven after it gets tender in the Instant Pot, and you can find great tips for that in these recipes.
We picked our faves for The BEST Slow Cooker Pork Carnitas, so that's a great option for those who love the slow cooker. But Instant Pot Pork Carnitas are such a great idea for a summer dinner thats quick and easy and won't heat up the kitchen! And if you're watching your carbs, just serve with low-carb tortillas  or inside lettuce wraps and pork carnitas can be a delicious low-carb meal! And several of these carnitas recipes are also Keto or Paleo / Whole 30 approved if you skip the tortillas.
And if you like the idea of Carnitas for any easy dinner, we're giving you eight recipes with drool-worthy photos and then eight more tasty carnitas recipe links after the photos, so be sure to look at all your options! I hope this is a dinner idea that will be a hit at your house.
(All photos are copyrighted to the blog that originally posted the recipe. Just click the recipe title under each photo to see that recipe on the original blog)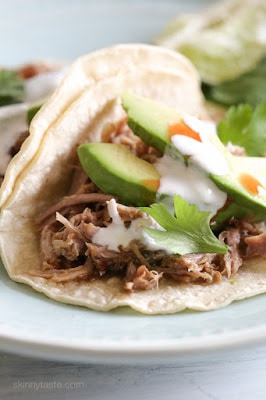 Instant Pot Pork Carnitas (Mexican Pulled Pork)
from Skinnytaste
Instant Pot Crispy Pork Carnitas from 365 Days of Slow + Pressure Cooking
Instant Pot Carnitas from Six Sisters' Stuff
Instant Pot Crispy Carnitas
from Gimme Some Oven
Instant Pot Carnitas
from Buns in My Oven
Pork Carnitas in the Pressure Cooker
from Pressure Cooking Today
Crispy and Delicious Instant Pot Carnitas from Paint the Kitchen Red
Pressure Cooker Green Chile Pork Carnitas
from Pressure Cooking Today
More Carnitas in the instant Pot:
Crispy Pork Carnitas with Corn Salsa from The Novice Chef
Easy Pork Carnitas Meal Prep Bowls from Eazy Peazy Mealz
Instant Pot Chipotle Lime Carnitas from What's Cookin, Chicago?
Instant Pot Carnitas from Nom Nom Paleo
Instant Pot Pork Carnitas from Cooking with Curls
Instant Pot Mexican Pulled Pork from 365 Days of Slow + Pressure Cooking
Carnitas in the Instant Pot or Slow Cooker from Your Home Based Mom
Paleo, Whole 30, and Gluten-Free Pressure Cooker Pulled Pork Carnitas from Gluten Free Pressure Cooker
More Instant Pot Mexican Food:
The BEST Instant Pot Mexican Food Recipes
The BEST Slow Cooker or Instant Pot Refried Beans
Food Bloggers' Best Instant Pot Chicken Tacos
Ten Terrific Instant Pot or Slow Cooker Chile Verde Recipes
(Visited 28,877 times, 1 visits today)