Here are 16 recipes for Instant Pot Pork Carnitas that can help you make a delicious dinner that's quick and easy to get on the table. And this tasty carnitas-style Mexican pork is easy to make into a low-carb meal!
PIN Instant Pot Carnitas to try some later.
Most people who eat pork love Carnitas, a favorite Mexican dish, and this collection of recipes for Instant Pot Pork Carnitas has so many good ideas. The trick to making Carnitas like you get in a Mexican restaurant is crisping the pork in the oven after it gets tender in the Instant Pot, and you can find great tips for that in many of these recipes.
And Instant Pot Carnitas are such a great idea for a dinner that's quick and easy! If you'd like to try making Carnitas at home, this post has 16 different recipes, so be sure to look at all your options!
And if you're watching your carbs, just serve the tender pork with low-carb tortillas or inside lettuce wraps and pork carnitas can be a delicious low-carb meal!  I hope this dinner idea will be a hit at your house.
What is Carnitas?
Carnitas means "little meats", and it's a traditional Mexican dish from southwestern Mexico. Authentic Carnitas are often cooked in lard, but many home cooks replace the lard with other cooking liquid like beer or broth.
Want Carnitas in the slow cooker instead?
If you love the slow cooker, check out Slow Cooker Pork Carnitas.
How can you get the complete recipe?
Just click or tap any recipe title to see the complete recipe on the original blog. All photos are copyrighted to the blog that originally posted the recipe.
More Instant Pot Mexican Food: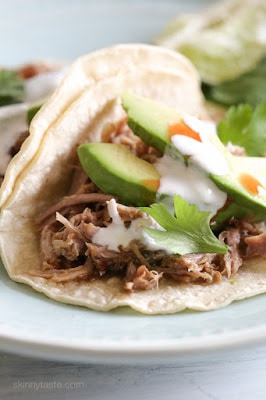 Instant Pot Pork Carnitas from Skinnytaste uses  boneless pork shoulder blade roast to make tender pork that's served in tortillas!
Instant Pot Crispy Pork Carnitas from 365 Days of Slow + Pressure Cooking are cooked until tender in the Instant Pot and then the pork is crisped under the broiler.
Instant Pot Carnitas from Six Sisters' Stuff also has a tasty-sounding slow cooker version.
Instant Pot Crispy Carnitas from Gimme Some Oven turn out perfectly tender and crisp, and this one also has a slow cooker option.
Instant Pot Carnitas from Buns in My Oven also include a broiling step and this recipe has lots of serving suggestions.
Pork Carnitas in the Pressure Cooker from Pressure Cooking Today are a recipe that makes enough for leftovers, and this recipe also includes crisping the meat.
Instant Pork Carnitas from Rachel Cooks is another recipe that will give you tender perfectly crisp pieces of pork, and Rachel has so many good serving suggestions!
Instant Pot Pork Carnitas from Cook the Story are a recipe that turns a pork shoulder into tender, juicy shredded pork perfect for creating delicious street-style tacos.
More Carnitas in the instant Pot:
(Visited 31,273 times, 1 visits today)