This post has Unique and Amazing Slow Cooker Pulled Pork Sandwiches, and making the tasty pulled pork in the slow cooker keeps the kitchen cool! All these pork sandwiches have something special; see what you think!
PIN Slow Cooker Pulled Pork Sandwiches to try some later!
It's officially summer in the northern hemisphere, and if you're thinking about an easy menu for warm-weather dinners this post has Unique and Amazing Slow Cooker Pulled Pork Sandwiches. Don't you agree pulled pork sandwiches are a classic dinner to make in the slow cooker? But this collection has ideas that have that extra something special!
Every slow cooker recipe featured here has ingredients that take it beyond the typical pork sandwiches you see all over the web. If you like pulled pork sandwiches we hope you might find a new favorite among these interesting ideas!
(All photos are copyrighted to the blog that posted the recipe; just click the recipe title under any photo to see the complete recipe on the original site.)
Slow Cooker "Pho" Pulled Pork Sandwiches from Food Faith Fitness have Vietnamese flavors; doesn't that sound interesting?
Slow Cooker Balsamic Honey Pulled Pork from Just a Taste is served with Asian Slaw! I love the addition of balsamic vinegar to season the pork here.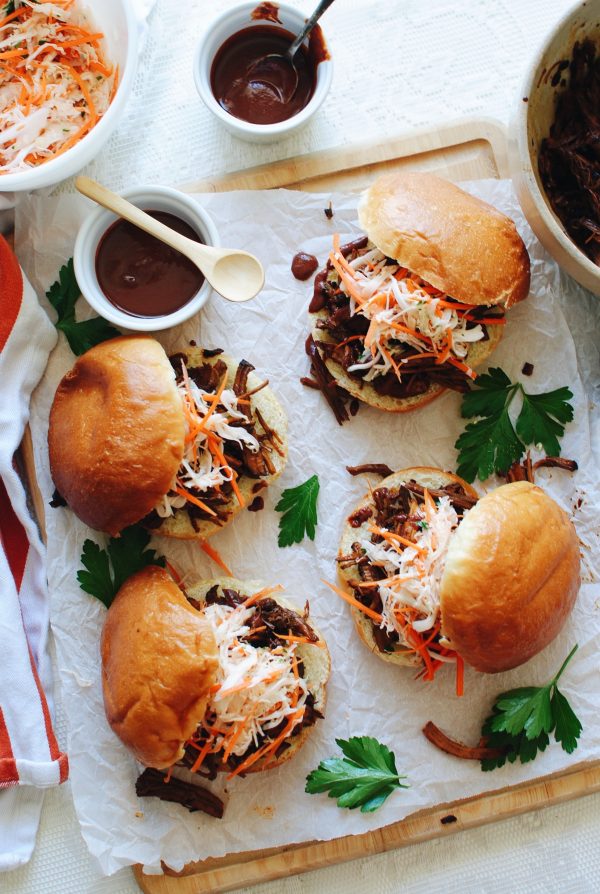 It's the spicy lime coleslaw on the sandwiches that really drew my tastebuds to these Slow Cooker BBQ Pulled Pork Sandwiches from Bev Cooks, yes please!
CrockPot Honey BBQ Pulled Pork Sandwiches from Chelsea's Messy Apron are served with a tasty slaw and the sauce has Chipotle Peppers for a little heat!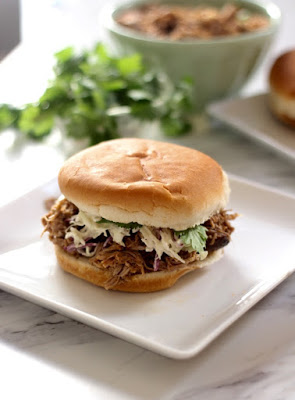 I love the idea of Ranch Slaw in these Spicy Slow Cooker Pulled Pork Sandwiches with Ranch Slaw from In Good Taste.
See that pickle peeking out in the photo! It was the word pickle that caught my eye in Barbecue Pulled Pork Sandwiches with Pickle Slaw from Buns in My Oven.
There are so many good flavors in these Cheesy BBQ Pork Sliders with Bacon Broccoli Slaw from Carlsbad Cravings. And Bacon Broccoli Slaw, yes please!
Bacon fans will love Slow Cooker Apple Bacon BBQ Pulled Pork with chopped apple and bacon from Emily Bites.
Slow Cooker Cuban Sliders from Bev Cooks have pulled pork with Cuban flavors, sliced ham, and Swiss Cheese for a sandwich that looks like a wow.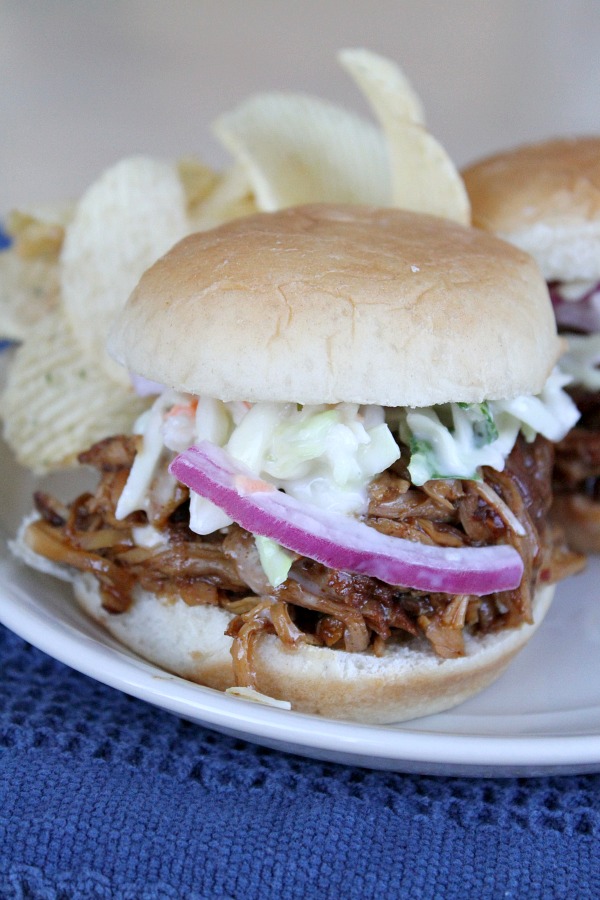 And finally, what's not to love about Slow Cooker Pulled Pork Sliders with Bourbon-Peach Barbecue Sauce from Recipe Girl?
Still Hungry for Sandwiches?
Check out Slow Cooker Sandwiches with Chicken, Pork, or Beef!
(Visited 2,531 times, 1 visits today)