Slow Cooker Barbecued Beef Sandwiches are perfect for an easy dinner, and using the slow cooker frees up the cook to do something else. And this is the perfect family dinner any time of year, and it's also a great idea to take to a pot-luck meal!
PIN slow cooker barbecued beef sandwiches to try some later!
Slow cooker pulled beef or pork with barbecue sauce is something people make often in the slow cooker. And this type of sandwich is always easy and satisfying, which is why Slow Cooker Barbecued Beef Sandwiches became such a classic! And this is a family-friendly meal that's perfect when you start to think about eating dinner outside!
You can make barbecued beef sandwiches with a jar of barbecue sauce, and no judgement from me if you do that. But I think cooking the beef in homemade barbecue sauce takes it to a whole different level in the flavor department, and some of these recipes have that option. Each of the 12 recipes featured here is slightly different, and I hope you'll find one that might become your new favorite recipe for sandwiches with Barbecued Beef!
How do you get the complete recipe?
Just click on the recipe title for each sandwich to see the full recipe on the blog that posted it. All photos are copyrighted to the blog that posted the recipe.
Want more Beef Sandwich Options?
Check out Instant Pot BBQ Beef to make this sandwich idea in the Instant Pot. You might also like The BEST Instant Pot and Slow Cooker Philly Cheesesteak Sandwiches or Slow Cooker or Instant Pot French Dip Sandwiches for more easy dinner ideas.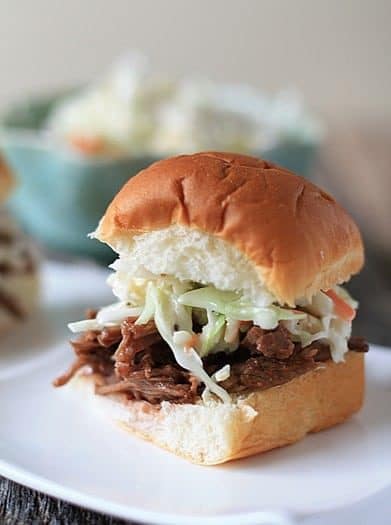 Jamie from My Baking Addiction calls this Superbowl Barbecued Beef, and I agree these beef sandwiches would probably be a hit at any kind of gathering. Jamie starts with chuck roast which simmers in homemade barbecue sauce ingredients; then the meat is piled onto mini buns and served with sweet slaw.
Slow Cooker Barbecue Beef Sandwiches from Spend with Pennies have a touch of chili sauce in the tasty barbecue sauce!
It took Lydia a few tries to perfect this Slow Cooker Barbecue Beef Brisket from The Perfect Pantry, and I love the techniques she uses to get the barbecue-like quality.
Crock Pot BBQ Steak Sandwiches from Recipes that Crock start with round steak, and this homemade sauce uses all the traditional seasonings for barbecue sauce!
Slow Cooker Beef Sandwiches with Horseradish Coleslaw from I (Heart) Eating also have a touch of horseradish in the barbecue sauce.
Slow Cooker Sweet and Smoky Beef from the Perfect Pantry has a sauce with Chipotle Peppers for a slightly different take on barbecue!
More Slow Cooker Beef with BBQ Flavors:
More Beef in the Slow Cooker:
Check out Slow Cooker and Instant Pot Beef Tacos or Amazing Slow Cooker Beef Stew Recipes for more dinners with beef.
(Visited 2,335 times, 1 visits today)