These Four Fabulous Recipes for Shredded Barbecue Beef begin with a favorite cut of beef and add homemade or bottled barbecue sauce. The recipes can be cooked in an Instant Pot or a slow cooker for a great meal that's easy to make and won't heat up the kitchen!
PIN the Recipes for Shredded Barbecue Beef to try some later!
These Four Fabulous Recipes for Shredded Barbecue Beef  come together easily for a delicious warm-weather meal. And right now we are still in the too-hot-to-cook days of summer and sometimes you just want an easy dinner, maybe something you can eat outside! And everyone loves barbecued beef served on a bun, don't they?
Here you have recipes featuring different cooking methods and various cuts of beef, so you can take your choice for your Shredded Barbecue Beef sandwiches. Serve the shredded spicy barbecue beef on buns, or for a lower carb option I'd love to eat the shredded meat served inside lettuce wraps; what do you think?
What is Barbecue Beef?
Barbecue Beef (also called BBQ Beef) is an American dish made with beef roast that's cooked until it's fall-apart tender and then served with a tomato-based barbecue sauce.
How do you get the complete recipe?
Just click the recipe name under any photo to see the complete recipe on that site. All photos are copyrighted to the site that posted the recipe.
Want more tasty sandwiches with Beef?
Slow Cooker Barbecue Beef Sandwiches
Slow Cooker Sandwiches with Chicken, Pork, or Beef
Instant Pot Sloppy Joes Recipes
Slow Cooker or Instant Pot French Dip Sandwich Recipes
Instant Pot and Slow Cooker Philly Cheesesteak Sandwiches
For an easy and versatile way to prepare beef make this Instant Pot Barbecue Beef from Simply Happy Foodie. This tasty meat would be great served with potatoes, rice, or on a bun to make a delicious meal.
Shredded  Beef Brisket in the Crock-Pot from Shockingly Delicious uses just 3 ingredients for this easy and perfect dish. The caramelized onion adds a wonderful flavor that everyone will love!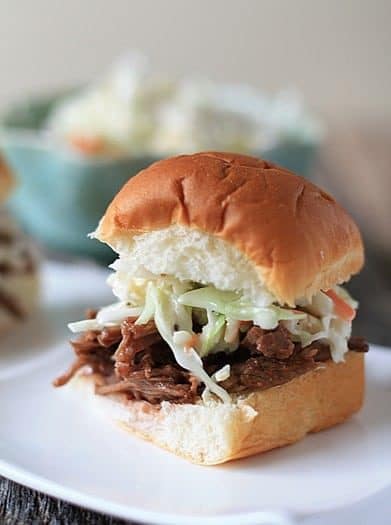 Super Bowl BBQ Beef from My Baking Addiction is an easy sandwich to make and definitely a crowd pleaser!
Give these Instant Pot Barbecue Beef Sandwiches from Cooking With Curls a try for your next family gathering. In just 60 minutes you have easy to shred beef in a delicious sauce and topped with cheese, sounds like the perfect dinner!
More Ideas with Beef in the Slow Cooker or Pressure Cooker:
Use the Index Page for Beef to see all the slow cooker or pressure cooker beef recipes that have been featured on this site.
(Visited 2,647 times, 1 visits today)