Chili is perfect when you need some comfort food, and these Slow Cooker and Instant Pot White Bean Chili Recipes sound warm and delicious! And you can use the dried beans or canned beans that you probably have in the pantry.
Pin the White Bean Chili Recipes to try some later!
There's still snow on the ground where I live, and one of these Slow Cooker and Instant Pot White Bean Chili Recipes sounds like a great idea for for a family-friendly dinner. And there are 14 amazing chili recipes here, and every one one of these white bean chili recipes has something that makes it special!
What types of white bean chili will you find here?
There are chili recipes here with dried beans and canned beans, and the recipes use a variety of different types of white beans too. You'll find fun variations like Jalapeno Popper Chili, Buffalo Chicken Chili, and even white bean chili with pumpkin! And the white bean chili recipes use chicken or ground chicken, and ground turkey or leftover turkey could also be used in some.
How do you get the complete recipe?
Just click any recipe name to see the complete chili recipe on the original site. All photos are copyrighted to the blog that posted the recipe.
Want more Slow Cooker or Instant Pot Chili Recipes?
If you're a fan of chili made in the slow cooker or the Instant Pot, check out all the Chili Recipes on this site!
Amy's Amazing White Chicken Chili from Kalyn's Kitchen is a recipe that's been hugely popular, and this can also be made with turkey whenever you have some leftover turkey. And be sure to serve with plenty of grated cheese!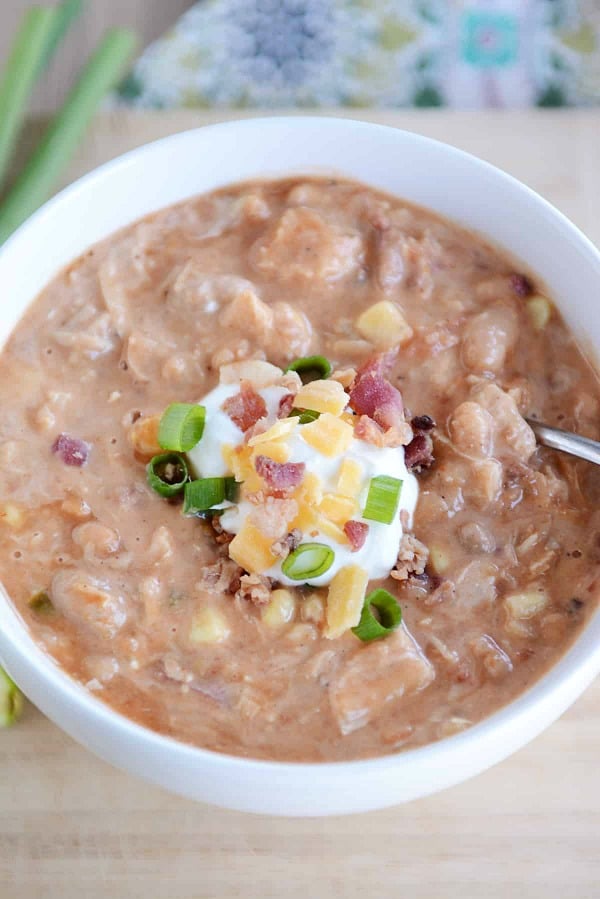 Slow Cooker Jalapeno Popper White Bean Chili from Mel's Kitchen Cafe starts with dried white beans that cook in the slow cooker with a bunch of flavor-enhancing ingredients. Mel says this recipe is "freakishly delicious" and after looking at the ingredients, I believe her!
Instant Pot (or Slow Cooker) Creamy White Chicken Chili  from 365 Days of Slow + Pressure Cooking has white beans, chicken, green chiles, onion, and the perfect ingredients to add flavor and creaminess. And you can make this with canned or dried white beans, take your choice!

Crock Pot White Chicken Chili from Iowa Girl Eats cooks in about 5 hours, and this sounds like a bowl of comforting goodness with chicken, green chiles, white beans, onion, garlic, seasonings, and a dose of fresh jalapeños!

Homemade White Chili from 365 Days of Slow + Pressure Cooking starts with a bag of dried Great Northern Beans, and this recipe can be made in the slow cooker or the Instant Pot and it has so many flavorful ingredients to guarantee a tasty result!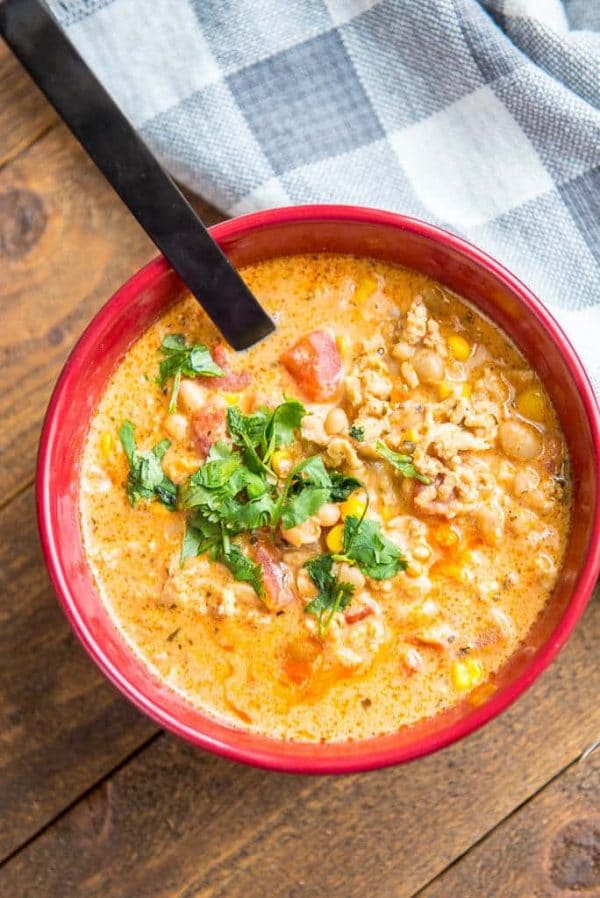 Slow Cooker Buffalo Chicken Chili from Slow Cooker Gourmet will be a hit with fans of Frank's Red Hot Sauce, and this recipe also uses ground chicken, white beans, chicken broth, ranch dressing mix, and fire roasted tomatoes for a spicy bowl of chili that's unusual but delicious.
Instant Pot White Chicken Chili from Simply Recipes uses canned Cannellini beans with chicken breasts, green vegetables, and so many other flavor-enhancing ingredients!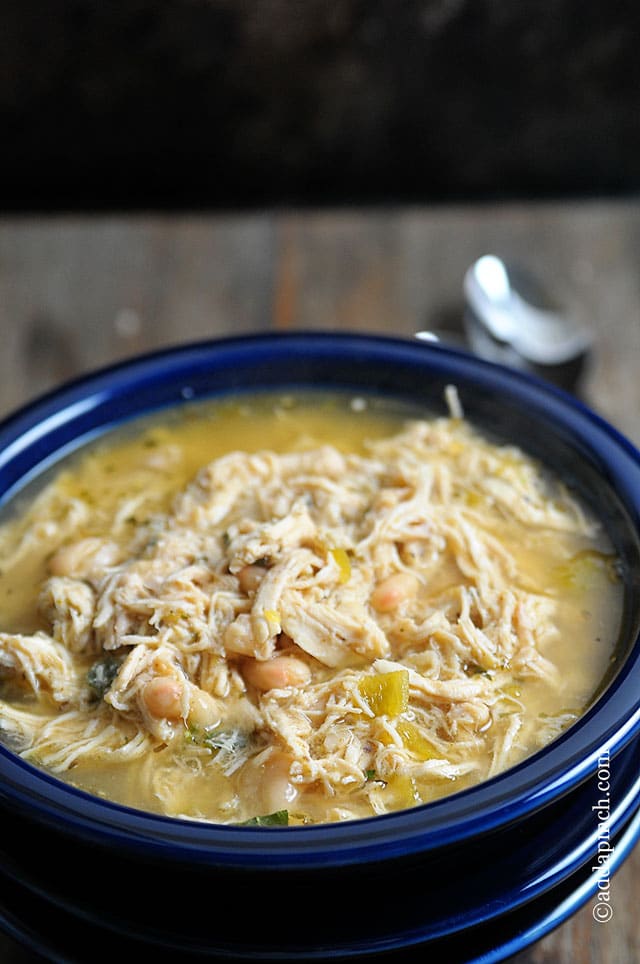 White Chicken Chili from Add a Pinch can be made in a CrockPot, in the Instant Pot, or on the stove, and don't you agree that looks like a tasty bowl of white bean chili?
More White Bean Chili in the Slow Cooker or Instant Pot:
Slow Cooker White Turkey Chili from Taste and Tell
CrockPot Gluten-Free White Chicken Chili ~ My Natural Family
Slow Cooker White Chicken Chili from The Kitchn
Skinny Slow Cooker White Bean Chili from Six Sisters' Stuff
Vegan White Bean Chili from Fat Free Vegan Kitchen
Instant Pot (or Slow Cooker) Turkey Pumpkin White Bean Chili from Skinnytaste
(Visited 2,097 times, 1 visits today)