These Instant Pot or Slow Cooker Recipes for Mexican Beans will be a perfect side dish option with your favorite Mexican entrees! And with these recipes for the Instant Pot or the slow cooker, homemade beans have never been easier! 
PIN the Recipes for Mexican Beans to try some later!
Any one of these Instant Pot or Slow Cooker Recipes for Mexican Beans are a great way to use the dried or canned beans you might have in the pantry. And of course beans are a nutrient loaded side dish that goes perfectly with your favorite Mexican entree, so I hope you'll consider making one of these for Cinco de Mayo!
Instant Pot Mexican beans can cook in less than an hour, or if you choose the slow cooker method the beans can cook while you're doing other things. And there are recipe ideas here with a wide variety of seasonings or added ingredients. Hope you find some Mexican Beans here you'd like to put on permanent rotation on your menu; enjoy!
All photos are copyrighted to the site that posted the recipe. Just click the recipe name under any photo to see the complete recipe on that site. And check out The BEST Instant Pot Mexican Food Recipes if you want ideas for what to serve with your beans!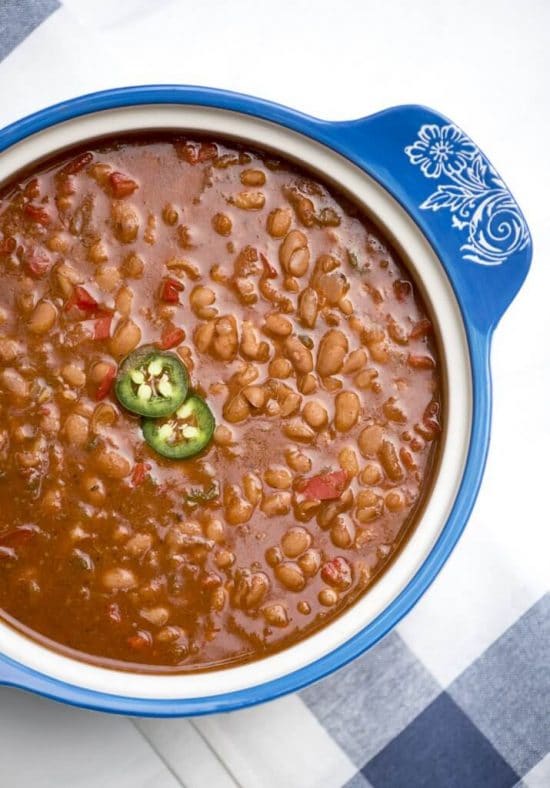 Instant Pot Mexican Pinto Beans from Valerie's Kitchen start with pinto beans that cook up tender and delicious in about an hour with onion, bell pepper, Jalapeno, garlic and a little oil.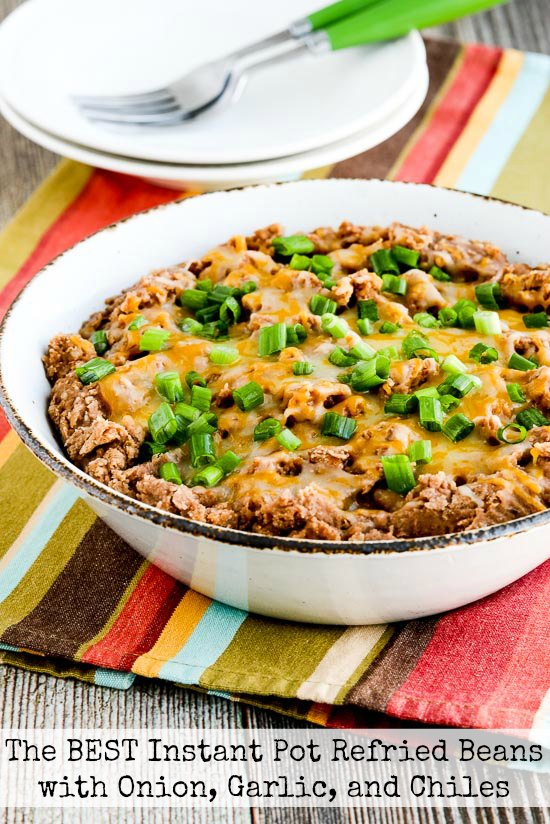 The BEST Instant Pot Refried Beans with Onion, Garlic, and Chiles from Kalyn's Kitchen are the ones I've been making for years, and I think these beans have the perfect seasonings!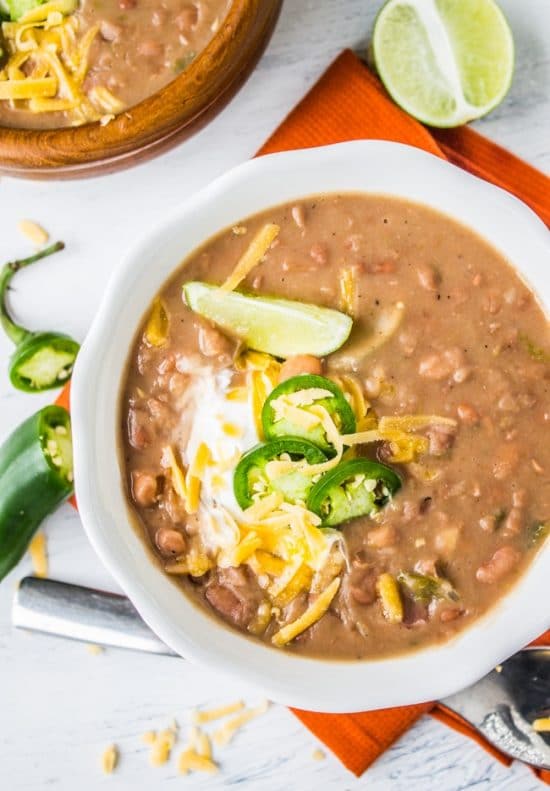 If you like pinto beans I think these Slow Cooker Traditional Tejano Pinto Beans from The Food Charlatan absolutely look like a wow, and Karen says these beans will make you feel like you're in Texas!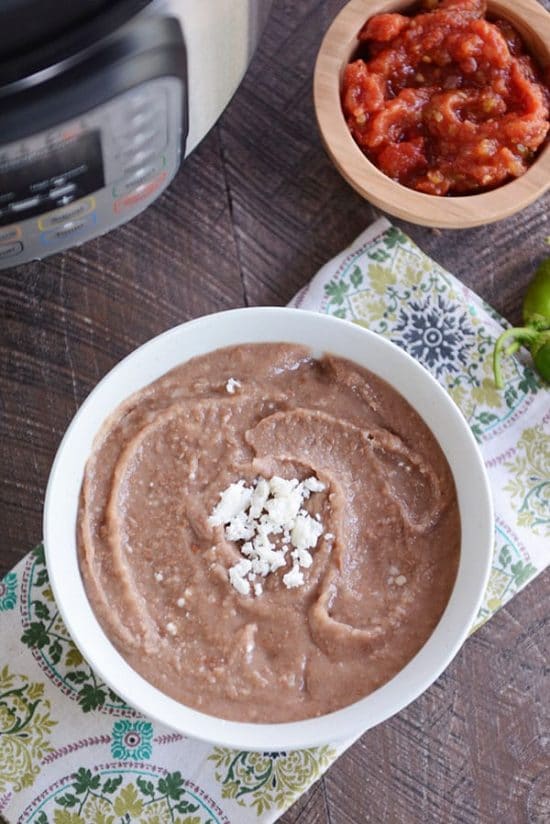 It doesn't get much easier than these Pressure Cooker Refried Beans from Mel's Kitchen Cafe. No pre-soaking of the beans required and when cooked in a pressure cooker or Instant Pot these refried beans are fast, easy, and have amazing flavor. For an added bonus, if you have leftover beans you can  freeze them for a meal at another time.
Instant Pot Mexican Beans from Kalyn's Kitchen are delicious with the Avocado, Tomato, and Poblano Sauce, but if that's not happening at your house these beans will be great with purchased guacamole or just grated cheese!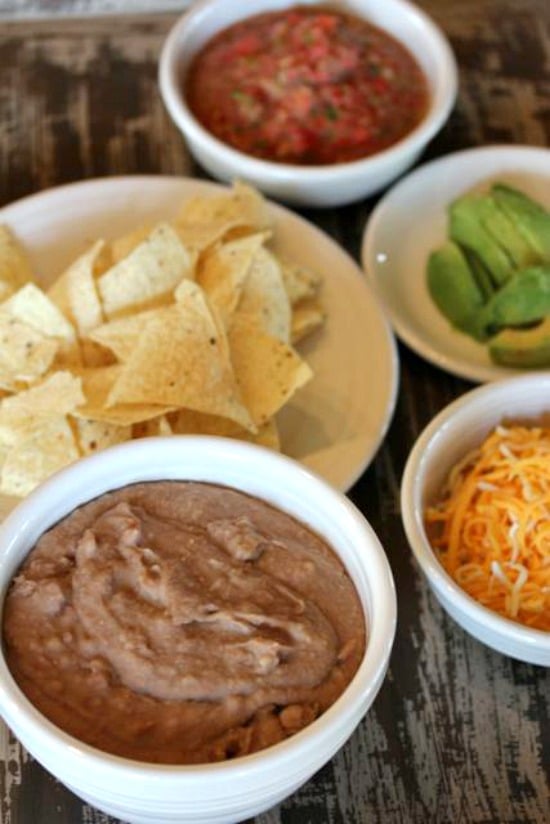 Slow Cooked Homemade Refried Beans from Lyn's Kitchen Adventure are a classic refried beans recipe that started with dried pinto beans!
For years I've loved Rubio's Pinto Beans, and Instant Pot CopyCat Recipe for Rubio's Pinto Beans from Kalyn's Kitchen took me a few tries to nail down the seasonings. You might be surprised how simple the recipe is, but these beans are so tasty!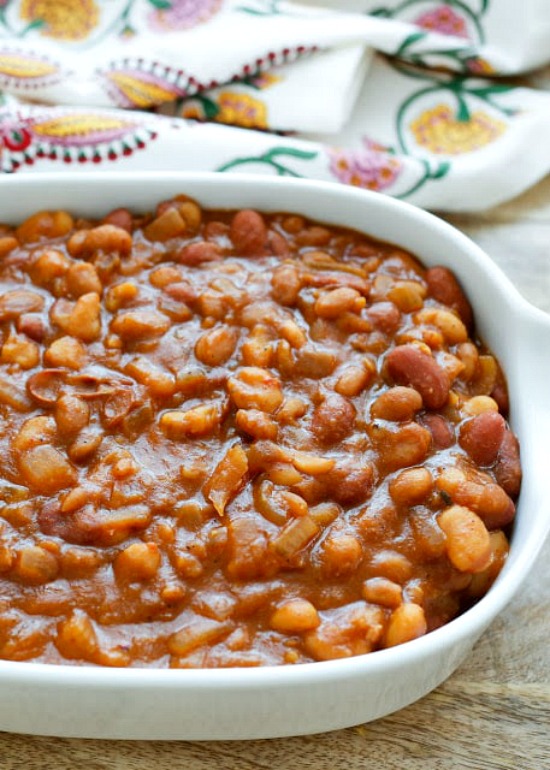 These Slow Cooker Mexican Baked Beans from Barefeet in the Kitchen have a unique combination of flavors that I think sounds amazing!
Spicy Black Beans with Cilantro from Kalyn's Kitchen are delicious with a tomato salsa topping, but we also loved these beans with guacamole!
More Beans in the Slow Cooker or Instant Pot:
Use Beans and Legumes to see all the bean and legume recipes.
Slow Cooker Vegan Fiesta "Baked" Beans from 365 Days of Slow Cooking
Instant Pot Mexican Black Beans from Wondermom Wannabe
Slow Cooker Fat-Free and Low-Sodium Refried Beans from Rachel Cooks
Mexican Pinto Beans with Queso from Skinnytaste
Easy Instant Pot Pinto Beans from Two Sleevers
(Visited 2,095 times, 1 visits today)