When you're watching your carbs or just want an easy breakfast option, these Instant Pot Egg Bites Recipes are tasty and easy to make!
PIN Instant Pot Egg Bites to try some later!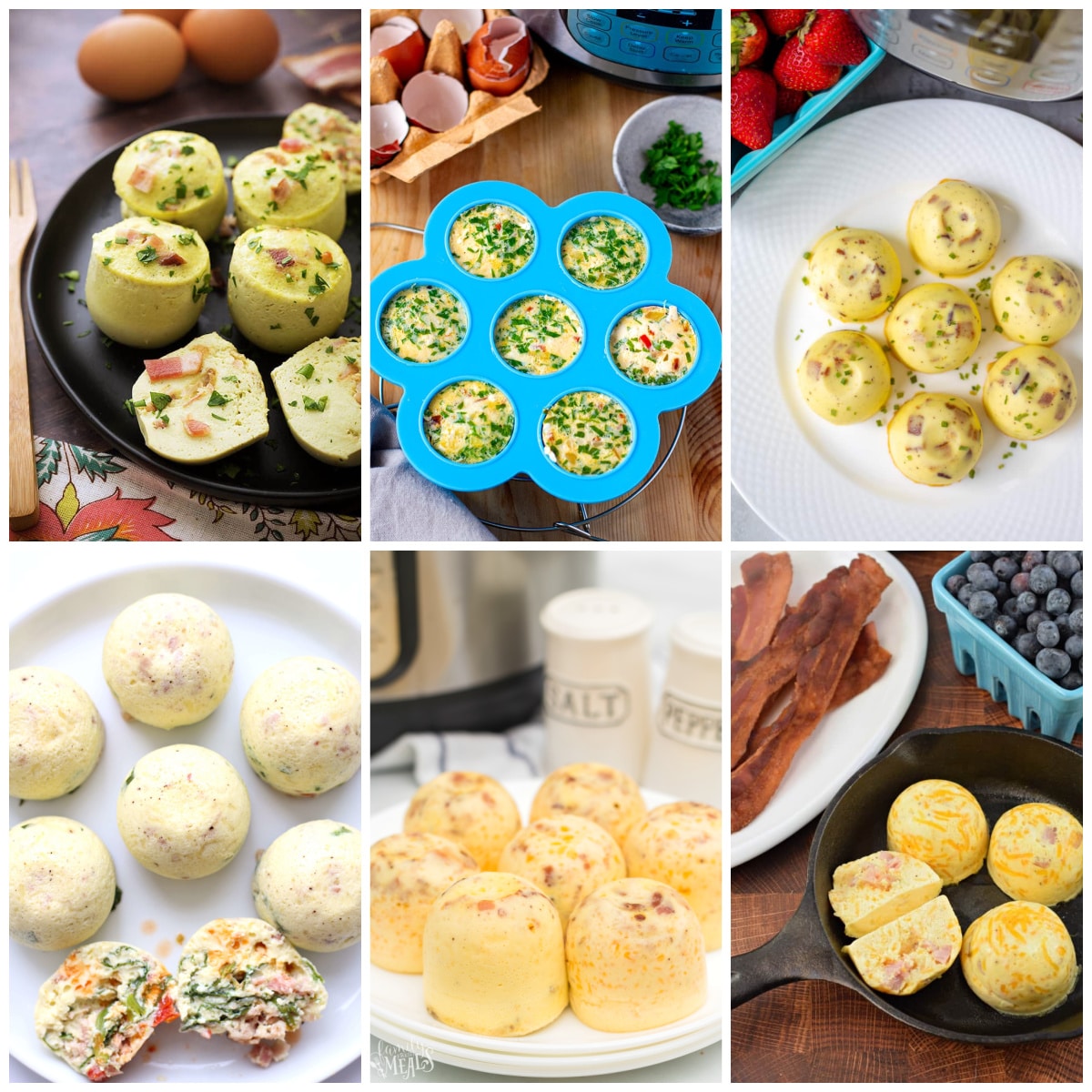 Have you tried the Sous-Vide Egg Bites at Starbucks? Those little bites of eggy goodness have set off a craze of making egg bites in the Instant Pot. And these egg bites are a perfect low-carb breakfast treat, but it's not just low-carb eaters who are making them! So this post is encouraging you to try making Instant Pot Egg Bites if you haven't tried it!
You'll need some type of Instant Pot Silicone Mold (affiliate link) to make the egg bites, but once you get one of those you'll see there are all kind of recipes using them to make other things besides egg bites! You don't have to buy the fancy double-decker kind, but if might be worth it if you're making Egg Bites for several people, because they reheat well.
If this idea is new to you, I hope you enjoy trying them, and if you've made Egg Bites already, maybe you'll get some new ideas here for flavor additions. If you've been buying them at Starbucks, this can definitely save you a lot of money!
What egg bites recipes will you find here?
This post has 8 different blogger's takes on Instant Pot Egg Bites, including Mediterranean Egg Bites, Ham and Cheese Egg Bites, Bacon Cheddar Egg Bites, and Egg Bites with Cheese and Jalapenos!
How do you get the complete recipe?
Just click any recipe title to see the complete recipe on the original blog.
More Breakfasts from the Instant Pot or the Slow Cooker:

Karen says she saw Egg Bites all over the web before she tried these Instant Pot Egg Bites from 365 Days of Slow + Pressure Cooking. And although she was inclined to be skeptical before she tried them, she decided they were perfectly fluffy and tasty and perfect to make with whatever is in your fridge!

These Mediterranean Egg Bites from Instant Pot Eats have onions, sweet red peppers, sun-dried tomatoes, parsley and creamy feta cheese for a breakfast with amazing flavors.

Instant Pot Ham and Cheese Egg Bites from Shugary Sweets have breakfast flavors that will be a hit with most people!

I bet a lot of people will like the sound of these Instant Pot Bacon Cheddar Egg Bites from Family Fresh Meals!

Instant Pot Egg Bites from A MindFull Mom have lots of ideas for different ingredients options to add to your egg bites!

Instant Pot Egg Bites from Simply Happy Foodie have a good tip about when to add other ingredients to the egg mixture.
More Tasty Instant Pot Egg Bites:
Instant Pot Egg Bites from Simply Recipes
Pressure Cooker Egg Bites and Egg Muffins from Pressure Cooking Today
Instant Pot Pressure Cooker Egg Bites from The Typical Mom
Instant Pot Egg Bites with Cheese and Jalapenos from Instant Pot Eats
(Visited 4,246 times, 1 visits today)