Check out these Instant Pot or Slow Cooker Roast Beef Dinners and find a fun new recipe idea for this classic meal. And quite a few of these 27 tasty roast beef dinners are low in carbs!
PIN Instant Pot or Slow Cooker Roast Beef Dinners to try one later!
So many families make roast beef when it's time for a special meal, and beef gets juicy and tender when you cook it in the Instant Pot or the slow cooker. So we thought it would be fun to see how many different ideas we could find for roast beef or pot roast dinners, and we're sharing 28 great dinner options in this new collection of Instant Pot or Slow Cooker Roast Beef Dinners! Be sure to scroll down for even more pot roast options after the photos to see all the different ideas here for roast beef!
What kinds of roast beef dinners will you find here?
Whether you prefer a classic roast beef dinner with potatoes, onions, mushrooms, carrots, or something with Asian, Tex-Mex, Southwestern, Sweet and Sour, Balsamic, Guinness, or Ginger and Orange flavors, you'll find pot roast and roast beef recipes here of every kind. And there are even quite a few low-carb roast beef dinners in this amazing collection!
How do you get the complete recipe?
Just click any recipe title to see the complete recipe on the original blog. All photos are copyrighted to the blogger who originally posted the recipe.
Want more low-carb recipes with beef?
If you're watching carbs, check out Low-Carb and Keto Instant Pot Dinners with Beef.
Instant Pot Low-Carb Southwestern Pot Roast or Low-Carb Southwestern Pot Roast in the Slow Cooker from Kalyn's Kitchen is a favorite recipe, and you can shred the leftover pot roast to make tacos!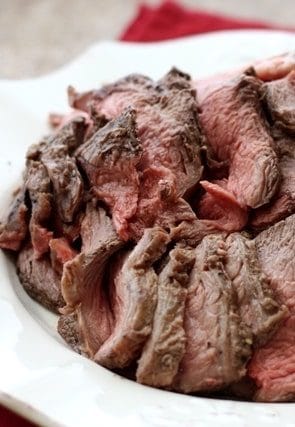 Perfectly Simple Sliceable Crock Pot Roast Beef from Barefeet in the Kitchen looks amazing and sounds so easy to make!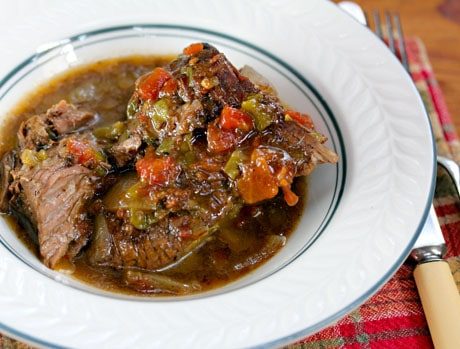 Slow Cooker Tex-Mex Pot Roast from The Perfect Pantry is a spicy pot roast with those green chile and tomato flavors that make Tex-Mex food so appealing.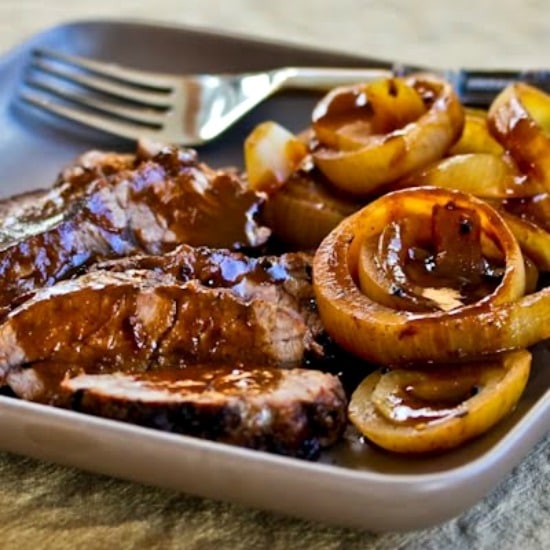 Balsamic and Onion Pot Roast from Kalyn's Kitchen is a mega-popular slow cooker pot roast, and this post also has tips for how to make pot roast in the slow cooker. And this recipe is low in carbs!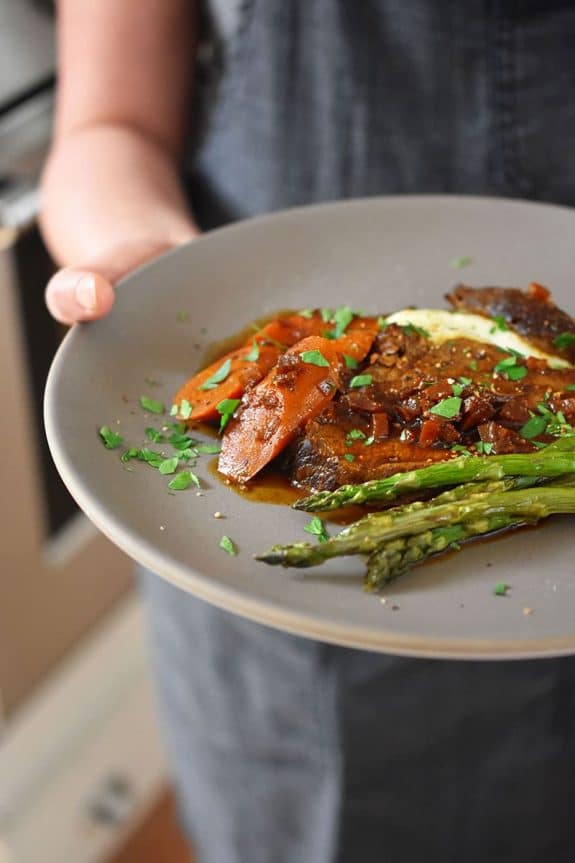 Instant Pot Yankee Pot Roast from Nom Nom Paleo is a classic pot roast recipe made with healthy clean ingredients and it's low in carbs.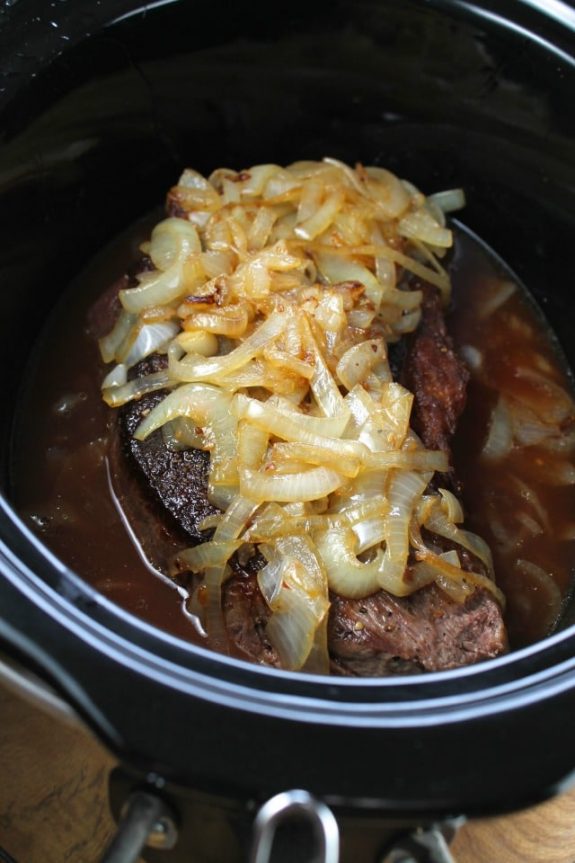 Crock Pot Roast With Caramelized Onions from Miss in the Kitchen looks like an amazing idea for Sunday dinner!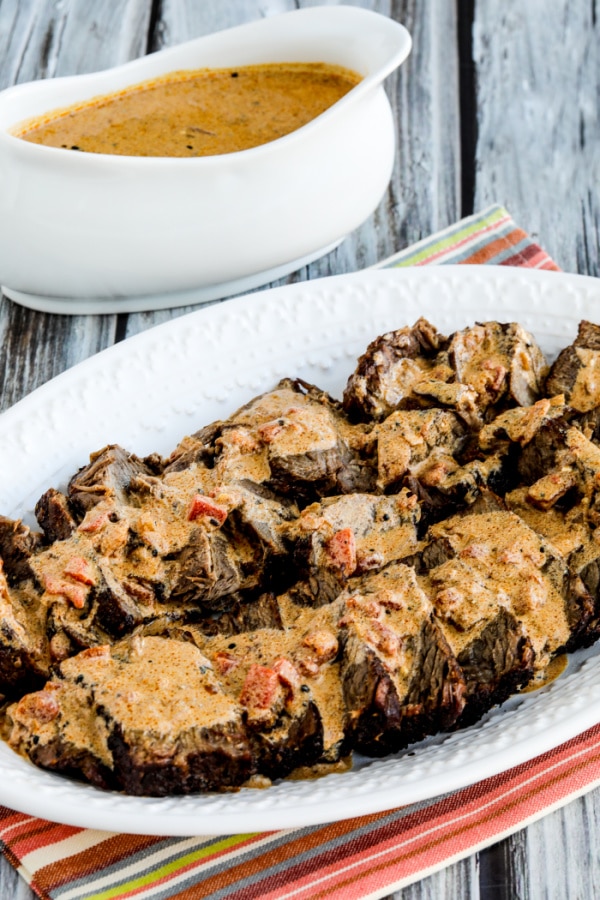 You will absolutely LOVE this Instant Pot Hungarian Pot Roast or Slow Cooker Hungarian Pot Roast at Kalyn's Kitchen; this is one of my long-time favorite recipes for low-carb pot roast!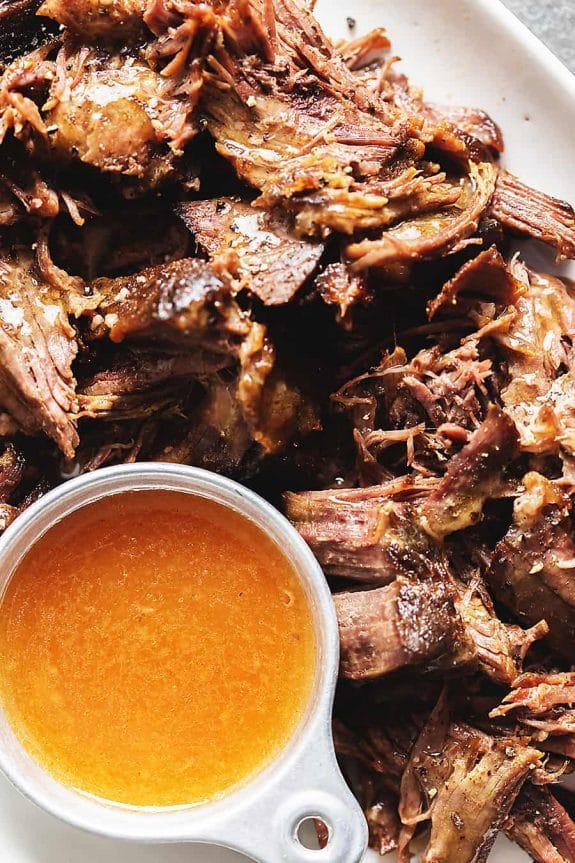 Pressure Cooker Pot Roast from Low Carb with Jennifer is fall-apart tender and served with the tasty cooking liquid.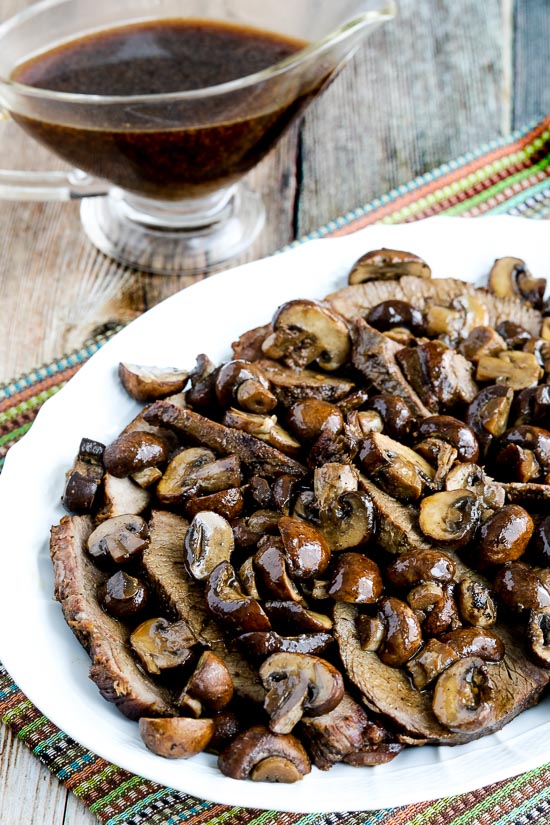 Slow Cooker Mushroom Lover's Pot Roast from Kalyn's Kitchen uses mushroom bouillon to add lots of flavor to the meat and this is low in carbs!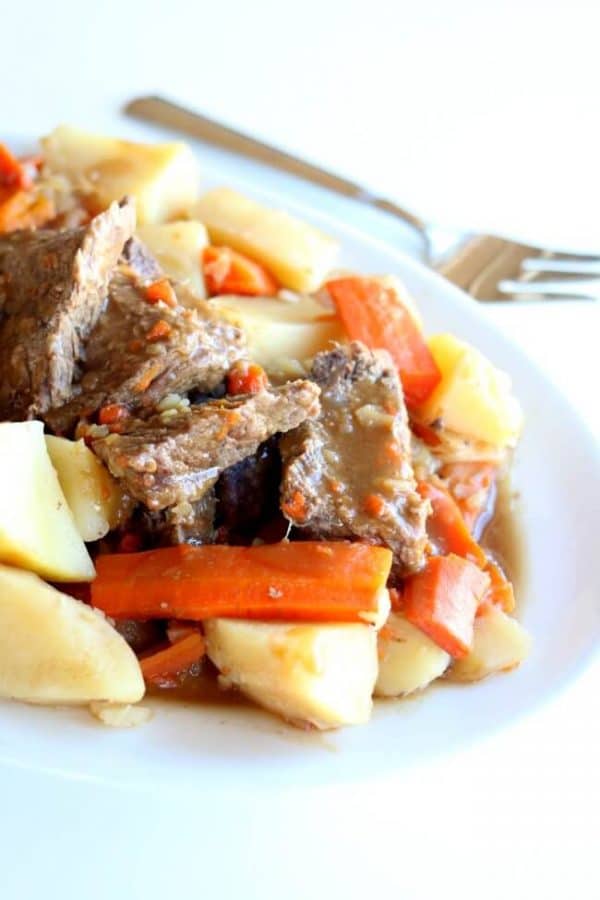 Instant Pot Five-Ingredient Pot Roast Dinner from 365 Days of Slow Cooking sounds just like the pot roast dinner your mom used to make, but much easier and quicker in the Instant Pot!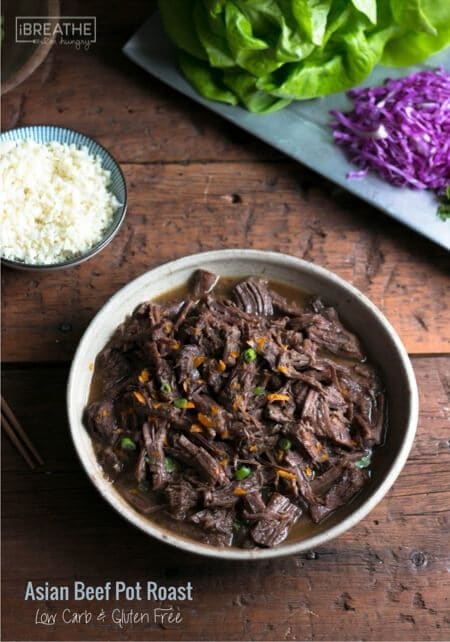 Instant Pot Asian Beef Pot Roast from I Breathe I'm Hungry is a low-carb pot roast with those Asian flavors that are so good with beef!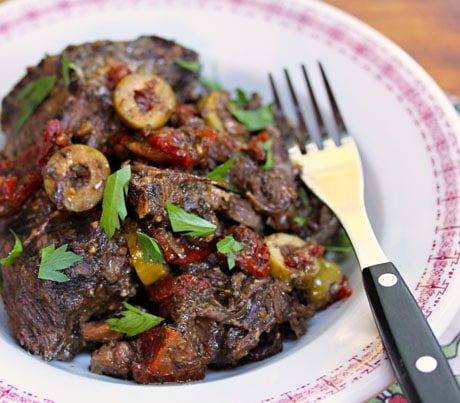 I love the sound of this Slow Cooker Italian Pot Roast with Sun-Dried Tomatoes and Olives from The Perfect Pantry!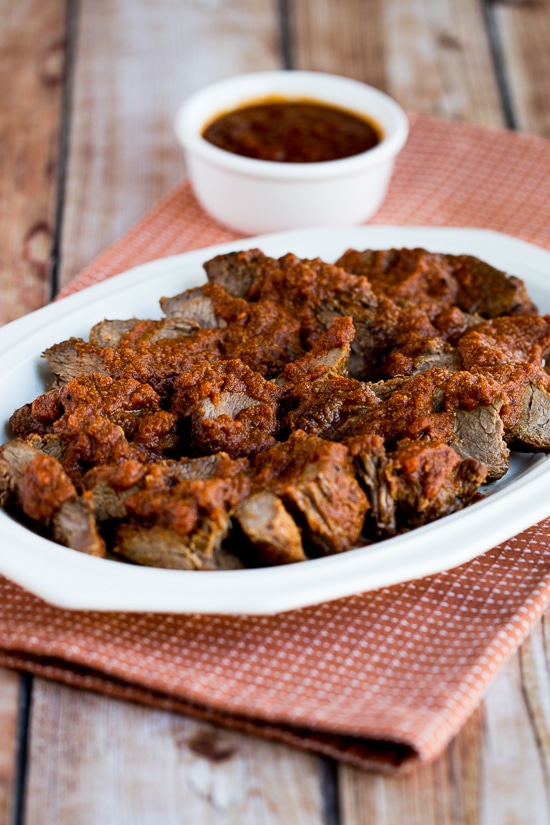 Low-Carb Slow Cooker Sweet and Sour Pot Roast from Kalyn's Kitchen cooks in a delicious sauce with sweet and sour flavors!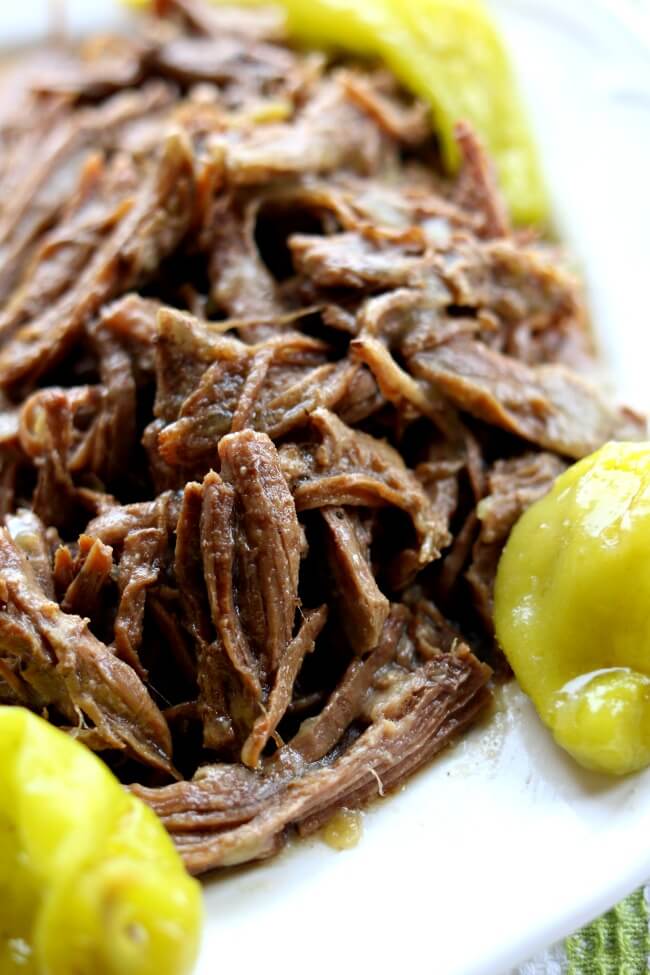 Mississippi Roast is always a classic, and I love the sound of this Instant Pot Mississippi Roast from 365 Days of Slow + Pressure Cooking.
More Slow Cooker Roast Beef:
More Instant Pot Roast Beef:
(Visited 7,567 times, 2 visits today)