Low-Carb Instant Pot Dinners with Beef will come together quickly and produce a melt-in-your-mouth beef dinner that the whole family will love!
PIN Low-Carb Instant Pot Dinners with Beef to try some later!
Click for 50 Amazing Low-Carb Instant Pot Dinner Recipes!
Beef gets tender and juicy in the Instant Pot, and we're bringing you more options for low-carb dinners in this collection of Low-Carb Instant Pot Dinners with Beef! And we already have a round-up that features Low-Carb Instant Pot Dinners with Ground Beef, so this time we're focusing on beef roasts and cubes of beef that can be made into amazing low-carb meals.
There are some super-tasty looking options here for Instant Pot beef dinners that are low in carbs. Of course you'll find roast beef, several varieties of beef stew, and corned beef, but there's also Barbacoa Beef, Beef Stroganoff, all-beef Chili, and shredded flank steak tacos, plus many more!
As usual, all photos are copyrighted to the blog that posted the recipe. Just click the recipe title under any photo to see the complete recipe on the original blog. And happy low-carb dinners everyone; enjoy!
Keto Beef Brisket in the Instant Pot from Breathe I'm Hungry is super easy and is bound to be a big hit with the entire family! Just start with a beef brisket, season it, sear it right in the Instant Pot (only one pan to clean), and let the Instant Pot do the rest of the work. When finished cooking quick release the pressure, remove the lid, and serve tender and delicious brisket to the waiting crowd. Yep, it's that easy!
Instant Pot Spicy Barbacoa Beef Roast from My Life Cookbook cooks with lots of spices rubbed over the beef and Denise says it's a snap to make and very spicy. Serve over cauliflower rice or on top of a salad and you've got a delicious low-carb meal.
Instant Pot Low-Carb Southwestern Pot Roast from Kalyn's Kitchen is a slightly-spicy Southwestern beef served hot with the tasty sauce that it cooked in spooned over it.
Instant Pot Chili Lime Avocado Steak Bowl from Food N Service has tender perfectly-cooked steak piled high on a bed of diced avocados. Delicious, low-carb, and super fast and easy with the assistance of your trusty Instant Pot.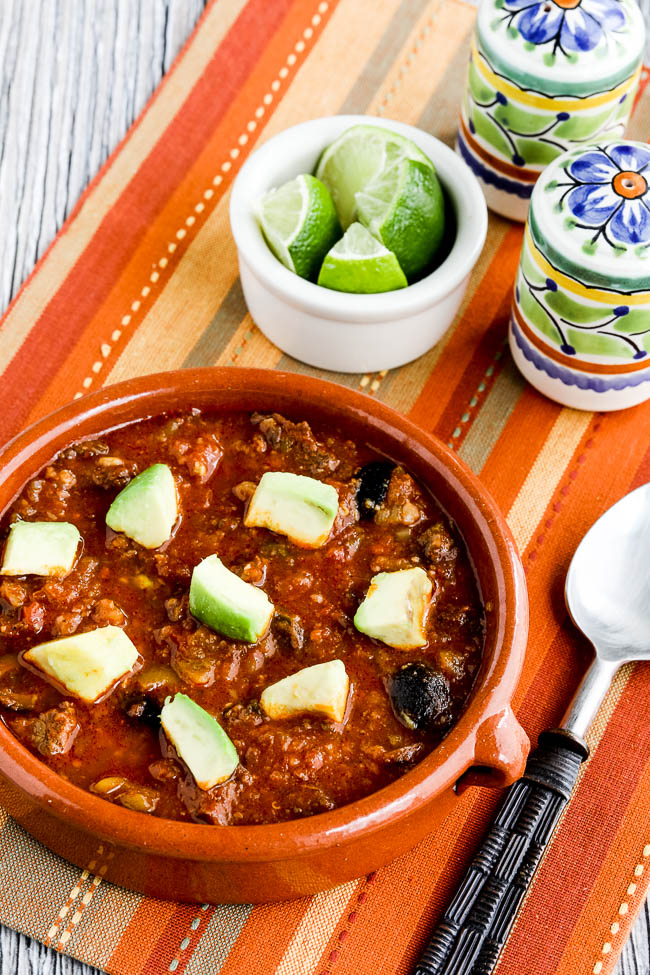 Instant Pot (or Slow Cooker) Low-Carb Southwestern Beef Stew from Kalyn's Kitchen is thickened with some cauliflower rice which adds a fun texture to the stew (and you can't taste the cauliflower!)
Instant Pot Beef Stew with Bacon and Mushrooms from Low-Carb with Jennifer has a few carrots, which you could omit for Keto if you prefer. And bacon and mushrooms; yes please!
Instant Pot Mexican Beef from Nom Nom Paleo is one of the recipes that makes Michelle lover her Instant Pot so much!
Pressure Cooker Corned Beef with Creamy Horseradish Sauce from Kalyn's Kitchen is not just for St. Patricks Day! I love to serve the leftover meat in lettuce wraps with either Russian Dressing or some of the sauce.
Instant Pot Low-Carb Beef Stroganoff from Two Sleevers combines tender chunks of tender beef, mushrooms, onion, garlic, and spices to create a perfect weeknight meal. Serve with cauliflower rice or low-carb noodles for a delicious low-carb dinner the whole family will enjoy!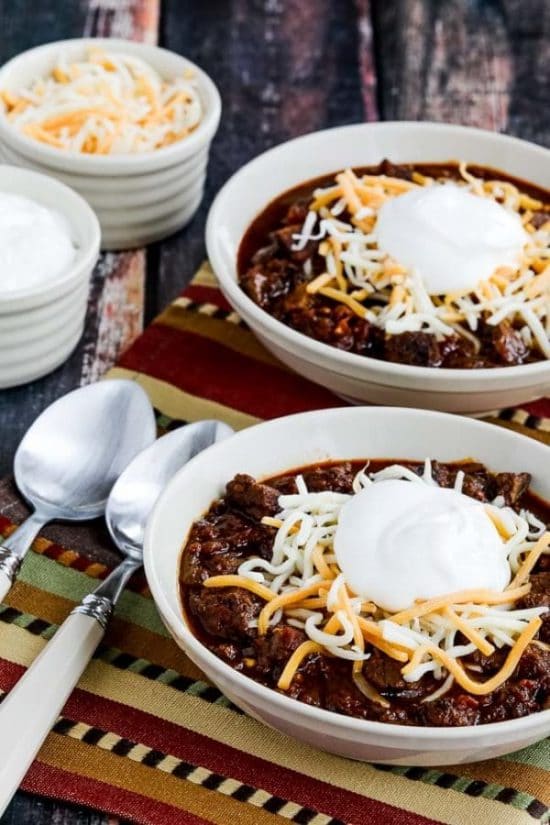 Instant Pot Low-Carb All Beef Ancho and Anaheim Chili from Kalyn's Kitchen is a delicious option for chili that is packed full of tender bites of beef spiced-up with ground Ancho Chile peppers. Serve hot, with grated cheese and sour cream for a perfect low-carb meal.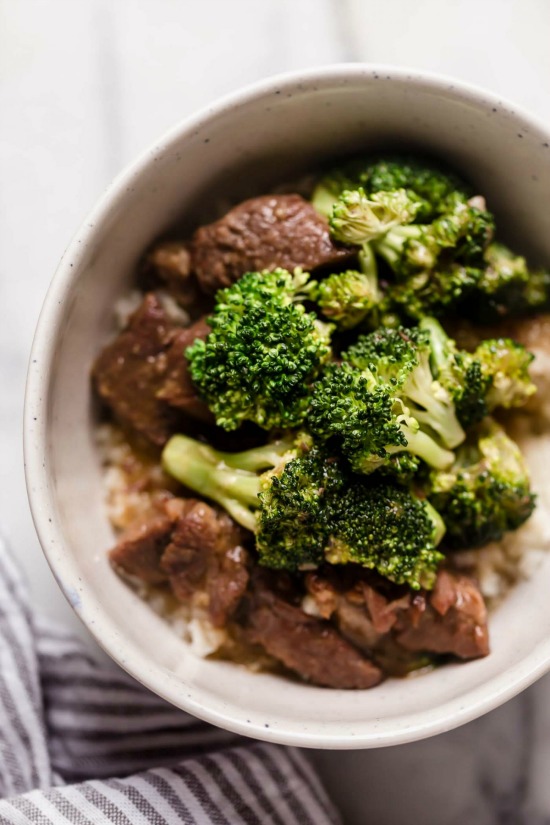 Instant Pot Beef and Broccoli from Real Balanced makes a perfect low-carb dinner when it's served with cauliflower rice! And this recipe is super quick.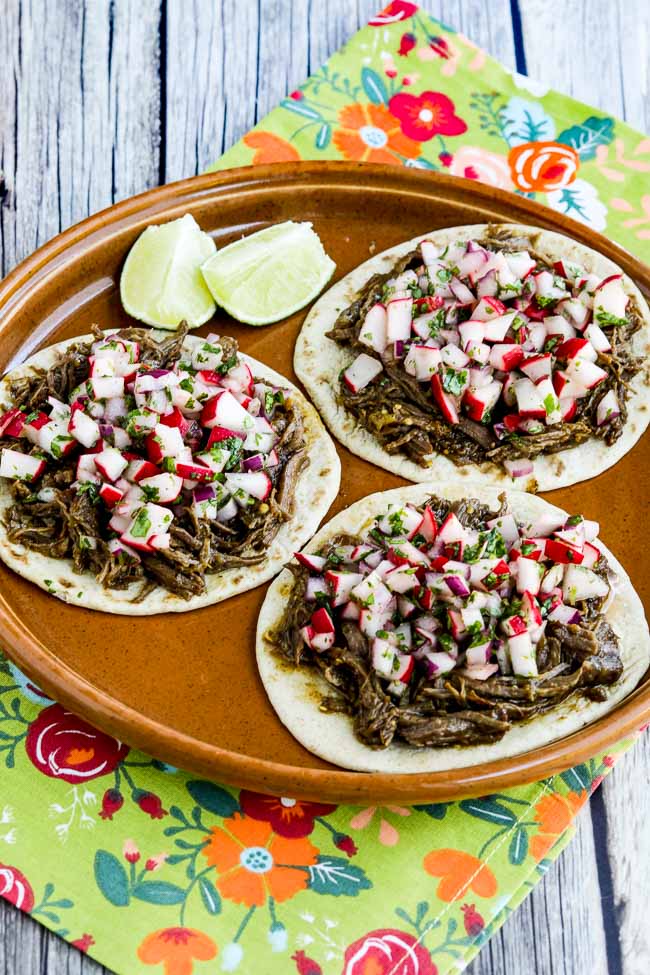 Instant Pot Low-Carb Spicy Shredded Beef Street Tacos from Kalyn's Kitchen use low-carb street taco size tortillas for a fun dinner idea!
Low-Carb Instant Pot or Stovetop Hearty Beef Stew from Beauty and the Foodie combines seared beef stew meat and vegetables in a rich beef broth. A comforting low-carb and paleo beef stew that cooks up quickly and is perfect for a chilly evening.
This amazing-looking Easy Balsamic Pot Roast from I Breathe I'm Hungry can be made in the Instant Pot or in a pan on the stove and Mellissa says this is delicious served over cauliflower mash!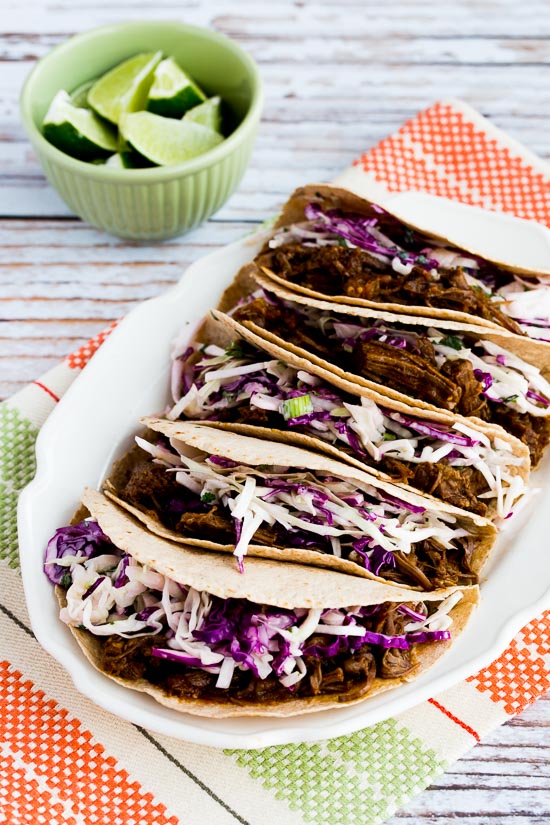 Pressure Cooker (or Slow Cooker) Low-Carb Flank Steak Tacos with Spicy Mexican Slaw from Kalyn's Kitchen start with flank steak that gets spicy and tender in the Instant Pot. Serve in Mission Carb Balance Tortillas  piled high with Spicy Mexican Slaw for a perfect low-carb meal that's sure to please everyone at your table.
More Low-Carb Dinners in the Instant Pot:
Low-Carb Instant Pot Dinners with Pork
The BEST Low-Carb Instant Pot Dinners with Ground Beef
50 Amazing Low-Carb Instant Pot Dinner Recipes
50 amazing Low-Carb Instant Pot Soup Recipes
The BEST Low-Carb Instant Pot Soup Recipes ~ Kalyn's Kitchen
(Visited 3,713 times, 1 visits today)