Here are our picks for The BEST Slow Cooker Chili Recipes with so many interesting variations for delicious chili made in the slow cooker. And using the slow cooker is perfect for holiday weekends with the family; the chili can stay hot while everyone relaxes and you don't have to watch it.
Click here to PIN this collection of Slow Cooker Chili Recipes!
Click here to see The BEST Instant Pot Chili Recipes!
Did you know there's an entire category of Chili Recipes on Slow Cooker or Pressure Cooker? Of course we've featured The BEST Instant Pot Chili Recipes, as well as Low-Carb and Keto Chili Instant Pot Chili Recipes, and Instant Pot Chili is great for an easy meal. But this week much of the U.S. is having historic snow storms, so it seems like a good time to remind you about this collection of The BEST Slow Cooker Chili Recipes.
Slow Cooker Chili Recipes let you keep the chili hot all evening while the family hunkers down and watches a game or movie on TV! And there are so many different recipes for slow cooker chili that sometimes it's hard to narrow it down, but this post has our picks for the best slow cooker chili recipes we could find. We're including chili made with ground beef, ground turkey, pork, or chicken, as well as vegetarian chili. And there are chili recipes with red beans, white beans, many types of beans, and even chili without beans.
You can even make Turkey Chili if you're lucky enough to end up with leftover turkey! And if you might happen to want Pumpkin Chili just check out The Top 20 Recipes for Slow Cooker Pumpkin Chili! I hope I've convinced you to put chili on the menu and stay in out of the cold!
All photos are copyrighted to the blog that originally posted the recipe. Just click the recipe title under each photo to see that recipe on the original blog.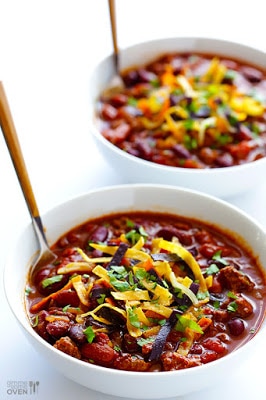 Slow Cooker Chili from Gimme Some Oven is a classic chili recipe that's not too spicy.
Slow Cooker Easy Three Bean Vegetarian Chili from Kitchen Treaty can be made with or without ground beef.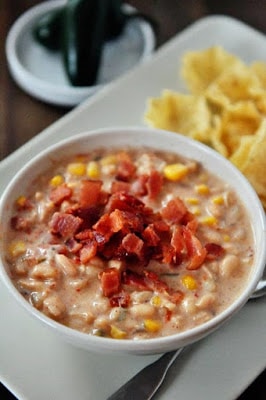 Slow Cooker Jalapeno Popper White Bean Chili from Mel's Kitchen is flavorful without being overly spicy.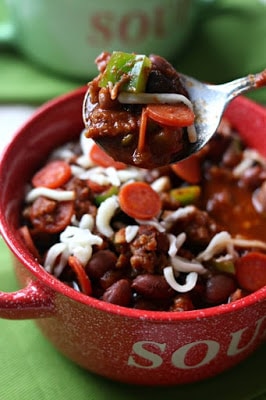 Kids who like pepperoni pizza are probably going to devour this Slow Cooker Pepperoni Pizza Chili from 365 Days of Slow + Pressure Cooking.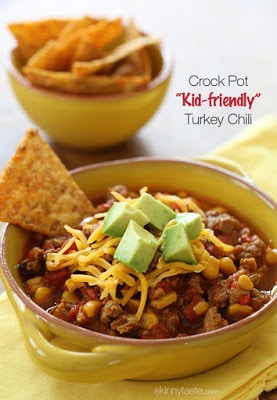 CrockPot Kid-Friendly Turkey Chili from SkinnyTaste is mild, kid-friendly and made with ground turkey. This is  perfect for those who like less spicy chili.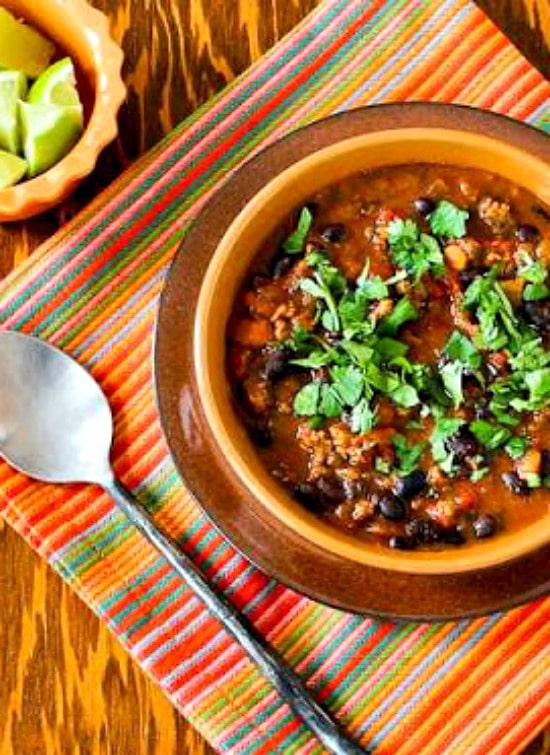 This CrockPot Black Bean Chili with Lime and Cilantro from Kalyn's Kitchen is loaded with flavor!
Made with sweet italian sausage this SlowCooker Italian Chili from Apron Strings would be delicious served up in  bowls with Parmesan and crostini on the side.
Emma says this Slow Cooker White Chicken Chili from The Kitchn will make your neighbors jealous when they smell it cooking.
Slow Cooker Meat Lover's No Bean Chili from A Year of Slow Cooking is gluten-free, low carb, and can be Paleo with the right ingredients.
Slow Cooker Chili from Diethood uses ground chuck and beef stock for lots of beefy flavor.
Slow Cooker 3-Bean Vegetarian Chili from Cookin' Canuck has a touch of cocoa powder!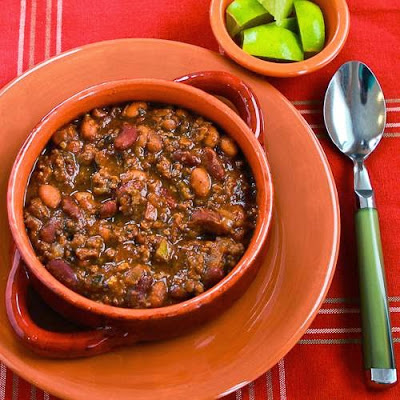 Slow Cooker Beef and Refried Bean Chili with Salsa and Lime from Kalyn's Kitchen has two kinds of beans and uses refried beans to thicken it.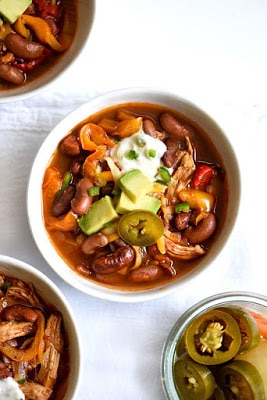 For yummy south of the border flavor try this Slow Cooker Chicken Fajita Chili from Foodie Crush.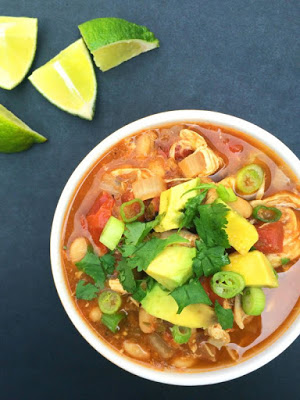 Slow Cooker White Chicken Chili from The Lemon Bowl combines chicken, white beans, and fire roasted tomatoes in the slow cooker for an easy weeknight meal.
This Slow Cooker Lentil and Quinoa Chili from Aggie's Kitchen just might  help you get back on track after an indulgent weekend.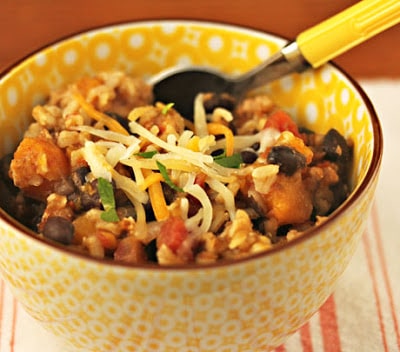 Slow Cooker Turkey, Black Bean, and Squash Chili from The Perfect Pantry uses butternut squash, and it's gluten-free.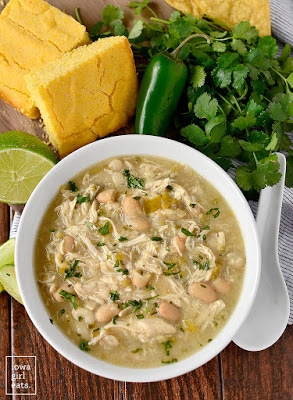 Slow Cooker White Chicken Chili from Iowa Girl Eats uses Great Northern beans.
Slow Cooker Pork Ranch Chili from The Yummy Life uses lean, boneless pork roast for the meat, and this chili can be eaten in a variety of ways besides just in a bowl!
Slow Cooker 15-Bean Chili from 365 Days of Slow + Pressure Cooking is served with Cajun-Lime Sour Cream! Karen says don't skip it!
Still Want More Recipes?
You can find Ten Amazing Low-Carb Chili Recipes on Kalyn's Kitchen if you prefer that!
Check out the Beans and Legumes Index to see all the recipes for beans and legumes.
Check out Soup or Stew to see all the recipes for soup or stew.
(Visited 2,070 times, 1 visits today)