Here are Low-Carb and Keto Instant Pot Chili Recipes, with 14 variations here on low-carb chili for a tasty dinner! And if you're watching carbs but cooking for the family, I promise there are recipes here that everyone is going to love!
PIN Low-Carb and Keto Instant Pot Chili Recipes to make some later!
The weather is getting colder by the day, so it seems like the perfect time to update this collection of Low-Carb and Keto Instant Pot Chili Recipes! We found fourteen interesting options for low-carb and Keto chili from low-carb bloggers around the web that we hope we can inspire you try a few of them and put low-carb chili on your menu!
And personally I love eating my chili with toppings like sour cream, cheese, and avocado, and I think those are worth having a few more carbs. What kind of chili toppings do you like at your house?
What kind of Instant Pot Chili Recipes are here?
In this collection of low-carb Instant Pot chili recipes you'll find all-beef Ancho chili, no-bean chili, Tomatillo Chili, Olive Lover's Chili, ground beef chili, turkey chili, chunky chili, and many more!
How do you get the complete recipe?
Just click any recipe title to see the complete recipe on the original site. All photos are copyrighted to the blogger that posted the recipe.
More tasty ideas for chili:
Want to see all the chili recipes on this site?
You can use Chili Recipes to see all the recipes for chili!

This Instant Pot All Beef Ancho and Anaheim Chili from Kalyn's Kitchen is  a beefy chili made with chuck roast, and great to serve for a party or perfect anytime!

This No Bean Whole 30 Keto Chili in the Instant Pot from Food Faith Fitness is a bowl of creamy, smokey, tender ground beef chili that will satisfy everyone! This chili tastes even better the second day as a leftover.

This Instant Pot Ground Beef Chili from Nom Nom Paleo is inexpensive to make and meets the criteria of a comfort food. This looks like a delicious and easy weekday meal.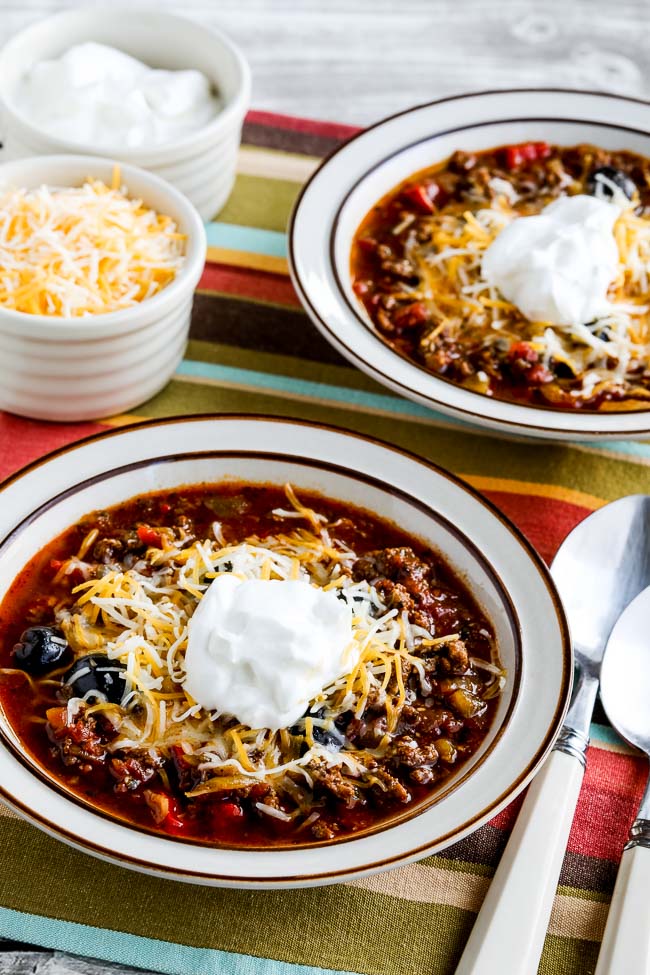 Instant Pot Ground Beef Olive Lover's Chili from Kalyn's Kitchen is a winner with most everyone who loves olives! This is a mild chili, a great one to serve for game day.

This Keto Chili for the Slow Cooker or Instant Pot from Real Simple Good is Whole 30 and Paleo with a rich, meaty flavor! Made with only 6 main ingredients and some spices, it is a quick easy meal for any day of the week.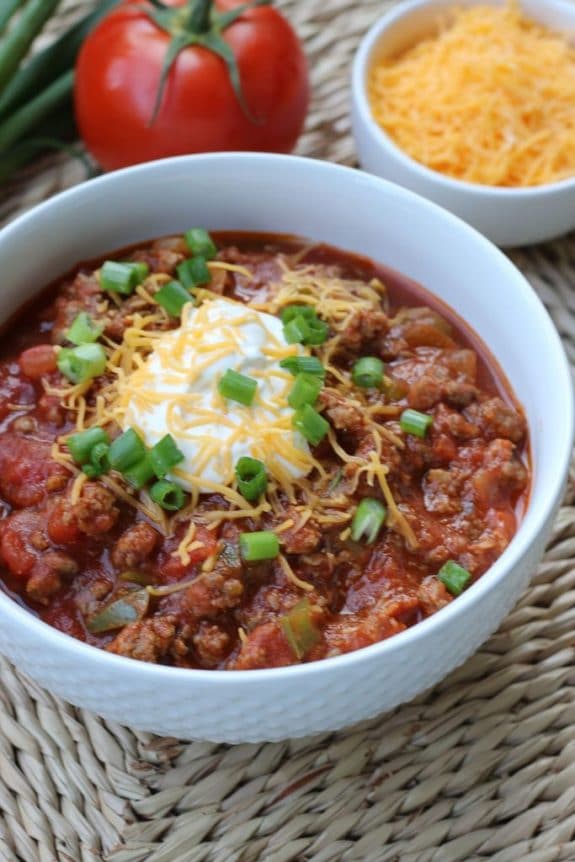 This Keto Chili from Keto Karma can be made in the Instant Pot or the slow cooker. This is a delicious easy to make meal that you will love.

I love the idea of serving in a mug with avocado for this Keto Chili without Beans from Low-Carb with Jennifer!
More Low-Carb or Keto Chili Recipes:
(Visited 4,979 times, 1 visits today)