Here are No-Bean Chili Recipes to make in the Slow Cooker and Instant Pot, and you definitely won't miss the beans in these no-bean chilis! And the chili recipes featured here are all low-carb, Keto-friendly, and gluten-free! 
PIN the No-Bean Chili Recipes to try one later!
Did you know that some people are passionate about chili and will emphatically insist that chili con carne should never contain beans? And chili without beans is also great for people who are watching carbs, so today I'm sharing Slow Cooker and Instant Pot No-Bean Chili Recipes.
Each one is loaded with so much flavor from meat, vegetables, and spices that you may not even notice the beans are missing! And if you're getting snowy weather where you live, chili is always a perfect slow cooker or Instant Pot meal.
What kinds of chili recipes will you find here?
There are chili recipes here with ground beef, chunks of beef, or chicken, and some interesting ingredients like olives, sweet potatoes, bell peppers, crushed tomatoes, onions, and celery.  And there are fun seasonings like Ancho chile, canned green chiles, coffee, cumin, paprika, and of course the blend called chili powder.
See All the Chili Recipes on this site:
Use the index for Chili Recipes to see all the slow cooker or Instant Pot chili recipes that have been featured on this site.
How do you get the complete recipe?
Just click any recipe name to see the complete recipe on that site. All photos are copyrighted to the site that posted the recipe.
Instant Pot Ground Beef Chili with Olives from Kalyn's Kitchen starts with browned ground beef, onions, and red bell peppers. Combine with garlic, cumin, chili powder, dried cilantro (or not), canned green chiles, beef stock, crushed tomatoes, and two cans of black olives! All that goes into the Instant Pot to cook at high pressure for just 15 minutes. Anyone who loves olives will love this Instant Pot no-bean chili recipe!
Keto Instant Pot Beef Chili from Thinlicious sound delicious and there's a keto "cornbread" recipe to go with the chili.

No Bean Keto Chili in the Instant Pot from Food Faith Fitness is an easy, healthy weeknight dinner that the whole family will love. It's so loaded with veggies, spices, and beef your family won't even notice there is no beans, I promise.
Easy Low-Carb Keto Chili from Sugar-Free Mom is perfect for anyone who wants an easy chili recipe to make in the slow cooker or Instant Pot that doesn't have many carbs! And doesn't that low-carb "cornbread" look good with the chili?
All-Beef Instant Pot Keto Chili Recipe from Kalyn's Kitchen is one of my all-time favorite chili recipes; I love the flavor of spicy ground Ancho chiles.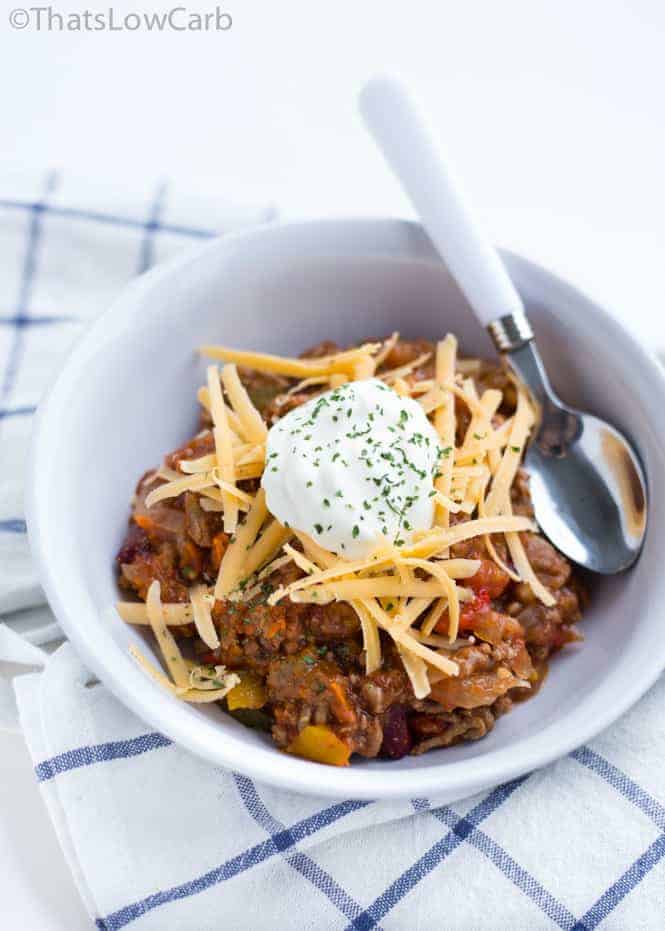 Slow Cooker Keto Chili from Joy Filled Eats is quick and easy to get into the slow cooker, and this is perfect for anyone who wants a Keto Chili recipe.
More Tasty No-Bean Chilis to Try:
(Visited 4,919 times, 1 visits today)