Food Bloggers BEST Instant Pot Chicken Tacos has so many tasty ideas and you can use low-carb tortillas or lettuce wraps if you prefer! And there are 20 interesting chicken taco recipes here for you to try!
Pin Food Bloggers BEST Chicken Tacos to try some later!
Chicken Tacos are probably a popular dinner in most households, even when it's not Taco Tuesday. And there are so many fun ways to make chicken tacos more interesting that we had fun assembling this collection of Food Bloggers Best Instant Pot Chicken Tacos to give you lots of options.
We searched out the most interesting Instant Pot chicken tacos we could find for this collection, and there are 20 different ideas here for chicken tacos to make in the Instant Pot! I hope you'll find a new chicken taco dinner here that will become requested meal in your family.
What kinds of chicken tacos will you find here?
You can find tacos recipes here with flour or corn tortillas (or use low-carb tortillas or lettuce wraps) and the tacos use a variety of tasty toppings like lettuce, tomatoes, onions, olives, radishes, cheese, green onion, jalapenos, sour cream, avocado, pineapple, or slaw. And the shredded chicken is flavored with a variety of spices and seasonings and flavor-enhancing additions like Buffalo sauce, pineapple juice, salsa, Sriracha, and of course taco sauce and taco seasoning.
How do you get the complete recipe?
Just click any recipe title to see the complete recipe on the original site. All photos used here are copyrighted to the blog that posted the recipe.
Want Slow Cooker Chicken Tacos?
If you prefer making chicken taco fillings in the slow cooker, check out Slow Cooker Chicken Tacos!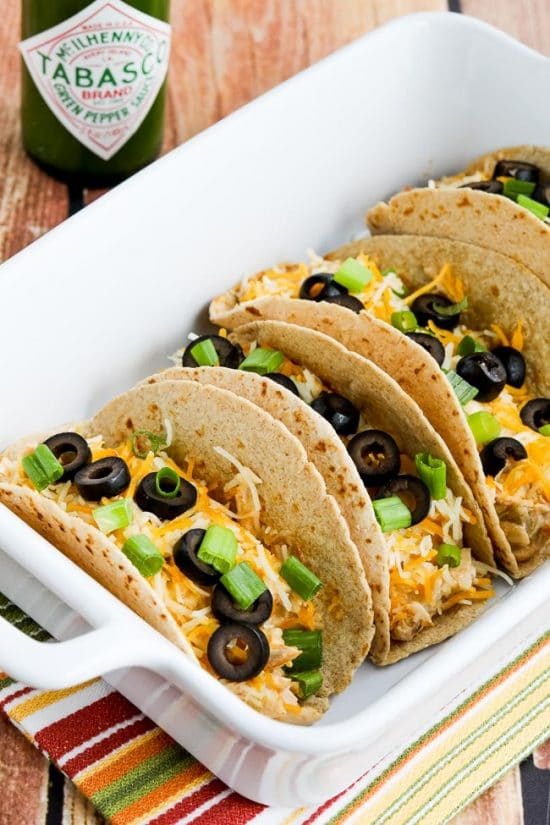 These flavorful Cheesy Chicken Tacos from Kalyn's Kitchen are simply incredible and you can make the cheesy chicken filling in the slow cooker or the Instant Pot! The deliciously-cheesy taste will treat your family to some of the  best tacos they've ever tasted!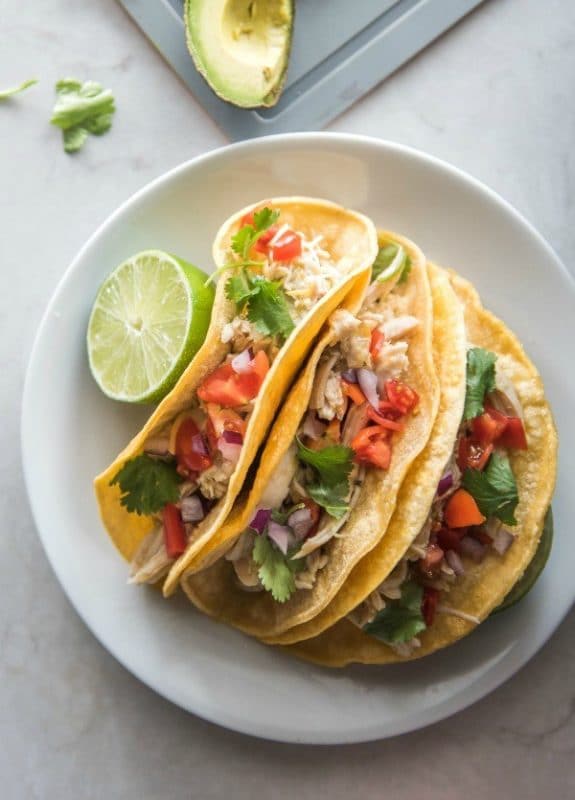 Chicken Ranch Tacos from Mountain Mama Cooks are a family favorite at Kelley's house. The salsa verde and ranch make a delicious taco that you will want to try for dinner tonight!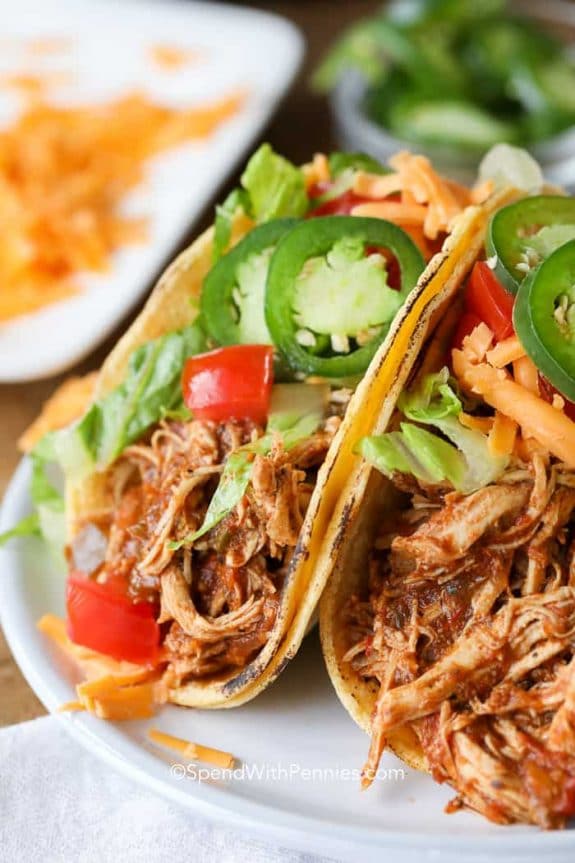 Holly from Spend With Pennies says these Instant Pot Chicken Tacos are quick and easy to prepare! You can choose to wrap the chicken with corn or flour tortillas, add your favorite toppings, and your family will enjoy a satisfying meal.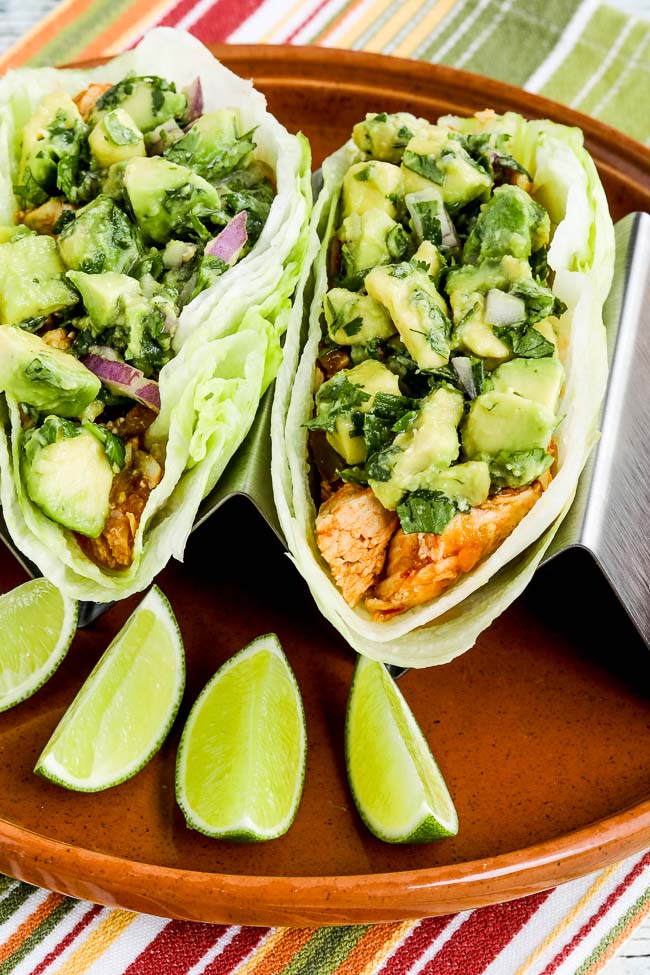 These Spicy Shredded Chicken Lettuce Wrap Tacos from Kalyn's Kitchen can be made in the Instant Pot or the Slow Cooker, but please don't skip the avocado Salsa!
For a trusty, easy standby recipe, make Shredded Chicken Tacos from Well Plated. The chipotle chiles give the chicken a deep smokey flavor that suggests it's been cooking for hours instead of only 8 minutes in the pressure cooker. You will love the juicy tender chicken and the faster cooking time!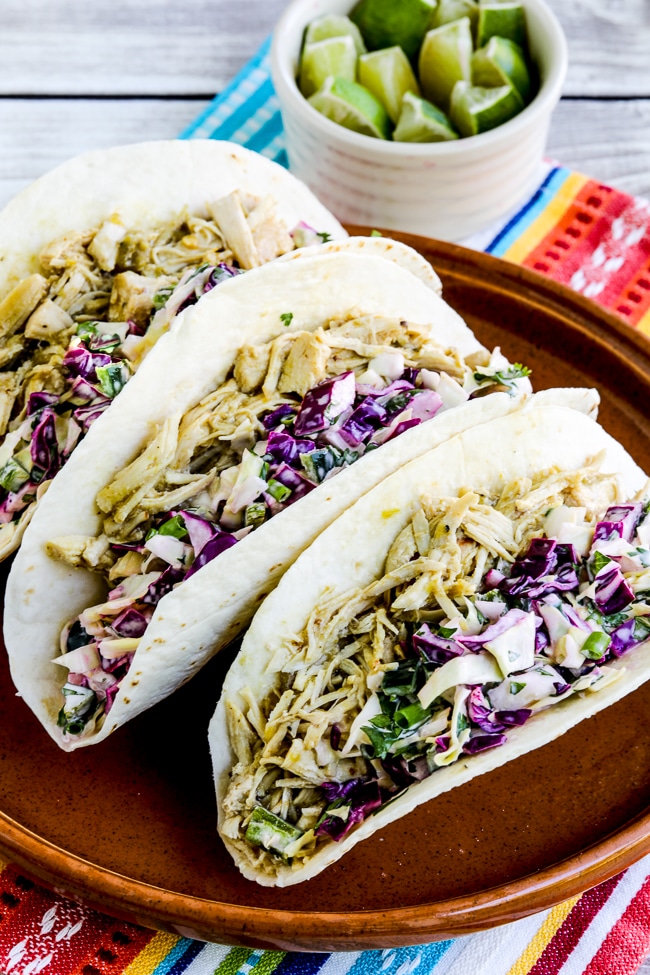 Green Chile Chicken Tacos from Kalyn's Kitchen have a spicy poblano cabbage slaw, and these are great with a squeeze of lime!
Salsa Chicken Tacos from Cooking Classy are so flavorful and easy to make.  Moist and tender chicken is made into tacos that will loved by the whole family!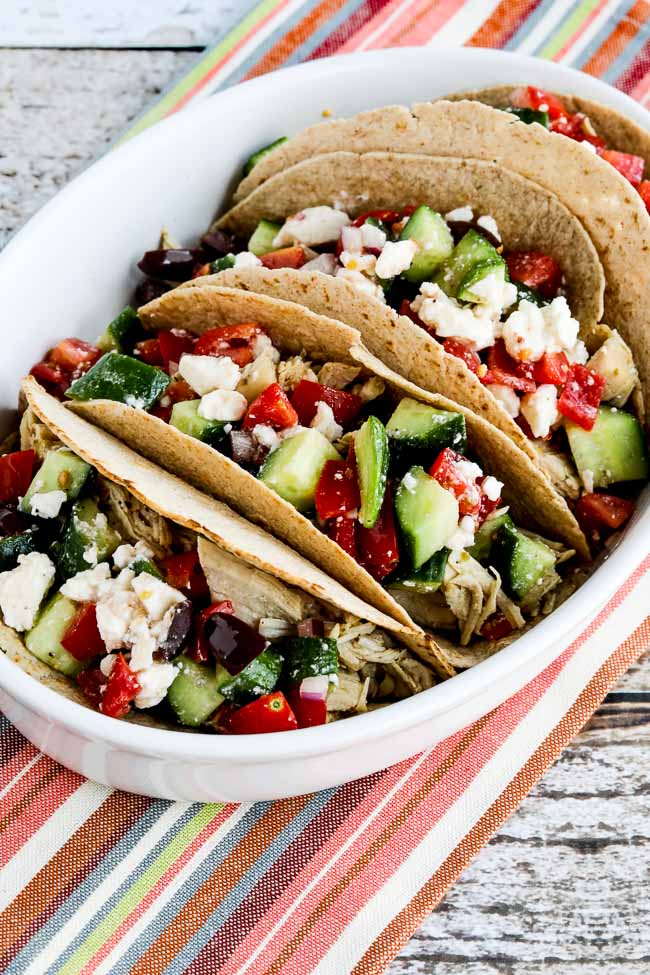 Greek Chicken Tacos from Kalyn's Kitchen have greek-seasoned chicken and all the toppings that you love in Greek Salad!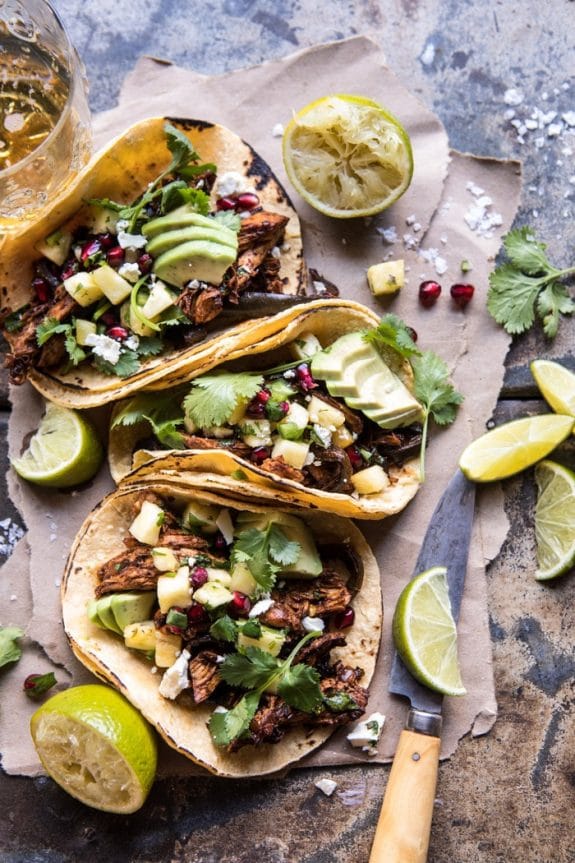 Spicy Pineapple Chicken Tacos from Half Baked Harvest take tacos to the next level with pineapple juice, chunks of pineapple and Pineapple-Pomegranate Salsa! This is a must-try recipe!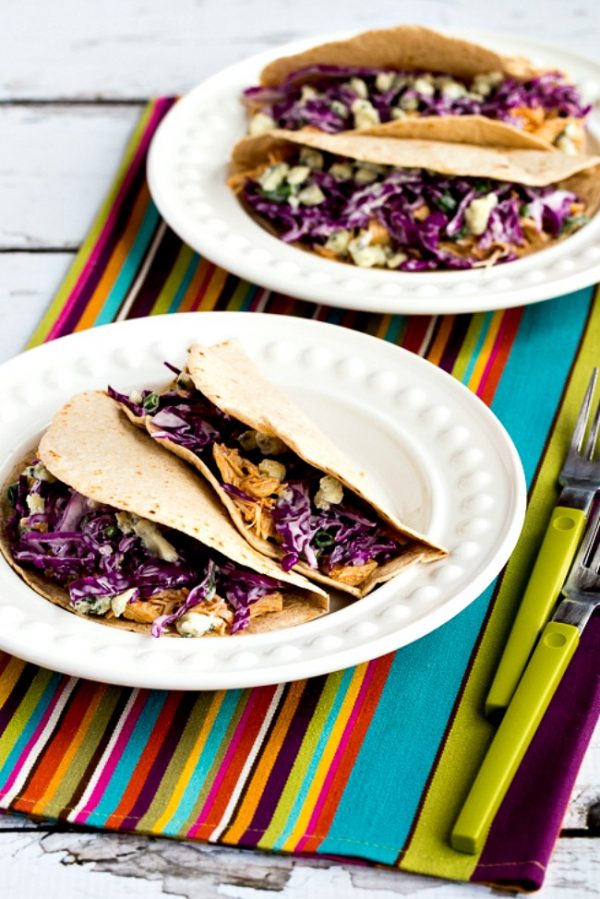 And finally, these Buffalo Chicken Tacos from Kalyn's Kitchen can be made in the slow cooker or the pressure cooker, and Buffalo chicken fans will love this one.
More Chicken Tacos in the Instant Pot:
(Visited 15,515 times, 1 visits today)