Check out these Three Tasty Recipes for Vegetarian Burritos that are easy, delicious and can be made in the Instant Pot or Slow Cooker. 
Click here to PIN Three Tasty Recipes for Vegetarian Burritos!
Click here to see Three Amazing Recipes for Vegetarian Mexican Bowls 
These Three Tasty Recipes for Vegetarian Burritos just might give you an idea for Taco Tuesday dinner tomorrow. It's okay to make burritos for Taco Tuesday, right? If you're ready for an emphasis on more meatless meals these Vegetarian Burritos will get you started, and you could easily mix it up and turn any one of these burrito recipes into a bowl meal if that sounds better.
Either way you make them they are loaded with rice, beans, and veggies and there's a good chance  your kids will gobble them up and ask for seconds.  So, get out the Instant Pot or Slow Cooker (whichever you prefer), choose your burrito recipe, and let the cooking begin!
All photographs here are copyrighted to the blog that posted the recipe. Just click the recipe title under any photo to see the full recipe on the original blog. And if you try one of these easy recipes for Vegetarian Burritos please come back and tell us how you liked it!
Slow Cooker Spicy Vegetarian Pinto Bean and Chard Burritos from Kalyn's Kitchen combines Pinto beans and swiss chard and Kalyn says she loved the combination of flavors with the pintos and swiss chard. These burritos are a perfect main dish, and if you skip the cheese or use some type of vegan cheese, this recipe could be easily be made vegan. The recipe makes quite a bit, so you could freeze the extra filling for an easy dinner another time.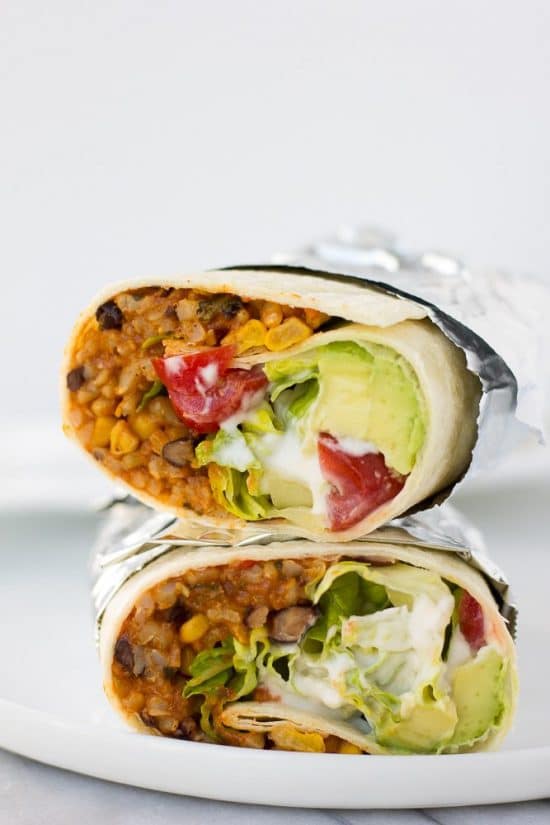 Instant Pot Vegan Burritos from Nora Cooks combines black beans, brown rice, some spices, and lots of colorful, nutritious veggies to create these easy, flavorful, fiber rich Vegan burritos. With the help of your trusty Instant Pot this meal has very little hands-on time involved and is ready to serve in about 30 minutes. Nora says "For fun, let everyone build their own burritos, kids especially LOVE this!"
Vegetarian Slow Cooker Burritos from Some the Wiser are "one of those dinners that save the day over and over again,"says Allison. These easy and tasty burritos are packed with whole grain barley, veggies, and beans. Cook for 3-4 hours in the slow cooker, stuff into a tortilla, add some salsa and guacamole, and there you have it–a whole meal ready to be eaten!
More Tasty Vegetarian in the Slow Cooker or Instant Pot:
Use the Index Page for Vegetarian to see all the slow cooker or pressure cooker vegetarian recipes that have been featured on this site.
(Visited 572 times, 1 visits today)