Burritos are always fun for a family-friendly meal, and this recipe collection has Slow Cooker or Instant Pot Burritos that are easy and delicious. 
PIN Slow Cooker or Instant Pot Burritos to try later!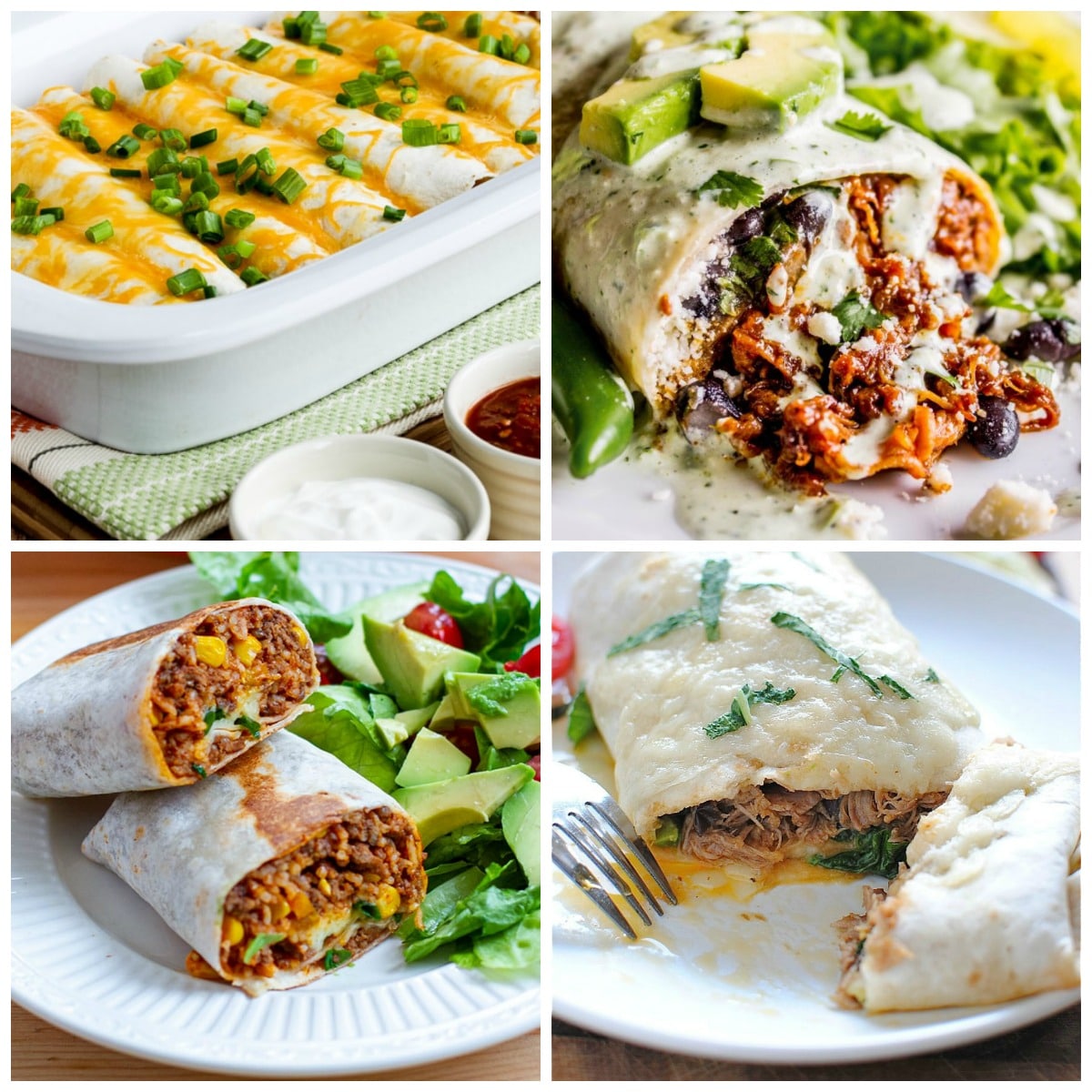 These recipes for Slow Cooker or Instant Pot Burritos might give you an idea for dinner, because burritos are always great for a family-friendly meal. It's even okay to make burritos for Taco Tuesday, right?
If you're ready for an emphasis on more meatless meals there are vegetarian burritos here to get you started. And there are burritos here with pork, chicken, or beef as well. And two of the posts have tips for Freezer Burritos, in case you'd like to make extra burritos and stash some away in the freezer to eat later!
And many of the burritos here are loaded with rice, beans, and veggies and there's still a good chance  your kids will gobble them up and ask for seconds, because who everything is more fun to eat when it's folded into a burrito!
All photographs here are copyrighted to the blog that posted the recipe. Just click the recipe title under any photo to see the full recipe on the original blog.

Low-Carb Egg Burritos for a Crowd from Kalyn's Kitchen are one of my favorite things to make for breakfast whenever I have overnight guests and this was so easy to make in the Crock-Pot Casserole Crock Slow Cooker (affiliate link).

Instant Pot Burritos with Rice and Beef  from Instant Pot Eats don't have beans, and there are so many flavorful ingredients here making these beef burritos a winner. This post also has good instructions for freezing burritos to enjoy later!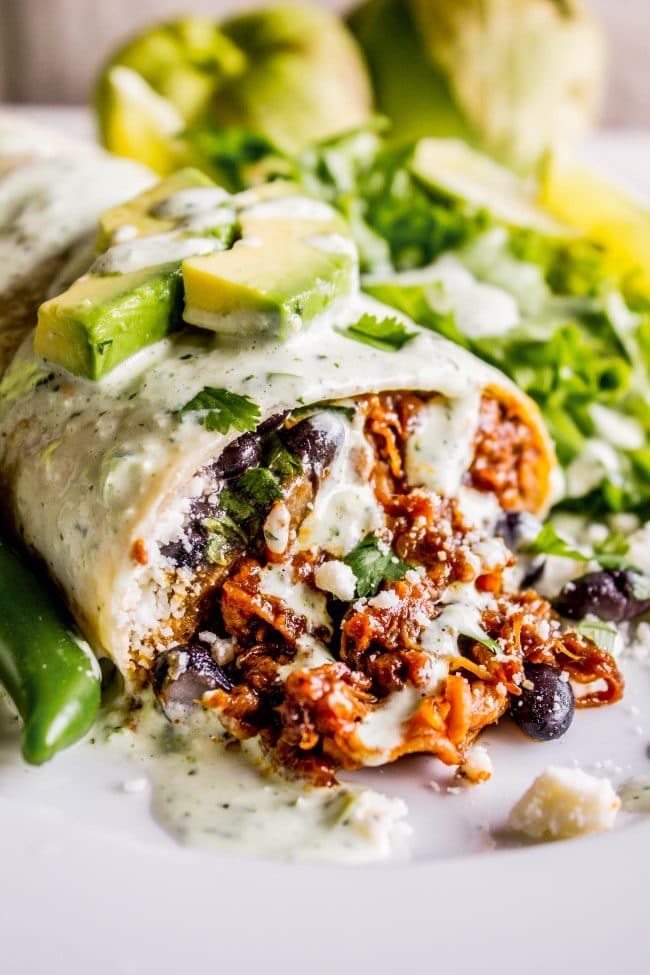 Slow Cooker or Instant Pot Cafe Rio Shredded Sweet Pork for Burritos from The Food Charlatan makes perfect burritos, as you can see in this photo. Or use the shredded sweet pork in enchiladas or make the famous Cafe Rio style salad!

Mel says these Slow Cooker Smothered Sweet Pork Burritos from Mel's Kitchen Cafe are not the Cafe Rio Sweet Pork Burritos, but they are still very, very amazing!

Slow Cooker Spicy Vegetarian Pinto Bean and Chard Burritos from Kalyn's Kitchen combine Pinto beans and Swiss Chard and Kalyn says she loved the combination of flavors. These burritos are a perfect main dish, and if you skip the cheese this recipe could be easily be made vegan. The recipe makes quite a bit, so you could freeze the extra filling.

Instant Pot Beef Burritos from Diethood are filled with spicy ground beef, rice, beans, corn, and cheese; don't you think that sounds tasty?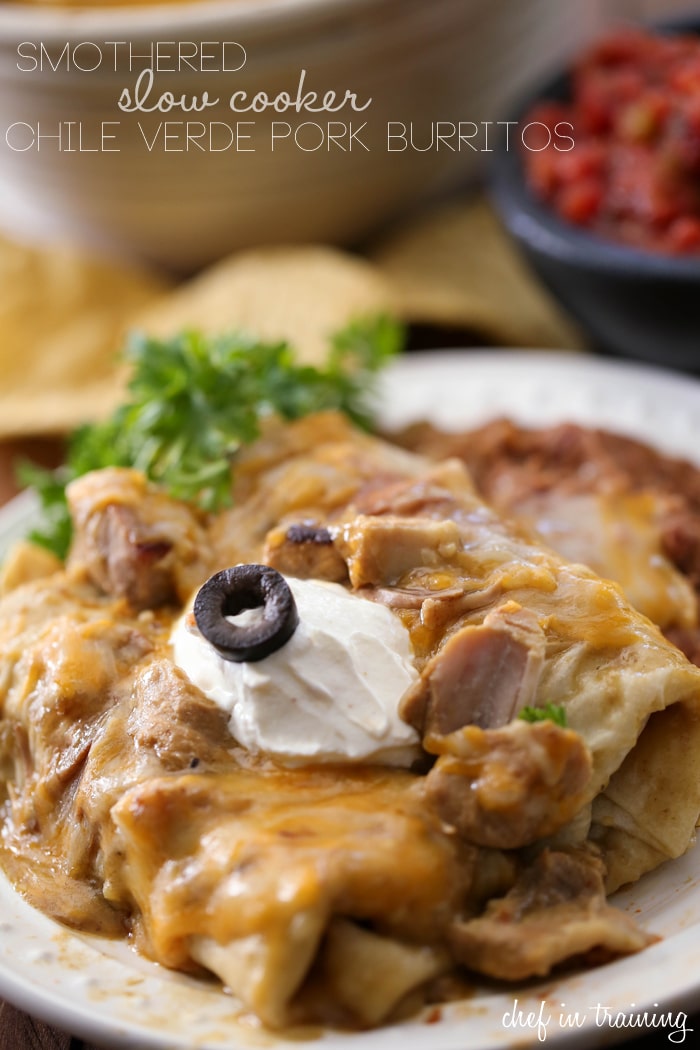 Smothered Slow Cooker Chile Verde Pork Burritos from Chef In Training have spicy green chile pork and all the flavors that make Chile Verde Pork Burritos such a classic!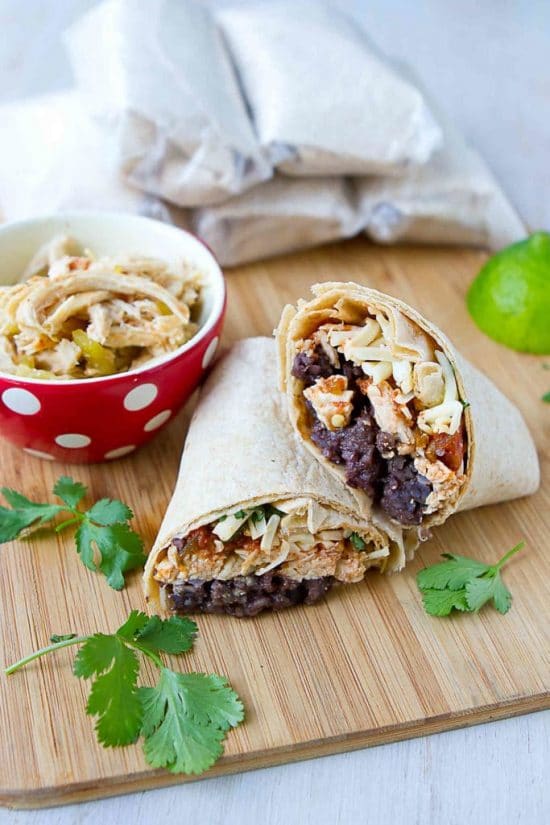 Freezer Burritos from Cookin' Canuck start with spicy chicken cooked in the Instant Pot, and then it's combined with black beans, rice, salsa, and cheese and made into burritos for the freezer. This post has great tips for freezing and thawing the burritos.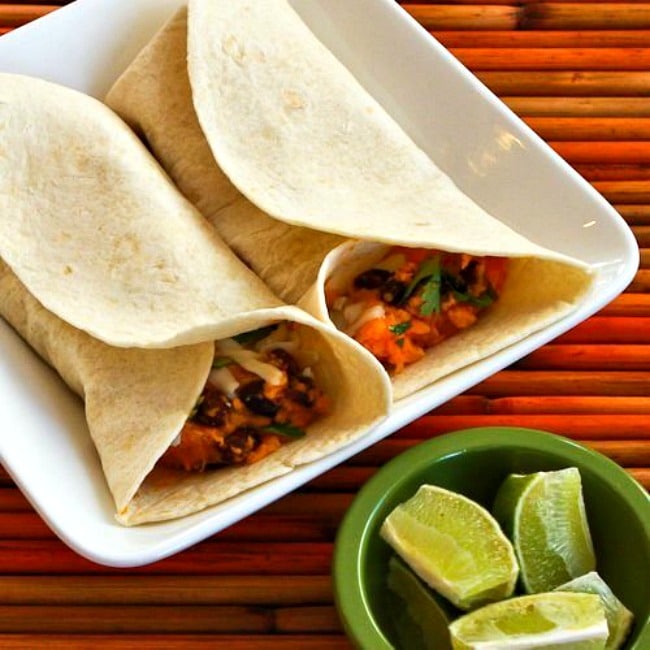 Slow Cooker Vegetarian Sweet Potato and Black Bean Burritos from Kalyn's Kitchen are served with a generous squeeze of lime, and these are so tasty for a meatless dinner idea!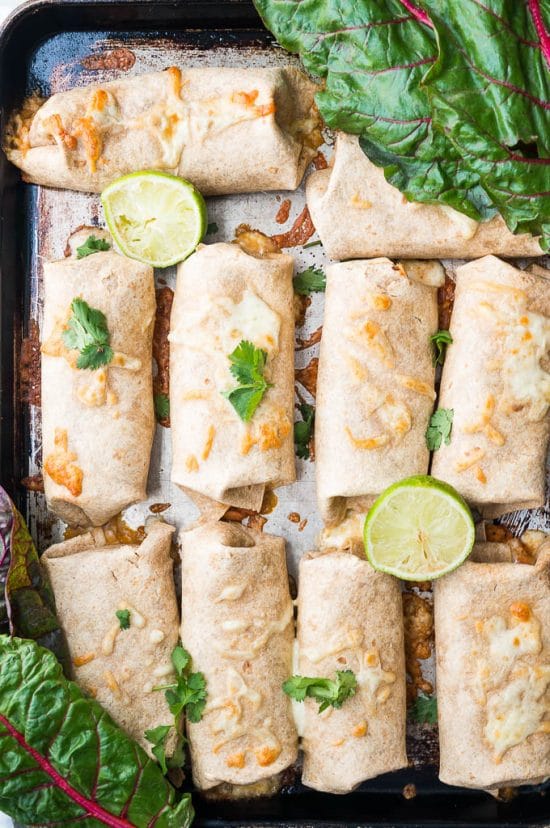 Pressure Cooker Pinto Bean and Chard Burritos from Kitschen Cat are a tasty meatless burrito that's filled with pinto beans, chard, rice, and plenty of cheese!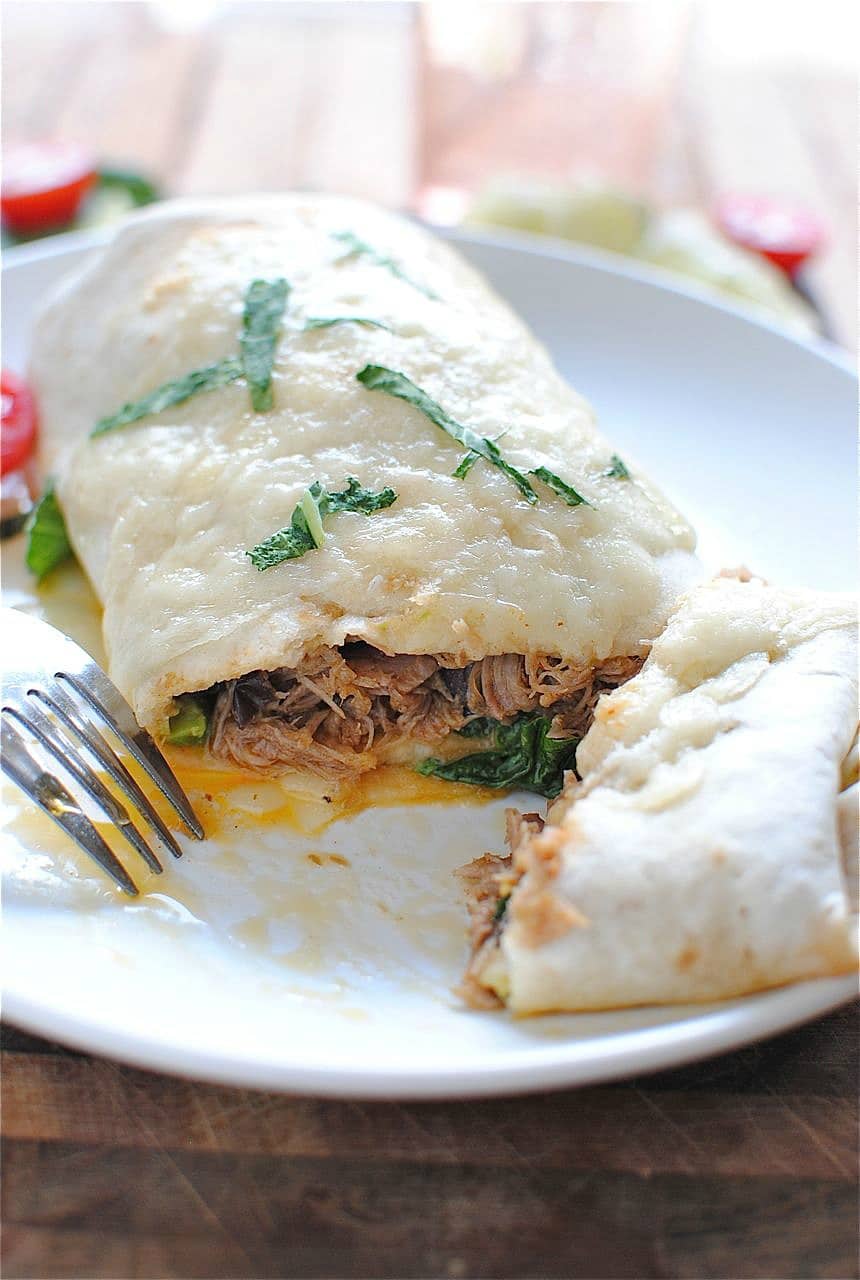 Slow Cooker Pork Burritos from Bev Cooks cook the pork in the slow cooker with the perfect blend of spices and then it's made into burritos that have black beans, kale, cheese, tomato, and avocado, yum!

Slow Cooker Korean BBQ Bangkok Burritos from Pinch of Yum have think-outside-the-box flavors combined in a burrito that sounds amazing!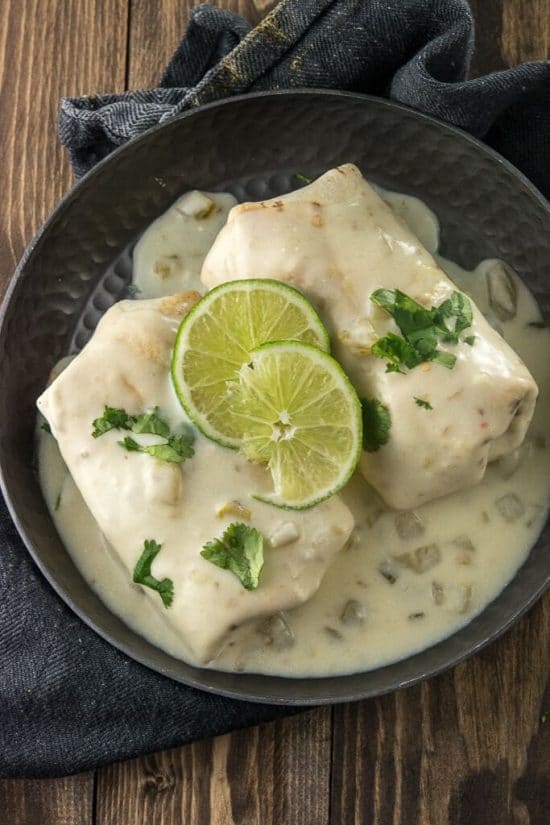 And finally, don't you agree that these Slow Cooker Smothered Chicken Burritos from Slow Cooker Gourmet look like an amazing dinner idea?
(Visited 1,628 times, 1 visits today)