Instant Pot Burrito Bowls are perfect for a family-friendly Taco Tuesday dinner and this is a great summer-into-fall meal! And this collection of tasty-looking Burrito Bowls gives you plenty of options so you can pick the one that will be a hit with your family!
Click here to PIN Instant Pot Burrito Bowls for Easy Dinners!
Click here to see The Best Instant Pot Mexican Food Recipes!
The weather is still pretty hot, and when you don't want to use the stove a casual dinner like these Instant Pot Burrito Bowls for Easy Dinners sounds like a fun idea for a Taco Tuesday dinner! Lots of these Burrito Bowls use chicken of course, but there are also burrito bowls with ground beef, ground turkey, steak, and pork in this tasty collection!
And one thing that makes Burrito Bowls so great for a family-friendly dinner is the way every family member can choose their own toppings. These recipes have plenty of tasty topping options like guacamole, sour cream, avocado, cheese, corn, or tomatoes that make them extra appealing. If you want more options for warm weather dinners, check out the category for Summer Dinners where you can find even more dinner ideas for the last burst of summer!
All photographs here are copyrighted to the blog that posted the recipe. Just click the recipe title under any photo to see the full recipe on the original blog. And if you try one of these tasty Instant Pot Burrito Bowls, please come back and tell us how you liked it!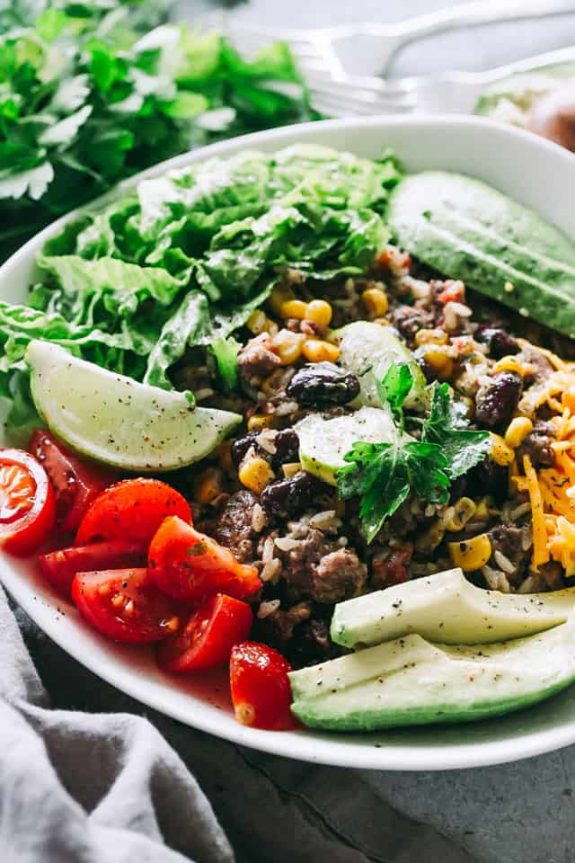 This Instant Pot Burrito Bowls Recipe from Diethood is a great healthy, easy and quick meal that your whole family will love! This bowl features ground turkey, black beans, corn, avocado and tomato.
Instant Pot Weeknight Chicken and Rice Burrito Bowls from The Kitchn are a winner! Using chicken, rice, beans and corn makes this a healthy and tasty all-in-one bowl meal.
Bursting with flavor, Instant Pot Chipotle Chicken Bowls with Cilantro Lime Quinoa from Skinnytaste are made with moist and tender chicken thighs, but you could use chicken breast if you prefer. This recipe also has instructions for using a slow cooker.
Steak, chili powder, cumin, onion, carrots, and a tasty sauce combine together for Instant Pot Burrito Bowls from Mom's Dinner. This is a complete and delicious meal in minutes!
Instant Pot Savory Pork Burrito Bowls from 365 Days of Slow Cooking is a delicious easy meal, especially when you don't want to heat up your kitchen. Karen says if you aren't a pork fan this recipe can easily be made with chicken or beef.
Pressure Cooker Pork Carnitas Burrito Bowls from Pressure Cooking Today is a tasty burrito without the tortilla! Best yet this recipe is so easy to make!
Instant Pot Chicken and Rice Burrito Bowls from Yay for Food are flavor packed, gluten-free, and very easy to make! Try this for dinner tonight!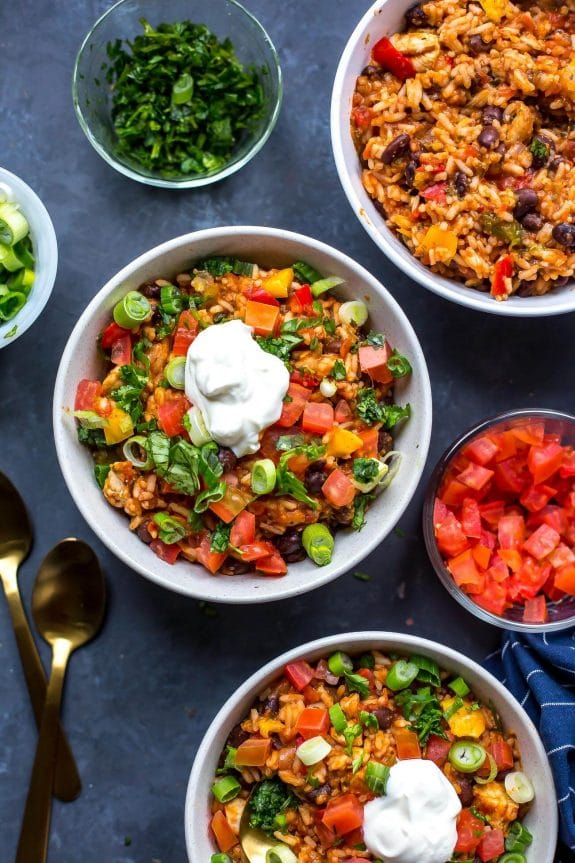 Who doesn't love a dinner that's really quick and these 20-Minute Instant Pot Chicken Burrito Bowls from On Bloor definitely look interesting!
Pressure Cooker Chicken, Black Bean and Rice Burrito Bowls from Cook Fast Eat Well will take only 10 minutes cooking time for a meal loaded with flavor!
Check out this Instant Pot Beef and Brown Rice Burrito Bowls from I Don't Have Time For That. Ashley uses mushrooms along with ground beef, black beans, brown rice, beef broth and seasonings for an easy to put together meal!
Don't you agree that the beautifully-arranged toppings look amazing on this Instant Pot Chicken Burrito Bowl from By Pink?
And Instant Pot Santa Fe Chicken Burrito Bowls from Together as Family combine flavorful Santa Fe chicken with cilantro lime rice, just add your favorite toppings for an easy, perfect meal!
And there you have it; enough different ideas for Burrito Bowls that you have plenty of Taco Tuesday options! Which one looks best to you?
(Visited 8,030 times, 1 visits today)