Slow Cooker or Instant Pot Ratatouille Recipes are perfect for summer and early fall when summer vegetables are plentiful. 
PIN this post to try the Ratatouille Recipes later!
Have you ever made the famous summer vegetable stew called Ratatouille? It's a great way to use garden vegetables, and we've officially entered that time of year where using up produce from the garden becomes a challenge. That dilemma may have even been what inspired the first French cook who made Ratatouille, which uses generous amounts of tomatoes, zucchini, eggplant, and peppers.
And you don't want to turn on the stove this time of year, so Slow Cooker and Instant Pot Ratatouille Ratatouille Recipes are a great way to make this classic dish! In this round-up we're sharing six different recipes for Ratatouille, so you can check them out and see which one looks best to you. And then make some Ratatouille while the summer vegetables are fresh and tasty!
What is Ratatouille?
Ratatouille is a French dish of stewed summer vegetables, originating in Nice. The vegetables use can vary, but it most Ratatouille recipes include zucchini, summer squash, tomatoes, pepper, and eggplant.
How do you get the complete recipe?
Just click any recipe title to see the complete recipe on the original site. All photos are copyrighted to the blogger that posted the recipe.
I was skeptical about Ratatouille made in the Instant pot being too mushy, but I used big pieces of vegetables and a short cooking time, and we absolutely swooned over this Instant Pot Ratatouille from Kalyn's Kitchen! And I highly recommend topping it with some freshly-grated Parmesan cheese.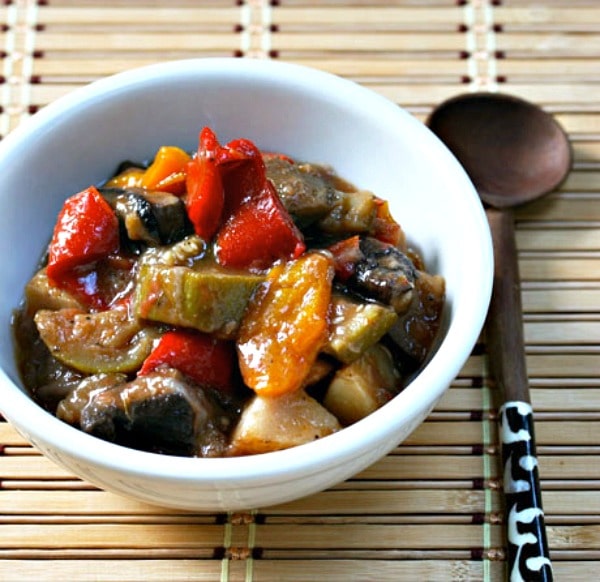 This Slow Cooker Ratatouille from The Perfect Pantry adds optional ingredients like potatoes and mushrooms, and Lydia says you can use nearly anything you find in the garden or pantry in this classic dish that's a perfect meatless dinner!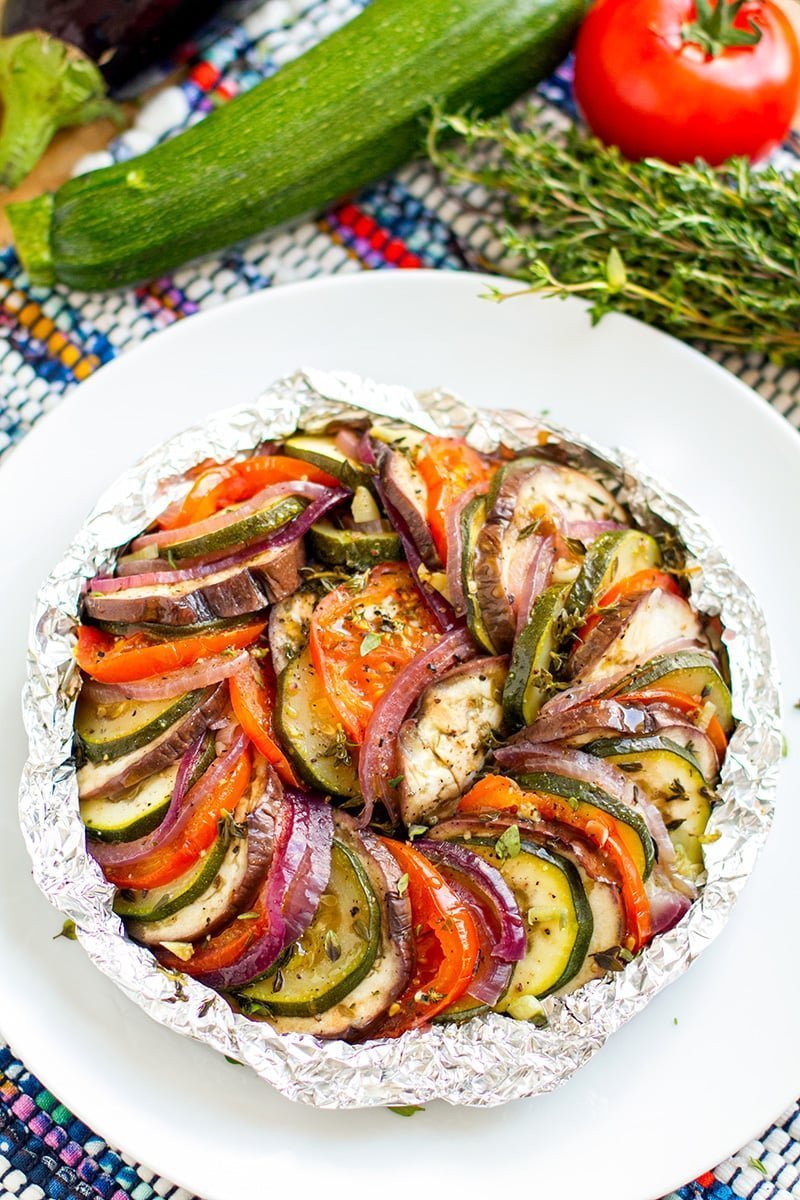 Instant Pot Ratatouille from Instant Pot Eats uses beautifully arranged sliced vegetables cooked in a springform pan or round baking dish to make a gorgeous version of Ratatouille.
Slow Cooker Ratatouille from Simple Nourished Living looks delicious and Martha says this is a perfect side dish for grilled salmon!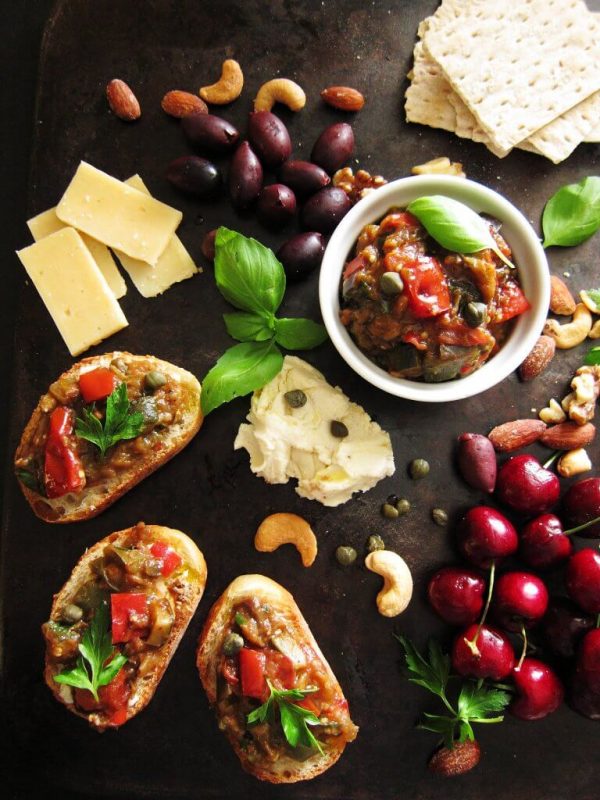 Neena from Paint the Kitchen Red made Instant Pot Ratatouille at the request of a friend and they enjoyed it spread on toasted baguettes and crackers!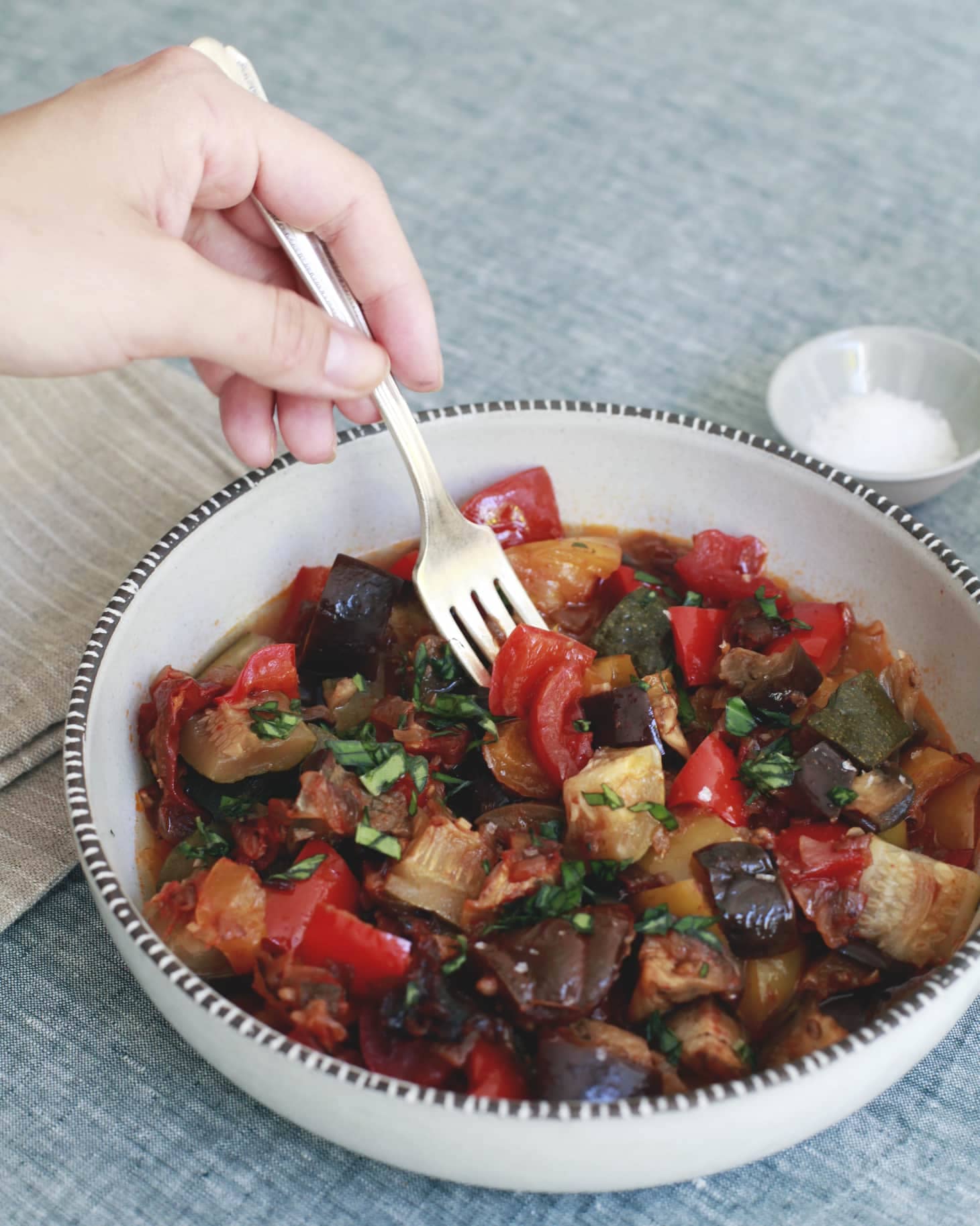 Slow Cooker Ratatouille from The Kitchn browns the onions first for added flavor.
More Recipes Using Summer Veggies:
Slow Cooker and Instant Pot Zucchini Recipes!
Instant Pot and Slow Cooker Summer Dinners
(Visited 1,944 times, 1 visits today)