These Slow Cooker or Instant Pot Vegetarian Mexican Bowls are perfect for a meatless meal with Mexican flavors. And everyone can assemble their own Mexican bowl and choose the ingredients they prefer!
PIN the Mexican Bowls to try some later!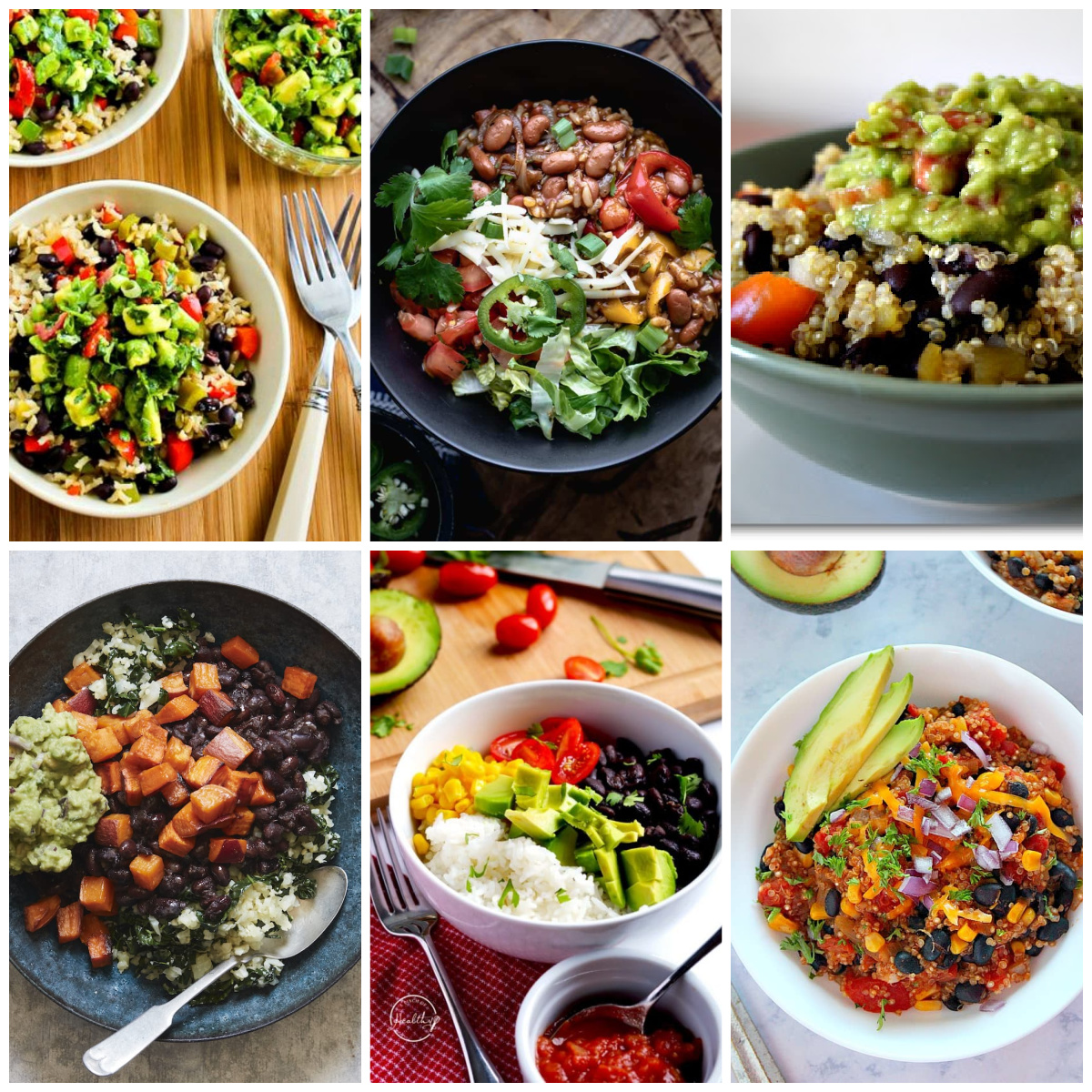 These Slow Cooker or Instant Pot Vegetarian Mexican Bowls are a perfect healthy option for dinner any time of year, but you might especially enjoy this type of meal when it's Spring and you're starting to think about lighter food. And whether you're just cutting back on meat or eating vegetarian all the time, this post has so many ideas for tasty vegetarian Mexican bowls!
And many people love bowl meals because the prep is easy, every person can adapt the bowl to their own taste, and it's easy to meal prep a few extra bowls for the week. This post has 12 delicious and different vegetarian Mexican Bowls to choose from; hope you'll find one that looks like a winner for your family!
Why are Mexican Bowls so popular?
Mexican food is something many people like, and it's a cuisine with quite a few vegetarian ingredients that people love. Many of the Mexican bowl meals include avocado, an ingredient that always feels like a treat.  And Mexican bowls also often include rice and beans, two ingredients that are a staple for vegetarian!
What ingredients are used in these Mexican Bowl recipes?
In this collection of recipes for Mexican bowls you will find often-used Mexican ingredients like rice, beans, corn, avocado, tomatoes, and peppers, as well as a few less-traditional ingredients like quinoa, kale, sweet potatoes, and zucchini. And quite a few of the Mexican Bowls use cilantro, which I would replace with thinly-sliced green onion if you're not a cilantro fan.
Want More slow cooker or Instant Pot vegetarian recipes?
If you want more meatless dinner ideas, you can use  Vegetarian Recipes to see all the slow cooker or Instant Pot vegetarian recipes that have been featured on this site.
How do you get the complete recipe?
Just click any recipe title to see the complete recipe on that site. All photos are copyrighted to the site that posted the recipe.
This Instant Pot Mexican Quinoa Recipe from Crunchy Creamy Sweet has quinoa, black beans, corn, onions, garlic, and peppers for a perfect vegetarian grain bowl for lunch or dinner!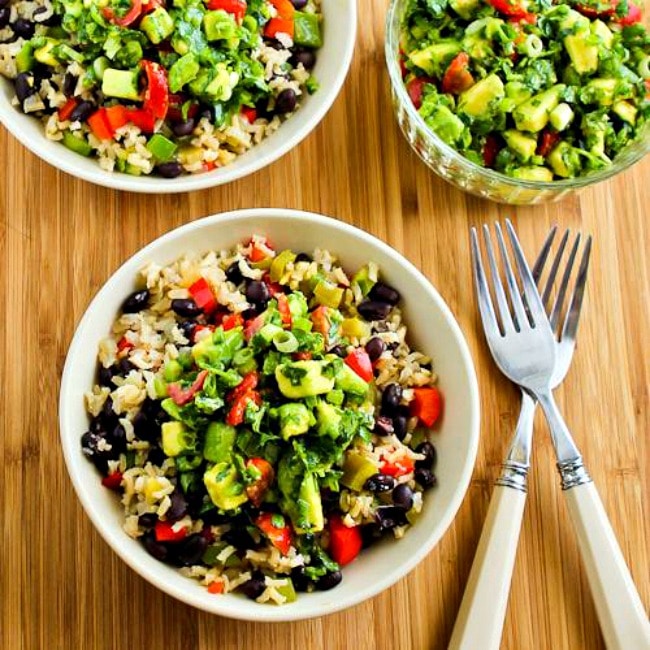 Slow Cooker Mexican Rice Bowls from Kalyn's Kitchen have black beans, red bell pepper, and Poblano-Avocado Salsa, and this tasty bowl meal is vegan, low glycemic, gluten-free, and dairy-free.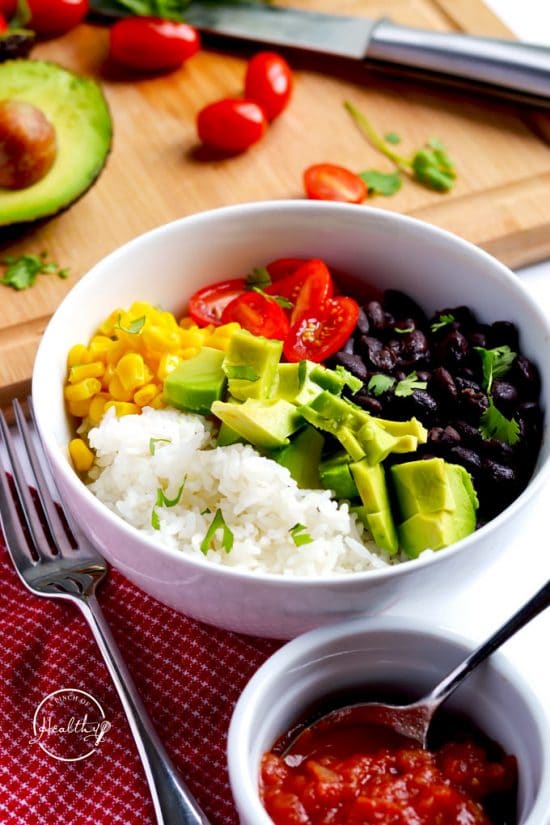 This Vegan Burrito Bowl from A Pinch of Healthy uses black beans and white rice that are made in the Instant Pot. Then everyone can add other ingredients as desired to make a tasty vegetarian bowl meal that you'll want to make over and over.
Slow Cooker Vegetarian Quinoa Mexican Bowl from 365 Days of Slow + Pressure Cooking combines quinoa, black beans, green chiles, red peppers, and a few spices to create a nutritious meatless meal the whole family will devour. Karen sprinkled it with cheese for her kids, but this is also vegan if you don't add cheese.
Vegetarian Burrito Bowls from Healthy Seasonal Recipes use beans, brown rice, peppers, and onions cooked in the Instant Pot combined with so many other ingredients to make a flavorful bowl meal.
Cauliflower Rice Veggie Bowls (with Instant Pot Black Beans) from What's Gaby Cooking are loaded with amazing ingredients like sweet potato, kale, and guacamole complementing the perfectly seasoned beans!
More Meatless Mexican Bowls:
(Visited 2,607 times, 1 visits today)