Here are Ten Instant Pot Pumpkin Chili Recipes we think you'll like and these pumpkin chili recipes are just in time for those cool fall evenings that are coming soon. And there are lots of Instant Pot Chili variations to choose from including gluten-free, paleo, Keto, vegan, and vegetarian. 
Click here to PIN Ten Instant Pot Pumpkin Chili Recipes!
Click here to see The Top 20 Recipes for Slow Cooker Pumpkin Chili
I can hardly believe it, but today is the first day of fall! And even if the weather is still pretty warm where you are, you know it's not going to be long before you'll be having cool fall evenings and one of these Ten Instant Pot Pumpkin Chili Recipes will sound like a perfect idea for dinner. And if you're one of those pumpkin fans who loves all things pumpkin, you might want to make this right away (you know who you are!)
We've rounded up a great assortment of Instant Pot Pumpkin Chili Recipes to help you find one you'll love, and you'll find pumpkin chili with walnuts, red lentils, chicken, kidney beans, ground beef, spinach, kale, turkey, white beans, and chickpeas, to name just a few of the interesting ingredients. And there are pumpkin chili recipes that are Keto, gluten-free, dairy-free, Paleo, vegetarian, vegan, and 21-Day Fix approved in this collection.
All photos are copyrighted to the blog that posted the recipe. Just click the recipe title under any photo to see the complete recipe on the original site. And Happy Fall Everyone!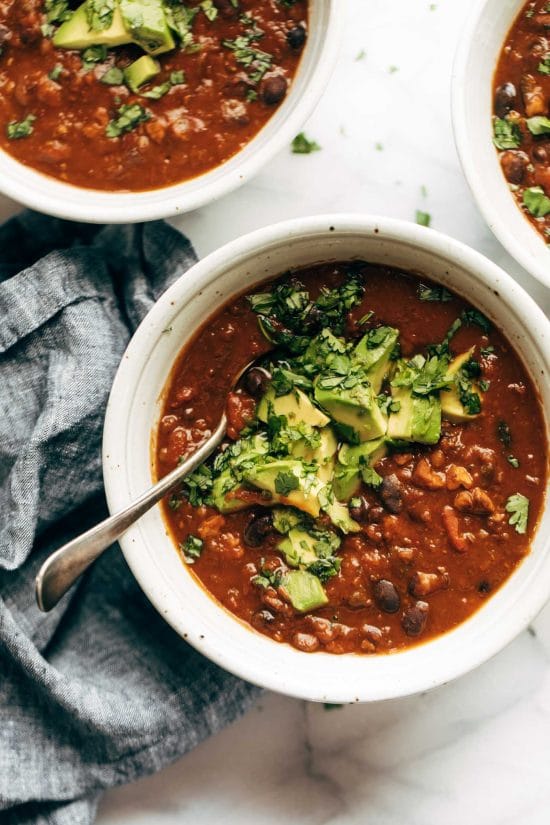 Instant Pot Pumpkin Walnut Chili from Pinch of Yum  is vegan and features red lentils, fire-roasted tomatoes, walnuts, black beans, pumpkin and chipotle peppers. It cooks for just 30 minutes in the Instant Pot so a hearty dinner can be on the table without spending too much time cooking. Lindsay has also included slow cooker and stovetop instructions if you prefer one of those methods of cooking.
This Pumpkin Chicken Chili from Let's Cook Healthy Tonight is a delicious one pot meal. With cooked and diced chicken breast, kidney beans, pumpkin, tomatoes, bell pepper, and a few "spicy" spices how could you go wrong? Cook for about an hour in the Instant Pot, garnish with your favorite toppings, and serve hot!
Instant Pot Paleo Chili from Well Plated just might be the perfect fall food. It's packed with loads of hidden vegetables and if you have leftovers you can pop them in the freezer for a later meal. Erin says " it leaves everyone full, happy, and asking for seconds."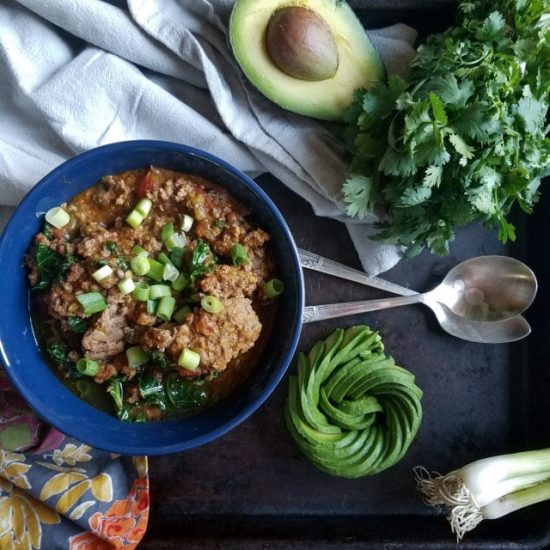 Instant Pot Pumpkin and Beef Chili from Pretend It's a Donut includes good-for-you-veggies like spinach, kale, and pumpkin.  Jenn says "this chili freezes extremely well and is also great stuffed into bell peppers! Also, if you are not a fan of pumpkin, try it in this chili. It is a game changer and will make you a pumpkin lover instead of hater!" She has also included stovetop instructions if you prefer that method of cooking. Sounds like a great dinner idea don't you think?
Instant Pot Vegetarian Chili from Bless This Mess is a healthy vegetarian chili made in the Instant Pot with dried beans and loads of vegetables. Like the other recipes here, this one includes that secret ingredient called pumpkin. In less than an hour you can have this delicious, flavorful meal on the table. If you prefer to make this in the slow cooker Melissa has included those directions here also.
Instant Pot Turkey and Pumpkin White Chili from Instant Pot Eats is made with sweet kabocha squash (a type of winter squash called Japanese pumpkin) white beans, and  ground or diced turkey or chicken and is dairy-free and gluten-free. Serve over brown or white rice topped with scallions, cilantro and pickled jalapenos for a different and delicious version of pumpkin chili.
Keto Instant Pot Chunky Chili from Beauty and the Foodie is loaded with spices, lots of vegetables, and is bean free, gluten-free, Paleo, and has a Whole30 option. With the Instant Pot the cooking is all done in one pot. Brown the ground beef first on the saute setting, add all the other ingredients and cook for 25 minutes on High Pressure.  If you prefer to use the slow cooker Stacey has included those directions also.
Paleo Pumpkin Turkey Chili Mole (Instant Pot or Slow Cooker) from Real Food With Dana is made with ground turkey, veggies, pumpkin, and spices cooked all together for 40 minutes in the Instant Pot or 4-8 hours in the Slow Cooker. How about a bowl of warm, healthy, comforting bowl of chili on a cool fall evening? Sounds like a great idea to me!
21 Day Fix Chipotle Pumpkin Turkey Chili (Instant Pot or Stovetop)  from Foodie and the Fix is smoky, spicy, and hearty! The pumpkin adds the nutrition, flavor, and thickness that we all love in a warm bowl of chili and the chipotle puree kicks it up a notch. Stephanie has also included both Instant Pot and stovetop instructions so you can choose your method of cooking.
Turkey Pumpkin Chili (Instant Pot or Slow Cooker) from Thai Caliente adds chickpeas to this turkey pumpkin chili recipe to make it a little heartier. Renee says her kids love this chili and the spice level can be adjusted to suit your family's taste. Add some chips or cornbread and you've got dinner ready to serve!
Have you made Instant Pot Pumpkin Chili? Tell us about it in the comments!
(Visited 559 times, 1 visits today)