Slow Cooker and Instant Pot Cabbage Bowls are a great dinner idea, and I love the variety of ideas here for a bowl meal featuring cabbage! And if you're a cabbage fan like I am, you will make these over and over!
PIN Slow Cooker and Instant Pot Cabbage Bowls to try later!
Cabbage is a healthy ingredient that's also super versatile, and I love all the creative ways to use it in these Slow Cooker and Instant Pot Cabbage Bowls! There are cabbage bowl meals here where the cabbage is cooked in the slow cooker or Instant Pot with other healthy ingredients, and there are some where shredded meat or chicken is served in a bowl meal with slaw. And personally I love cabbage for a veggie option that's available any time of year!
And in these recipes there are a wide variety of healthy ingredients to go with the cabbage including ground beef, shredded beef, sausage, quinoa, pork, and even a meal that uses packaged coleslaw mix to make it easier to get into the Instant Pot! Anyone who likes cabbage here is going to find a tasty idea for dinner; which one would you make first?
What are Bowl Meals?
Bowl meals are simply dinners where the food is meant to be eaten in a bowl rather than on a plate! I love them and have a whole category for Bowl Meals on my main site!
How do you get the complete recipe?
Just click any recipe title to see the complete recipe on the original site. All photos are copyrighted to the blogger who posted the recipe.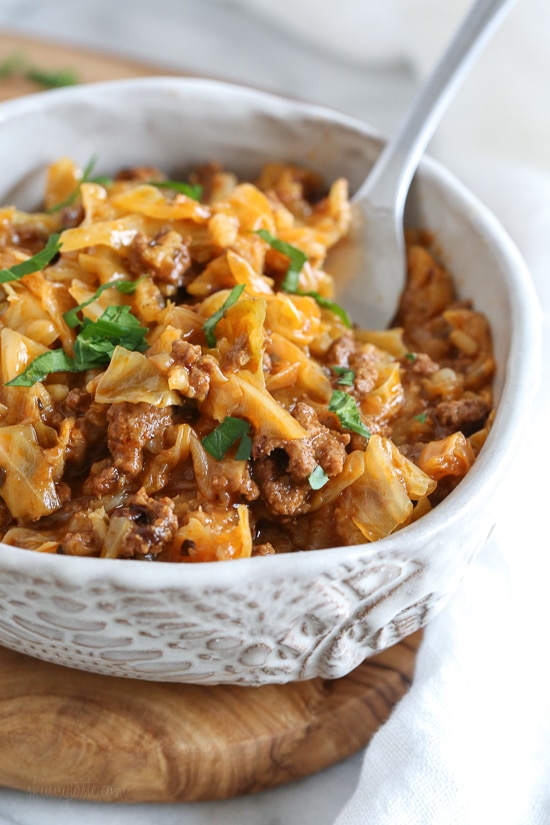 This recipe for Unstuffed Cabbage Bowls from Skinnytaste can be made in the Instant Pot or on the stove, and this makes it easy to enjoy all the flavors of cabbage rolls with less  time and work involved. Don't you think that sounds delicious, and if you prefer a low carb option Gina says you can certainly leave out the rice.
Green Chile Shredded Beef Cabbage Bowls from Kalyn's Kitchen can be made in the slow cooker or the Instant Pot and family members who aren't cabbage fans can eat the slightly-spicy beef inside tortillas!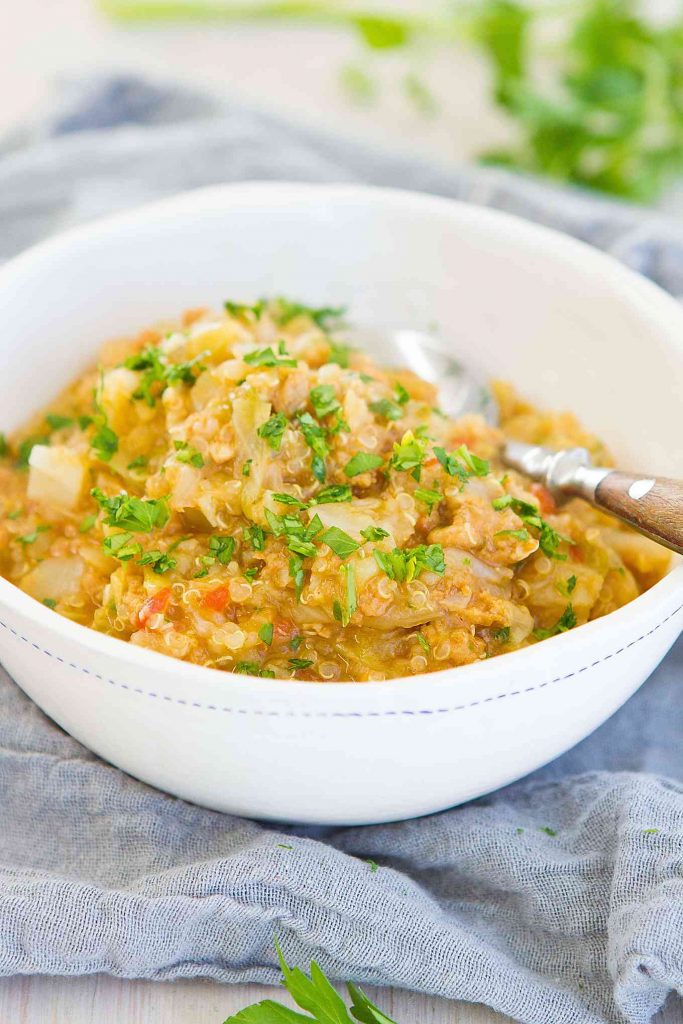 Dara says this Instant Pot Sausage Cabbage Bowl with Quinoa from Cookin' Canuck is a fantastic meal of healthy comfort food, and this can also be made on the stove. I love the idea of a bowl meal with sausage, quinoa and cabbage; what do you think?
These Instant Pot Egg Roll Bowls from Six Sisters' Stuff use packaged coleslaw with pork and all the flavors you love in egg rolls; doesn't that sound tasty!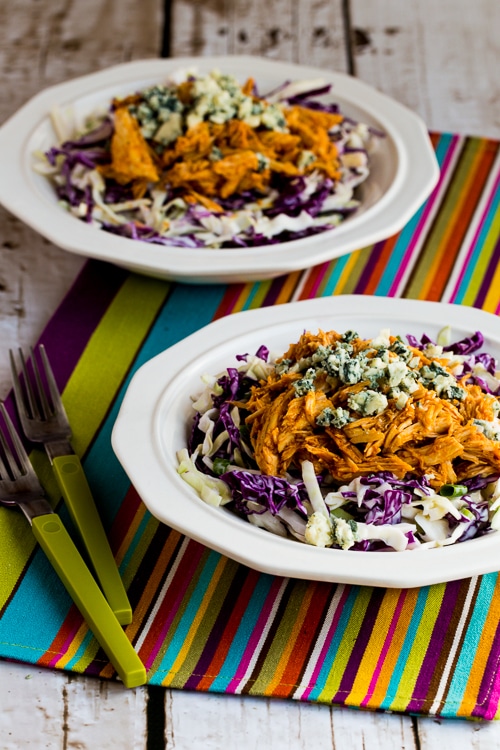 Buffalo Chicken and Blue Cheese Cabbage Bowls from Kalyn's Kitchen will be a hit with any low-carb eater who lies spicy buffalo chicken with blue cheese, and the amazing blue cheese coleslaw (and crumbled blue cheese on top) is partly what makes this so delicious!
I love that these Instant Pot Pork Quinoa Cabbage Bowls from 365 Days of Slow + Pressure Cooking are topped with spicy Sriracha Sauce, and there is also a link to make this in the slow cooker if you prefer that method!
More One Pot Meals in the Instant Pot:
Check out 50 Amazing Instant Pot One-Pot Meals for more tasty ideas for one-pot meals!
(Visited 47,199 times, 1 visits today)