Unstuffed Cabbage Bowls can be made in the Instant Pot or on the stove, and I love the sound of quick and easy stuffed cabbage without all the work.
Click here to see 50 Amazing Instant Pot One-Pot Meals!
Click here to see The BEST Instant Pot Recipes with Ground Beef!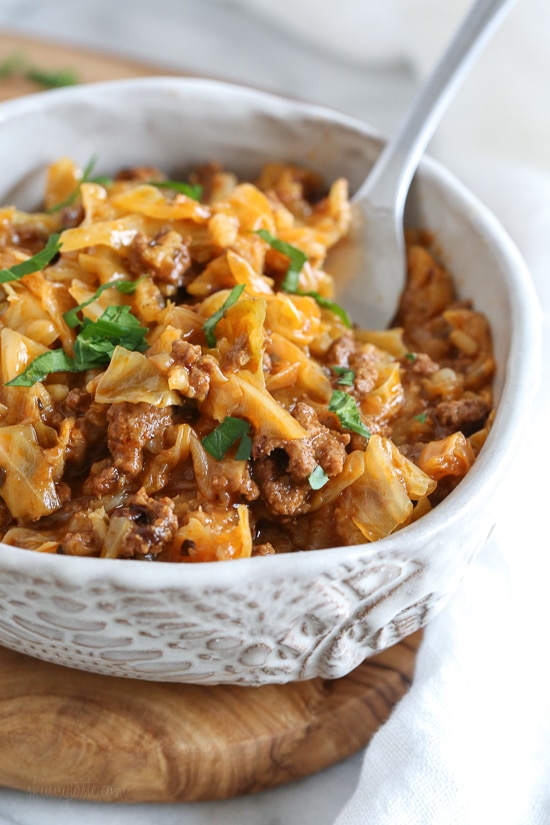 This recipe for Unstuffed Cabbage Bowls from Skinnytaste makes it easy to enjoy all the flavors of cabbage rolls with less  time and work involved.  Chop the cabbage and you can easily turn cabbage rolls into cabbage bowls. Unstuffed Cabbage Bowls are easy peasy in the Instant Pot or if you prefer the stove top simply double the cooking time.
I think this sounds like a great one pot meal, and if you prefer a low carb option Gina says you can certainly leave out the rice. And if you'd like to make Paleo Cabbage Rolls in the slow cooker, check out the link below for that option as well.
Try  Making Unstuffed or Unstuffed Cabbage!
Get the complete recipe for Unstuffed Cabbage Bowls (Instant Pot or Stove Top) from Skinnytaste. Or check out Slow Cooker Paleo Cabbage Rolls from Fit Slow Cooker Queen if you prefer using the slow cooker.
Still Hungry?
Click Here to see all the Slow Cooker or Pressure Cooker Vegetable Recipes that have been featured on this site.
(Visited 40,126 times, 5 visits today)