We looked around on lots of food blogs to find you the BEST slow cooker dip recipes, all perfect for the holidays or for any party where you want to serve a yummy dip! And of course we also have a collection of Instant Pot Party Dips if you prefer that method!
Click Here to PIN The BEST Slow Cooker Dips for Holidays or Parties!
Click here for The BEST Instant Pot Party Dips!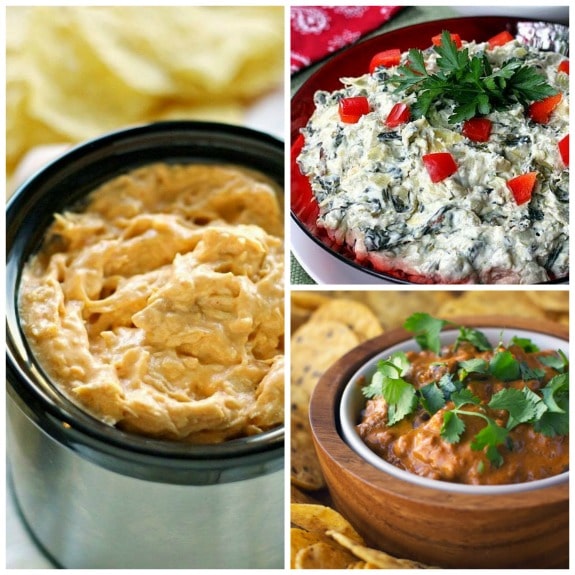 It's holiday party time, so we visited food blogs to collect The Best Slow Cooker Dip Recipes for Parties and Holidays.  This assortment of dips to make in the crockpot has something for everyone, from traditional choices like spinach-artichoke dip or bean dip to creative new options like slow cooker crab cake dip or spicy bacon corn dip.  If you're looking for delicious dips to make in the slow cooker, I've got you covered.
When I collected these recipes, I decided that making dip for a party is one time when even the healthiest cooks probably just want something quick and easy, so some of these dip recipes don't completely follow the "from-scratch" guidelines of this site.  But they're all delicious for an occasional indulgence, enjoy! And if anyone is thinking ahead to Superbowl Party ideas, these dip recipes are perfect for that too!
All photos are copyrighted to the blog who originally posted the recipe. Click the link under each photo to get that dip recipe from the blogger who posted it.
(Visited 2,960 times, 1 visits today)