Don't you think one of these Slow Cooker or Instant Pot Chicken Alfredo Recipes would be great for an easy dinner the whole family will like? I bet most families would gobble this up and ask for seconds!
PIN Slow Cooker or Instant Pot Chicken Alfredo Recipes!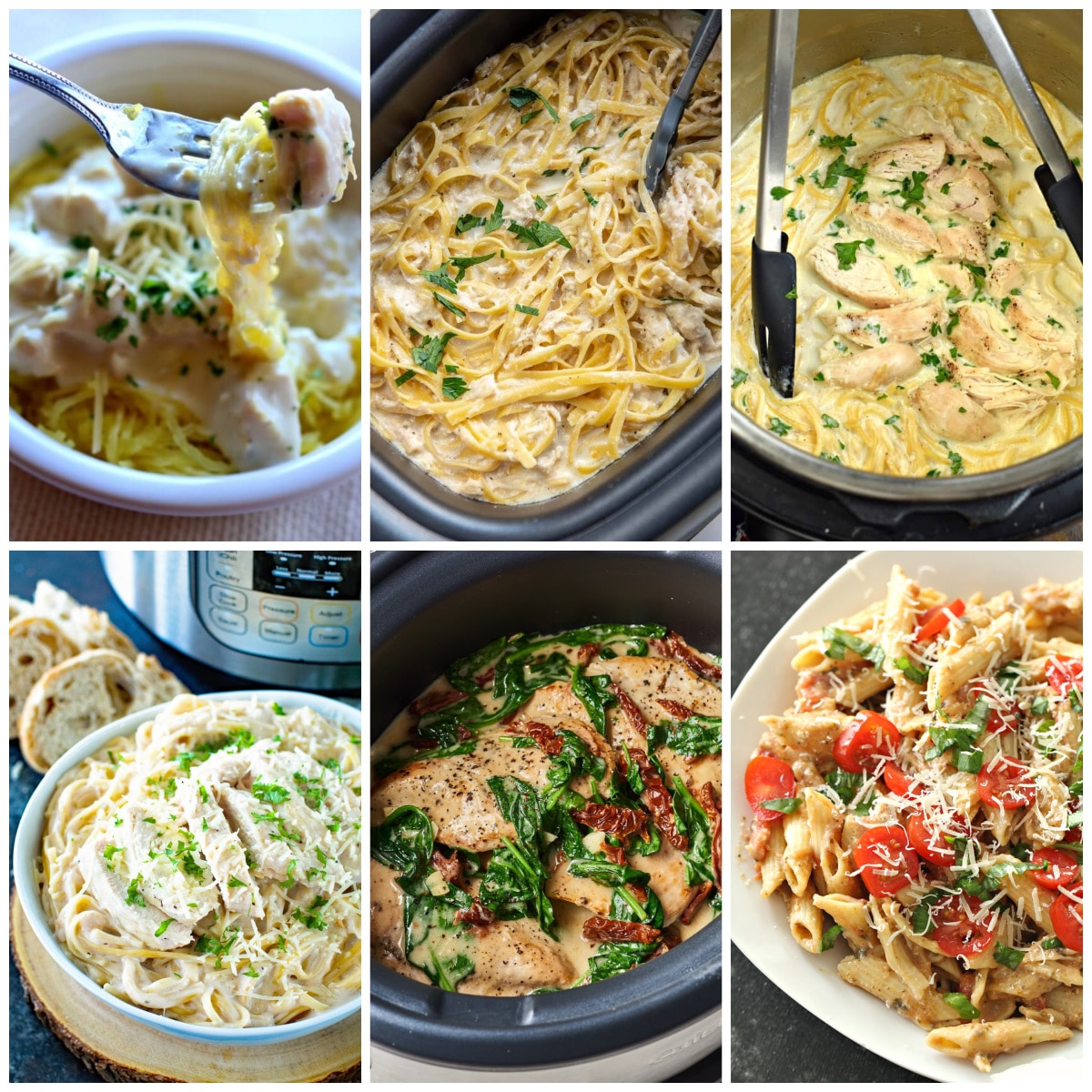 Pick one of these Slow Cooker or Instant Pot Chicken Alfredo Recipes and make an amazing dinner for your family! And pasta with Alfredo sauce is a favorite with most people, but there are some other creative ideas here with chicken and Alfredo sauce. I hope you'll find something you'd like to try.
There are ten different recipe ideas here including dinners with pasta or course, but also chicken Alfredo meatballs, sandwiches, spaghetti squash, and chicken breasts. And most of the recipes cook the noodles right in the slow cooker or Instant Pot to make it easy! Chicken Alfredo for dinner, yum? Would this be a hit at your house?
What is Chicken Alfredo?
Chicken Alfredo refers to recipes that include chicken and a white creamy "Alfredo" pasta sauce with Parmesan cheese. The sauce used in Chicken Alfredo is a spin-off from the sauce used in the famous Italian pasta dish called Fettucine Alfredo, and that sauce is used now in lots of non-traditional ways.
How do you get the complete recipe?
Just click any recipe title to see the full recipe on the original site. All photos are copyrighted to the blog that posted the recipe.
Want more Slow Cooker or Instant Pot Pasta Recipes?
Use Pasta Recipes to see all the recipes including pasta that have been featured on this site.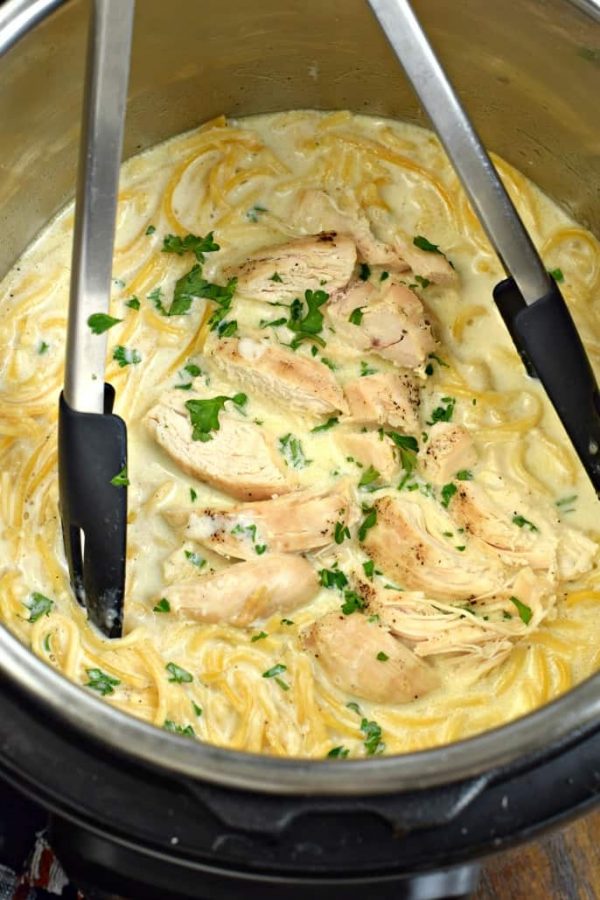 Instant Pot Chicken Fettucine Alfredo from Shugary Sweets sounds amazing for a comfort food meal, but there's a skinny version too if you're not wanting to splurge quite so much. Whichever version you choose, I bet this is delicious!
Jennifer from Slow Cooker Gourmet says her Slow Cooker Chicken Alfredo Pasta is better than you can get at most restaurants, and I believe her when she says this is a family favorite!
This tasty-looking Instant Pot Chicken Alfredo from Julie's Eats and Treats starts with browning the chicken breasts right in the Instant Pot, and this is about as easy as it gets for a pasta meal!
Slow Cooker Pesto Alfredo Chicken and Pasta from Six Sisters' Stuff is a super easy slow cooker recipe with flavors your family is probably going to like!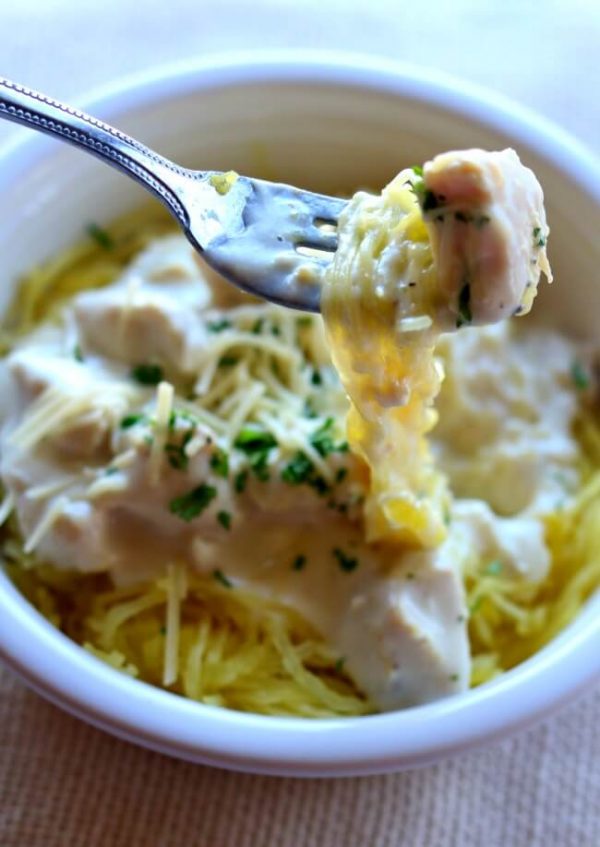 If you're not eating much pasta you might like this Instant Pot Chicken Alfredo Spaghetti Squash from 365 Days of Slow + Pressure Cooking, and this creative idea cooks the spaghetti squash and the chicken together in the Instant Pot!
And this Slow Cooker Creamy Tuscan Garlic Chicken from The Kitchn is an amazing dinner idea that uses good-quality purchased Alfredo sauce to create amazing flavor.
More Dinners with Chicken Alfredo Flavors:
Slow Cooker Chicken Fettuccine from Taste and Tell
Instant Pot Chicken Alfredo Meatballs from Instant Pot Eats
Crock Pot Chicken Alfredo Ravioli Casserole from Recipes That Crock
Instant Pot Chicken Alfredo Sandwiches from 365 Days of Slow + Pressure Cooking
(Visited 2,103 times, 1 visits today)