Ten Amazing Instant Pot Apple Recipes will give you so many new ideas for using those tasty fall apples!  And what tastes better in the fall than delicious apple treats?
Click here to PIN Ten Amazing Instant Pot Apple Recipes!
Click here to see The Top Ten Slow Cooker Apple Recipes.
As much as you'd like to hang on to summer, it's nearly fall, and this is the time of year when apples are plentiful, inexpensive, and at their peak of crispness and sweetness. And there are so many delicious treats to make with apples that I'm sure you'll find several things you want to try in this new collection of Ten Amazing Instant Pot Apple Recipes!
There's also a collection on the site of The Top Ten Slow Cooker Apple Recipes if you prefer using that method to make your tasty apple concoctions! No matter which cooking method you prefer, a sweet treat made with apples is always going to be a winner in the fall! If you try one of these Instant Pot Apple Recipes, please come back and let us know how you like it!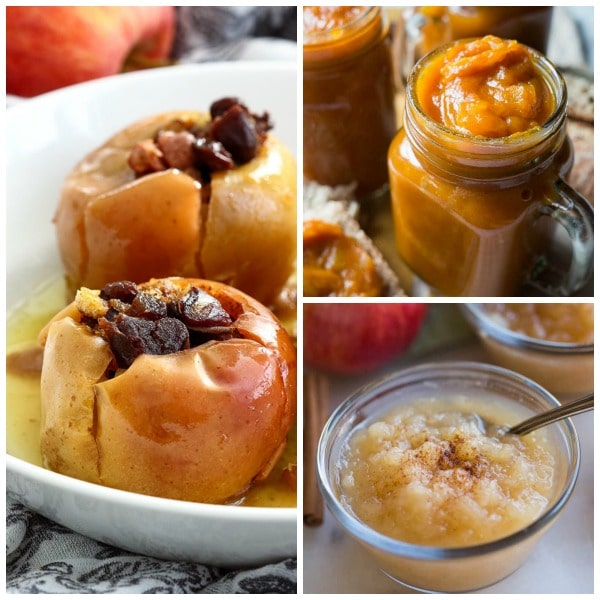 All photos are copyrighted to the site that posted the recipe. Just click the recipe title under any photo to see the complete recipe on the original blog. And enjoy!
This Instant Pot Applesauce from Amy+Jacky fills the house with the warm apple and cinnamon deliciousness! Must try, it looks so tasty.
Instant Pot Apple Crisp from Center Cut Cook is made with old fashion rolled oats, apples, spices, sugar and the surprise ingredient of maple syrup. This needs to be dessert tonight!
Yummy Instant Pot Apple Bread with Salted Caramel Icing from Adventures of A Nurse is loaded with fresh apples and topped with salted caramel icing; I'm ready for a slice!
Gather your apples and make this Instant Pot Applesauce from Tastes Better From Scratch; you will be glad you did! There is nothing better than warm applesauce!
This Instant Pot Apple Cinnamon Cake from What's in The Pan is moist and delicious, packed with fresh apples, and ready for a scoop of ice cream!
There's nothing better than a nice mug of apple cider, and this recipe for Instant Pot Apple Cider  from Life Made Sweeter looks very satisfying!
Instant Pot Baked Apples from I Wash You Dry look just like the ones grandma made! These take only three minutes to cook, and I think I can smell them, yum!
Pressure Cooker Spiced Pumpkin Apple Butter from Pressing Cooking Today tastes so delicious spread on warm bread or biscuits, or try it for breakfast on pancakes or waffles! Your family will love this!
Instant Pot Cinnamon Apples from This Pilgrim Life is so easy and cooks in ten minutes! These will warm your tummy for sure!
Instant Pot Applesauce from Don't Mess with Mama is made in less than 20 minutes without any added sugar! Store this in the refrigerator and enjoy!
Have you made an apple dessert in the Instant Pot? Let us know what you made in the comments!
(Visited 2,815 times, 1 visits today)