Carne Guisada Stewed Beef is delicious for tacos or as a stew that's served in a bowl, and this is a tasty idea for dinner! And you can make the tasty beef in the slow cooker or the Instant Pot! 
PIN Four Fabulous Recipes for Carne Guisada to try one later!
Today I'm featuring these Four Fabulous Recipes for Carne Guisada Stewed Beef, with options for the Instant Pot or the Slow Cooker! Here's a description of Carne Guisada if you're never made or eaten this tasty stewed beef with Latin flavors. We discovered that every blogger we found had a slightly different twist to their recipe and all  and these recipes are all fairly low in carbs or can easily be adapted to be low-carb!
That means that if you use Low-Carb Tortillas for your taco dinner, you can make a tasty low-carb meal! And for families where only some people are eating low-carb, everyone can choose the tortillas or the toppings they prefer. Happy dinner for everyone FTW!
Slow Cooker Traditional Tejano Carne Guisada Stewed Beef for Tacos from The Food Charlatan is perfect when you want a cook-all-day slow cooker dinner, or it can be cooked on the stove. The juicy, tender beef chunks can be eaten in a taco, burrito bowl, on a salad, or just straight off the fork! And this the slow cooker stewed beef can be low-carb, gluten-free, South Beach Diet friendly, and even Paleo if you use approved bouillon and tomato sauce.
The Carne Guisada at Gonna Want Seconds is made in the Instant Pot and this recipe also doesn't use any flour or cornstarch so it can be the start of a low-carb meal. I think Kathleen's Carne Gasada looks and sounds delicious, and she says this is the perfect filling for tacos or burritos!
My friend Mike at The Iron You has this delicious-looking Easier Healthier Crock Pot Carne Guisada, which is also a low-carb version of this tasty dish. Mike serves it in a bowl, but you could definitely grab some low-carb tortillas and make tacos if you prefer!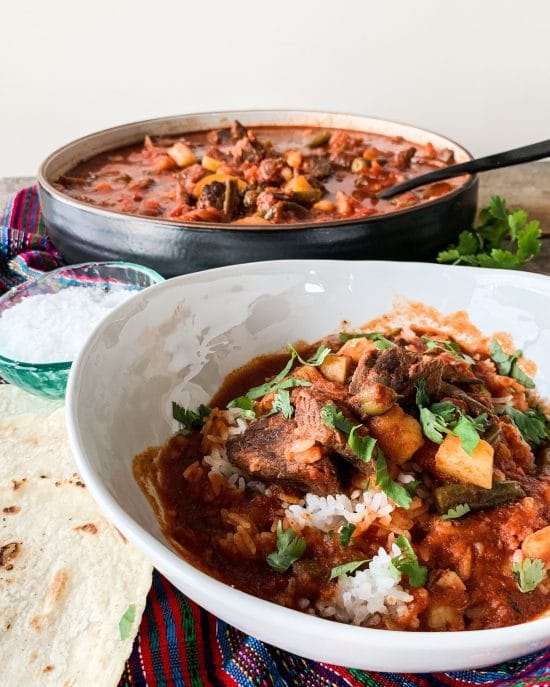 And one more option for Instant Pot Carne Guisada comes from Mary-Beth at Heart of Celebration. As you can see she makes hers into a stew with a few potatoes and carrots and serves over rice, which also sounds like a delicious option for this tasty dish!  But you could certainly skip the high-carb veggies and serve this in low-carb tortillas if you prefer.
More Tasty Beef for Dinner:
Instant Pot or Slow Cooker Cuban Beef Recipes Your Family Will Love!
Low-Carb and Keto Instant Pot Dinners with Beef
Slow Cooker and Instant Pot Beef Curry Recipes
Slow Cooker and Instant Pot Ground Beef Dinners
Instant Pot Barbacoa Beef Recipes
Have you made Carne Guisada in the slow cooker or the Instant Pot? Let us know in the comments!
(Visited 7,797 times, 3 visits today)