Delicious slow cooker roast pork with mushrooms and brown sugar apricot-pomegranate sauce.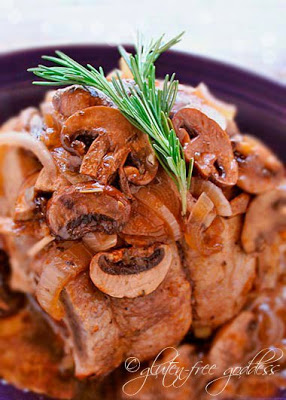 (Photo from Gluten-Free Goddess.)
I think slow-cooked pork is one of those foods that's pretty darn delicious all by itself, but this Slow Cooker Roast Pork with Mushrooms and Brown Sugar Apricot-Pomegranate Sauce from Gluten-Free Goddess has so many other good flavors to blend with the pork. I'm talking about garlic, onions, rosemary, and Baby Bella mushrooms, not to mention the apricot, pomegranate, balsamic vinegar, and brown sugar sauce. And I'm not even mentioning all the flavorful ingredients, check out the recipe to see what else is making this taste good!
(Visited 19 times, 1 visits today)