This round-up has Slow Cooker or Instant Pot Fajitas from Food Bloggers, and Fajitas are always perfect for a family dinner! And Fajitas are an easy dinner to skip the tortillas for family members who are watching their carbs.
PIN Slow Cooker or Instant Pot Fajitas to try some later!
Today I'm sharing this collection Slow Cooker or Instant Pot Fajitas from Food Bloggers in hopes that you'll find at least a couple of ideas to make for family dinners! I've been a long-time fan of Slow Cooker Fajitas, but now that many people are into the Instant Pot, there are so many tasty options for Instant Pot Fajitas as well.
And whether you use the slow cooker or the Instant Pot, Fajitas are definitely a delicious meal any time of the year! There are 30 different recipes here for Fajitas to make in the slow cooker or the Instant Pot, so be sure to scroll down past the photos for even more options!
Why are Fajitas a good family-friendly dinner?
Fajitas are so versatile for a dinner idea! Whether you combine beef and veggies, chicken and veggies, or just plain veggies you'll have a dish that's perfect for a weeknight dinner. If you have low-carb eaters in the family you can offer them low-carb tortillas or lettuce wraps, or just serve the meat and veggies on a plate with melted cheese, sour cream, or avocado! Other family members can eat their dinner with regular tortillas and everyone will be happy!
How do you get the complete recipe?
All photos are copyrighted to the blog that originally posted the recipe. Just click the recipe title under each photo to see that recipe on the original blog.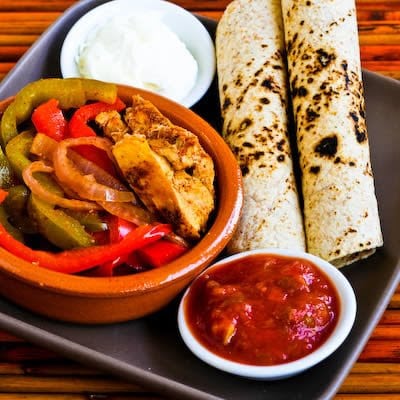 Slow Cooker Chicken Fajitas from Kalyn's Kitchen are a favorite recipe I've been making for years, and when I'm being strict on carbs I love to eat the chicken and veggies with melted cheese and skip the tortillas!
Instant Pot Chicken Fajitas from Crunchy Creamy Sweet look and sound delicious, and Anna says you can even start this recipe with frozen chicken if you forget to thaw!
CrockPot Steak Fajitas from Chelsea's Messy Apron look amazing, and Chelsea says she experimented with this recipe a few times to get the timing just right.
I love the addition of guacamole and sour cream to these Instant Pot Easy Steak Fajitas from Tidbits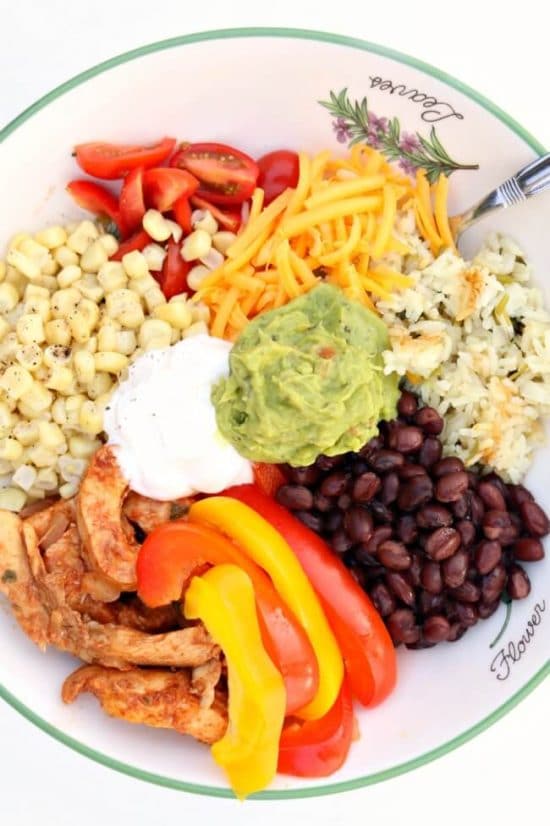 Instant Pot Chicken Fajita Bowls or Slow Cooker Chicken Fajita Bowls from 365 Days of Slow + Pressure Cooking give you an option of which cooking method you prefer, and don't you think that looks delicious!
Slow Cooker Chicken Fajitas from Eazy Peazy Mealz feature a homemade fajita seasoning that makes the chicken extra tasty!
Instant Pot Fajitas from The Typical Mom offers a homemade marinade for the steak but Justine says you can also use a packet of fajita seasoning if you prefer.
CrockPot Chicken Fajitas from Barefeet in the Kitchen are delicious served in tortillas as shown, but Mary says she loves to serve this over rice for a rice bowl meal as well.
Don't you love the sound of charred peppers in these Pressure Cooker Chicken Fajitas with Charred Peppers from Kitschen Cat!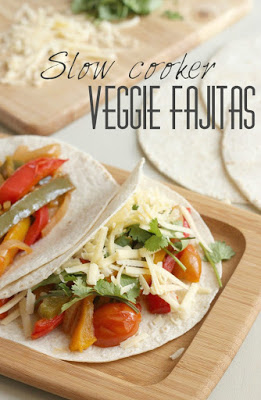 Slow Cooker Veggie Fajitas from Easy Cheesy Vegetarian will be. a tasty option for anyone who's limiting or avoiding meat!
More Fajitas in the Slow Cooker:
More Fajitas in the Instant Pot:
Have you made Fajitas in the Slow Cooker or Instant Pot?
(Visited 3,935 times, 1 visits today)