For Cinco de Mayo or for a Slow Cooker Summer Dinner, here are The BEST Slow Cooker Fajitas from Food Bloggers. There's a fajita variation here for everyone, so you might want to try more than one! And if you're looking for more ideas for Cinco de Mayo, check out The BEST Slow Cooker Mexican Recipes!
Cinco de Mayo is next week, and we're celebrating with The BEST Slow Cooker Fajitas from our food blogging friends. Fajitas are a delicious meal any time of the year, but I especially love to make them in the summer using my Slow Cooker because fajitas just seem like summer food and using the slow cooker keeps the kitchen cool!
And fajitas are so versatile! Whether you combine beef and veggies, chicken and veggies, or just plain veggies you'll have a dish that's perfect for a weeknight dinner or entertaining guests on the weekend.
Of course slow cooker fajitas can't duplicate the sizzling-plate specialness of fajitas from a restaurant. But they will still smell amazing. Imagine beef or chicken, peppers, onions, and spices combining to create a masterpiece of taste and aroma. Plus, it doesn't get any easier than using the slow cooker for this magical process.
(All photos are copyrighted to the blog that originally posted the recipe. Just click the recipe title under each photo to see that recipe on the original blog.)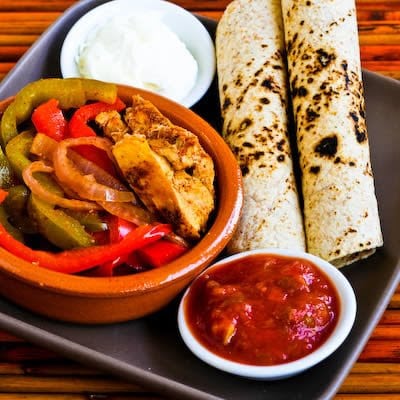 from Kalyn's Kitchen